Reminiscent of the 480, the Volvo C30 was the company's 'sports coupé' concept re-drawn for the 2000s. Now, it's emerging as a modern classic
Words: Richard Gooding  Images: Joe Miller
Volvo's boxy cars of the 1970s and 1980s benefitted from a safe reputation, both figuratively and literally. They didn't exactly get the pulse racing though, at least not until the arrival of the slope-nosed 480 in 1986. Its wedge silhouette, pop-up headlamps and glass tailgate made Volvos sporty, arguably for the first time since the P1800.
Some 11 years after the demise of the 480, Volvo reimagined the idea for the C30. Trailed by the SCC and 3CC concept cars of 2001 and 2004, as well as the C30 Design Concept of 2006 – a lightly disguised version of the production car – Volvo's new compact sports hatch had an important job to do. Volvo's then-parent company Ford was looked to boost annual production numbers, as well as hook buyers in with the C30 before guiding them up to the larger cars in the Volvo family.
Built on Ford's 'C1' platform, known as 'P1' in Volvo-speak and also used on the S40, V50 and C70, the C30 was pitched at cars such as the Alfa Romeo 147, Audi A3, BMW 1 Series, Honda Civic, Mazda 3, SEAT Leon, Volkswagen Golf, and Ford's own Focus. Built for one generation from 2006 to 2013, the three-door Volvo was only available with front-wheel drive, powered by four and five-cylinder petrol or diesel engines. A minor facelift in 2010 focused on a new front end, wheel options and colours, as well as updated interior trims.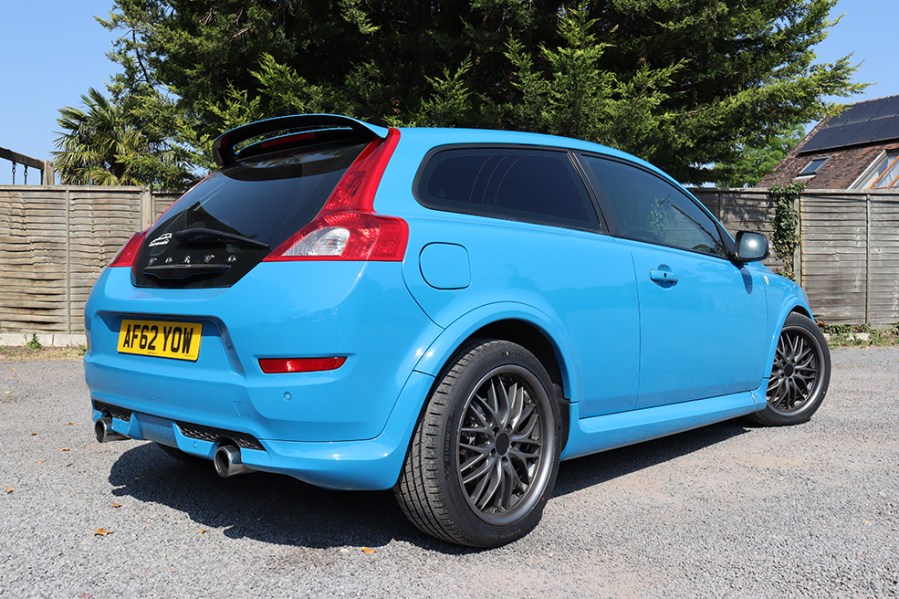 Bodywork
The C30 is a Volvo, so generally, rust isn't a big issue. Body panels such as front wings are still available, and as the C30 is now of an age when some cars are being broken for spares, prices of pre-owned panels start at around £50.
Owners have reported issues with paintwork scratches, so check the bodywork for signs of this, and examine the body trim parts of R-Design cars for damage. These received spoilers and skirts with a 10mm reduced ride height compared to other models, and cars with brighter xenon lights – or the facelifted models with improved lighting – are more desirable if you do a lot of driving in the dark.
Minor water leaks can sometimes occur, and check the carpets in the front of cars with sunroofs for dampness. The sunroof drainage channels can block, as the plastic drain joints break with age. Pay special attention to the areas around the front seats as water can reach the under-seat electrics that include airbag connections.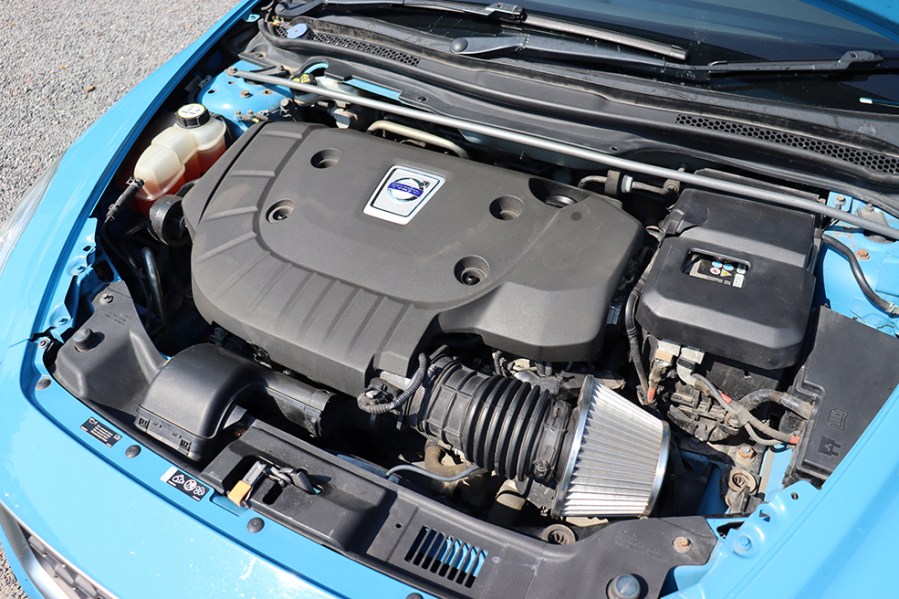 Engine and transmission
Powered by four-cylinder and five-cylinder petrol and diesel engines, with five or six-speed manual, or five-speed automatic 'Geartronic' transmissions, the C30's mechanicals are generally tough. And while it's not uncommon to see C30s to reach 250,000 miles or more, there are things to look out for.
The three engine mounts can give excessive play, and on the four-cylinder diesel models, look out for injector leaks and failed turbo actuators. Exhaust gas recirculation (EGR) valve faults can occur on these, too, and DPFs can throw sludge into the oil on regeneration, causing excessive oil levels. The DPF should be serviced every 75,000–100,000 miles, but failed units are also not uncommon, spotted by an error message on the dashboard. If not replaced, a pressure backlog will build up in the system, killing the turbocharger.
Cooling reservoirs can be prone to cracks, with five-cylinder cars most prone. This is an important one to check, as there is no coolant level sensor to warn of low levels. Five-cylinder cars also suffer from crankcase venting unit issues, and if not sorted, venting of the crankcase will then occur through the crankshaft bearings, overwhelming the crankshaft with increased pressure, eventually breaking the engine.
Camshaft seals can also fail, with one tell-tale sign being oil leakage. Oil leaks are also a sign of a positive crankcase ventilation (PCV) breather system/oil filter housing failure, with incorrect oil pressure being another; turbocharged cars are at most risk. Simple diagnosis includes removing the dipstick to see if the car is 'squealing' – if the noise stops, this is the problem. Coolant hoses can perish, and thermostat replacements aren't unknown. Turbo control valve (TCV) failure is not hugely common, but as it controls boost, it must be working.
Check for timing belt changes on higher-mileage cars (they can last 75,000–100,00 miles) and on high performance T5 engines in particular. Recommended to be changed at 120,000 miles by the factory, changing them sooner is more likely to avoid engine damage. Service intervals are annual or around every 12,500 miles. Five-cylinders lengthen this to 18,000 miles.
When it comes to transmissions, it's only the autos that present any real issues. A five-speed 'Geartronic' auto was available for the five-cylinder models, and although sealed for life, fluid changes at around 50,000 miles are advised. On any automatic C30, check the manual function of the gearbox works. If it doesn't, the shifter blind may be broken. Ford's 'Powershift' automatic gearbox was an option on 2.0 diesels, and is usually reliable. However, if it does go, it's a costly and difficult fix.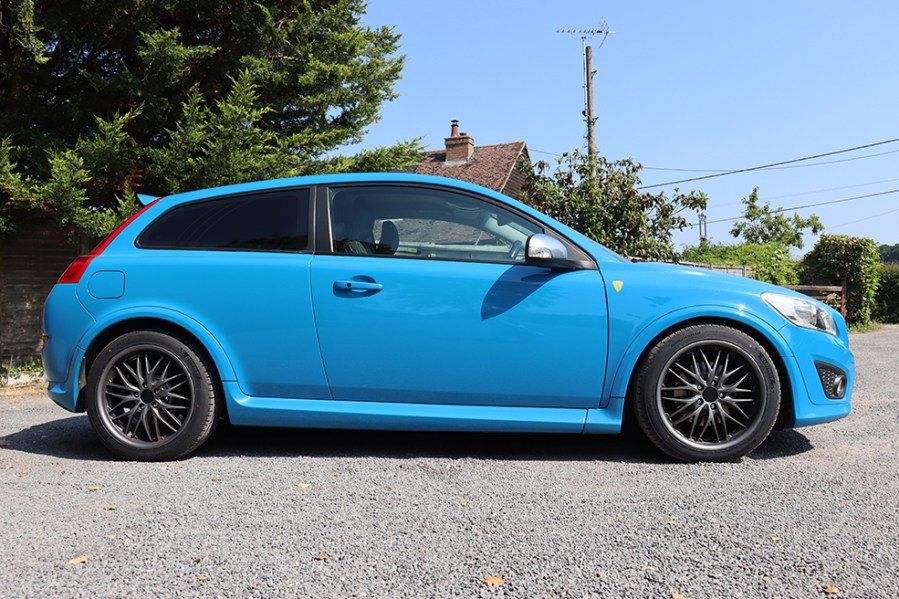 Suspension, steering and brakes
All C30s were front-wheel drive, fitted with MacPherson strut front suspension and a multilink rear axle. An optional Sport Chassis set-up – standard on some R-Design models – lowered the ride height by 10mm, adding stiffer bushings, 30 per cent stiffer springs, and firmer dampers.
Broken driveshafts aren't uncommon, but they can't be replaced on their own, and complete units have to be fitted. Clicks and vibrations when under load are things to look for. CV boots can be problematic, with lowered models such as the R-Design forcing the joints to rest at a more severe angle, hence cracking the rubbers. Also be sure to examine the rear suspension bushes.
Interior and electrics
The C30 is built well, with more premium-feeling materials than some of its contemporaries. The dash design is shared with other 'P1' Volvos, and the striking 'floating' centre console is a design highlight. Other high points include the liberal sprinkling of soft-touch plastics and niceties such as climate control, electric windows, six airbags, iPod and auxiliary MP3 connections, and a huge choice of interior personalisation options. The seating material tends to wear well, too.
On top of a lack of space for rear seat passengers, minus points include squeaking door cards, and wet passenger footwell carpets may indicate a failed and leaking heater connection. This spills coolant onto the central electronic module under the glovebox. The big C30 interior issue is the air conditioning. Compressor clutch packs can fail – a lack of cool air in the cabin being the obvious tell-tale – so it's worth checking all is operationally fine when out on a test drive. Shim replacements are an easy fix, but they typically need to be replaced every five to 10 years. Condenser failures are also a familiar issue.
ESP problems can occur on earlier cars and are usually caused by the Bosch ABS units. Dash warning signs are an easy spot. Other warning lights that could be illuminated include that for the ABS – the pump module is known to fail and will need a complete replacement. The dashtop screen-lifting system might not always work, and owners have also replaced door lock modules.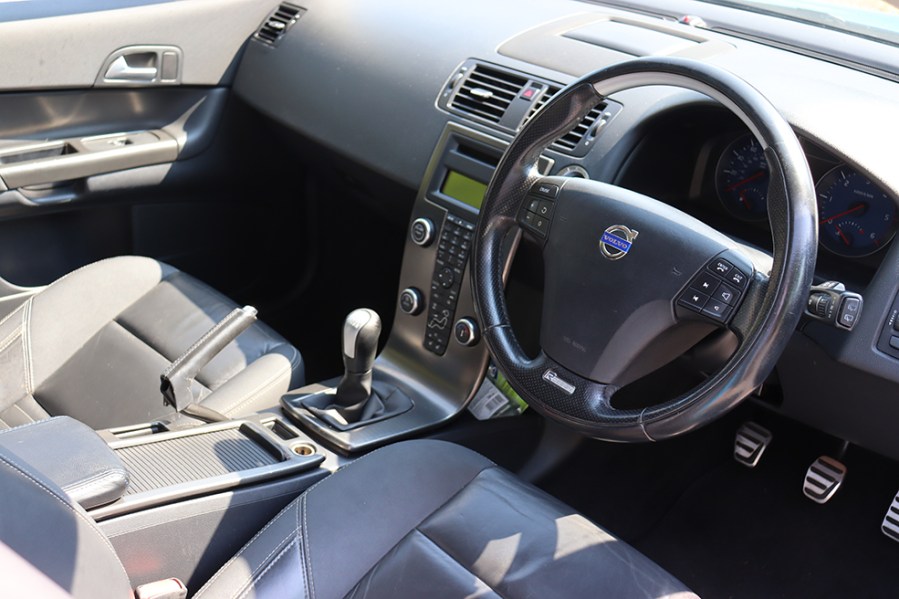 Our verdict
Three out of every four C30s sold went to buyers who were new to Volvo, and it's easy to see why. Distinctive styling gives the C30 a character of its own. With over 210,000 produced globally – and one in seven of those sold in the UK – choice shouldn't be an issue. Eighty per cent of C30 buyers chose R-Design models, so these will be most common.
Volvo trumpeted the C30 as possessing 'the greatest driver appeal' of any model in its range, and especially with the high performance 227bhp T5 motor, this is to some extent, true. Volvo lent this engine to Ford for its second-generation Focus ST, itself revered among enthusiasts. Even in standard tune it's a decent performer with 320Nm of torque and a 0-60mph time of 6.2 seconds, but aftermarket tuners can liberate as much as 310bhp with a Stage 3 package.
Later facelifted cars can be a cheaper alternative to the re-booted third-generation Volkswagen Scirocco, but compared to its more mainstream competition, the C30 is something a little more cultivated and refined, with arresting styling, excellent road manners and very solid build quality. In T5 guise, it's also a bit of a wolf in sheep's clothing.
A healthy sprinkling of owners' clubs, forums and Facebook groups such as the Volvo Owners' Club, SwedeSpeed and the Volvo Performance Club mean that there is plenty of advice out there if you want to dive into C30 ownership, and owners report that parts are readily available with costs comparable to competitors, especially for the DIY mechanic.
Older lower-powered 1.6-litre petrol and diesel C30s can be had from as little as £1000. Some post-facelift 2010-onwards cars can be picked up for around £2000, but are usually around the £2500-£3000 mark. A budget of £5000-£6000 buys a decent post-facelift car, typically in R-Design spec.
Really low mileage cars top out at £10,000-£11,000. With the T5, its relative rarity compared to a Focus ST means it's invariably cheaper to buy.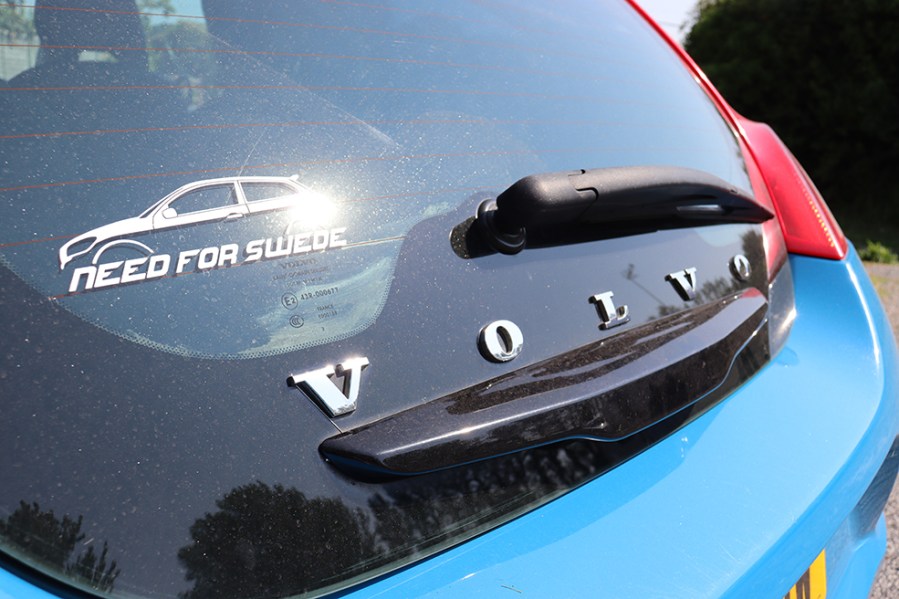 Volvo C30 timeline
2001
Volvo Safety Concept Car (SCC) shown at the Detroit motor show, with a C30-like silhouette
2006
Market introduction of C30 production car. Four-cylinder 99bhp 1.6-, 123bhp 1.8- and 143bhp 2.0-litre petrol engines joined by five-cylinder 168bhp 2.4- and 217bhp 2.5-litre turbocharged units. Diesel drivers had the choice of four-cylinder 108bhp 1.6- and 134bhp 2.0-litre engines, plus the 178bhp five-cylinder 2.4-litre unit of D5 models. Models trims comprise S, SE, SE Sport and SE Lux. Sweden-only 1.8-litre, 123bhp 'Flexifuel' model powered by E85 bioethanol fuel.
2007
R-Design package introduced as standard on Sport and SE Sport models; re-named Sport with R-Design and SE Sport with R-Design. C30 FlexiFuel announced for UK sale, C30 T5 boosted to 227bhp.
2008
R-Design pack introduced with 10 exterior colours, 'R-Design' badging, colour-coded bumpers and lower side mouldings, rear spoiler, 17-inch 'Cratus' alloy wheels, blue instrument dials, aluminum pedals and leather-wrapped steering wheel. Interior trim upgraded for all other C30 models, with the addition of a redesigned centre console. New six-speed dual clutch Powershift automatic gearbox introduced as an option on 2.0 diesels.
2009
Trims realigned to R-Design Sport, SE, R-Design SE Sport, and SE Lux. R-Design Sport entry level model costs £14,995. Bluetooth connectivity added, cars with High Performance or Premium Sound systems gain a USB port. Facelifted C30 announced, with new bonnet, front wing and bumpers, and upgraded interior trim. Optional Sport Chassis available, later standard fit on R-Design models.
New DRIVe-optimised 1.6-litre diesel model also launched with 10mm lowered suspension, aerodynamic body styling, underbody panels, low rolling resistance tyres and CO2 emissions of 115g/km. Cleaner 99g/km C30 1.6D DRIVe introduced too, with official fuel economy of up to 74.3mpg. 1.8 and 2.4-litre petrol engines dropped.
2010
Facelifted C30 (below) arrives in the UK, priced from £14,495 for the 1.6 S. Available in S, SE, SE Lux R-Design, and R-Design SE trims. DRIVe tech now available on R-Design. 395bhp AWD Polestar C30 Concept created by Volvo's Swedish touring car team.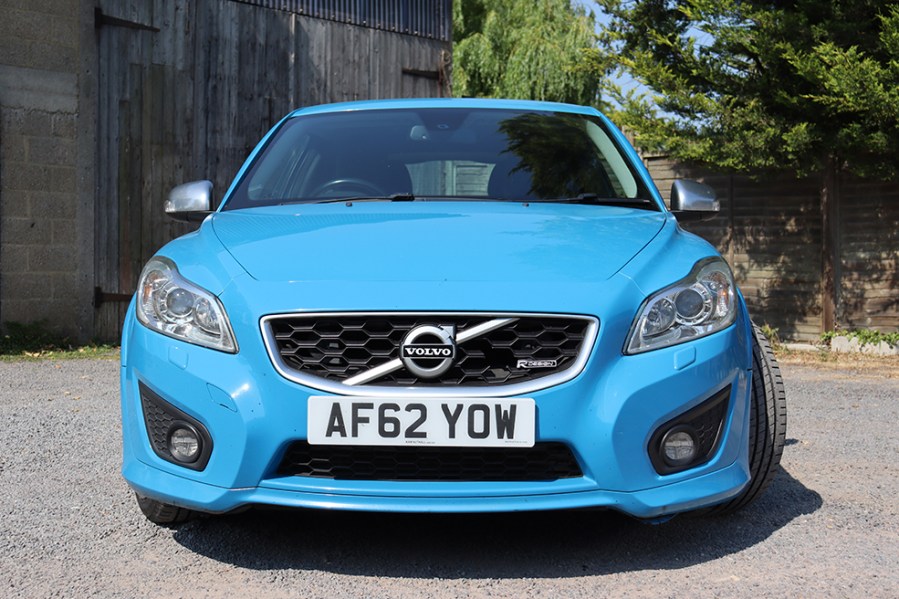 2011
New five-cylinder 2.0-litre turbodiesel replaces the 134bhp unit with outputs of 147bhp (D3) and 174bhp (D4). D2 four cylinder, 1.6-litre 112bhp diesel engine replaces 115g/km DRIVe unit.
2012
LED daytime running lights introduced, and new Caspian Blue and Hello Yellow colours added. More equipment added to all trims.
2013
Stop-start tech among upgrades added to D2 engine to meet Euro 5 emissions standards; now 95g/km. Production of the C30 ends in summer after 210,000 examples have been sold worldwide.