Landmark vehicles always create a problem for manufacturers; just how do you follow that initial success? Here we take a look at some significant classics and ask whether what followed was actually good enough.
That's the problem with success, there's an enormous amount of pressure to repeat it. Musically, it's often called the 'second album syndrome'; your first attempt tops the charts and is a massive sales success, but can you repeat it? It's much the same in the motor industry where the pressures and repercussions are obviously a lot greater than what might happen to a group of young musicians. Not every second attempt succeeds, indeed it's easy to find significant examples of motoring 'one hit wonders'.
You can argue for example, that there has never been a proper replacement to the Mini; of course, BMW's version is a massive global success but in truth its similarity is only in the name, it certainly wasn't the replacement for the older model. And for all the recent highly profitable models that have come from Jaguar Land Rover in the last decade, the company has failed completely to even design, let alone put into production, a successor to the Defender.
Here we take a look at a number of true classics; models that were certainly chart-topping originals, followed by highly significant successors, but we ask the question: pale imitations or worthy successors?
MGB v MGF
While posing our question at these two MGs, it's probably worth noting that in many ways the MGB itself had a tough act to follow. The MGA had been a hugely significant machine, dragging the company away from the dated TF models with a technically significant and beautifully bodied new sports car. By 1962, when the 'B' arrived, Abingdon had enjoyed seven years of MGA sales.
The MGB was not as big a technical leap forward as its predecessor, but it was the first MG to be built using monocoque chassis construction, replacing the standard tough chassis and separate body method, although there was much carried over from the MGA. BMC's B-series engine was retained, enlarged to 1798cc, developing 95bhp (much the same as the MGA) running through a four speed gearbox, with an optional overdrive from Laycock de Normanville now available. A top speed of 100mph was just about possible, with the overdrive option making for more relaxing long-distance cruising. Better equipped, with a decent sized rear boot for your luggage, and a relatively well insulated hood for the roadster, made the MGA a sports car you could live with; a characteristic that was even more obvious when the coupe MGB GT arrived in 1965. The original open-topped design was relatively conservative, but neat and tidy, good enough certainly for Pininfarina to be able to seamlessly design the GT version.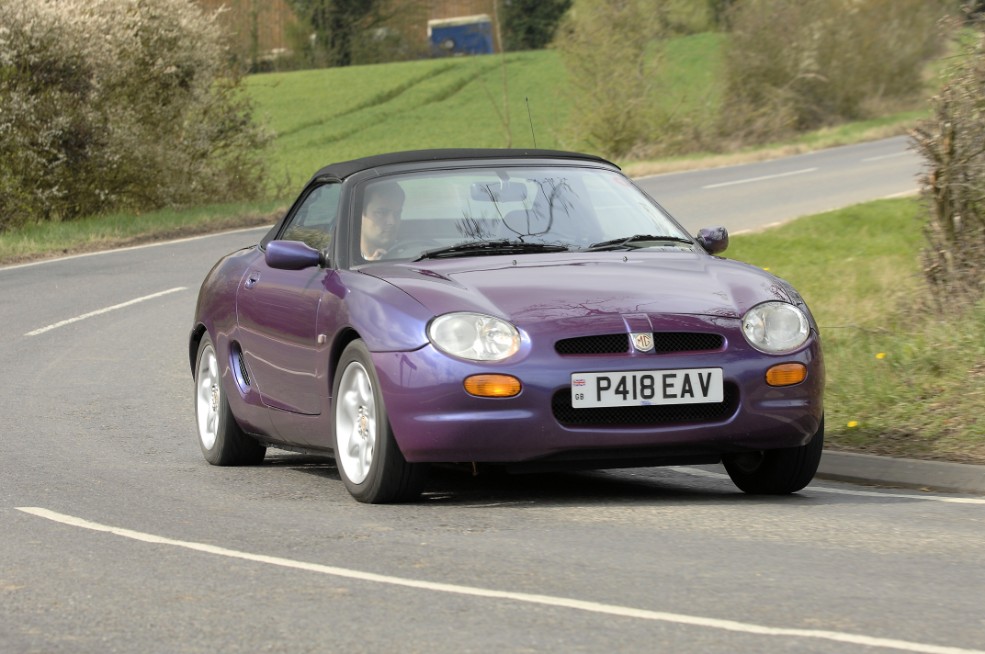 While suspension design was from the MGA, when fitted to the structurally stiffer monocoque chassis it produced a car that had confidence-inspiring handling and a decent ride, thereby expanding the market for the sports car considerably it was no 'hairy-chested' beast but would match the Triumph TR4 competitor in terms of acceleration, and when fitted with the overdrive option, long distance cruising became a comfortable option – essential for the American market where the new MGB was well received.
During its life, some things improved, while some things didn't; dual circuit brakes, all-syncro gearbox and a more comfortable interior were positive, the nasty black polyurethane-covered bumpers (demanded by the Americans to meet their ridiculous new safety regulations) did nothing to improve the look. Over half a million roadster and GTs were produced, and when you consider how many owners MGBs will have had, that's going to be a few million happy customers. Replacing it when production ceased in 1980 was always going to be difficult.
Given all the corporate ownership shenanigans that occurred at the time, it's a surprise that the British sports car industry managed to produce a car like the MGF. There had been a front-engine, front-wheel drive concept MG produced but, thankfully as it now turns out, there wasn't the money to put this into production and it wasn't until British Aerospace's ownership in 1988 that a new MG sports car became a serious option, although such was the winds of change that blew through Austin Rover, when the MGF was launched in 1995 the marque was under BMW ownership.
Taking that into account, it is amazing that the MGF turned out so well when introduced in 1995! A thoroughly modern new body shape, it still had a very obvious heritage to the MGB (a prerequisite for any successful replacement). Looks are one thing, however, in the case of the MGF the most significant change was that this was a mid-engined sports car, a design usually reserved to Italian exotica. If that wasn't challenging enough, it came with Hydrogas suspension and the new 1.8-litre K-series engine (which quickly gained variable valve control to further improve performance). It handled as a mid-engined spirts car should, yet remained practical and inexpensive to own and run. Great press response helped sales. When MG managed to extricate itself from BMW, the model range was expanded to offer a cheaper 1598cc entry level model and a limited edition special, the Trophy 160E with more power and tweaked suspension. Over 77,000 were produced before the MGTF arrived in 2005 with its more conventional suspension – some might argue an even better option.
So, pale imitation or worthy successor? While the MGF does not match up in sales numbers tos the MGB, nor did it become the hit in America of its predecessor, it was a significant technical advancement with its mid-engine and Hydrogas specification. It drove and handled like an MG should, it looked like an MG should and can surely only be described as a worthy successor. Given that they are still relatively cheap today probably means that not all enthusiasts have realised, yet.
VERDICT: WORTHY SUCCESSOR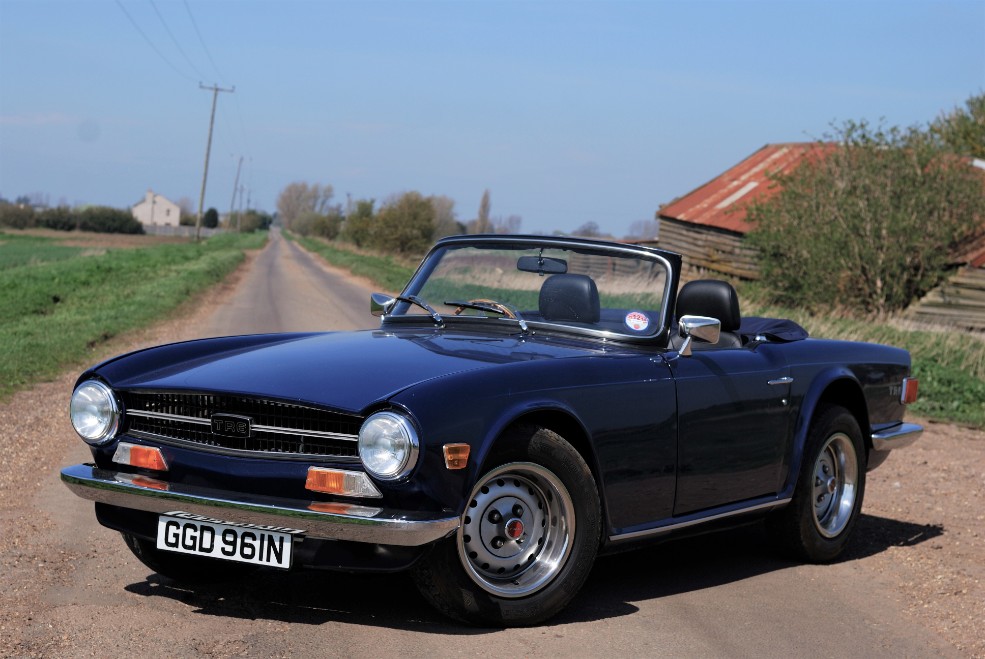 TR6 v TR7
Now we are going to try and compare these two Triumph sports cars without lowering ourselves into using frankly gruesome descriptions of one being 'hairy chested' and the last of the 'traditional, genuine TRs'. We are all allowed our subjective opinions about these things, but let's not get carried away and ignore the facts. The TR6 was a rebodied TR5. Gone were the very subtle and stylish curves from the Italian designer Michelotti. Deemed 'too busy' working on other Triumph projects, the new TR6 body design project was handed over to the German company Karmann. Given just how curvaceous a car like the VW Karmann Ghia is, the resulting bluntness of the TR6 is still something of a surprise today.
Perhaps the design was done in a rush, it was certainly done to a restricted budget at the time and the tooling needed to be created in double-quick time, and it is unfair to be too judgemental as there is certainly something striking about the shape. Squared off at both ends (the Karmann 'tail' working much better and would be used in other Triumph models), the TR6's bonnet seems to go on forever when you are behind the wheel, but then it did have to cover the 2498cc straight six (that came directly from the TR5). The engine was available as two options; in the UK it had the Lucas fuel injection option with its 150bhp, while for the emission regulated USA it was stuck with twin Zenith-Stromberg carburettors which was only able to reach 104bhp – a significant drawback for the car's performance.
The fuel injected engine's major criticism of having a lumpy tick-over and being inflexible, originally aimed at the TR5, was carried over to the 6. With hindsight, however, you wonder how much this characteristic actually added to the mystique of the TR6; a macho British sports car, uncompromising, handle with care. The TR6 was well-received, yet despite its seven year production period between 1969 and 1976 received only minor upgrades; front lip spoiler, gearbox ratio changes, instrument updates and those horrendous rubber five mph impact bumpers for our American cousins. Despite this, just under 95,000 were produced of what was quite an aging design.
The lack of development for the TR6 had a great deal to do with the chaos that was occurring in the corridors at British Leyland during this time, yet paradoxically a new sports car was being developed that would certainly surprise the traditional TR enthusiast.
Triumph's TR7 arrived in 1975 (the last few TR6 models were actually still being produced) with a wedge design shape that appeared to have little in common with TR's heritage. Indeed, there was something of a battle of the boardroom at the time and it could have arrived badged as an MG, but the Triumph executives won the day. Even the actual shape was said to have been a rough sketch done by Harris Mann indicating the general direction he was looking at, but those same Triumph executives that had won the battle of the badge were impressed and Mann was encouraged to develop his wedge design.
It caused quite a stir when it arrived, difficult to say that it was a graceful looking sports car, with the rear three-quarters appearing somewhat unfinished for some, but it certainly had the aggressive stance of previous TR models. Underneath it was relatively conventional with wishbone and coil springs at the front and a live axle at the rear, located with radius arms. This allowed the TR7 to handle and ride reasonably well. Under the bonnet it was a little less inspiring with the 1.7-litre sohc four cylinder producing only 105bhp. The twin cam 16-valve engine that went into the Dolomite sadly never made it to the TR7.
The biggest problem for the TR7, however, had nothing to do with its looks, or technical specification or even the way it drove. The problem related to the decision to build the new sports car at BL's new plant at Speke in Liverpool – a place where the concept of working was often side-lined to the need to have union meetings. When TR7s actually manged to be produced the quality of the workmanship varied enormously. After a few muddled and unsatisfactory years at Speke, production was then moved to Canley, near Coventry. The move was not seamless… before it was moved yet again to Solihull.  A roadster arrived, which frankly looked a lot better than the coupe version and should surely have been available from the launch.
Good to drive, with a snazzy interior design which included some natty plaid upholstery, the poor quality control destroyed the market in the US, which was a massive blow to the revenue forecasts for the company. The V8 version was rolled out in 1980 as the TR8, a model that should have taken America by storm, yet quality control was still scandalously poor. The damage was done. Production ended in 1981 with over 112,000 TR7s having been built, and with it went the TR model range.
Given such an inglorious end, do we dismiss the TR7 as a pale imitation? Absolutely not. The car was a brave step away from the dated options of what some might have called a 'traditional TR'. It was a design that should have had a strong future. Properly built and with a decent engine that surely would have come, who knows what would have followed? The TR7 is a worthy successor to the TR6, even if that sentence is followed by the words, 'if only'.
VERDICT: WORTHY SUCCESSOR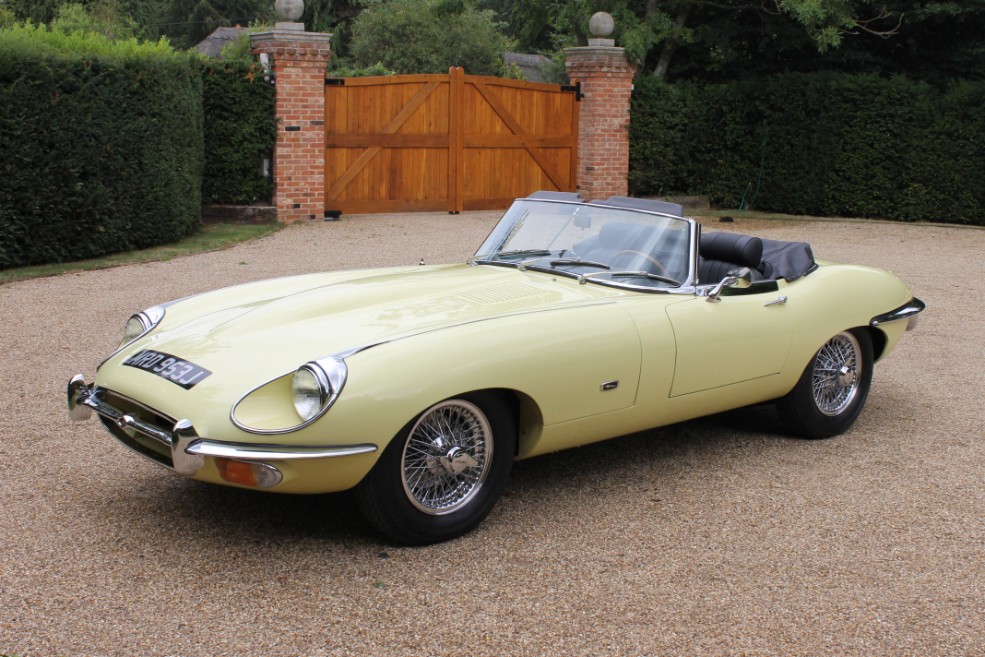 JAGUAR E-TYPE V XJ-S
There are few sports cars ever built that can claim to have produced such a jaw-dropping, stunned reaction as the E-Type. Low, long and curvaceous the head shaking it created was as much to do with the fact that many who lusted after the thing realised they would never actually own one (given some of the prices today, for many Jaguar fans, that feeling still exits).
This was a road car that drew its inspiration from the Le Mans winning D-types of the 1950s, yet would appeal to even the most motorsport adverse drivers. Designer Malcolm Sayers was an aerodynamicist and it showed. All independent suspension, disc brakes all round and initially the 3.8-litre 265bhp straight six offered the chance of 150mph, which in 1961 was rocket-ship performance. And it you knew the E-Type was special when standing outside the car, you felt the same behind the wheel, with dials and switches aplenty it was so obviously a British design but one that would have Italian sports car owners gawping.
It remained in production for 14 years; there were engine changes and model upgrades, culminating in the competition derived V12 option proving that yes, it could actually get better. For many it has to be an open-topped roadster, but the coupe has its own style, although we will admit that the 2+2 version is an acquired taste.
Replacing such a car was obviously going to be a challenge and yet a mere six months after E-Type production stopped, Jaguar launched the XJ-S.
It's pretty pointless waiting until the end of this piece and so will admit from the start that the XJ-S is by no way a worthy successor to the glorious E-Type. Jaguar enthusiasts were disappointed when it arrived and many have never got over the shock. The design was also by Sayer, although he actually died before the XJ-S was actually launched. Were his original sketches compromised as it was moved into production? That is a possibility, but the shape was developed in a wind tunnel and remains aerodynamically efficient (much better than the 2+2 E-Type, but then does that surprise?).
The truth is that while in many ways the XJ-S was indeed the successor to the E-Type, it was never actually built to replace it. This was always to be a sports GT tourer rather than a pure sports car, and as such it does that job well. Perhaps something was lost in the translation at the launch; originally it was to be called an XJF, we have had to wait some years for a 'proper' F-Type.
Bigger and heavier than an E-Type, but being considerably roomier inside, a V12-engined (as used in the Series III E-Type) XJ-S would transport four occupants in leather and luxury and at a very sprightly pace. True, the two in the back didn't want to be too tall and you'd need deep pockets for fuel if you used the performance to its potential. The 3.6-litre AJ6 engine option arrived in 1983, which widened the market for the XJ-S, plus we gained a convertible option.
The XJ-S sold in numbers that the E-Type could never match but in the strict requirements of this feature it has to be described as a pale imitation. However, models are more available for classic Jaguar fans today, its reputation is rising and so will values, although it will never match the E-Type, but in the end, does that matter?
VERDICT: PALE IMITATION