MG TF 2002-2005
The MG TF arrived in January 2002 with a four model line-up: 115, 120 Stepspeed (CVT auto), 135 and 160 (VVC). The range starts with a 1600cc model with 115Ps, a manual five speed PG1 gearbox and a minimised specification list compared to other models. This includes natural black plastic door handles and side intake air vents. The base model retains alloy wheels and a reasonable spec level, but many owners wanting the smaller engine also had options fitted such as remote central locking. With today's focus on CO2 emissions and taxation, the 115 is rated at 169g/km.
Next in engine power terms is the 120 with an 1800cc 120Ps engine attached to the ZF Stepspeed CVT gearbox. The self-shifting gearbox comes at a price – a noticeable loss of acceleration, an average 5.5% loss of fuel efficiency and it emits more CO2 than the same engine when attached to a manual gearbox. The CO2 output for early TF Stepspeed was 199g/km, dropping in 2003 to 194g/km.
Next is the 135 model with 136Ps from its 1800cc engine and the same PG1 gearbox as found on the TF115, but with 10% lower gearing. This was the most popular model with a power level close to that of the original MGF VVC. The 135 model arrived with a CO2 emission level of 189g/km, but in 2003 this was re-certified to 184g/km at VIN RD617391. Top of the range is the TF160 that delivers 160Ps from its VVC engine and has the same gearbox as the 135. The greater efficiency of the VVC engine gives 24Ps more, but it produces less CO2 at just 179g/km, a real win-win situation.
A number of limited edition models were created during the MG-Rover years including Sprint, Cool Blue, Sunstorm, 80th Anniversary and Spark. Essentially all except the 80th were cosmetic specials, taking various extras from the options lists and including them into the limited edition model. These LE models are no more valuable than a similar age and condition standard car, but are often more attractive so sell more easily.
Equipment levels vary from model to model, but there is an oddity in the logical model progression. The 115 and the 160 models represent the entry and top of the model range, but the 120 actually sits higher in the equipment specs than the 135 to try and make it more attractive. The differences were in items like standard ABS, better interior trim materials and other details, but as time passed equipment specs improved anyway so these differences reduced.
All cars came with standard alloy wheels, on all but the 160 at 15in. There is a deliberate mismatch of tyre sizes with 185/55×15 front and 205/50×15 rear, whilst cars with 16in wheels ran with 195/45×16 front and 215/40×16 rear. Tyre sizes differ, but the wheel size is common and 15in rims are 6in wide whilst 16in rims are 7in wide.
Tyre choice is critical on all MGF and TFs. The basic advice is to never mix tyres, and to only use an MG-approved brand and model all round otherwise instability will often be experienced. At the moment, this gives you a choice between the Falken ZEIX ZE914 and the Toyo Proxes T1R – see p112 for more.
The TF160 had 304mm diameter brake discs and red four pot calipers, along with a 16in wheel design to accommodate these. Mainstream TFs came with 240mm front discs with slider calipers that are perfectly adequate for normal use. ABS was standard on 120 and 160 models throughout the whole production period, an option elsewhere until 2004 when it was standardised across the range. All TFs feature Electric Power Assisted Steering (EPAS) that differs from MGF in that the gearing of the steering rack was quickened by 10%, reducing the lock-to-lock turns to 2.8.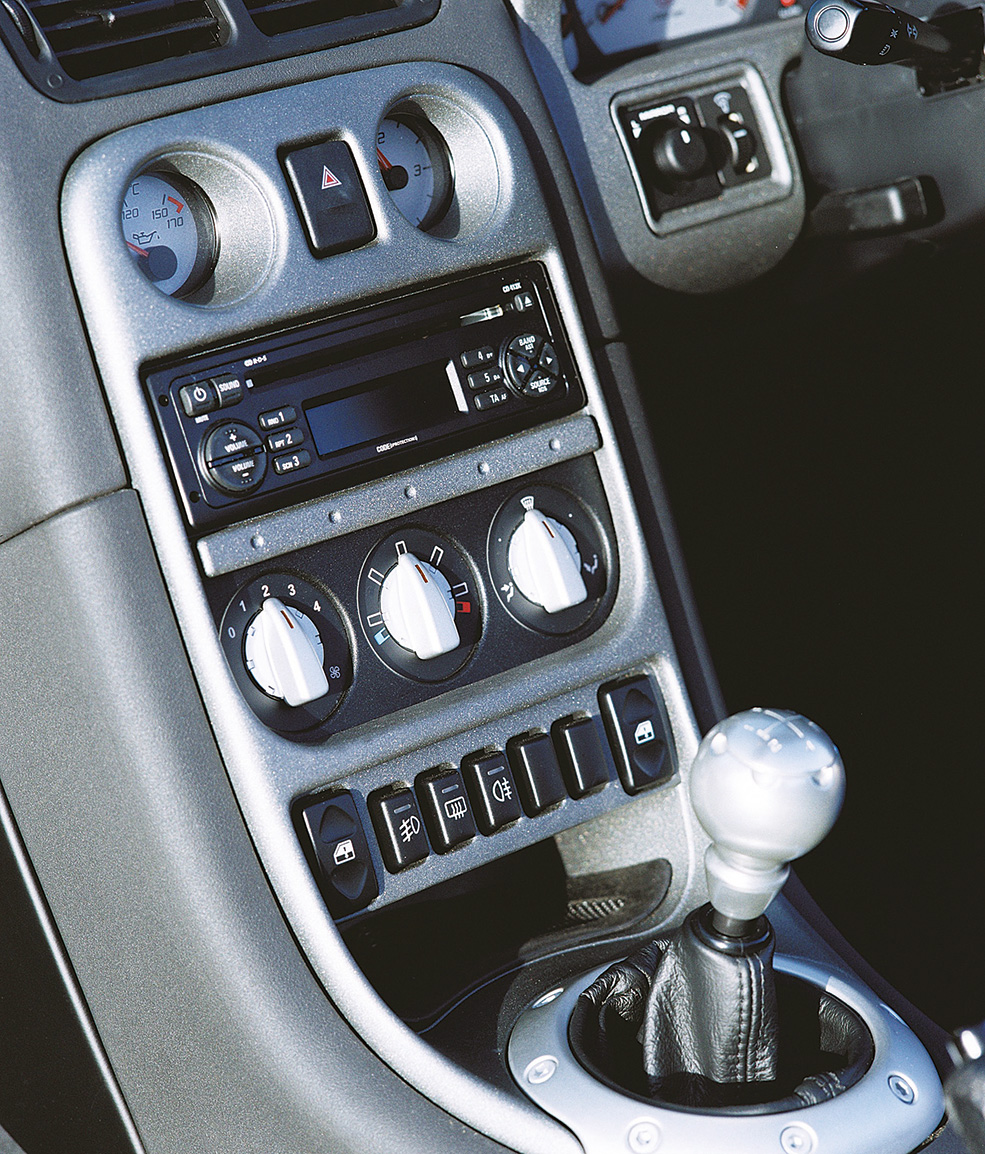 No discussion on the merits of a K-series engined car can be complete without mentioning head gasket issues. This WAS a big issue for cars when they were new and the failure usually involved the degradation and displacement of some of the elastomer sealing strips on the original SLS gasket. This then led to loss of sealing, followed by coolant in the oil or loss of coolant to the outside.
Whilst it is quite possible that low mileage MG-Rover produced cars (especially from approximately 53 registrations when the Pressure Relief Thermostat was introduced) are yet to have a head gasket change, the likelihood is that the gasket has been changed. Hopefully to an MLS (Multi Layer Steel shim) gasket that doesn't have any elastomer to degrade or displace, and which to all intents has cured the head gasket issues.
Under car mild steel coolant pipes are known to corrode and leak, but stainless steel replacements are a similar price and the commonly chosen replacement. Radiators do corrode too, and often don't show how bad until leaking, so a close check of the state at the base of the radiator by looking through the intake under the number plate will provide a reasonable assessment.
Standard TF exhaust systems are often very long lived. An oddity with early TF135 and 160 models is an ECU-controlled valve in the righthand tail pipe to enable the cars to pass the drive by noise test. This was subsequently dropped in 2004, but observant buyers may see exhaust gas during a cold start only emerging from the left tailpipe –
this is not a fault.
Rainwater leaks can be a problem inside the car. There are many places that this occurs, and with quiet different causes. The common problem areas for all cars are around the two door mirrors (called cheaters) and into the car, running down the inside of the door trims and over the speaker covers before dripping onto the carpet and collecting underneath. Ultimately this needs replacement of the main seal, a large item that will cost around £150.
Early TFs are more prone to suffer from water leaking into the passenger side footwell from water passing the seal of the heater cold air intake box. Usually this was cured from mid-2003 when a new snorkel design of air intake arrived.
Pre-2005 model year TF spring and damper rates are frankly hard. Belatedly the 2005 model year cars featured a softer suspension, with the old harder spec being retained only in the Sportpack 1 option. For earlier TF owners, Vehicle Handling Solutions (former MG-Rover engineers) developed a Comfort Kit for the earlier TFs using Bilstein dampers. Other soft ride conversions can be found, including retro fitting later TF soft ride springs and dampers.
Hoods are usually black, but colour options exist. Nearly all of them came with a plastic rear window that over time suffers from clouding, becoming brittle and crack-prone. The rear window section is designed as a separate part so can be replaced. Cost of a replacement rear window will be between £150 and £350 depending on the repair route chosen. Also check for rubbing damage in the hood, and beware of weak elastic stopping it lowering half way down – this requires a simple lift of the front hoop to make it close, but if you try forcing it down you will damage the frame.
Hardtops were always an extra cost option in the common gloss black or body colour. All cars are built with the option of fitting a hard top, so all fixings and wiring is in place. Fitting a hardtop is literally a two minute job for two people, and all tops fit both MGF and TF. Remember the need for a HRW switch and relay for cars that have not had a top or glass rear window hood fitted before.
Service history is important, (although this has no major impact on asking prices,) to confirm work such as routine timing belt changes has been done. Far too many owners misinterpret the service requirements and think that a service schedule of four years or 60,000 miles is one or the other, but miss the bit that says WHICHEVER COMES FIRST!
Those looking at a Stepspeed need to confirm the gearbox works normally. Problems can be generated by the wrong oil, and repairs are usually expensive. MG-Rover specialists and XPart outlets have the correct oil as mainstream CVT oils are not suitable, and if the correct oil is not readily available then a very similar series ZF CVT unit was fitted to the 2001-2006 BMW MINI, so its oil is a safe alternative.
Wear and age issues will be the major influences on car condition, and this varies depending on the use and mileage the car has been subjected to. We used to say 'the newer the better' when choosing a car, but time has eroded the accuracy of that statement as some early cars have little mileage and are in super condition whilst some later ones sport high mileages and a grotty condition. Therefore condition is now king. Good cars stand out from others, and this leads to another piece of general advice: all prospective purchasers should try and experience at least four cars of the same model with wallet closed. That experience will then allow you to make an informed assessment and pick a car that suits your needs and is less likely to give you problems.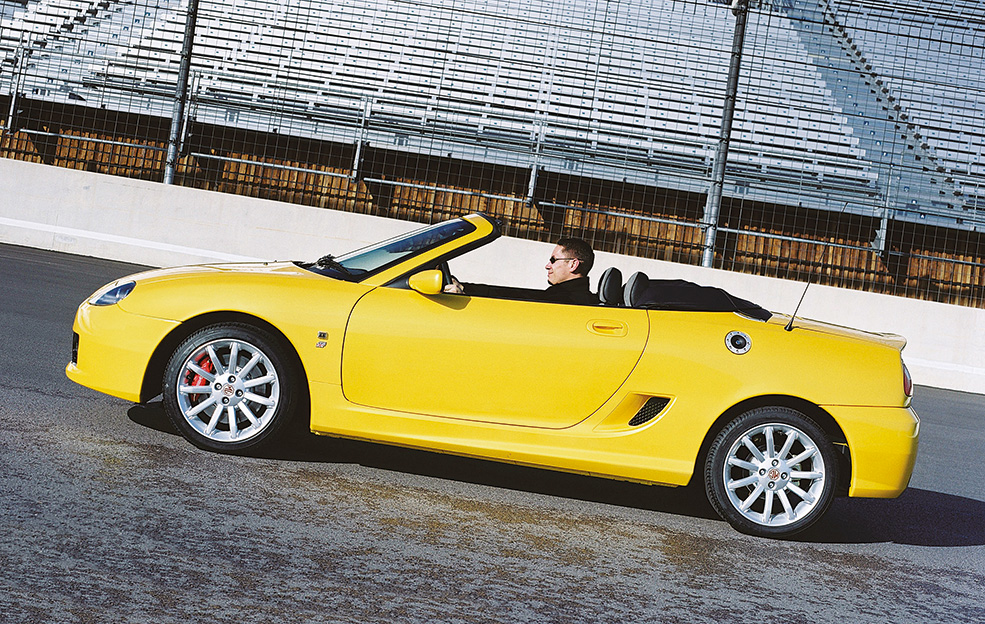 WHAT TO PAY
How much you pay for a good one is still a surprise to many who are used to MGB and other classic MG values. There are many tidy cars around for £1000 or less, but expect some maintenance and other bills at this price. With a little patience and effort you should be able to find a surprisingly good example for our £1500 budget with fewer than 80,000 miles, a good service record and in very clean condition inside and out. Mechanically at these mileages the general efficiency will still be very good, and many cars will not experience any significant mechanical issues until well beyond 100,000 miles. LE models are more interesting but do not attract greater value, nor do standard cars where much of the option list was ticked by the first owner. Other choices if you have £1500 to spend are a tatty MGB GT with rubber bumpers (though you can expect significant further expenditure soon), or you could search out a clean and tidy ZS with years of life left in it.