Driven by an individualistic streak since it began producing vehicles, Toyota's sports cars are now fetching serious sums of money.
SPORTS 800 (1965-1969)
Lightweight, tiny and highly exclusive, Toyota's answer to the Daihatsu Compagno and Honda S500 became a minor icon upon its release – one was recently modified in-house by Gazoo Racing tuned by "Meister of Nürburgring (GRMN).
Acutely aware of the tiny power output available from the Publica saloon's 790cc flat twin, Toyota's Sports 800 production team (including Shozo Sato, on loan from Datsun, and ex aircraft designer Tatsuo Hasegawa) trimmed the kerbweight of the new car down to 580kg, thanks to extensive use of aluminium and a tapered front end to reduce frontal area. Bolting twin carburettors on the 2U Publica engine upped the power to 45bhp; suddenly, Toyota had a 100mph sports car on its books.
Most of the 3000-odd Sports 800s built stayed in Japan; Classics World  knows of at least one for sale in the Channel Islands. If a trip to Jersey doesn't appeal, importing is your best bet. We determined values via car sales website Goo.net-exchange, we found six Sports 800s for sale, four of which were early production units built in the first year of the Sports 800's four year career.
Project cars are virtually non-existent: most Sports 800s have undergone restoration work.
Reckon on spending between 3.98 million (£26,950) and 4.69 million Yen (£31,815) to add a Sports 800 to your collection before shipping. Rest assured, you probably won't see another at a show.
2000GT (1967-1970)
A distillation of the best Europe had to offer, the 2000GT hinted at the febrile potential within Toyota. With the help of Yamaha, engineers took the Crown's straight-six, added a twin cam head – and found 150bhp from just two litres of displacement.
If its engine was a miniaturised Jaguar XK in philosophy, its backbone was a scaled up Lotus Elan chassis. Using the concept sketches of BMW 507 stylist Albrecht von Goertz as inspiration, designer Satoru Nozaki produced the final shape – a low slung coupe with pop up headlights and a hatchback tail.
Small and cramped, a special roadster model appeared in the James Bond film You Only Live Twice: desperate for its products to be seen on screen, Toyota took the roof off the 2000GT to allow Sean Connery to fit inside. Intensive hand built production of 351 2000GTs, including 62 left-hand-drive cars prized in the US, took four years; in that time, a legend was born.
Worldwide collectors have come to acknowledge the 2000GT as the first seven-figure Japanese classic car; according to data collated by The Market last January, its desirability makes it a hot ticket item. Reckon on between £700,000 and £1,000,000 to park one in your garage.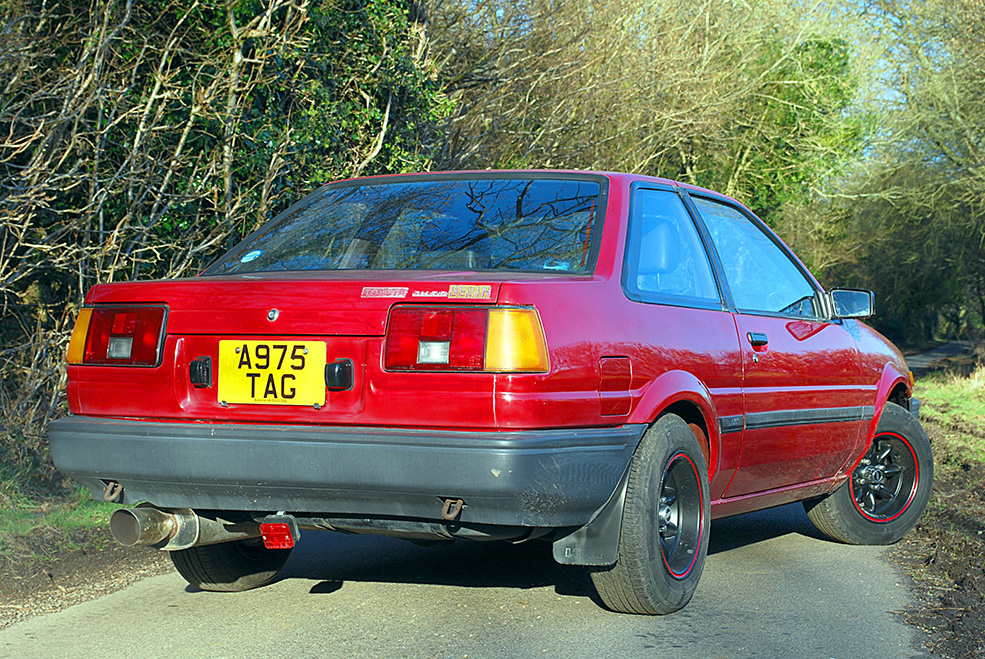 COROLLA AE86 (SPRINTER/LEVIN, 1983-1987)
Thanks to a certain manga (and anime) series, the last rear-wheel drive Corolla is deified within Japanese car culture. A successful touring car career on this side of the pond meant nothing for the residuals of the AE86, a car sold here as the Corolla GT. Pushing where fashionable hot hatches pulled meant many rotted away as their value bottomed out; thanks to the imported sensation of drifting (and the aforementioned Initial D), the AE86 – a small, lightweight car regarded by many as Japan's Ford Escort Mk2) – surged in value.
British market Corolla GTs remain highly sought-after. Many buyers now buy AE86s directly from Japan, where their survival rate is better. To avoid mark up from specialist importers, the most expedient method of purchase is arrange ro-ro (roll-on, roll-off) shipping in a container after landing a deal on a car in Japan yourself.
Via Goo.net-exchange, a wealth of AE86s were readily available; choosing either from a Sprinter Trueno (pop-up headlights, slat grille, hatchback or saloon) or Sprinter Levin (fixed headlights, bar grille, hatchback or saloon) will see a decent return on your investment. Reckon on between 900,000 to 3.98 million Yen (£6111 to £27,023) to get yourself behind the wheel of an anime icon before shipping; just be wary of unscrupulous sellers who pass off converted AE85 models as 86s. Conversions with a proper bulkhead, a twin-cam 4-AGE engine, shell stiffening and a disc-braked rear axle do take place, but prices are commensurately lower. A fully dressed up AE85 saloon, declared as such, was available on Goo-net-exchange at time of writing for 880,000 Yen (£5981).