These diminutive classics led the way for small cars in their respective decades and markets, offering big practicality in tiny packages
Hillman Imp (1963-1976)
Although the Hillman Imp wasn't conceived solely as a Mini competitor, the young talent behind it was tasked with creating a car with youth appeal – the kind of machine that would attract a younger demographic than any Minx or Hawk. Also marking a break with tradition was Rootes' decision to build an all-new factory in Linwood, Scotland, with an equally new workforce – something that would result in teething troubles and earn the Imp a reputation for reliability issues early on. With the car rushed into production, research and development schedules were pushed to the limit.
The Imp was unusually specified for the time, with an aluminium engine with racing pedigree mounted in the rear and driving the rear wheels. It was all wrapped up in a square-edged and attractive body that owed little to other Rootes Group offerings. Designers Tim Fry and Mike Parkes had perceived the need for a small car, which intensified with the arrival of the Mini. Front-wheel drive was ruled out through the cost of suitable CV joints, but the pair realised that putting the engine at the driven end could free up space. Thus, it was mounted at the rear – bringing with it the added benefit of reductions in noise and fumes in the cabin.
During its 13-year career, the Imp range was almost as varied as that of the Mini. Much like BMC, Rootes was brand-heavy in the 1960s, with a name for every market. And so it was that the Imp became the prestigious Singer Chamois complete with dummy grille, and the powerful (twin-carb) Sunbeam Imp Sport. All ranges had a coupe variant – the Imp Californian, Chamois Coupe and Sunbeam Stiletto – and Singer also offered the Sport engine in the Chamois Sport. Those needing a commercial could enjoy the Commer Cob, which became the Hillman Husky estate for the family man with the addition of rear windows and seats. Late in production, the range was simplified and a new limited-edition was introduced towards the end to use up all the options; the Caledonian is now worth a small premium over a standard Imp.
Imp specialists such as Malcolm Anderson can supply many parts, as can the Imp Club from its spares list and even from members with personal spares supplies. While the engine was only used in the Chrysler Sunbeam (in 930cc form) after its time in the Imp was through, parts in general are not especially hard to source – unless of course, it's minor trim for rare variants. Parts aren't dear either, and given that an Imp can do upwards of 40mpg on a run, there's nothing that should be too expensive in terms of ownership costs.
Imps are still relatively cheap to buy, too – although there is a clear hierarchy. Generally, a late Imp is worth less than an early one, and the rarer the type was when new the more expensive it is now. Highest-value cars are the Sunbeams and the Singer Chamois Sport, while rarity value means that Commer Cobs and Hillman Huskies can fetch more than a standard Imp saloon. Best value today would arguably come from an early Hillman or Singer Chamois, and while these cars won't ever make the FTSE100 look like a bad bet, they're not going to lose you any money either. Around £5500-£8500 should get you the best depending upon the model, though a budget of £4000 will find you a nice enough example.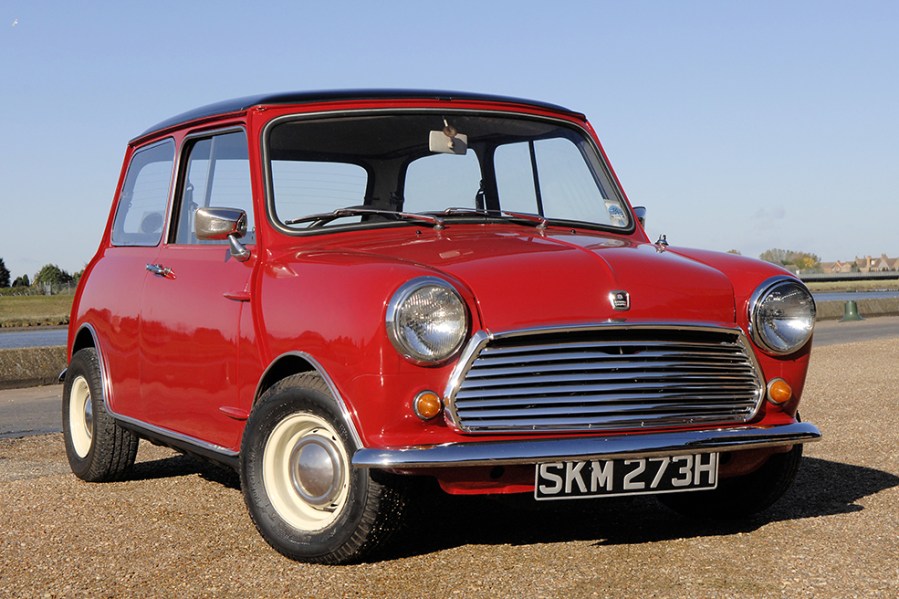 Mini Mk2 (1967-1970)
The most popular alternative to the Hillman Imp was the small car that the designers referenced during its development – the BMC Mini. And in Mk2 form, it's surprisingly good value when compared to its earlier forebear. Changes to the formula were simple but represented a useful update of the original concept. Launched in 1967, the Mini Mk2 remained on sale for three years, setting the blueprint for the versions that followed.
The Mk2 brought a larger rear window, new rear lights and a squared-off grille, as well as new trim levels and an optional 998cc variant of the A-Series engine. Performance Cooper and Cooper S models continued, as did the premium Riley Elf and Wolseley Hornet, plus the capacious estates. The Mk2 was usurped by the Mk3 in 1970, when the Mini reverted to rubber-cone suspension.
So, why would you choose a Mini? If the class-leading handling isn't enough for you, then consider the space efficiency, the community and the ease of sourcing cheap parts. The Mini is one of the easiest small cars to look after, with a litany of specialists offering new and used parts, making it as easy to keep on the road as any modern alternative. To boot, there are few jobs that can't be undertaken with a basic socket set, and with a Mini club seemingly on every street corner there'll be plenty of local assistance should it be needed. Beyond all that is a chassis that makes a small family car feel like a sportster – once you've driven a Mini, you'll find it hard to imagine life without one.
You can still get a really nice (non-Cooper) Mk2 Mini for £10,000, although concours examples will obviously be worth significantly more. If you want something that needs a little work to make it perfect, you can get away with spending around £6000-£7000 on a reasonably nice example. Countryman and Traveller estates can command a 10 per cent premium over a standard saloon. With lots of buying guides on the Mini out there, we won't elaborate too much – but rust in the lower extremities, A-panels and all-important subframes is the biggest red flag when viewing a potential purchase.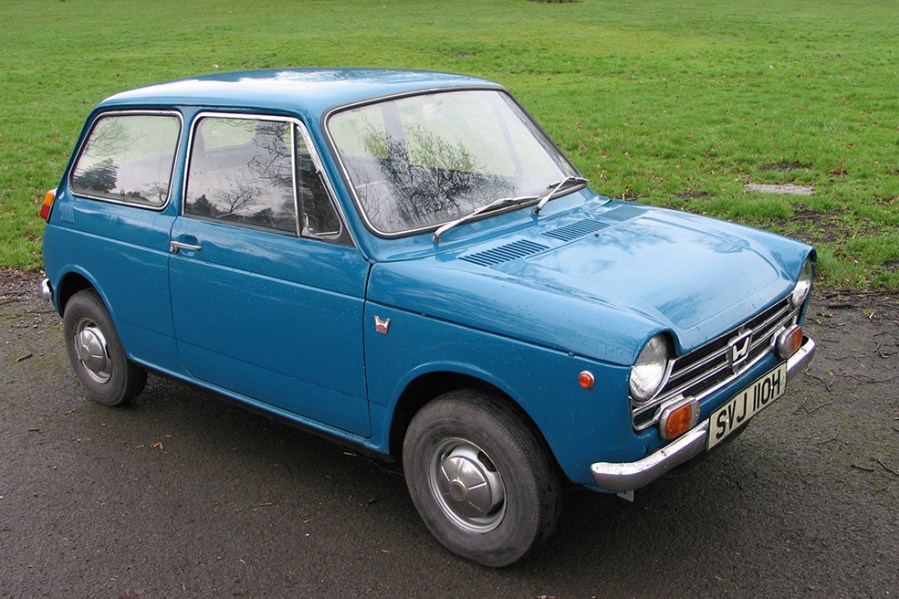 Honda N360/N600 (1967-1972)
Despite Japanese manufacturers' mastery of small cars, the 'kei car' never really took off in Britain. The few we did get make an interesting alternative to a Mini or an Imp, however – and the Honda 'N' was arguably the best of them all. First introduced to Britain in 1967, the N360 and N600 hit our shores at the same time – offering front-wheel drive in a package even smaller than the Mini. Like the Mini, the gearbox was mounted in the sump; but unlike the British car, the Honda was air cooled, simplifying the underbonnet layout of its two-cylinder engine even further.
As well as the standard models, Honda made an optional Hondamatic automatic variant, while an N600G variant brought such luxuries as a deep pile carpet, metallic paint and a rev-counter. Standard and G models were replaced in 1970 by the Touring – trimmed as per the G but with a matt black dashboard. The end of 1972 saw the end of Hondamatic production. Now of course, with few survivors on the roads of Britain, you can't afford to be too picky; but it pays to buy the best you can, given that parts are far harder to come by than for the British duo featured here.
By opting for an N360 or N600, you get obvious rarity appeal. Given their scarcity in the UK, you'll be hard-pressed to find another even at a classic Japanese car show. They'll also fit in any garage regardless of size, and they represent a piece of history. The N360 was Honda's first family car – N stood for Norimono and translates as 'car', separating it from Honda's motorbikes and commercial vehicles.
With few for sale, it's hard to put prices on these miniature Hondas – but between £5000 and £7000 should be enough to get hold of a reasonable example today. For rarity that outdoes most classic supercars, this seems like excellent value to us. It's worth noting that the N360 – although officially available in Britain – was not as popular as the N600, and if you have your heart set on the smaller engine it's wise to focus your search outside the UK. Given that Japan drives on the left, there should be no hardship involved in living with example imported from its homeland.
Fiat 127 (1971-1983)
When the Fiat 127 first appeared in 1971, it was a saloon rather than a hatchback, although it didn't take long for Fiat to transform the sloping rear into a top-hinged tailgate, creating a genuine rival to small cars like the Renault 5. The 127 stayed in production for twelve years, went through two facelifts and managed to attract 3.7 million buyers. Consistently one of Europe's top-selling cars, the used market today is still saturated with plenty of choice for the buyer.
The first major 127 upgrade occurred in 1978 with the adoption of a more modern looking front and revised rear, followed by the launch of a genuinely sporty version: the 70bhp 127 Sport, complete with uprated 1049cc powerplant and stiffer suspension. Performance took a further leap forward in 1981, when the third-gen 127 (with another front-end restyle) brought with it the 1301cc GT, with 75bhp at its disposal. Sadly though, its career lasted just two years, with the 127 range being replaced by the all-new Uno in 1983.
Basic models in good condition can fetch £3000-plus (or less than £2000 for a roadworthy project), although you can pay anything up to £6000 for a Sport or GT. There's clearly money in the 127, but most of it is reserved for the special models that haven't been so commonly available in the last decade.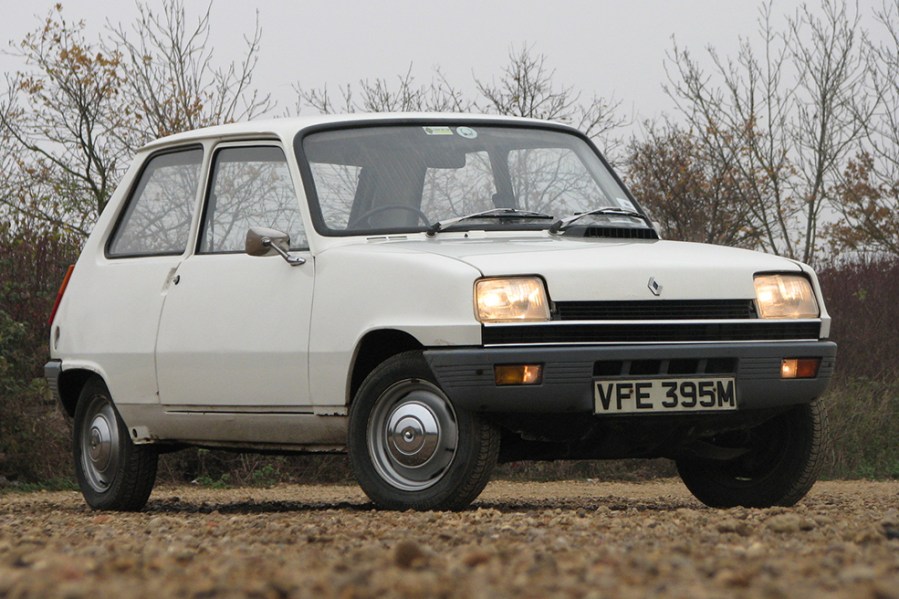 Renault 5 Mk1 (1972-1984)
From its launch in January 1972 through to its demise more than twelve years later, the first-generation 'Cinque' was a massive success for Renault, with its production run of 5.5 million making it one of the most successful small cars ever. Where the Renault differed from most rivals was in its use of a longitudinally-mounted engine, but in every other respect it was a genuine supermini – with neat styling, hatchback versatility and a wide range of derivatives to choose from.
Although the French-spec 782cc version was never imported, the UK was offered 845cc, 956cc, 1108cc, 1289cc and 1397cc engines over the years, as well as a wide range of trim levels and – in later life – even a five-door version. Meanwhile, the 1976-on Gordini was Europe's first 'hot supermini' thanks to its tuned (93bhp) version of Renault's 1.4-litre motor, giving a 110mph top speed and 0-60 in less than eleven seconds. The excitement grew still more in 1982 when the Gordini Turbo was launched, boosting power to 110bhp, and it never really let off since. The fast 5s have always enjoyed a special attraction with enthusiasts.
Both of the hot models are now highly sought after, so don't expect any change from £20,000 (or more) for a the best, or even more for the mid-engined Turbo versions. Standard examples of the 5 offer far better value, however, with later cars available from £2000, while excellent survivors can achieve £5000-plus depending on their originality, history and bodywork condition. For now, it seems to be a seller's market and even the most basic early models can be priced confidently.
Ford Fiesta Mk1 (1976-1983)
Launched in Europe in 1976 and arriving here the following year, the original Fiesta went on to be a success, with 1.75 million produced by the time production ceased in mid-1983. The Fiesta's 957cc and 1117cc engines were re-engineered versions of the old 'Kent' unit, as was the subsequent 1298cc, with trim levels comprising Base, L, Ghia and S, joined later by a mid-range GL. The lively 1.3 Supersport was added in 1980, and the basic Fiesta was dropped in favour of Popular and Popular Plus versions. The whole range was revised in 1981 via black bumpers and various interior improvements.
Most exciting Mk1 Fiesta development also occurred in 1981, with the launch of the XR2 – featuring a 1598cc 'Kent' engine, sports suspension and a 105mph top speed. And it's this that remains the most expensive of all the Mk1 Fiestas, with mint-condition examples being advertised by dealers at anything up to £20,000, although £12,000-15,000 should secure you a decent car in a private sale.
Even a standard-spec Mk1 Fiesta is no longer a cheap option, with an asking price of £5000 likely for a low-mileage, rust-free car with provenance. Less immaculate examples can be found for less, but even a project car is likely to be well into four figures. Still, the Fiesta is cheap by classic Ford standards, so now is still a good time to buy.