Established as a true British icon, the Jaguar Mk2 unlocked the potential of its Mk1 predecessor. Here's how to buy a great example
Words: Paul Guinness  Images: Jeff Ruggles
The Mk2 was Jaguar's big new announcement of 1959, and despite carrying over many elements of its predecessor's monocoque bodyshell, it was surprisingly different Jaguar saloon in overall appearance. The biggest changes were above the waistline, which saw a dramatic increase in glass area; the side windows were deeper, the windscreen was larger and the rear screen was of a wrap-around design. Combined with a redesigned grille and new-look lights, the overall effect was quite dramatic, with the Mk2 having the appearance of a genuinely new car.
Mechanically, there were plenty of familiar features, including continued use of the retrospectively named Mk1's 2.4- and 3.4-litre straight-six powerplants, now complemented by a range-topping 3.8-litre version. Other improvements included the standard fitment of Dunlop disc brakes, as well as a wider track for improved handling. Early cars were offered with either a Borg Warner automatic or Moss four-speed (plus overdrive) manual transmission, though the latter was swapped for a full-synchromesh Jaguar manual set-up by September 1965.
The Mk2 was finally killed off by late 1967, although two re-branded versions – the Jaguar 240 and 340 – were then launched. The 240/340 interior was downgraded via the use of vinyl upholstery and poorer quality carpets in order to keep list prices as low as possible, but in every other respect this latest duo was a fitting continuation of the Mk2. Both models were only ever intended to be stop-gap designs, however, hence the disappearance of the 340 as early as 1968, with the Jaguar 240 ceasing production the year after.
Production figures for the entire Mk2-based line-up make for impressive reading, with the 3.8 being the most successful of all. Out of the 83,980 Mk2s built between 1959 and '67, a healthy 30,141 were the 3.8 flagship, with the 2.4 and 3.4 models achieving sales of 25,173 and 28,666 respectively. The short-lived 240 and 340 models, meanwhile, attracted 4446 and 2788 buyers in turn.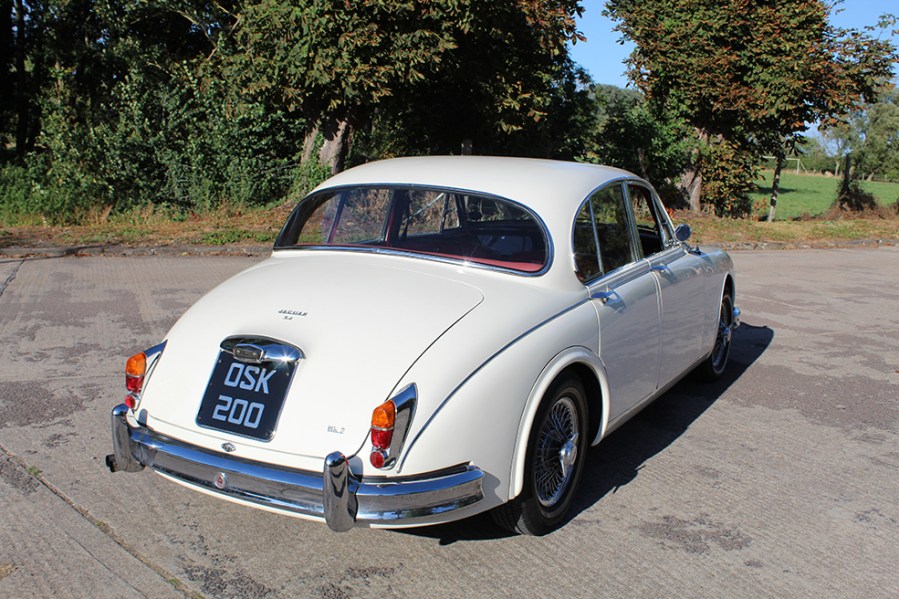 As with any Jaguar saloon, the Mk2 went through a stage of being simply a 'second-hand Jag' rather than an appreciating classic, with low resale values attracting uncaring owners who simply wanted the most performance for the least cash. (As an aside, the Mk2 came to be known as the ideal getaway car for undesirables, its immense power being a major problem for traffic police in hot pursuit.) As a result, large numbers of Mk2s were neglected, finally succumbing to rust and ending up in the crusher.
Inevitably, it's the 3.8 that most aficionados cite as the ultimate version, thanks to its class-leading performance and 220bhp power output. In truth, however, the 3.4 wasn't that far behind with its official rating of 210bhp, while even the entry-level 2.4 could boast a healthy 120bhp output – enough to push it to around 100mph flat out.
The 3.4 and 3.8 versions offered top speeds of 120 and 122mph, with 0-60mph times of less than 10 and 8.5 seconds respectively. Those were hugely exciting figures, made all the more tempting thanks to Britain's fledgling motorway network still being free of a maximum speed limit back then. By the time the Mk2 evolved into the Jaguar 240 and 340 in 1967, the good news was that the entry-level 2483cc version now offered 133bhp thanks to its modified cylinder head and twin SU carburettors.
If you are looking at a 3.8, make sure the car you're buying is the real deal. It's not that unusual, for example, to come across so-called 3.8s that have been built using 2.4 or even Daimler V8 bodyshells, so it's worth remembering that all genuine 3.8-litre Mk2 chassis numbers start with a '2'.
Bodywork
The Mk2 family was an early example of Jaguar-style monocoque design, typically over-engineered in many ways. There were, however, several rust traps built into the bodyshell that can ultimately render it unsalvageable if left for long enough. With poor rustproofing from new, the sad fact is that many Mk2s will be hiding rust somewhere. While most of the bodywork is replaceable and most panels are available, cost can vary wildly. Budget for around £70 for a jacking point, for example, while a replacement spare wheel well costs around £420 and a door skin is from £90. However, front wings can cost over £3000 each, ensuring that any Mk2 needing bodywork restoration could well be a major financial undertaking.
Check the state of the front chassis legs, especially at the nose – water can enter and rot out the jacking points that are near the A-posts, with calamitous effects in terms of overall rigidity. While there, check the bottom of each front wing and the way the doors fit relative to the rest of the panels. Sill issues can lead to A-post deformities and this in turn can affect the way the doors shut. Rectification work is labour-intensive and can only be carried out correctly on a jig, so be wary of any strangely inexpensive sill repairs in the car's service history.
Check the Panhard rod mounting in the offside rear wheelarch (another favourite for corrosion), as well as the rear spring hangers and anti-roll bar mountings. The floorpans can rust as severely as anywhere else on the car, while the area at the back of the sill where the rear door meets the wheelarch spat is equally prone to issues. Finally, carefully examine all of the lower extremities of the panelwork, particularly the boot lid and doors, as water can become trapped between the skins and cause further problems.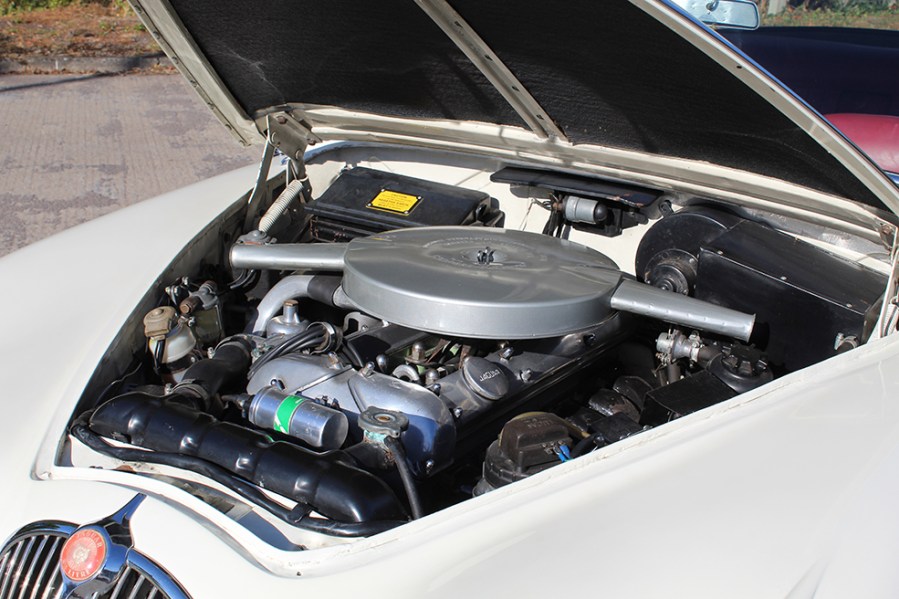 Engine and transmission
The Jaguar XK engine found in every Mk2 requires regular maintenance to stay at its best – and rebuilding one in need of intensive work can be an expensive proposition. A well cared-for XK can reach high mileages, but regular 3000-mile (or six-monthly) oil changes are important if you want your engine to lead a long and healthy life. Check the colour and consistency of the oil in any Mk2 you're inspecting; if it's black or gloopy, it needs changing as a matter of urgency, and we'd also be concerned about what else has been neglected.
The aluminium alloy cylinder heads can corrode internally if the wrong level of anti-freeze is maintained, leading to radiator silting and overheating, with the inevitable head gasket related issues. Check the oil pressure gauge; you should see a minimum of 40psi when cruising. A little blue smoke and oil consumption is normal, but if there's a lot then you should either budget for an engine rebuild or walk away and find another Mk2 for sale.
While many would argue that oil spraying underneath the car counts as free rust protection, it's likely to be the rear crankshaft oil seal, which requires a full engine rebuild to replace. The 3.8-litre models come with the extra complication of cylinder liners, which must be removed during rebuilds to check for corrosion in the water jackets.
Prior to September 1965, the Mk2 used the well-known Moss manual gearbox that lacks synchromesh on first gear and which many users argue is too notchy for comfort. Later cars use Jaguar's own all-synchromesh 'box, widely acknowledged as an improvement. Check both units for wear – neither should jump out of gear. Rebuilds are viable, but parts for the Moss box in particular have become scarce.
The overdrive should cut in smoothly and disengage quickly, although this was an option that not all owners chose to fit when new. Clutches are an engine out job to replace, so don't be tempted by a car with a slipping clutch unless you can make a significant negotiating point out of it. Mk2s fitted with automatic transmission used the Borg-Warner DG unit, which is still well-served by auto gearbox rebuild specialists and parts suppliers. You should still carry out all the usual checks though, making sure that the gear changes are smooth both up and down the 'box, with no signs of slipping.
Suspension, steering and brakes
The Dunlop-designed all-disc braking system is relatively straightforward and, on a well-maintained car, should reveal few nasty surprises. A thorough test drive will prove whether the servo is defective (new ones are available for around £500), and you should also carry out the usual checks for corroded brake lines/pipes, scored discs and so on. The Mk2's handbrake was never its most impressive feature, so don't be surprised if it's not particularly effective.
When it comes to steering, the main concern will be movement in the column itself, as this suggests the bushes need replacing. If the Mk2 you're examining is fitted with optional power-assisted steering, then the usual checks for fluid leaks and lack of 'assistance' apply.
The Mk2's suspension system isn't overly complex, but you should be on the lookout for wear in the front wishbones, bushes and ball joints. Any Mk2's ride should be relatively supple over rough roads but taut when it comes to cornering; if the car feels 'sloppy' in the bends, it means that a suspension overhaul is due, while a wayward back end might suggest a broken Panhard rod. The back axle on any Mk2 (it's worth noting that the 3.8 came as standard with a limited-slip diff) should be noise-free, so check for this on your test drive.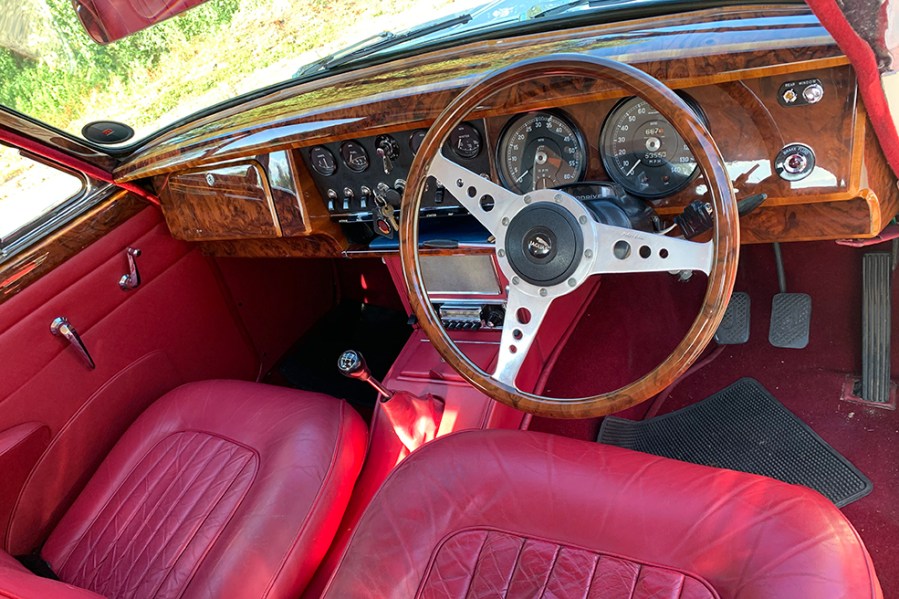 Interior, trim and electrics
The Mk2 features a truly stunning interior, with high-quality walnut veneer and leather aplenty. The problem, however, is that such natural materials can all suffer if water is al-lowed to get into the cabin – and none of it will be cheap to replace.
For example, the Mk2 features almost 30 separate pieces of walnut trim. When this gets damp, first the lacquer lifts, then the veneer itself can delaminate. Replacement wood is available but it comes at a price – as does having your existing wood re-veneered or re-lacquered. Moreover, leather seats can go hard, crack and eventually split if not maintained, while headlinings and carpets can rot as a result of water ingress. In short, make sure the car has been dry inside – and that means checking all the door seals and the front and rear screen seals, as well as looking under as much of the carpet as possible for signs of damp-ness. Although parts availability is impressive, the bill for a full interior retrim will scare many potential purchasers.
Chromed items and other minor trim can all be sourced, with some excellent quality repro-duction items now available from independent Jaguar specialists. Generally though, it pays to be diligent and to source a car with the best trim you can find.
Jaguar Mk2: our verdict
From the start of the classic car boom in the 1980s to the present day, the Jaguar Mk2's star has continued to shine brightly. This is the all-time great that marque enthusiasts often cite as their top choice saloon model, with its combination of glorious styling, suitably upmarket interior and superb driving style making it the default choice for many. Such demand has inevitably influenced Mk2 prices in the 21st century.
Back in the day, second-hand Mk2s found favour among unscrupulous types wanting a flashy motor, and in the 1970s many were lost to banger racing. Thankfully, the classic boom of the 1980s saved the Mk2 and it's been an archetypal classic ever since. Prices have remined quite static over the last decade, but the last 18 months have seen things pick up by as much as 20 per cent.
Interestingly, the disparity in values is probably bigger than for any other car. In June last year, a 1966 2.4 sold at Barons for just £550, yet at the other end of the spectrum, a 3.8 at Silverstone Auctions in May 2020 made £93,500. However, the price gap between the 3.8 and the 3.4 has closed significantly, with the latter being worth only around 10 per cent less than its bigger-engined cousin in some cases. Excellent 3.8 and 3.4 cars in attractive colours are increasingly exceeding £50,000 again, but the vast majority have sold for under £30,000. Later 340s tend to be cheaper and offer a great opportunity for the canny buyer.
For the 2.4 Mk2 and later 240 cars, £30,000 is generally the ceiling and most cars are under £20,000. The 240 is an excellent entry-level option, benefiting from its relative value for money and its extra power compared with the earlier 2.4. In a real-world scenario, however, it usually comes down to simply buying the best car you can find within budget. almost irrespective of its spec.