With its eager performance and nimble handling, the handsome Ford Puma is one of today's top modern-classic buys. Here's how to find a good example
Words: Paul Guinness  Images: Ford
For Ford enthusiasts, the 1990s will forever be seen as a golden era. After the disaster of the Mk5 Escort at the start of the decade, Ford learned its lesson and launched a series of models featuring fresh styling and excellent dynamics, with the highly praised Mondeo being followed by the Ka and the original Focus. Another highlight, however, was the sporting Puma of 1997, a compact coupe that used the same 'BE91' floorpan as the Mk4 Fiesta.
With its Ian Callum-styled newcomer, Ford was able to re-enter the coupe market with a new class leader, a car that was praised for its outstanding handling and sheer entertainment value. Its main rival, the Vauxhall Tigra, felt dull by comparison, and the Puma justifiably became the biggest-selling model in its sector.
The legendary Richard Parry-Jones was responsible for the Puma's superb road manners, applying his famous chassis expertise to create another top handling Ford. But what lay under the bonnet was also special, with the latest 1.7-litre 16-valve unit (co-developed with Yamaha) being tuned to produce 123bhp. For those buyers who didn't need as much power (or who wanted cheaper insurance), an 88-90bhp 1.4-litre was added shortly after launch, usurped in 2000 by a 1.6-litre unit pushing out 100-103bhp.
The ultimate version, however, was the limited-run Racing Puma of 1999, originally developed as a World Rally Championship homologation and featuring wide-arched bodywork, modified suspension and brakes, plus a 153bhp version of the 1.7-litre engine. High pricing meant slow sales, however, and these days the Racing Puma remains an expensive offering.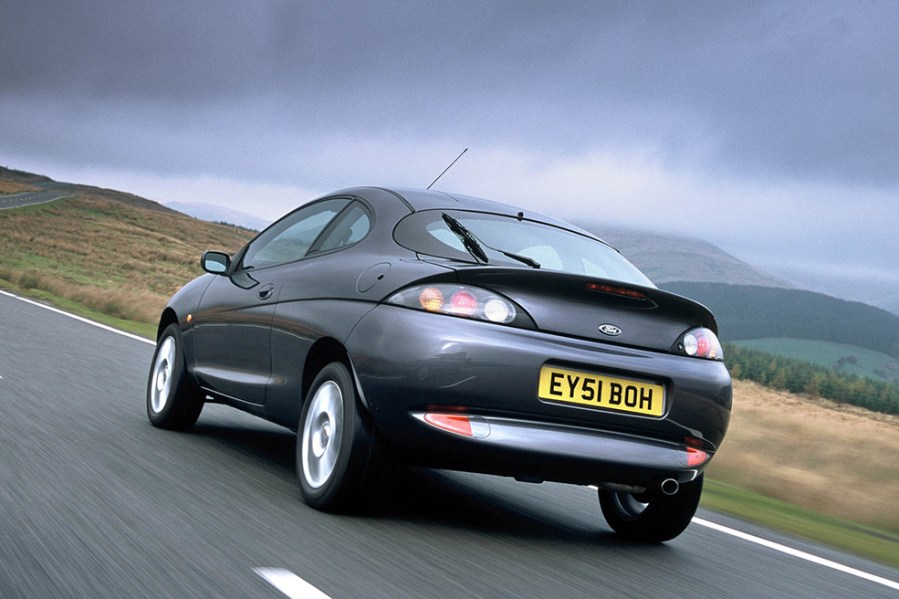 Bodywork
Anyone who's previously bought a modern-classic Ford will know that bodywork longevity can be an issue – and sadly, the Puma is no exception. A well-cared for example can be as rust-free as many of its contemporaries, but any Puma that hasn't been cossetted could be showing signs of corrosion.
Sills and rear wheelarches are particularly vulnerable, despite the standard fitment of arch liners. Complete replacement sills are available, and Ex-Pressed Steel Panels has also now started offering wheelarch solutions; repair sections can be had for less than £78 including VAT, while lower half rear quarter panels are available for around £565 a side. Cost-conscious owners have also had success with adapting panels from other cars, with the front wheelarches from a Peugeot 206 being a popular choice for the back end of the Puma.
The floorpan can also be affected by structural rot that will guarantee an MoT fail and some difficult decisions ahead. Check the entire floorpan from front to back, paying particular attention to the area behind the front wheels and around the boot floor. Any signs of corrosion near the suspension or close to a seatbelt mount is particularly bad news. You should also lift the carpets to check the floor from inside the car.
As with so many Fords (including the Ka), the Puma can suffer from rot around the fuel filler cap. You also need to check around the door mirrors, the door edges and hinges, plus the boot seams and underneath the weather strips on the door windows.
You should check carefully the state of any Puma's front and rear bumpers, as it's not unusual to find cracks, scrapes and poor-quality repairs. Used replacements are easy enough to find, but you'll need to factor in the cost of spraying and fitting.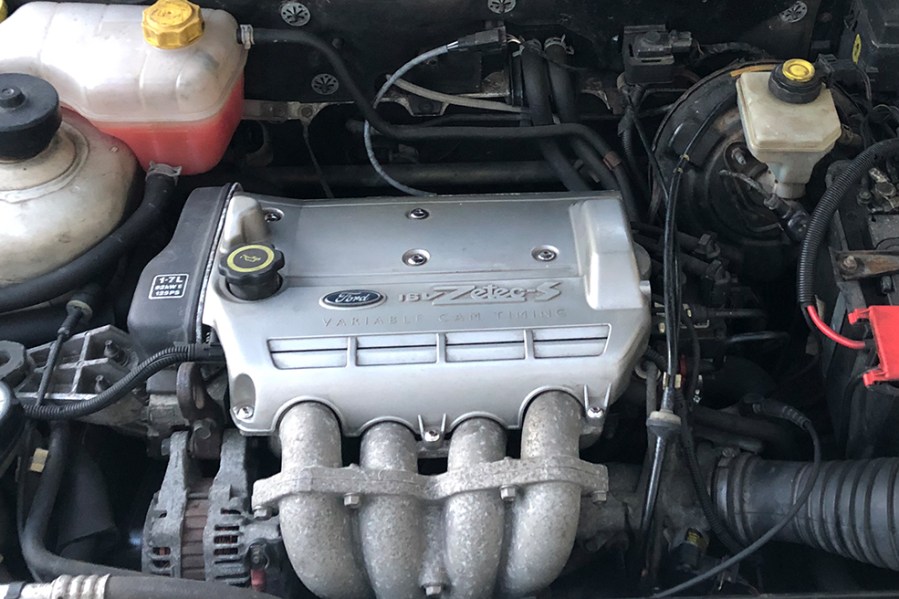 Engine and transmission
Most desirable Puma powerplant is the 1.7-litre, a Yamaha-developed 1679cc version of Ford's Zetec engine complete with variable inlet cam timing (VCT). Avoid any car without history, as you want to see evidence of a cambelt change (plus new water pump and tensioners) every five years or 80,000 miles. It also needs oil changes every 5000 miles, with the 1.7's Nikasil liners demanding 5W-30 semi-synthetic. Check the oil level when viewing, as running it low can ruin this engine.
If there are signs of blue smoke or the car isn't an instant starter, it's a likely sign of cylinder bore wear. Be suspicious of any 'knocking' sounds and make sure the engine revs freely once warm. Oil leaks aren't uncommon, particularly around the rocker cover gasket. If the engine is running erratically or seems low on power, it's likely to need a new lambda sensor, airflow (MAF) meter or coil pack, while any spluttering at low revs could be down to idle control valve or throttle position sensor failure.
The well-proven IB5 gearbox used in the Puma is a reliable unit that should feel slick and precise in its changes. On a high-mileage car, a sloppy shift can be a sign of a worn linkage, which isn't an expensive repair. However, any signs of crunching when changing gears is likely to be caused by synchromesh wear, for which a replacement gearbox (or a full rebuild) is really the only answer. And the same applies if you can hear a rumbling sound as the car accelerates, which suggests failure of the mainshaft bearings.
On your test drive, check for signs of clutch slip (particularly when under load), as this is sure to mean a bill for a new clutch sometime soon. If there's a rattling sound when idling which then goes when you press the clutch pedal, it's simply the release bearing and isn't likely to be a major issue.
Suspension, steering and brakes
The thing that made the Puma such an entertaining steer was the sharpness and precision of its handling, so any car that feels 'sloppy' is sure to have issues. Worn dampers and bushes are the prime suspects when it comes to poor handling, while any knocking sound is potentially the sign of a broken coil spring. Top mounts, front lower arms and anti-roll bar links are all prone to wear, and many Puma owners choose to upgrade to polybushes – although as this tends to firm up the car still further, not everyone appreciates the effect on ride quality.
When it comes to suspension, brakes and steering, most items are ex-Fiesta and readily available at sensible prices. If there's any juddering from the front when you're braking, it could be from contaminated pads or damaged/distorted discs. The rear drums have been known to seize on the handbrake if the car is left for long periods.
Check for general wear and tear, but don't let a car needing a basic brake overhaul put you off if the price is right. Inspect the brake pipes for rot, particularly at the rear. If the brake warning light is illuminated on the dashboard, it's likely to be an ABS sensor fault – and if that's the case, replacements aren't expensive. Note that from May 2000, the original 240mm front discs were replaced by 258mm for extra braking power, while the rear drums went from 180mm to 200mm. Pumas built between March and September 1998 were recalled for replacement of the brake master cylinder, so check the car's history if you suspect that's when it was built.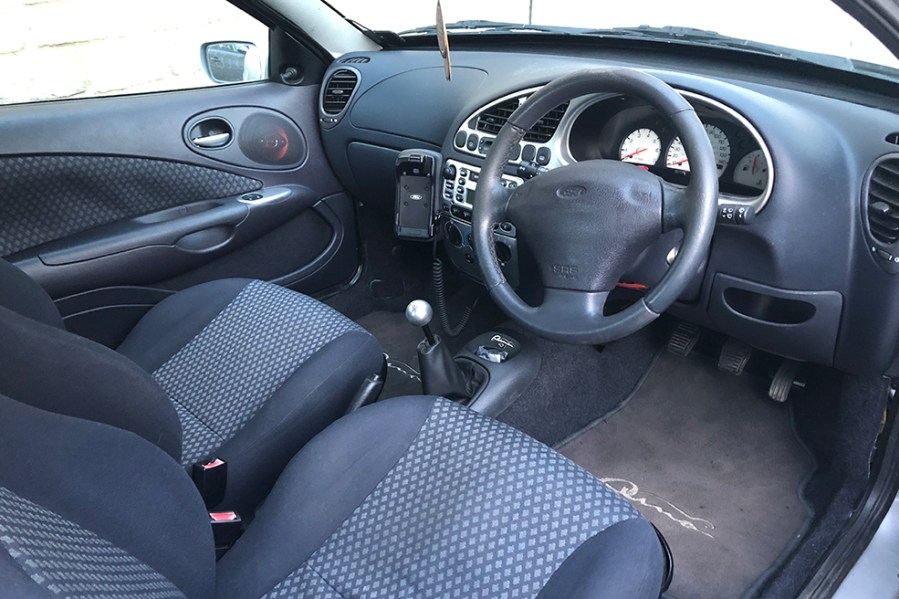 Interior, trim and electrics
Interior wear is common on all but the lowest-mileage Pumas, with the front seat bolsters – particularly on the outer edge of the driver's seat – likely to be frayed or out of shape. The leather steering wheel rim is also prone to wear, and the dashboard and other trim may have more than its fair share of rattles. The rear parcel shelf is also likely to have collapsed.
The driver's seat on pre-1999 Pumas is electrically height-adjustable, so check this still works as faults are common. Pumas built from 1999 had their seats positioned lower, giving extra headroom – something to bear in mind if you're taller than average.
While you're lifting the carpets to check the floor for rust (as mentioned earlier), examine the carpets themselves for signs of damp and wear. Even a minor leak caused by a missing grommet can cause water ingress and major damp issues.
Make sure everything on board is in working order, including the electric windows, central locking and so on. Ensure the air conditioning is blowing cold, and check that the heater is fully functioning – if it works only on the highest setting, the resistor packs have burnt out.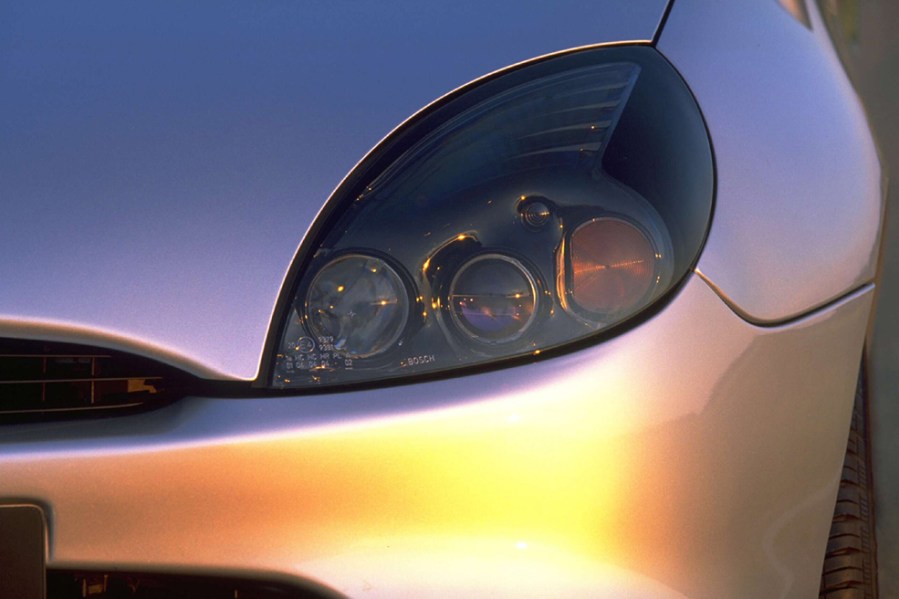 Ford Puma: our verdict
The Puma may have been short-lived but it can still be judged a success, with 133,000 built in total. It brought a touch of affordable style and excitement to the Ford line-up, using the brilliant 'chassis' of the contemporary Fiesta to create the best-handling compact coupe of its generation. It also just happened to boast one of the best TV adverts of the '90s, bringing Steve McQueen back to 'life' for a truly memorable 60 seconds.
If all of this still appeals, you'll find plenty of Pumas available on today's modern classic market, ranging from high-mileage dailies to hardly-used gems. Find one in good order at a sensible price and you'll get to enjoy one of the most admired small cars of its era, as well as one that's cheap to maintain today. Indeed, with values likely to increase in the years ahead, the Puma is a classic you can buy with your head as well as your heart.
The good news is that, by classic Ford standards, the Puma still offers excellent value… but how long for? Interestingly, a number of Pumas that headed to auction in recent months guided at £4000-£5000 failed to sell, despite being in decent condition. Project cars can be found for less than £1000, but any car requiring major work is unlikely to be economically viable in today's climate.
A budget of £2000-£2500 should find you a usable and presentable Puma 1.4/1.6 that's ideal for daily use, while £2500-£3000 might be needed for a 1.7 in similar condition. If you can budget £4000-£4500, however, you're in the territory of low-mileage examples that are ready to show.
Limited editions tend to fetch more thanks to their rarity and higher spec, with the Millennium being particularly sought after; don't be surprised to see asking prices of £5000-£6000 upwards. But of course, it's the Racing Puma that's the star of the show, with superb survivors passing the £25,000 mark, while even well-used examples are in the high teens.
Ford Puma timeline
1997
Puma production begins in Cologne, Germany in June; only the 1.7 is offered initially.
1998
Puma 1.4 makes its debut in February
1999
Racing Puma is revealed in March, with uprated engine and beefed-up bodywork; fewer than 500 are produced.
1999
1.7 Millennium edition is launched in October, featuring Zinc Yellow paintwork and leather seats; 1000 are produced.
2000
Minor facelift sees brake light in rear spoiler, nine-spoke 15in alloys, grey interior plastics, Midnight Black upholstery and bigger brakes.
Puma 1.4 replaced by Puma 1.6, plus 1.7 Black edition launched with Panther Black paintwork and Midnight Black leather; 1600 are produced.
2001
1.7 Thunder edition arrives with Moondust Silver or Magnum Grey paintwork and Midnight Black leather seats; 1000 of each are produced.
Puma production ends in December but sales continue through much of 2002.