With its modern lines and proven underpinnings, the Ford Granada Mk2 offered an affordable luxury saloon in the days before the German brands took the market. Here's how to buy one
Words: Christian Tilbury
When Ford pulled the wraps off its Mk2 Granada in August 1977, it's fair to say that its attempt to update its flagship model was sharp in more ways than one. Compared to the outgoing Mk1 with its soft, flowing lines, the Ford Granada Mk2 was much more contemporary and followed Ford's new design language that had been ushered in with the debut of the earlier Ford Cortina Mk4. The Mk2 looked lightyears ahead of its predecessor but under the well-defined new metalwork the latest Granada had plenty in common with the first-generation model.
As Ford had done when it revised the original Escort and Cortina, it carried over much of the tried-and-tested drivetrain to save time and development costs, including the underbody and structure. The decision also worked to appease diehard fans of the original Granada who might have been getting a little jumpy at the prospect of Ford's flagship seemingly changing so radically – and in their eyes, not necessarily for the better.
This meant that under the Mk2's bonnet was the well-proven 1993cc 'Pinto' OHC engine. Producing 99 bhp and mated to a four-speed manual gearbox, the four-cylinder engine was tasked with powering saloon and estate 'L' models, this level of trim now replacing the base specification as the entry to the Granada range.
The entry-level model to the range, the 'L' was comfortable even if it was sparsely equipped, with standard features including little more than cloth trim, steel wheels, push-button MW/LW radio, black grille and cigarette lighter.
The four-cylinder offering was doubled with the arrival of a new diesel. The new oil-burning Granada utilised a Ford-developed version of Peugeot's sturdy 2.1-litre engine. Enhancements included more powerful glow plugs and bigger air, oil and fuel filters, but the trade-off for longevity and economy was lacklustre performance, the diesel taking over 20 seconds to 60mph from a standstill. Unsurprisingly the diesel was angled towards the high-mileage driver and there was even a 'taxi pack' available.
Of course, in true big Ford fashion a V6 was still very much a part of the Granada, but it was no longer the trusty 3.0-litre Essex. Instead, the new Granada came complete with the Cologne range of V6 engines, which was headlined by a fuel-injected 2.8-litre version, with alternative 2.3-litre and 2.8-litre carburettor-fed V6s more widely available across the range. The 2.3-litre V6 was also available to 'L' customers, while GL models could be specified with all V6 options. The Ghia could be ordered with either 2.8-litre V6 and the 'S' was powered solely by the Bosch K-Jetronic-equipped version.
An estate version, a host of limited edition trim levels, plus a series of changes in 1979 including the 2.3-litre Cologne getting a little power boost, kept the Mk2 fresh – but in 1982 it received a comprehensive revision.
Codenamed 'Gloria' the updated Mk2 was no half-hearted facelift either, with Ford investing £50m into keeping its flagship model at the top of the large car tree. The investment went most notably into revised front and rear styling, an updated dashboard, better brakes, revised suspension and different seat designs.
The line-up of engines and trim levels was largely unchanged, with the only notable exception being the all-new 2.8 Injection model. Blending a sporting specification with comfort, the 2.8 Injection boasted white TRX alloy wheels, black spoilers, Recaro front seats with mesh infill head restraints, colour-coded bumpers, front foglamps, electric sunroof and blacked out trim.
The V6 line-up got even more attractive with the subsequent arrival of the LX and the luxurious Ghia X, which was followed by the UK-only Ghia X Executive. Limited to the Saloon body style, the Ghia X Executive was the most lavish model in the history of the Granada, featuring grey Connolly leather trim, a leather steering wheel and door inserts, plus twin driving lamps mounted in the grille. It would prove to be the Mk2's swansong too, ensuring that the boxy Granada literally went out in fine style when it was replaced in 1985 by the slippery-styled new Mk3.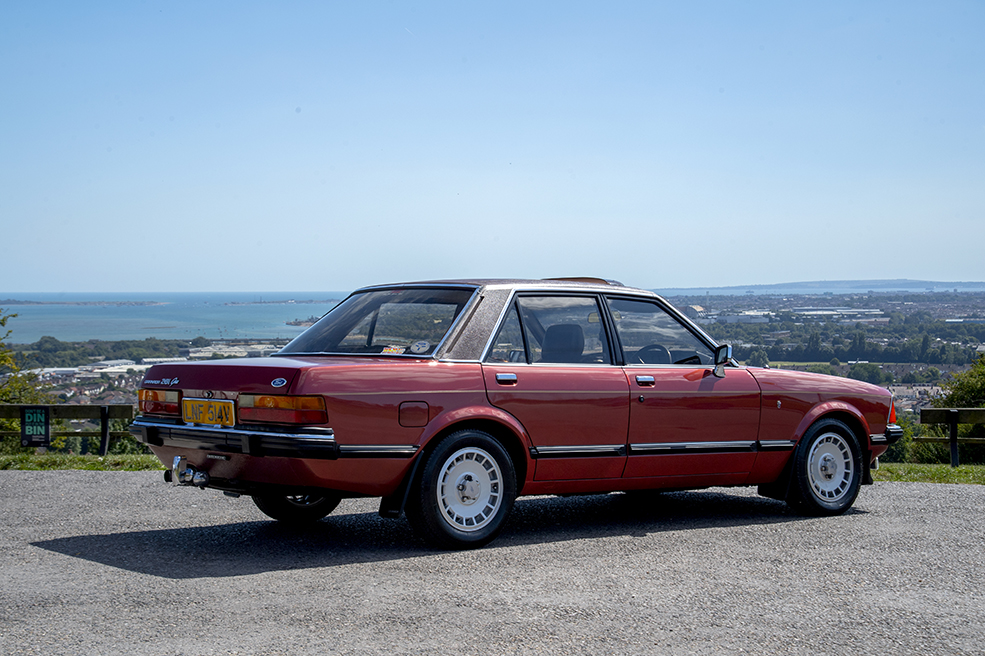 Body and chassis
Strangely, the sills on a Mk2 Granada don't actually rust that badly, so if they're very bad then it's a good indication that the rest of the body will also be in a bad state. If there's rot in the sills then the most likely place for them and the floor to corrode is near the rear subframe mounts. Serious rust can also manifest in the bulkhead and the nearby chassis rails, while other areas to check are the lower rear quarters, rear wheel tubs and arches, spare wheel well, wings, inner wings and A-posts. If a car has a sunroof then it's also essential to check around the base of the rear screen as this is where the drain holes are.
The estate's tailgate commonly rusts on its lower edge but a skilled fabricator can let in new metal. More importantly though, its unique floor section can be bought new if it's rusted out.
Rectifying corrosion is possible thanks to a whole host of panels and repair sections being available. However, you pay for what you get and good quality metalwork doesn't come cheap, with a pair of rear arches priced at over £210 and rear panels costing as much as £450.
Good second-hand bonnets and bootlids are rare, while the rust-prone bumpers of early, pre-facelift cars and those of later Ghia X models are very hard to replace. The rubber chin spoiler and boot spoiler on sportier models are also near impossible to find too, with rare second-hand items changing hands for serious money.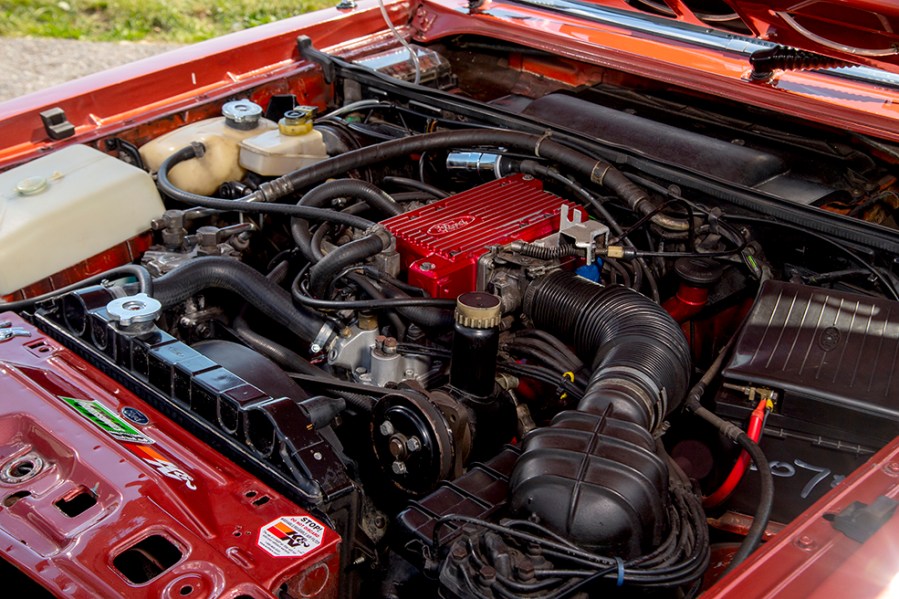 Engine and transmission
The Pinto might have to work harder than the V6, but it copes pretty well. With the four-cylinder motor though, it's worth listening for a tapping from the top end, as it's a sure sign of camshaft wear where the lubricating spray bar has become blocked with sludge and starved the camshaft of oil.
Poor running is usually a result of elderly ignition components and incorrectly gapped tappets, although it's worth inspecting the body of the Weber carburettor for signs of any fuel leakage. The Pinto also likes the right anti-freeze if the water pump isn't to fail, as in extreme cases the impeller can rot and fall off, but it's the Cologne V6 that is much more prone to cooling system issues.
A neglected cooling system, and the resulting higher running temperatures, commonly cause the larger engine to blow a cylinder head gasket and crack its heads. Rough running is usually a fuelling issue, regardless of whether it's fed by a carburettor or injection. The Pierburg/Solex carburettor on 2.3- and 2.8-litre cars is prone to wear in its throttle body and auto choke mechanism, while the Bosch K-Jetronic fuel injection on 2.8-litre engines can be troublesome due to problems with the air flow meter or cold start sensor.
The main relay can also cause starting issues on the fuel-injected cars and while the fuel tanks for these models seem to be more available now, bear in mind that they're pretty expensive at circa £300-£400. It's also hard to track down a standard exhaust back box for a V6-powered estate.
The four-speed Type 5 gearbox of early 2.8 models is practically bulletproof, but whatever manual transmission a Granada features it's essential to check for the common maladies of a vague gearshift, failing synchromesh, jumping out of gear and noisy, collapsed bearings.
The C3 automatic is reliable, but ensure it shifts properly and has dark red gearbox fluid; if it's black and smells of burning then the bands are slipping. Common faults are a reluctance to accept third gear, due to a split diaphragm and oil leaks from the front where the torque converter is. A clunk from the differential when the car takes up drive is normal, but a vibration through the gearlever is a sign that the propshaft's 'doughnut' coupling is worn.
Steering, suspension and brakes
The Mk2 is no sports car, but the steering should still have an element of precision to it. If it feels very vague then it's likely that the front end bushes are due for replacement. Tight spots in the steering rack, especially accompanied with any signs of leakage, are a sign of advanced wear in the PAS. It's also not unusual for the system's hoses to be damaged by their proximity to the hot exhaust manifold.
Tired, unforgiving suspension can be readily replaced with new dampers and springs, although swapping out snapped or sagging front springs is known to be quite a physically challenging job.
It's straightforward to resolve any braking issues on the Ford Granada Mk2. Parts are plentiful and affordable, so replacing the likes of corroded front discs, seized rear wheel cylinders, drums that have gone oval and even sticking calipers is simple. Inactivity, rather than hard use, tends to cause most braking issues, so it's wise to check the system of any car that's seen little use.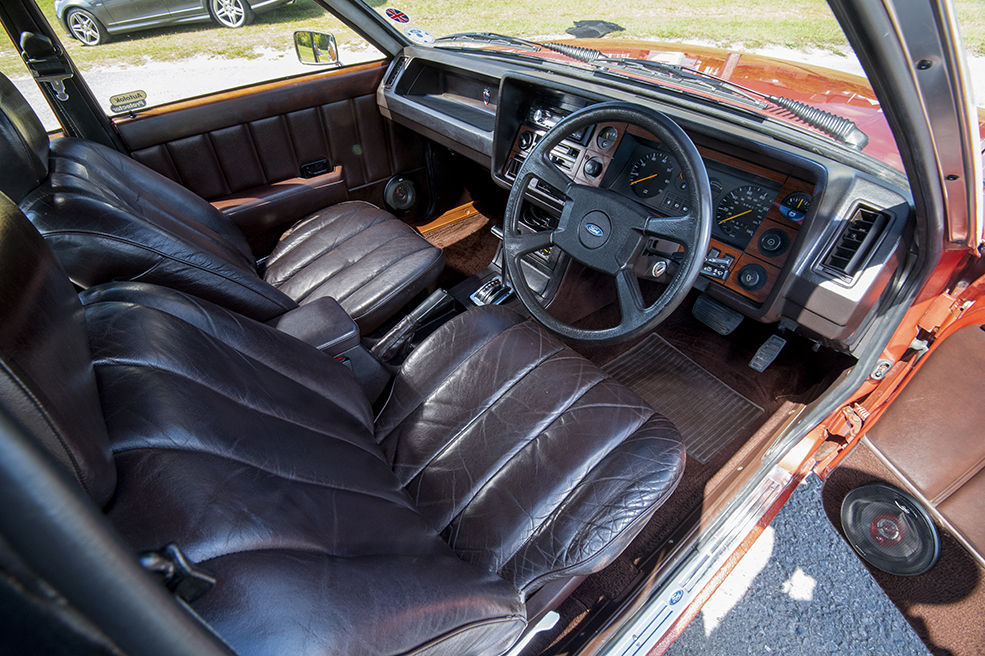 Interior
It's difficult to revive a tired Ford Granada Mk2 interior as decent replacement trim is very scarce. Good second-hand trim is hard to find for the more popular models, but for those like the special edition Talisman and Chasseur, it's pretty much impossible. The side bolster of the driver's seat is usually the first area to show signs of wear, while it's far from unusual for the rear bench of cloth-trimmed cars to have sun damage. Otherwise, the cloth wears quite well and is perhaps more durable than the optional leather, which tends to crack and split if unfed.
Other common faults are warped door cards, collapsed armrests on facelift cars and a cracked dashboard. The heater and some of the switchgear can be problematic, although used items are readily available. If some of the electrical equipment is erratic in operation, then it's a likely result of wear in the fusebox, although it can also be a sign of a terminally rotten bulkhead that has allowed water to seep into the wiring loom.
Ford Granada Mk2: our verdict
While nearly 640,000 Ford Granada Mk2s were produced, survivors are becomingly increasingly scarce. Rising values and interest are giving cars close to the end of their functional lives a fighting chance of restoration, while good examples need more careful searching but are worth the extra effort.
Ford's big saloon has a lot to offer in every sense – handsome styling, DIY-friendly mechanicals, relatively good rust resistance, good performance from characterful engines, plus comfort and practicality in spades. If you fancy a large 70s car and would rather stay clear of more expensive offerings from BMW and Mercedes, the Granada is the perfect choice.