Ford blended performance with comfort to make the Mk4 Escort XR3i one of the most refined hot hatches of its time. Here's what you need to know about the 1980s icon
Words: Christian Tilbury  Images: Matt Woods
The success of the original version, coupled with the ever-growing popularity of the 'hot hatch' market, meant that the XR3i once again featured in the Escort line-up when Ford unveiled its revised Mk4 range in 1986. As with its lesser brethren, the new XR3i received revised sheet metal, which was most noticeable at the smoother front end, a Granada-style dashboard, better security and minor revisions to the suspension location, which were designed to reduce lift under acceleration and dive under braking.
While Ford's specialised SVE division were behind the original XR3i, the Mk4 version was crafted by the manufacturer's mainstream engineering departments, the emphasis being on optimising sales rather than focusing on creating a pure driver's car. Consequently, the Mk4 XR3i was softer not just in its more aerodynamic styling, but also in its handling, with a ride height that was over 10 mm higher than its predecessor.
The main story with the running gear though, was the availability of anti-lock braking. Priced at £315, the new XR3i could be specified with the Lucas and Girling-developed SCS (Stop Control System) that utilised a Kevlar belt between the driveshaft and electronic modulator to apply pressure to the front brake callipers.
Engine-wise, the Bosch fuel-injected 1,597cc CVH engine was carried over unchanged from the Mk3 version. The Mk4's extra weight blunted acceleration, but the better aerodynamics afforded by the restyled exterior and mild, yet effective, front and rear spoilers saw the latest XR creep to a higher top speed of 118 mph and also return slightly better fuel economy. The five-speed gearbox and 4.27:1 final drive also remained unchanged.
Although a more civilised drive than its rivals, the XR3i's enhanced comfort and refinement wasn't mirrored in its specification. Equipment that was standard on many of its competitors was now optional, including central locking, electric windows, sunroof and electric mirrors. Perhaps most notably, alloy wheels were now also an option, the 6×14 inch five-spoke 'Dogleg' rims costing an additional £250. As standard, the XR3i came with steel wheels of the same size, covered in reinforced plastic trims and fitted with 185/60 tyres.
In September 1987 and in an attempt at improving shift quality, the gearbox was revised with a new external mechanism, but a more significant change to the mechanicals came in 1989 with the adaption of Ford's own EEC-IV fuel injection and engine management. The updated CVH was easily identified by bold 'EFI' lettering atop the cast alloy inlet manifold, with other changes including a reworked cylinder head, plastic sections to the air intake running over the rocker cover, revised manifold and gas-flowed ports; and new camshaft timing.
The 1989 model year saw the introduction of 'Zolda' trim, named after the Belgian Zolder circuit, plus an extended centre console, colour-coded bumpers and variable intermittent settings for the wipers, while Autumn 1989 ushered in the final changes of a rear spoiler with drooping sides, Cosworth-style lattice alloys and a new front bumper with deep air intakes.
Not long after the XR3i, together with the rest of the Mk4 range, were superseded by the Mk5 Escort, but while the new XR3i would feature a much superior DOHC Zetec engine, it would never prove as popular as the CVH-powered version.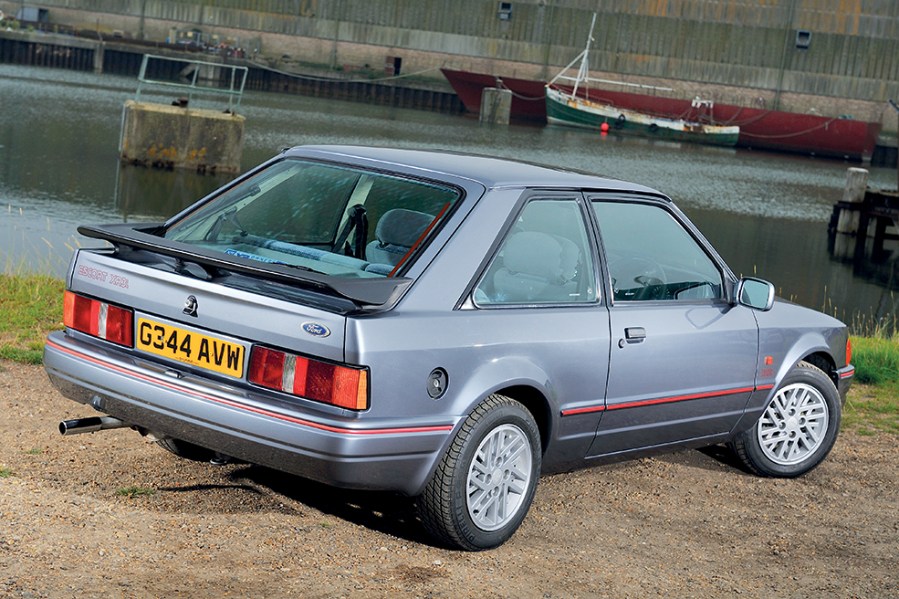 Bodywork
Early examples were particularly susceptible to rust, but the ravages of time mean that any Mk4 XR3i can be very rotten. On the surface, rust is most common in the rear wheelarches, door bottoms, tips of the wings around the indicators, around the aperture on sunroof-equipped cars, the seams and rear hinges of the tailgate, door bottoms and the front of the bonnet.
More serious is any rust in the battery tray, bulkhead, rear chassis rails, sills, floor; particularly in the vicinity of the front mounts of the rear trailing arms, and inner wings. Repairs to these areas can be complex and costly, so restoring an XR3i that's harbouring a lot of structural rust can prove uneconomically viable if the work needs to be farmed out to professionals. Original side mouldings and mudflaps are very hard to replace, as are the optional and prone-to-damage Carello spotlamps.
Engine and transmission
The fuel-injected CVH is hardly the last word in refinement, but it's durable if well maintained. A tired example will have all the usual ailments – high oil consumption, heavy breathing, plenty of smoke – but the most obvious sign of neglect is a rattling top end. If the oil isn't changed regularly, the CVH is notorious for its hydraulic lifters becoming covered in sludge and their resulting inefficiency damaging the camshaft. A reluctance to idle is usually down to nothing more than a gummed-up metering head, while starting issues are often a result of a faulty pink fuel injection relay. Cutting out when warm is an indication of a failed crank sensor, although sometimes it can be cured with a clean of the connections. Ford recommends that cambelt changes should be carried out every 36,000 miles, although many specialists advise replacing it at only 20,000.
B5 five-speed gearbox isn't known for its slick shifting ability, but it's a reasonably durable transmission. A slightly rubbery feel is to be expected, even though the gearbox of later examples benefitted from a revised external mechanism to enhance shift quality, but if the selection of gears is difficult or vague then it's likely that the linkage or clutch's self-adjusting plastic ratchet are at fault. The latter can be particular troublesome and a sign it's failing is a clicking noise when the clutch pedal is pressed or released.
For increased longevity and ease of maintenance, it's not unusual for owners to upgrade to a Mk5 Escort clutch pedal and ratchet. Jumping out of gear can mean the selector is worn, while a noisy fifth gear is often a result of it coming adrift on the input shaft and causing wear to the splines. Collapsed mainshaft bearings will be evident through a heavy rumbling that increases with speed.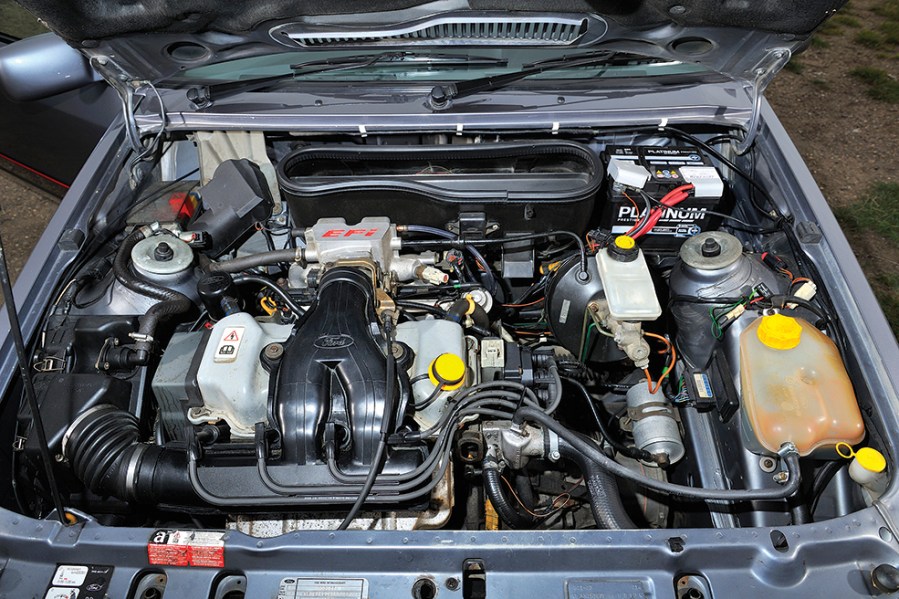 Suspension, steering and brakes
In true 1980s fast Ford fashion, the Mk4 XR3i is prone to warping its front discs. It's easy to spot though, as they'll be a juddering through the steering wheel under braking from speed and usually a vibration at circa 50-60mph. With the XR3i's increasingly collectable status, many examples are being used sparingly and the simple front disc/rear drum set-up can suffer from inactivity, leading to the likes of sticking callipers and seized rear brake cylinders, the respective signs being a pulling to one side and and inefficient handbrake. Optional SCS ABS system is crude, but if it's erratic in operation then it's often the system's driveshaft drive belt at fault.
Later XR3i is much less raw than the original Mk3 and its suspension is a compromise between comfort and handling. The latter falls far short of a comparable Golf GTi or Peugeot 205 GTi, but the XR3i should still feel precise and responsive. Vague steering, usually accompanied with a noise from the front end and uneven tyre wear, is a symptom of worn TCA bushes; while a poor ride and any wallowing during cornering are signs of tired springs and dampers.
Lowered suspension was once commonplace on many examples and if viewing an Escort that's been modified in such a way ensure that the springs and dampers are matched and that the ride height is ideally no more than 25 mm lower than standard.
Interior and trim
The cloth of the door cards has a tendency to go baggy and the driver's seat side bolster often shows wear. Sourcing good replacement door cards and seats, whether the 'Daytona' trim of early cars or the 'Zolda' version found in post 1989 cars, is hard. Undamaged door handles and parcel shelves are also difficult to find. Damp front carpet is a possible result of rust in the often corroded bulkhead and battery tray.
Faulty steering wheel stalks can cause issues with the lighting, while troublesome electric windows and inoperative central locking can often be rectified by simply cleaning the shared earth behind the front speakers. Original radio cassette head units and accompanying codes can be found without much difficulty, although the increase in Ford owners wishing to return their cars to factory specification means they are becoming increasingly expensive.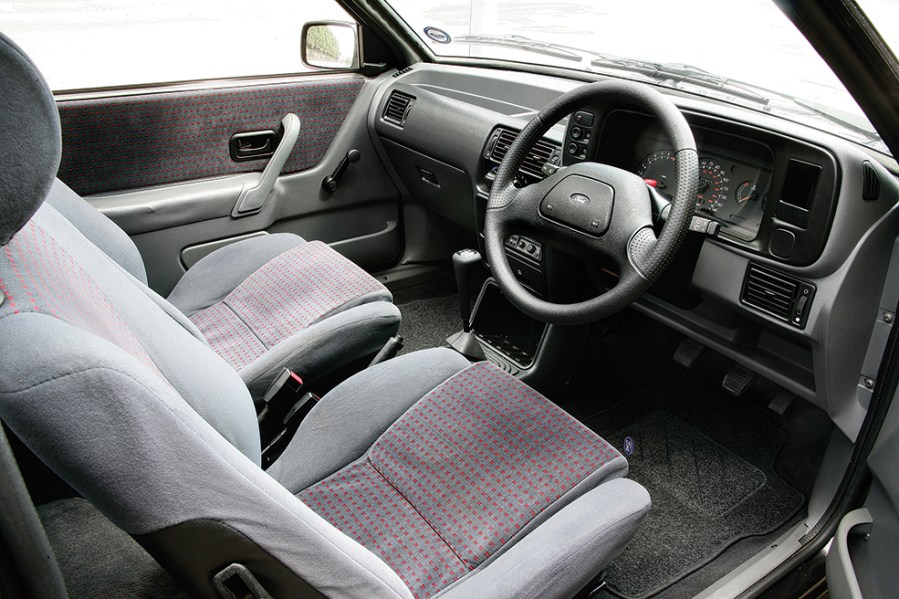 Ford Escort XR3i (Mk4): our verdict
The Ford Escort XR3i was neither the fastest or best handling hot hatchback, but it was certainly one of the best known. Its package of sporty performance, practicality, distinctive looks and famed Ford dependability made it the choice of thousands of drivers and, along with the likes of the Peugeot 205 GTi and Volkswagen Golf GTI, it defined what was arguably the 1980s most exciting genre of car.
By the time the Mk4 version arrived the XR3i was firmly established as a bona fide sporting Escort, yet the new generation model did little to strengthen the respectable reputation of the original Mk3. In fact, in terms of driver dynamics, it could have been considered a step back, but where it scored was mass-market appeal, revisions to its chassis making it more civilised. Along with running changes, the shift in driving dynamics contributed to the Mk4 XR3i being a strong seller throughout its production run, even when it was becoming clear that it was falling behind the competition.
Today, it's a modern classic and once again has a strong following. In true performance Escort tradition, the Mk4 XR3i is becoming increasingly sought after and more expensive. There's still time to buy one of the best for around £10,000, but it's best to act now considering the recent trends in classic Ford values. This is what you need to know if you want to get behind the wheel.