Designed to battle it out against the quickest cars to come out of Dagenham, these are the fast Vauxhalls that tended to have the odds stacked in their favour.
Some pretty rapid cars have worn the Griffin badge over the years. Arguably, the first of any note was the breathed-on Victor FB from 1961. In sporting VX4/90 guise it boasted an alloy head with reprofiled cam, twin carbs and a nitrided crankshaft which bumped power up from a feeble 49.5bhp in the stock car to a much more respectable 71bhp. Top speed was 90mph and it could do 0-60mph in 16.9 seconds; hardly fast by today's standards, but the thought was there and allied to stiffer suspension, bigger wheels and a servo for the standard front disc brakes it was seen as quite a racer at the time. It proved reliable, too, a theme that was to continue to be a key asset of all subsequent hot Vauxhalls.
As we've inferred, most of the quick models from the Luton-based firm appeared as a direct result of what was happening at Ford. The concept of creating a performance model in the range to attract a bit of interest and enhance sales was very much part of the boardroom thinking at the time. Hence, where there's a sporty Ford, you'll find a sporty Vauxhall battling it out for market supremacy. At the end of the day, Ford usually got the upper hand – although these are the Vauxhalls that managed to overshadow their Dagenham rivals.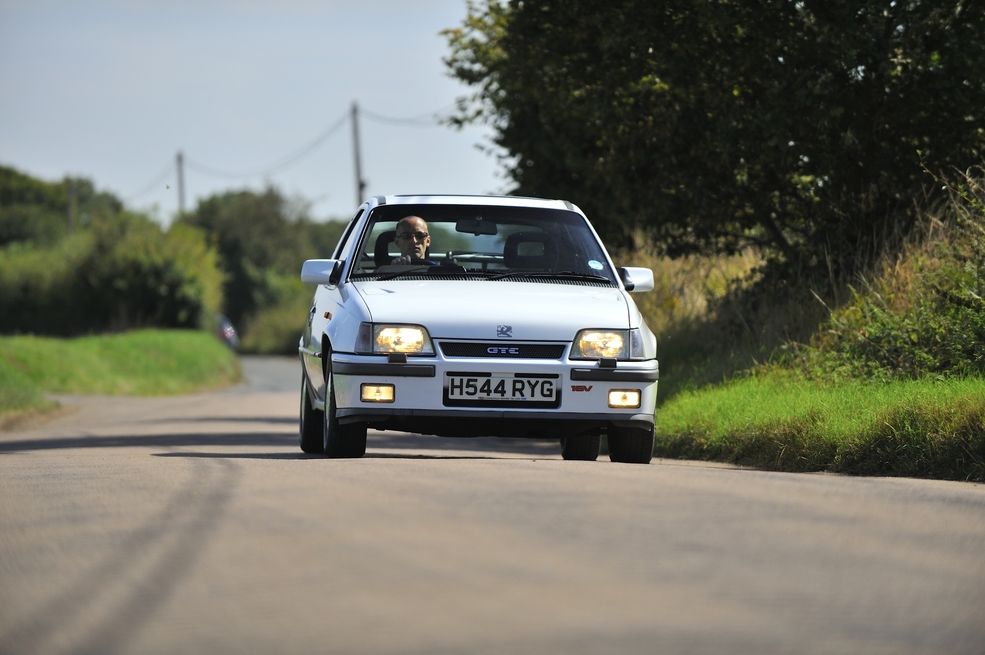 Astra 16V GTE
The first Astra went on sale here in March 1980 but enthusiasts had to wait another three years for the first reasonably swift model, the fuel-injected 1796cc GTE. Despite being launched as a direct competitor to the Escort XR3i which appeared the same year, it was a tad slower and never really had the edge Vauxhall intended when it came to handling. Then came the less angular MkII GTE in 1984 which borrowed the existing 112bhp 1.8 engine from its predecessor. It too lacked somewhat in terms of driver appeal and was quickly replaced by the 124bhp 2.0-litre from 1987 which was significantly quicker, managing 0-60 in 8.6 seconds, a time pretty much on par with the smaller-engined XR3i.
But where things really start getting interesting is with the arrival of the 16v version in 1988. With its new double overhead cam 'red top' (referring to the red plastic spark plug/HT lead cover) cylinder head, featuring four valves per cylinder, it was a real hooligan. Power was up to 156bhp, it took just 7.7 seconds to do 0-60mph and it only ran out of puff at 134mph, making it by far the fastest hot hatch of them all – even trouncing the Golf GTI 16v by a notable margin.
That said, despite excelling in straight-line performance, Vauxhall dallied when it came to improving chassis dynamics. The bigger and heavier MkII 8v GTE had always been criticised for its blancmange-like handling, but despite stiffening things up on the 16v and adding a rear anti-roll bar in truth it still lagged behind in this respect.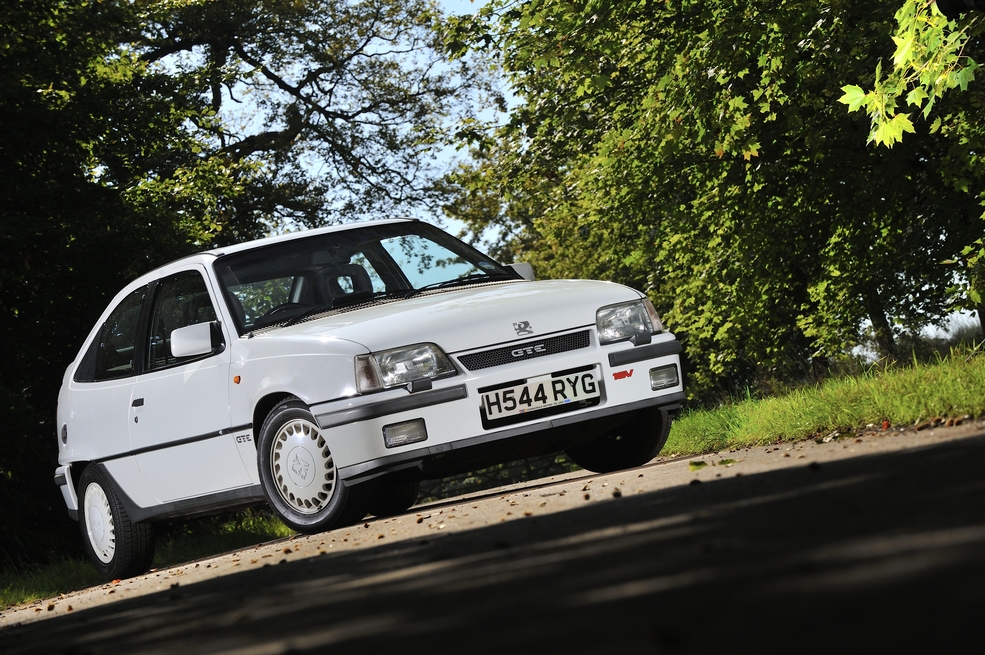 Nevertheless, the 16v GTE has gone on to become one of the all-time hot-hatch greats of its era. The fact that it was just so quick, but so utterly bombproof was its real trump card – as was the fact that it was never the untameable beast that was the Ford Cosworth with its extreme torque steer.
Inevitably lots were 'boy racered' back in the day which means that good examples are extremely thin on the ground. Especially if you're on the look out for a tidy factory example with an unscuffed interior and an engine that hasn't been meddled with. As a guide, £8,000 should be a realistic starting price for a nice one, though a project car in need of some engine work and tidying inside might be less than half that. Just make sure that the necessary segments of that digital dashboard all work properly because they're not easy to fix. Oh, and if you're buying one for an investment, check through the history to satisfy yourself that it's a genuine 16v, not an 8v that's undergone an engine swap.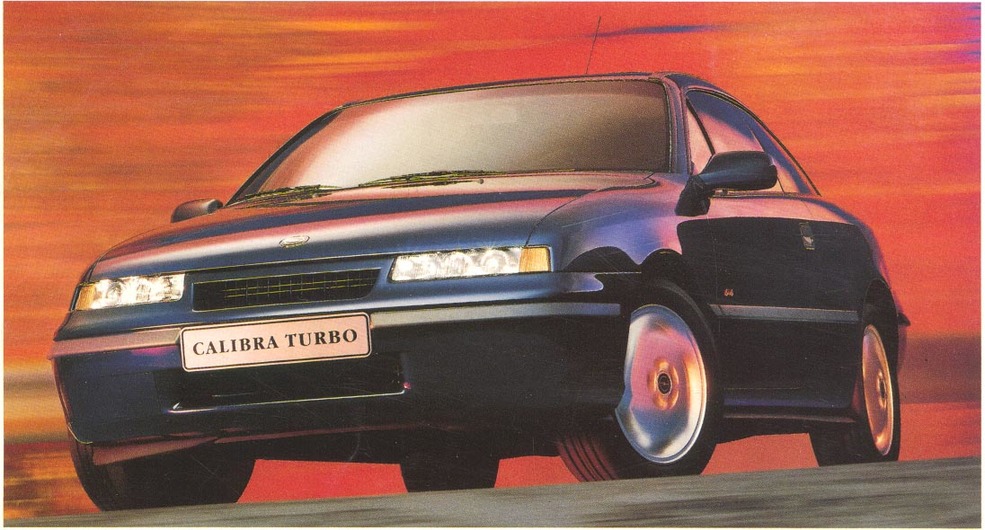 Calibra 4×4 Turbo
We've always had a penchant for coupes in Europe, and when the Calibra appeared in 1989 it was love at first sight. Mind you, despite having amble seating for four and a decent sized boot, not everyone could see the logic in buying one over the cheaper Cavalier upon which the Calibra's sleek Wayne Cherry penned body was perched. Nevertheless, it wasn't all form over substance; its shape, which boasted a drag coefficient of just 0.26 – making it one of the most efficient cars of the time – meant that even the base model with the 1998cc 115bhp engine under the bonnet could do 127mph.
Being a popular choice among company car owners and being particularly liked for its long-legged cruising ability, Ford eventually woke up to the fact that it needed a Calibra rival when it launched its Probe here in 1994, filling a gap left by the Capri which departed almost a decade earlier. For ease, Ford used the Mazda MX-6 as a base and offered it in either four-cylinder 2.0-litre or V6 2.5-litre guise. However, by that time, Vauxhall had not only rolled out its lithe 16v 'red top' engine and a 168bhp 2.5-litre V6 of its own (from 1993) but also a lightening quick turbocharged version of its 2.0-litre 16v engine with four-wheel drive which achieved 0-60mph in a tad over six seconds. Launched in April 1992, prior to the V6 even, it made a massive 204bhp and had the necessary chassis dynamics to match. In short, therefore, when the Probe appeared, not only did it come in for a lot of stick for its American styling influences but it was already being severely out-performed in virtually every respect.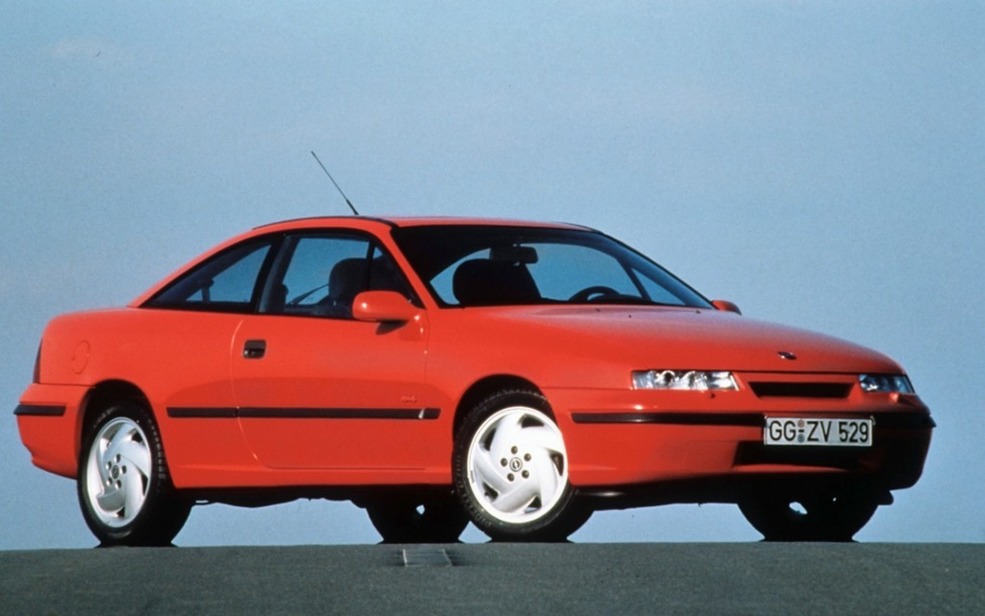 Again, you've got to hand it to Vauxhall. They had introduced the Calibra 4×4 Turbo of their own volition, not as a kneejerk reaction to something another manufacturer was doing. And that's all very admirable.
The further tweaked DTM edition available from May 1995 with 240bhp was even quicker, and there was also the two-wheel drive Turbo from January 1996 which was capable of 0-60 in just 5.8 seconds.
It goes without saying, the Calibra 4×4 Turbo is an extremely rare find today. Not only that, but if you do find one in the classifieds, you will need to be wary of the notorious transfer box issue which tends to manifest itself in drastically uneven tyre wear and is a swine to remedy. That Gertrag six-speed gearbox can be prohibitively pricey to repair, too, if it's lost synchromesh or jumps out of gear. And, like any turbocharged engine, proof of regular oil changes in the history file is essential.
While 2.0-litre Calibras can be had for as little as a couple of grand, and decent V6 models struggle to make much more than £5,000-£6,000, you will have to pay a fair bit more for a 4×4. Indeed, given that under 60 of all types are currently licensed to be on the road here (according to www.howmanyleft.co.uk) you might need to spend as much as £15,000 for one.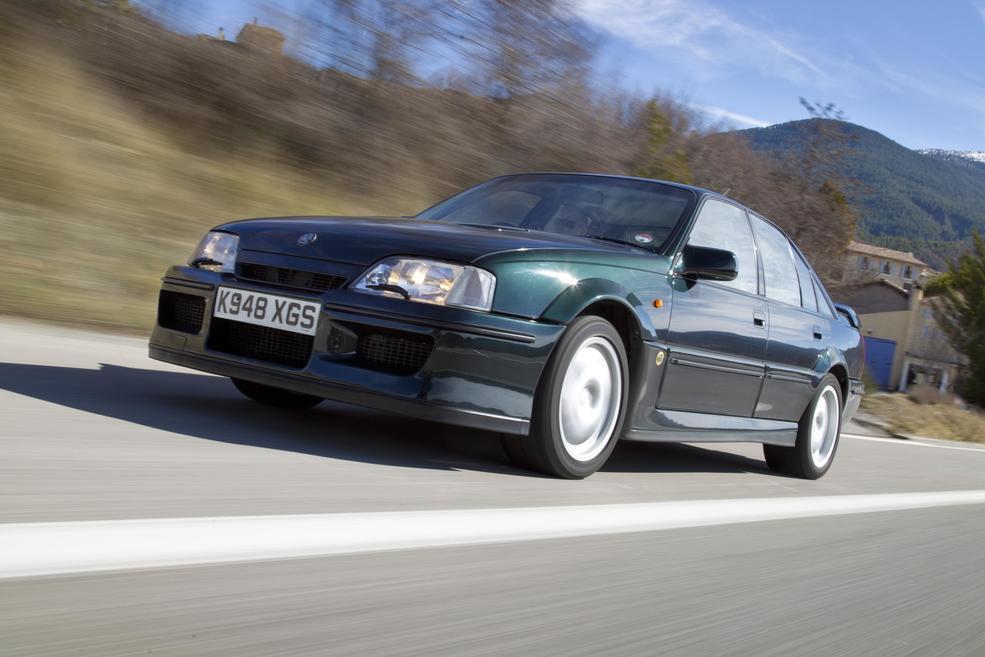 Lotus Carlton
Having snapped up Lotus in 1986, GM was determined to put their sporting expertise to use and the Carlton provided the perfect blank canvas. Based on the wolf-in-sheep's-clothing GSi 3000, Lotus re-engineered the V6 powerplant before bolting on twin intercooled Garrett T25 turbochargers. Meanwhile, a limited slip differential was taken from the Corvette ZR-1 and Lotus Engineering fiddled with the MacPherson struts at the front and multi-link arrangement at the back for optimum driver feedback, handling and grip.
With 377bhp on tap, it was capable of 0-60mph in 5.1 seconds and a totally ballistic 179mph. There was no limiter. No wonder then that an executive decision was made to fit monster brakes straight from the track to help haul everything to a standstill again.
To help prevent it going airborne, a subtle body kit was added with boot spoiler, front air dam and sideskirts, and restrained-looking five-spoke alloys were bespoke made to suit. All cars were painted a subdued Imperial Green metallic so as to detract unwanted attention. After all, for the ultimate Q-car it wouldn't do to make it look too garish would it?
In short, when the Lotus Carlton went on sale in 1990, it became one of the most fearsome big saloons of the period with performance more akin to a supercar than a company director's work tool. And while it had none of the kerbside appeal of a BMW M5, it was certainly a formidable bit of kit. In fact, it was so insane that people wanted it banned at the time, deeming that it was just too fast to be used safely on public roads.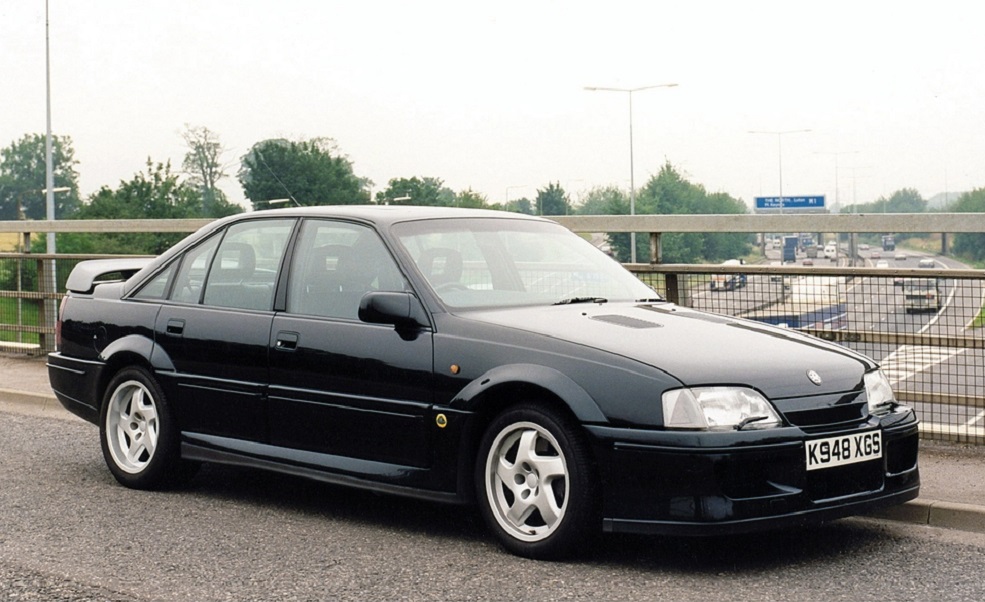 While driving one of these now quite bland looking missile-like leviathans would undoubtedly be fun, owners having paid the £48,000 original asking price may well have been underwhelmed by the interior. Indeed, aside from the comfort of leather seats, the 180mph speedo was likely to be the only real giveaway that you were travelling in something so exclusive.
So, out of interest, what did Ford have to throw into the ring at the time? The only Blue Oval offering worthy of sharing the same rarefied air was the Sierra Cosworth RS500. As its name would suggest, just 500 were made and each featured a chipped and tweaked 1993cc Cossie engine which produced 300bhp. That's quite a bit down on the Lotus Carlton, which crucially made it from rest to 60mph in almost a second quicker, and the Ford's 149mph top speed was no match for the Vauxhall.
It's thought that 285 Lotus Carltons were built in right-hand drive for the UK market during its two-year production lifespan, with the rest of the 950 total production going overseas. According to howmanyleft.co.uk 69 examples are licensed to be on the road and a further 117 are on SORN so they're not exactly a common sight on our roads. If given the opportunity to buy one, originality, condition and history will obviously come into play – and if all three elements tick the right boxes, as a ball-park figure you could be looking at paying as much as £40,000-£60,000. That said, when we looked we spotted an 'as new' 1991 example with just 4,500 miles on the clock for sale at £124,995. Hence, if you stumble on one for anywhere within our price range, it might be worth snapping it up.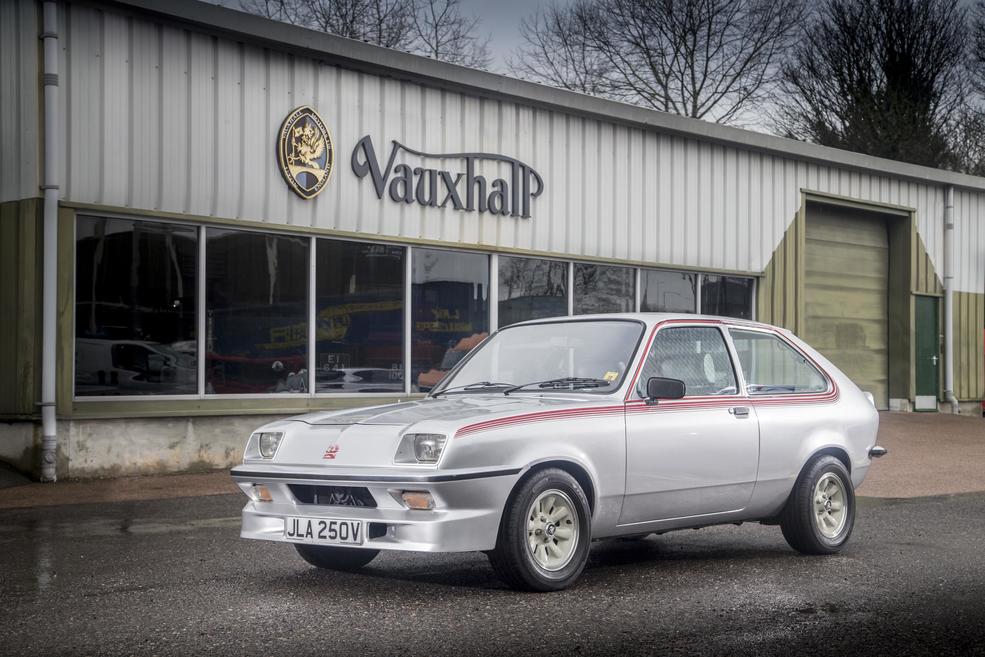 Chevette HS
GM always baulked at the idea of developing its own works racing team, which is why Vauxhall dealers took the matter into their own hands to create Dealer Team Vauxhall (DTV). Their choice of campaign car to achieve their intended rally success? None other than the humble Chevette hatch.
In order for them to compete, however, Vauxhall was obliged to homologate their cars by producing a small number (400) of road-going examples, and these were duly made in 1976 and given the HS nomenclature. The stock car's 1256cc engine was replaced by the firm's tried and tested slant-four 2279cc DOHC 16v unit, the four-speed 'box ditched for a five-speed Gertrag item with a dogleg first gear instead and a suspension setup borrowed from the Kadett GTE model. The transformation was astonishing; power jumped from 56bhp to 135bhp, top speed rose to 116mph and its 0-60mph time was slashed to a mere 8.4 seconds.
Changes to the bodywork were modest and included the addition of a deep, angular front spoiler, a discreet boot spoiler and strobe-effect red text and side stripes. It was only available in silver which contrasted vividly with the garish tartan-pattern trim inside. And the wheels? Reportedly, they came from the Chevy Vega, no less, and were shod with 205/60 rubber.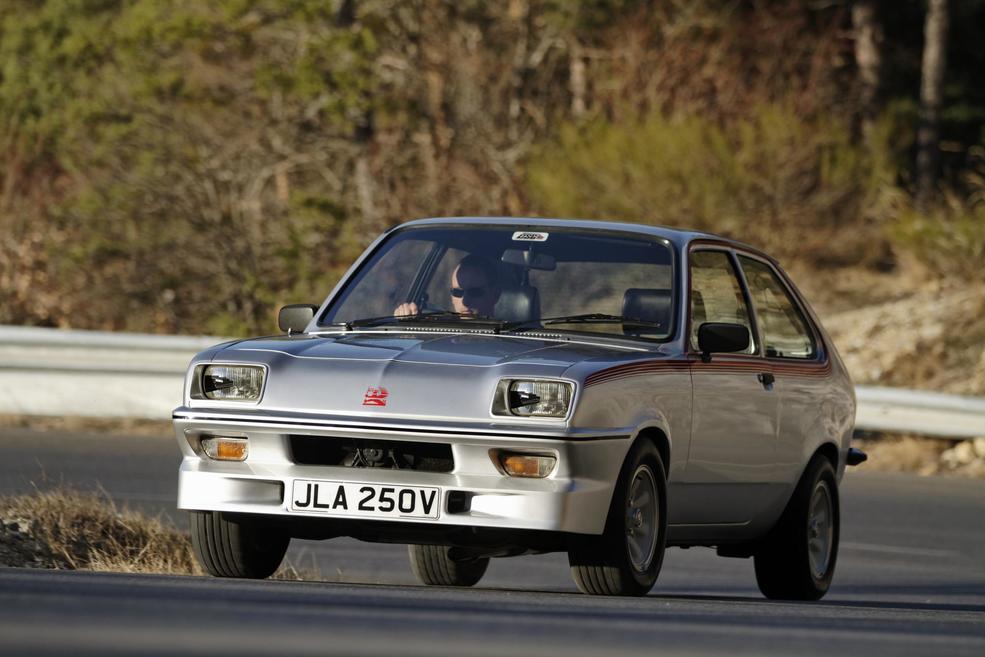 A nicely engineered car with leach-like grip and plenty of poke, it gained instant approval with prospective rally drivers, buyers and car pundits alike with the legendary L.J.K Setright rating it higher than the VW Golf GTi. It was certainly quicker than the first iconic hot hatch that made its debut in June that year.
As far as its Dagenham rivals were concerned, it was quicker than the Escort RS1800/RS2000, but £1,000 more expensive – and this hurt sales of the HS at the time. Four decades on, of course, such trivialities hardly matter.
An even more hardcore version, the stripped out HSR, followed in 1979 with further Lotus tweaks to the engine, a ZF gearbox with twin plate clutch, a revised five-link rear axle location and more muscular wheelarches. It was in one of these that Pentti Airikkala enjoyed numerous rally successes and with further work by Tony Pond and Wynne Mitchell, the car went on to become one of the most potent tarmac car of the early '80s.
As you would expect, only a fraction of the 400 HS models have survived (with the last 40 or so being used to make the HSR) so buying one is likely to be no easy task. Some were painted black and given a retrim to become the even more limited edition HS-X. To give you an idea on price, a very straight '79 example sold at a Silverstone auction in 2012 for £11,500 while, coincidentally, in March 2018, the hammer fell on a '78 HS at Brightwells for £500 less, making the eleven grand mark a good benchmark it seems! Just make sure any cars you view are real with a valid provenance, and not a dressed-up replica.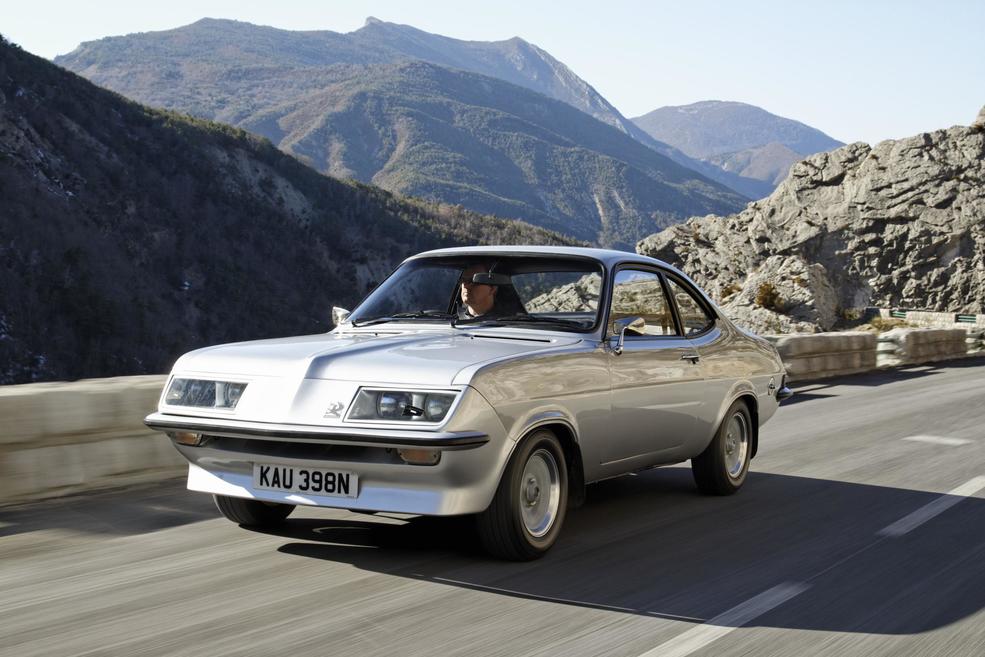 Firenza HP
Vauxhall's Viva GT with its 104bhp 1975cc twin carb engine taken from the Victor FD, close ratio 'box and racy bonnet scoops was a liked alternative to the flaccid HB model and a credible (and usually overlooked) alternative to the Cortina GT. Then, from 1971, there was the Firenza which was introduced to go head to head with the Capri at the time.
However, we need to fast-forward a couple of years to the HP (High Performance) to really get our pulse racing. Based on the somewhat underwhelming Magnum coupé, it came with the Luton-firm's durable 2279cc engine but was given a new cylinder head, bigger valves, a more radical cam, twin Strombergs and a higher compression ratio which pushed power to an impressive 131bhp. Tuning legend Bill Blydenstein was the genius behind its transformation. Performance was scintillating, with 0-60 reached in 7.5 seconds and a top speed of 120mph – figures that makes Ford's RS2000 look painfully flaccid by comparison.
Meanwhile, handling was taken care of courtesy of amended spring rates and subtle lowering, while the addition of Avon Safety rims added the required visual drama. Inside, the modifications were similarly modest and included the fitment of a three-spoke steering wheel, new seats and a grab handle for the glovebox. The dogleg first five-speed ZF gearbox was a jaunty addition, too.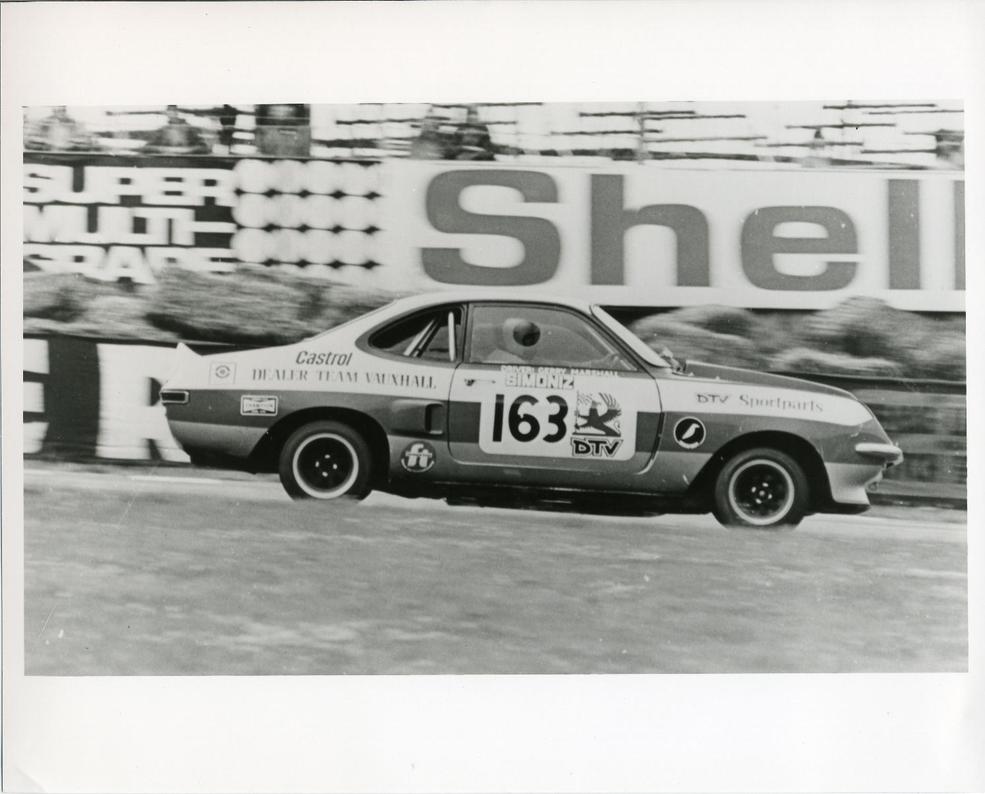 The most dramatic distinguishing feature, however, was reserved for the front end with the addition of a fibreglass nose cone designed by Wayne Cherry with neat chin spoiler, radically slanted clear headlamp covers and a drag coefficient of 0.4. We hardly need to explain that it was this aspect of the car that instantly gave rise to its 'Droopsnoot' nickname.
While it trounced its rivals on the road, due to its high price the HP never sold well and the ill-timed fuel crisis that year served to further curb its potential. Alas, despite an ambitious sales target of 1,000 units per year, a mere 204 were made before the plug was cruelly pulled just two years after launch in 1975.
One thing's for sure, while you'll have no trouble buying a Capri or RS2000 from this era – picking up an HP will be an entirely different matter, any internet search inevitably being hampered by the fact that Vauxhall revived the Viva name in 2015. The only likely chance of getting one, and it's a long shot at best, is to infiltrate the ranks of the DSG Club and invest in a Lottery ticket because even if one does ever become available, you'll need exceptionally deep pockets to buy one.