Tiny and slow yet deeply desirable, the Fiat 500 is huge fun to drive and own. Here's how to buy a good one
Words: Sam Skelton
Whether you like your cars big or small, fast or slow, one of the few that can unite our emotions is the Fiat 500. This cute bambino can soften the heart strings of any enthusiast, while the driving experience could almost cure depression. It's an instantly recognisable icon that generates smiles from even the grumpiest of onlookers.
Launched in 1957, the 'Nuova' 500 was the work of Dante Giacosa, modelled on the same rear engined, VW-inspired layout as the larger 600 saloon that had debuted two years earlier. The 500 went on to spawn many offspring in typical Fiat fashion, while sister brand Autobianchi was responsible for not only the later Giardinera estates but also the upmarket Bianchina. The standard cars was also built by Puch in Germany as the Puch 500, by Neckar as the pretty NSU Weinsburg 500, and – in modified form – by Abarth as the sporting 595 among others.
Standard models spanned multiple eras and specs, from the original 500N to the 500D, 500F and 500L, while coachbuilders such as Vignale put their own spin on the concept, too. Fiat finally axed the 500 in 1975; its replacement, the Fiat 126, had been launched three years previously but demand for the 500 had remained high. Giardiniera estates would continue to 1977.
Bodywork
Rust on a Fiat 500 will always be worse than it looks, so check every inch as carefully as you can and don't be fooled by perfect paint. It's worth taking a magnet along to view, as it'll help you to tell the metal from the filler. The good news is that the majority of panelwork is single-skin, which means there are few places where corrosion can lurk and fester between panel skins.
Inspect everywhere, especially all four wheelarches, the front and rear screen surrounds, around the sunroof aperture, the door bottoms, sills, floorpans, 'chassis' legs, the spare wheel well in the front luggage compartment, and around the battery tray. Also check the fuel tank – as well as the metalwork beneath it – for rust.
Many of the 500s in the UK are Italian imports, but don't be fooled into thinking this means they're rust-free. A lot of problems can be hidden beneath what looks like a smart, shiny example.
It's worth remembering that the values currently attached to the 500 can make a full professional body restoration financially unviable. Unless the car is an especially rare or sought-after variant, it's better to look for an example with a better bodyshell in the first place. If you do take on a project, specialists such as Axel Gerstl in Germany and Ricambio in the UK can supply repair panels and some items of trim if necessary.
Engine and transmission
The 500 is a hardy thing, so there should be no problem when it comes to starting it. Oil smoke on start-up is bad news, however, and brings the likelihood of an imminent rebuild. Oil leaks aren't unusual, but more than a light mist under the bonnet should be concerning. In particular, if it's blowing its dipstick out, this could be bad news – but could also be a failed valve in the oil cap, which is a far cheaper place to start your investigation than the full strip-down that would otherwise be necessary.
While checking the engine over, let it idle – it's worth leaving it running to check for overheating, as the vent flaps can jam closed and the head of the humble twin-pot can warp in the process. A timing chain rattle should be attended to as a matter of urgency, as a full rebuild can bring a sizeable four-figure bill your way.
On standard examples with the original gearbox, check for jumping out of first and reverse. This shouldn't happen, and a 'box rebuild will be around the £1500 mark from a competent specialist. Some cars have been fitted with 594cc and 652cc engines from the later 126 – if so, the 126 gearbox is also a desirable upgrade given that it has synchromesh on all gears. With either gearbox, the shift should feel precise – if not, you should consider changing the bushing in the linkages. And if you're tempted to fit the 126 gearbox yourself, remember that you need to retain the original driveshafts as the 126 units will be too long.
Suspension, steering and brakes
Front kingpins are among the main points to check here. They require grease every 1000 miles and many owners will have neglected this, which then leads to seizure of the bottom bearing. Likewise, the transverse leaf spring at the front needs regular lubrication, and on cars that sag to one side the odds are that the spring is past its best. Rear spring mounts can rot, causing a similar effect at the back of the car and potentially also allowing the swing-arm to float, causing a risk that control might be lost. While checking for rust, check the rear trailing arms too, and be prepared to negotiate a reduction to cover replacement if they're starting to let go.
Steering should be light and engaging on your test drive. Any heaviness will be the result of a worn steering box that's been overtightened to reduce play; any serious level of play is indicative that work is needed. Steering boxes can be refurbished by specialists – you can pay £140 for a rebuilt left-hand drive box or up to £400 for a right-hand drive equivalent.
Brakes are simple, with drums all round as standard fitment. There are optional disc conversions available, generally for under £500. It shouldn't be necessary to convert, however, as long as the drums work effectively and stop the car straight. There's nothing here that's beyond the scope of the average home mechanic to sort out, and parts couldn't be cheaper. How about a brake drum for just £25, or shoes for £15?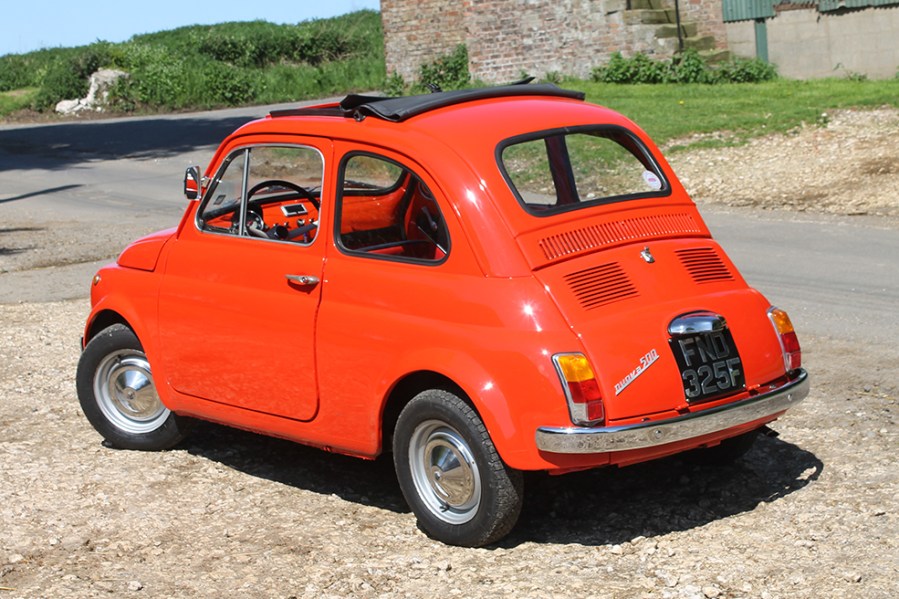 Interior and trim
The interior of the 500 is an especially spartan place to be – just two gauges for fuel and speed, and very simple trimmings. If the door cards need replacing, kits are available; likewise for the trim on the seats, while the floor covering is simple rubber. The rest of the interior is basic painted metal.
A bonus is that with so few electrics there's much less to go wrong than on many cars, and all the circuits should be easy to check. Three positions for the wiper stalk should correspond to start, stop and return, and there are a handful of warning lights.
Opening front windows weren't fitted to all models – the early base-spec 500N 'Economic' had fixed ones, while the 'Normal' was generally better-equipped. The 'Sport' was the first to be offered with the half-hood in place of a full-length unit. Later models came with a courtesy light and even, in the 500L and 500R, a new plastic dashboard similar to that of the 850. Options were limited – primarily a rear screen heater, which was applied by the dealer when new.
A sunroof was standard fitment on most versions thanks to it being cheaper and lighter than steel. They're easily sourced and replaced, but it's still worth checking for cracks and tears. Cars imported from the Mediterranean in particular will suffer from sun damage.
Fiat 500: our verdict
The Fiat 500 enjoyed a long life and earned itself many fans in period, not only in its native Italy but across Europe, too. Smaller than the Mini and yet retaining space for four plus luggage, it's the ultimate alternative to some of the less useable microcars out there. And with keen support from clubs like the Fiat 500 Club and Fiat Motor Club of Great Britain, it's an easy classic to own in more ways than the amount of space it takes up.
Parts support is solid, with scores of specialists in Europe and a handful in the UK. Many mechanical items are shared with the later 126 that enjoyed such success in Eastern Europe; and while 500 values are stronger than ever before, it still represents a relatively affordable way into classic ownership. It might not be the right car for the motorway commute – but let's be honest, who buys a classic city car for that anyway? Respect its limitations and a 500 will be one of the most entertaining investments you ever make.
It's important to be aware that the values we quote are for Fiat-branded modes, and not the wealth of alternatives from Puch, Neckar, Autobianchi, specials like the Gamine or Jolly, or Abarth models – all of which carry a premium owing to their rarity. For these cars, we'd recommend seeking expert advice from within the clubs.
At the time of writing, a Fiat 500 project can be had for as little as £1500, but you'll need to be prepared for major work at that price. Usable cars start from around £6000, while the very nicest on offer can be priced at up to £15,000–20,000. Bear in mind that early cars are more desirable to collectors, while the 500R is the best for real-world use owing to its larger engine and higher power and torque outputs. Bank on early cars carrying a 15-20 per cent premium, while the Giardiniera estate is worth around the same as a saloon of equivalent year.
While we don't think the 500 market is about to explode, these cars certainly shouldn't lose money either, and could be considered a safe investment. Ten years ago, a good 500 would have fetched £6000–8000 on average, meaning that they've outstripped inflation by a big margin. Prices should remain buoyant, with demand for the best-preserved Fiat 500s likely to remain high.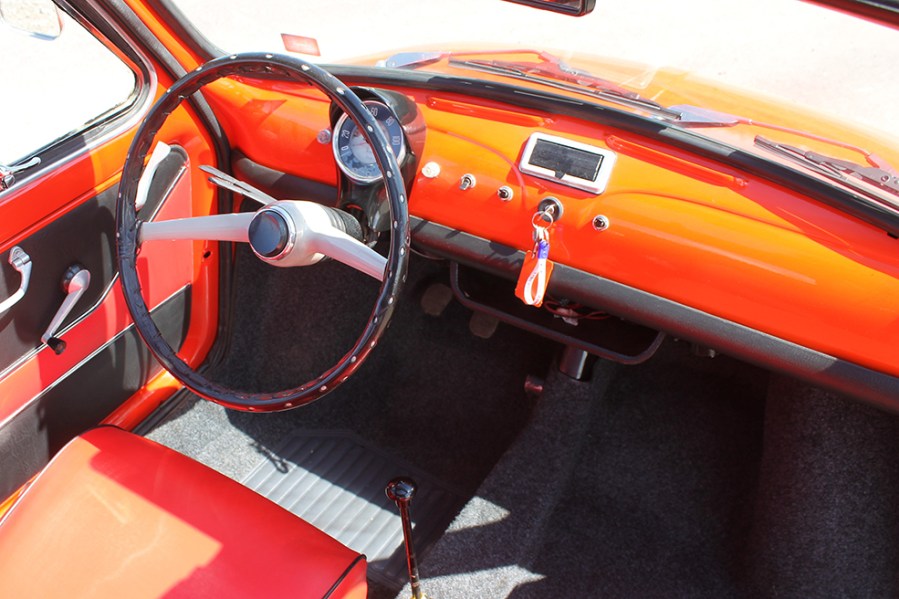 Fiat 500 timeline
1957
Nuova 500 – or 500N – launches in Italy. Initially one specification with 15bhp, later joined by the 500N 'Economic' with detuned 13bhp engine and reduced spec.
1958
500 Sport offered with shorter partial sunroof and 21.5bhp engine.
1960
500D replaces entire range, using 500 'Sport' shell; Giardiniera estate model launched.
1963
Abarth 595 debuts with 27bhp.
1964
Abarth launches 32bhp 595SS, 30bhp 695 and 38bhp 695SS, the latter with wide wheelarches and disc brakes.
1965
500F replaces 500D saloon, with front-hinged doors and 18bhp engine; Giardiniera retains 500D rear-hinged doors.
1968
500L (for 'Lusso') is added to the range, featuring new interior and 850-like dashboard; Giardiniera model outsourced to Fiat subsidiary, Autobianchi.
1972
126 launches as replacement for 500L; 500R replaces 500F as entry-level model, with 126's 594cc engine and 500L's interior.
1975
500R production ends.
1977
Autobianchi Giardiniera discontinued.