Derided at its launch for looking like the Addams Family's shopping car, Chrysler's PT Cruiser was an unexpected hit in the UK. Almost 20 years on, this quirky-yet-practical vehicle is a very good candidate for classic status.
If automotive history teaches us one thing it is this: the great British public loves an outsider, even if we tend to sneer at it when it arrives. Many iconic British cars pushed boundaries a long way at their launch, and when Chrysler's PT Cruiser wandered across the Atlantic in 2000 boasting American gothic looks that only a mother could love, we reacted with a combination of horror, derision and desire. Of the 1.35 million PT Cruisers sold during its decade-long career, over 300,000 were bought outside the USA and its largest foreign market was the UK. Despite being, as one British review put it, 'something of an artful sham,' the PT Cruiser became the most profitable product in Chrysler's history.
It has been claimed that the PT was nothing but a Chrysler Neon dressed up for a weekend in Whitby. However, this is wholly inaccurate. At the time, American manufacturers were bound by regulations controlling the average fuel economy of their entire range, and part of the PT Cruiser's remit was to help balance the books for Chrysler's light truck stable. In official American terms this car is actually a truck.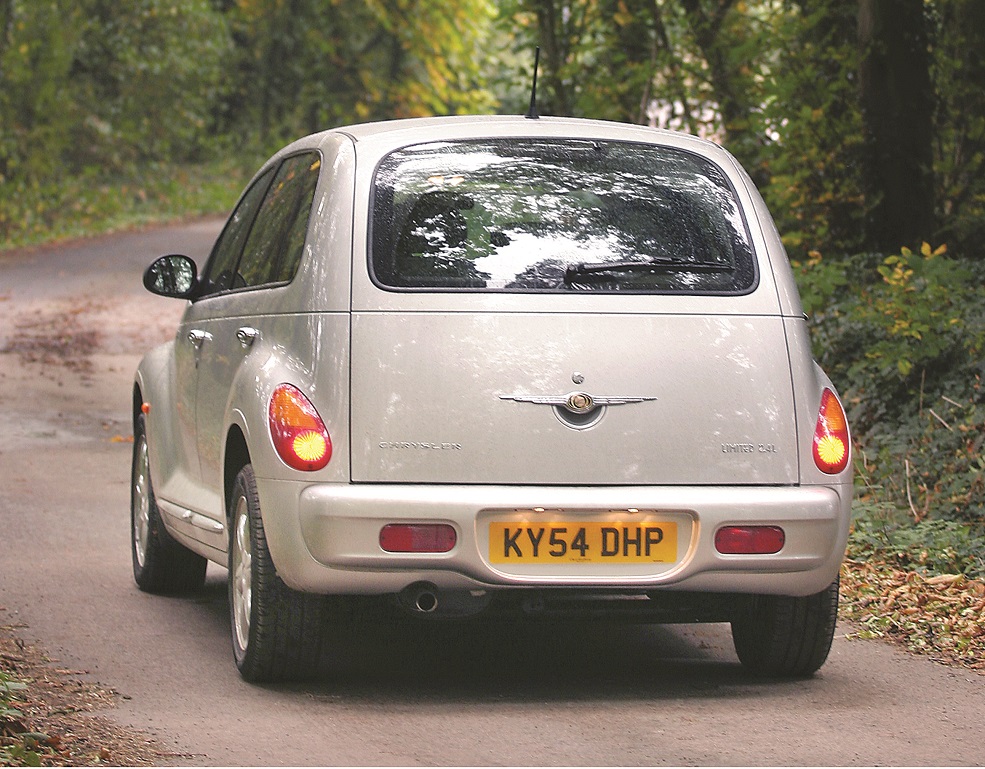 The floorpan of the Neon was ill-suited to the non-independent rear suspension required by a car with a large, flat load bay, so a Cruiser-specific chassis was designed. This is a combination of struts at the front and at the rear a torsion beam axle and Watts link. It gives the front-wheel drive car very acceptable handling indeed, without intruding into the boot floor. As a result the Cruiser is a hugely spacious family car.
Or truck – part of the package is rear seats which can fold flat or be removed, at which point the car becomes a reasonably-sized van. One option is a passenger seat that folds flat to form a table or allow objects up to eight feet long to be carried. If required, the PT Cruiser could be a works van during the week and family car at the weekend. Even with the all the seats in place it could still carry phenomenal amounts of gear in a tall, square load space.
These capabilities placed the Cruiser in the mid-size MPV class. It suffered rather in this company, some of which boasted seven-seat capacity while the Cruiser only had seating for five, but its looks made it peculiarly desirable for those with 2.3 children and a taste for early 20th-Century hot rod culture. Try as it might, the Renault Scénic was never going to titillate those with a taste for texamericana.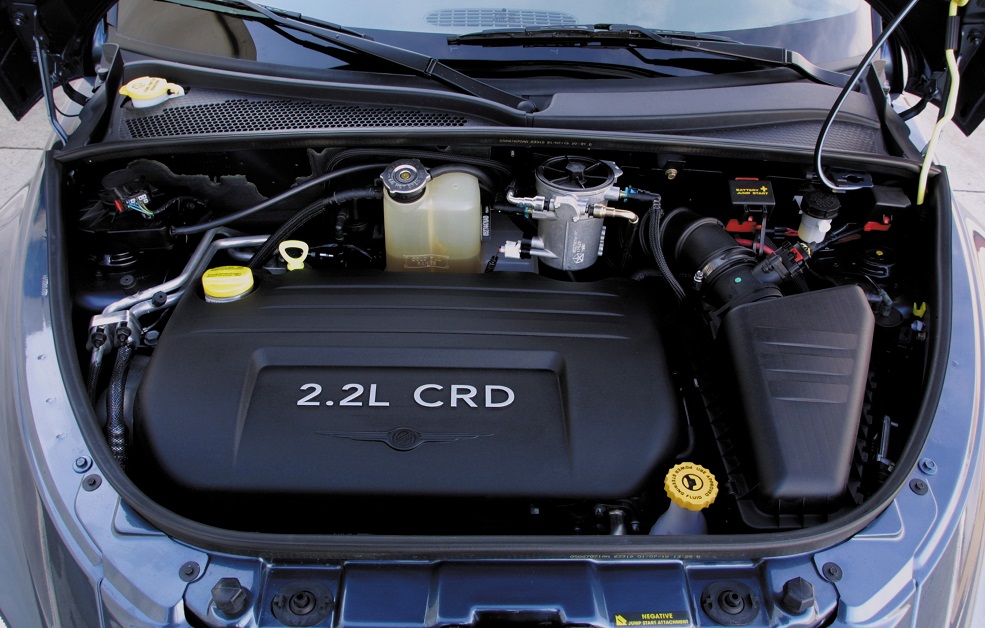 At its 2000 launch the Cruiser offering was a little limited: three trim levels, manual or automatic transmission and one engine option. This unit is no firestarter, being Chrysler's 1998cc four-cylinder petrol unit. It gives 139bhp at 6500rpm and 130lb.ft torque at 4800rpm. The result for the manual car is a 0.60mph amble of 11.7 seconds and a top speed of 113mph. In late 2004 the power unit was upgraded to a 2.4 version, which produces 148bhp at 5600rpm and 162lb.ft torque at 4000rpm. Although the 0.60mph time for this version actually drops by a second, the 2.4 is a much more tractable engine in everyday use and the extra torque makes it feel much less underpowered. The best engine available in UK models however, is the 2.2 which joined the range in 2002. Sourced from Mercedes, this solid turbo diesel unit boasts a sturdy timing chain, bulletproof construction, 119bhp output and 221lb.ft torque. This is a superb, tractable and flexible engine that suits the Cruiser as well as it does a C-Class Benz.
One aspect of any early-2000s American car that cannot be ignored is its interior. At the time I personally spent a great deal of time in the States, often driving rental cars of various marques. The experience was universally one of horrible plastics, darkness and criminally-awful fabrics. Despite its flexibility as a cabin, the inside of the PT Cruiser inevitably received criticism in the UK. However, in comparison to its more ordinary brethren back home the PT driving environment was a wonderland of colour and styling interest. Especially after the facelift of late 2005, the PT cabin featured body-coloured panels on the dash and doors, a cool, thin-rimmed steering wheel that vaguely evoked 1930s motoring, and strangely-shiny leather seats in many cases.
Two decades on this has a charm and interest that many cars of the era lack. In addition the large glass area, tall ceilings and high seating position create a bright cabin that is easy to see out of and pleasant to be in. In fact the entire PT Cruiser driving experience is most enjoyable, especially in versions with the 2.4 and diesel engines. It's a mellow machine with a pleasant ride and light, direct steering. This is not a focussed, incisive tool for eating countryside at speed, but then the clue is in the name: it's a cruiser.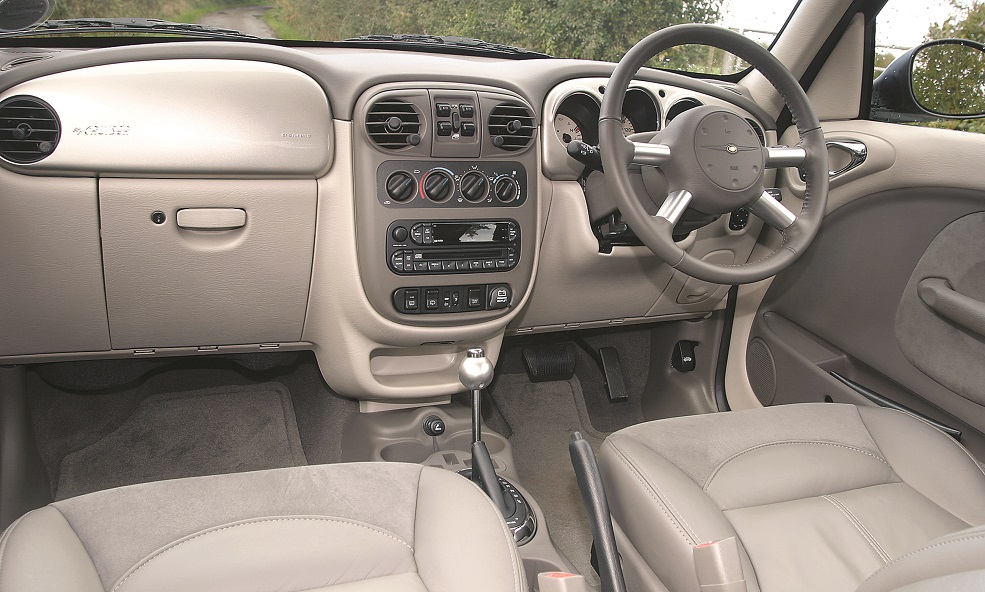 Unsurprisingly the convertible version which emerged in late 2004 was a popular option. Export markets didn't get it until 2006 in RHD form, but before that customer demand lead to 100 LHD examples being brought to the UK.
The late 2005 facelift was a double-edged sword. It brought great improvements to the interior, but robbed the exterior of its hot rod-inspired deep front grille and oval headlamps. The later car looks somehow less distinctive. However, there is a plethora of niche models to keep the enthusiast interested. No fewer than 14 special editions were launched during the model's 10-year production career, many of which made it to the UK market. These were based largely on trim and paint options rather than performance equipment.
These days the PT Cruiser has a solid fan base in the UK. It was overwhelmingly bought as a second car, so many cherished, low-mileage examples are now available. There is a significant number on the lots of dealers, which is a good indicator that a car's star is rising as a canny dealer is unlikely to put effort into selling a 20 year-old car with no cachet. If the PT Cruiser pushes your buttons, now is the time to get into one as it is currently highly affordable. That it is a quirky yet very useable slice of American motoring history only increases its worth.
A 100k diesel will be a great deal of car at around £500, but £1000 should buy you a decent 2.4-engined wagon or convertible. Very low-mileage cars are offered by dealers at around £2500, meaning that the PT Cruiser is a very attainable car right now. This won't always be the case. When it comes in a distinctive and practical package, many of us appreciate something more artful than sham.