Summer's here, the sun's out and it's time to drop the roof and take to the open road in one of the best 10 classic convertibles for under £10k!
1. Triumph Vitesse
The convertible was launched at the same time as the Vitesse saloon in 1962 with Michelotti penning the quad headlamp arrangement to distinguish it from its more flaccid Herald stablemate. It featured a 70bhp 1596cc six-cylinder engine with twin Solex carbs initially, although lack of motorsport success prompted Triumph to develop a 95bhp 1998cc unit which was fitted from September 1966.
An all synchro 'box, sturdier rear axle and diff, beefier front discs and 4.5in wheels further enhanced its sporting pretensions, despite the fact that nothing had been done to remedy its tendency for the rear wheels to tuck in when cornering. That came in October 1968 with the launch of the Mk2 with lower wishbones, Rotoflex couplings and lever-arm dampers. At the same time, TR5 cylinder heads bumped power up to 104bhp, while the seats and facia were also given an upgrade. Visually, three horizontal bars replaced the earlier mesh grille and Rostyle trims smartened up the look of the wheels.
When buying, rust will be the biggest enemy and because the convertible doesn't have the structural integrity of the saloon, a rotten car will be decidedly unpleasant to drive. Corrosion takes hold in the chassis outriggers, rails, boot floor and suspension mounts front and rear. Needless to say, cavernous gaps between the doors and bonnet and poor alignment points to many years of botched repairs, so buy wisely.
Rolling projects start at £5,000, while a nicely restored Mk2 could be yours for £9,000-£10,000.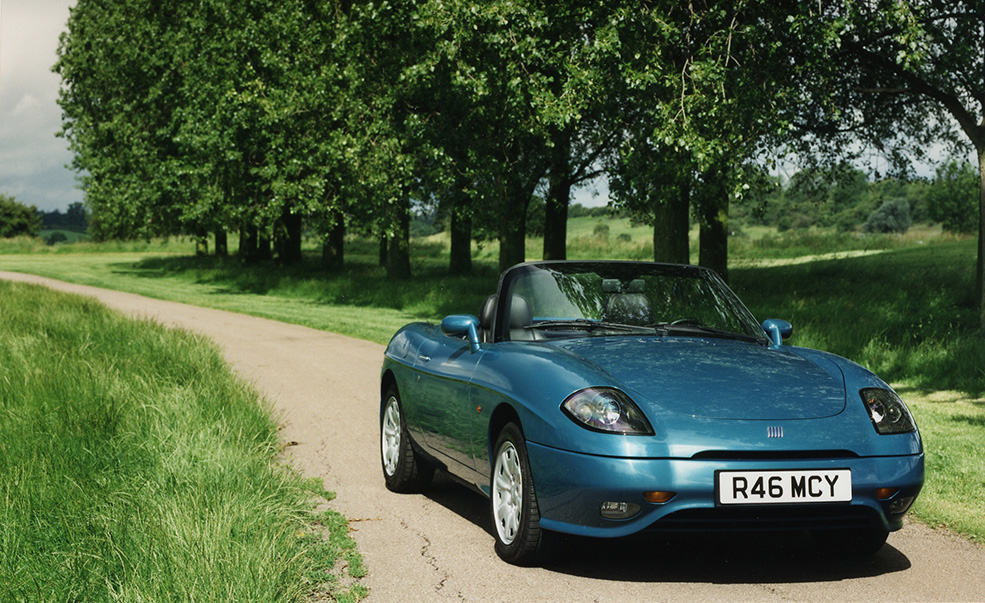 2. Fiat Barchetta
Fiat's Punto-based 'little boat' (made from 1995-2005) is everything you would expect from a small, Italian two-seater. It handles, performs and seduces the senses with its evocatively cowled front headlamps, its jewel-like rear lenses and a plethora of nice design touches like the neat flick-out door handles. More seductive still is the fact that even the best, low mileage examples struggle to make much more than £5,000 these days, making it a fabulous used buy.
So what's the catch? Well, for some it's the fact that the Barchetta was only ever made in left-hand drive. However, we reckon that's a small price to pay for a car that looks this exotic, does 0-60mph in 8.7 seconds and offers this level of sophisticated wind-through-the-hair excitement.
There's really only one model, though there's an assortment of options and lots of special editions to tickle your fancy. The UK-spec cars were pretty well equipped with a five-speed 'box, power steering, ABS, immobiliser, electric windows and driver's airbag. There was also a Comfort Pack which added central locking, leather trim, electric aerial and door mirrors and front fogs. Air conditioning remained an option.
When buying, the only real niggles to look out for include issues with the valve timing variator on pre-'99 cars which can stick and rattle and exhaust systems that snap in the middle. Oh, and despite being galvanised, there might be some rust in the rear wheelarches, sills and front floopans.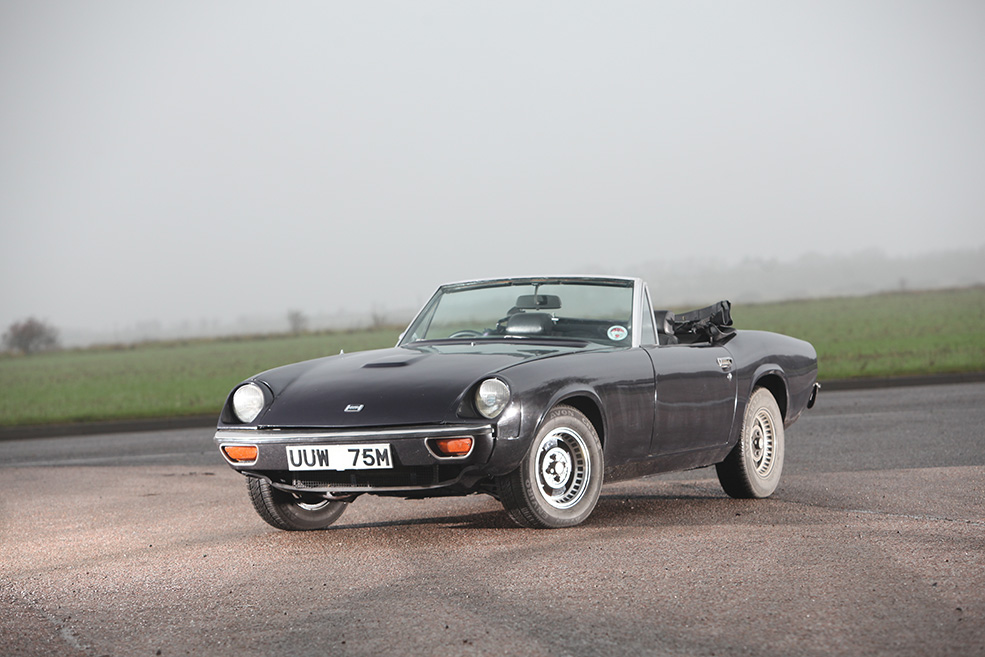 3. Jensen-Healey
With a name that combined two influential British motor industry game changers, the bar was set pretty high for the Jensen-Healey at its unveiling in March 1972. William Towns was responsible for much of the styling, borrowing from the Triumph TR6 and MGB in the process, while other components such as the 16v 1973cc engine came from Lotus. Vauxhall provided the suspension (from its Firenza) and the brakes (from the Magnum) while Rootes handed over its H120 gearbox from the Sunbeam Rapier.
The end result, though promising much, was a car that failed to attract sales and reliability problems with the Lotus engine, under par paint finish and mediocre hood fit made matters worse. By the time Jensen had sorted the engine issues on the Mk2 (from 1974), which featured a Getrag five-speed 'box and rubber bumpers, the car's reputation had already been tarnished.
Time, however, has softened opinion and today good ones will prove rewarding to own and nice to drive, especially if polyurethane bushes have replaced the originals in the rear suspension. Rust is likely to be the only major problem when buying, especially if it's attacked the sills, inner arches, boot floor and wing bottoms. Rolling restorations can be had for as little as £6,000, though realistically you'll need £8,000-£9,000 for a nice one.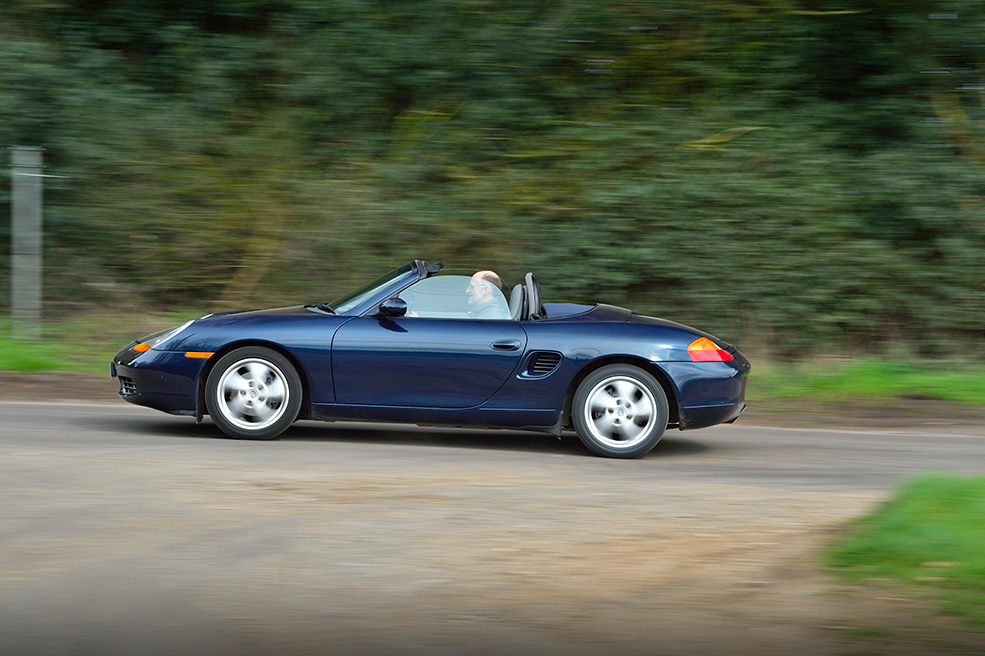 4. Porsche Boxster
Classy, quick and in abundance at temptingly low prices – it's easy to see why early Porsche Boxsters are now appearing on the radar of many a open-topped sports car bargain hunter. The model was launched in 1997 with a 204bhp six-cylinder 2.5-litre engine, which was replaced in 2000 by a 220bhp 2.7-litre and the 252bhp 3.2 (fitted to the Boxster S).
However, a sorted Boxster with the smallest engine will still feel fast and ruthlessly efficient, and with near perfect front to back balance, handling is right up there with the best.
To the uninitiated, it looks like a 911 but it sells at Ford Focus prices – so early 2.5s change hands for as little as £3,500, while the 2.7 begins at £4,000. However, the problem with buying one at this price level is that you will inevitably be playing catch up with maintenance (such as replacing suspension bushes, sorting duff ignition coil packs, etc). The costs can quickly mount up.
Most elderly Boxsters weep between the engine and gearbox, and the oil can contaminate the clutch so it's worth finding one that's had its rear main oil seal (RMS) replaced as it's quite a big job. In a nutshell, we recommend paying a little more for one with a good independent specialist history file because it will be more rewarding in the long run.
5. Triumph Spitfire 1500
The first Spitfire broke cover in 1962, with the last one leaving the Cowley production line in 1980 – and it's this model, the 1500, that we think would be perfect for regular weekend jaunts throughout the sunny summer months. It was introduced in 1974 and featured a perky Triumph 1500 engine producing 71bhp, its long stroke giving plenty of low down torque and better cruising ability than its predecessors. It was nicer inside, too, thanks to new seats and trim, with smart TR7 switchgear replacing the old Herald items.
While rust is likely to be an issue on any car from this era, another thing to look out for, and a particular weak spot on the 1500, is cooling. So be suspicious of overheating on a test-drive. That said, it's unlikely to be anything a 21in electric fan and a set of deflector boards to push air through the rad won't solve. The other big bonus with the 1500 is that it's very tunable; buy a set of 45DCOE Webers and you'll be outsprinting most modern hot hatches.
Price-wise, you can still find project 1500s for under £5,000, but realistically a decent example that's undergone a good restoration will be £7,000-£8,000. And for sure, prices can only go one way from here on.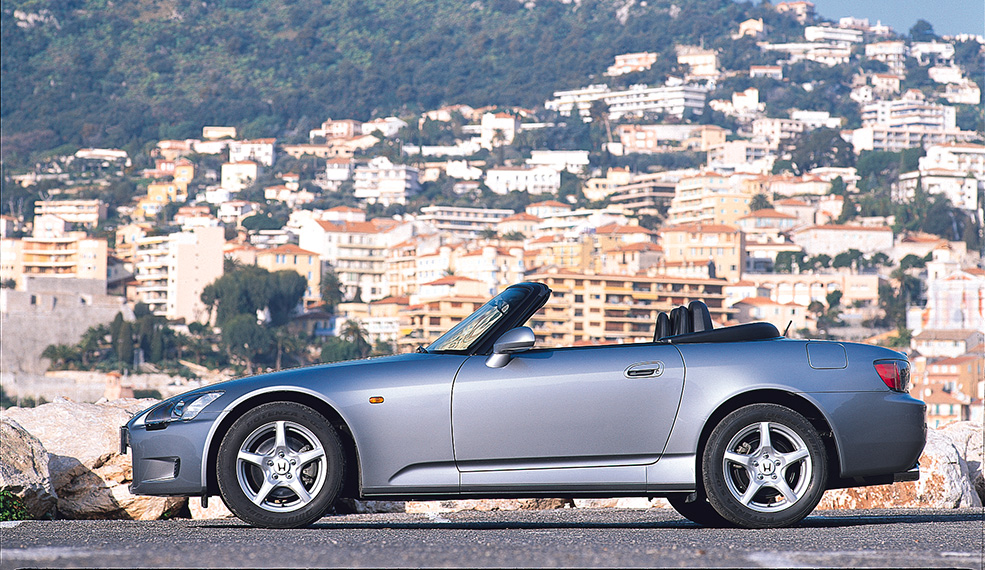 6. Honda S2000
As far as future classics go, the elegant topless Honda is a sure-fire contender. Its revvy VTEC unit is well proven and offers tantalisingly poky performance, while leather pews, hi-tech digital dash and that evocative 'engine start' button inside sets the scene for drivers eager to unleash its 237bhp via the rear wheels.
The icing on the cake is that prices for the S2000 kick off at the bottom end of our price range, with even the most mint condition, low mileage examples struggling to fetch much more than £7,500. The only caveat when buying – apart from keeping an eye on the dipstick as it has a thirst for oil – is to avoid the many Cat-D accident damaged cars where the owner has fallen victim to the car's tail happy character on wet roads.
Oh, and those metalastic suspension bushes that attach the arms to the body can seize, so it's worth getting a four-wheel laser alignment check carried out. The best ones are the post-2002 models with the glass rear screen. You can even buy a hard top (£1,000) if you want to use it all year round.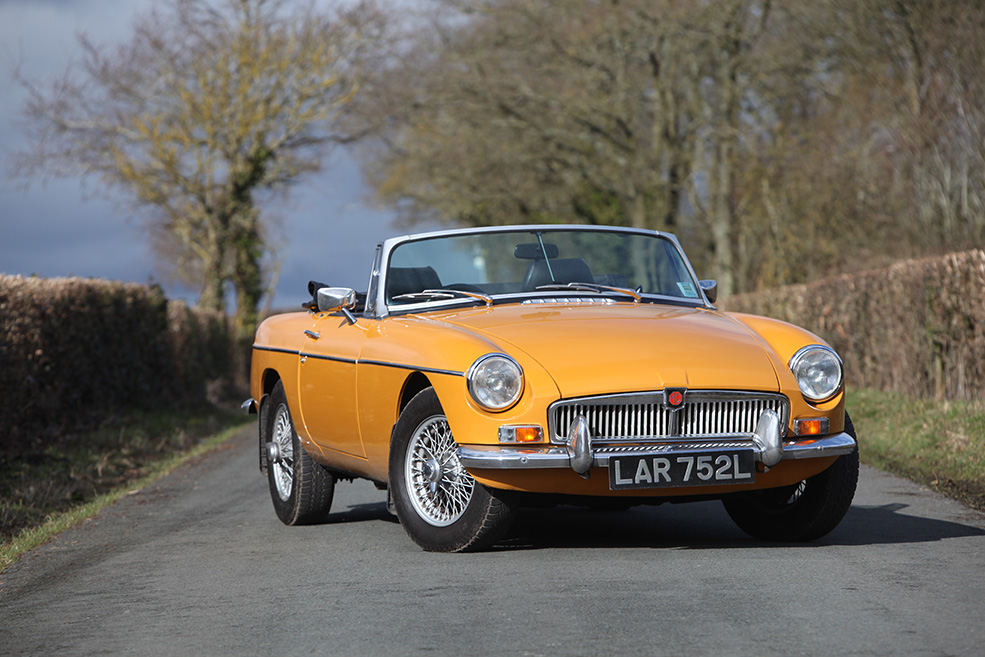 7. MGB Roadster
You've seen the 'Just like a Golf' VW advert on TV. Well, the same clever marketing slogan could just as easily be applied to the MGB because it's the vehicle most other old cars are judged against. And while it might seem like a bit of a classic car cliché, there's good reason to buy a MGB in Roadster guise, not least that it's still a massive hoot to drive, easy to maintain and there's a whole raft of parts suppliers, clubs and specialists out there to make the ownership experience a good one.
With the first Roadster appearing in 1962 and the last exiting the production line in 1980, there's a wide range of eras to choose from. Which model you go for comes down to two factors; budget and intended use. Pound for pound you'll get better value from a later MGB, it will be nicer to drive, more refined and generally better suited to more regular use. The more classic chrome endowed car is more sought after, more involving perhaps, and for those reasons fetches a higher premium.
Suffice to say, whatever car you view, place the condition of the bodywork (or more likely, the quality of the restoration) above all else. The good news is that a really sorted late rubber bumper model with little to do will be £7,500 tops. You might even be able to get yourself a chrome bumpered project for the same money if you look hard enough.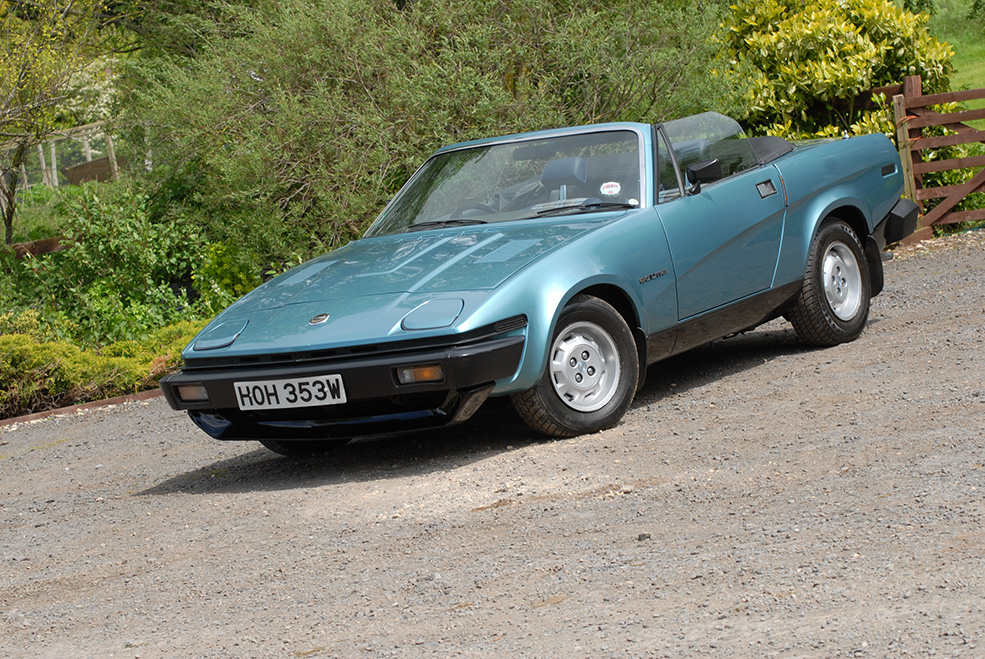 8. Triumph TR7
The wonderfully wedge-like convertible TR7 went on sale here in 1979, and while it doesn't have the same charisma as previous TRs, it's a model that has matured into a respected and generally accepted classic which offers decent performance, good road manners and, crucially, great value for money. Indeed, £5,000 will be enough to get a reasonable example.
In its favour is the fact that it's quick yet comfortable, its long travel springs adding refinement, with the live back axle making things nice and taut and giving the car an undoubtedly sporty character. Meanwhile, its 105bhp normally aspirated 2.0-litre still feels eager and the low seating position always gives the sensation you're travelling much faster than you really are.
The rest of the mechanicals are totally traditional, and it's simplicity that makes it perfect for the DIY enthusiast. What's more, there's endless possibilities when it comes to tweaking – with a vast choice of engine, brake and suspension upgrades available to take make it go, handle and stop better than it ever did when new. In short, it's a good little car and corrosion will be the only real bogie when buying.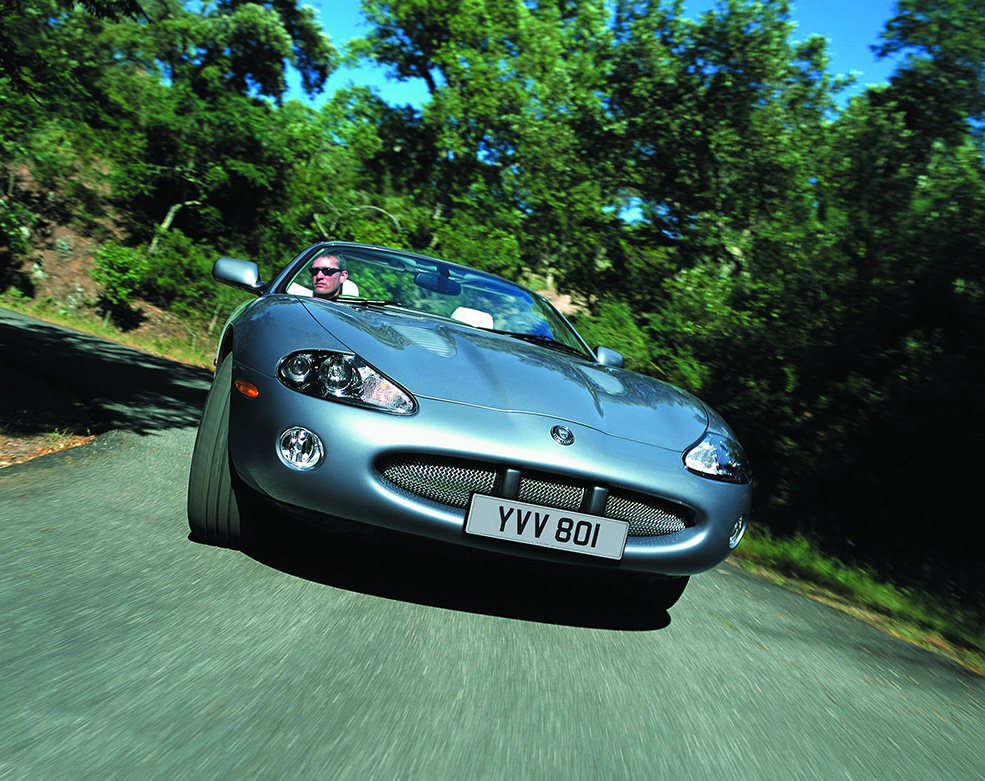 9. Jaguar XK8
The convertible version was launched at the same time as the coupé in 1996, and it still looks super fresh. In truth, the XK8 has always been more of a grand tourer than a sports car, but in that respect, it suits relaxed wind-through-the-hair motoring perfectly.
The first XK8s got Jaguar's spanking new AJ26 V8, a co-effort with Cosworth, with facelifted models from MY2003 getting the new 4.2-litre AJ34. It's the engine which made its debut in the S-TYPE. In the supercharged XKR from 1998 this means 400bhp and a 0-60 time of under six seconds. While the convertible isn't as quick as the coupé, whatever the engine, it's certainly no slouch – and with such a beautifully-appointed interior any journey is likely to be a thrilling experience.
Moreover, there's only the slightest trace of scuttle shake and the hood is well designed and made from top quality materials. If the fluid's not been changed, however, the pump operating it can fail while problems with the hydraulic pipework is not unheard of either. Use stuff like this as a hefty negotiating tool, buy a pipe repair kit (£200) and get yourself the best deal you can. Talking of which, unbelievably the cheapest ones start at £7,000, while £10,000 should be enough to get you a nice early one.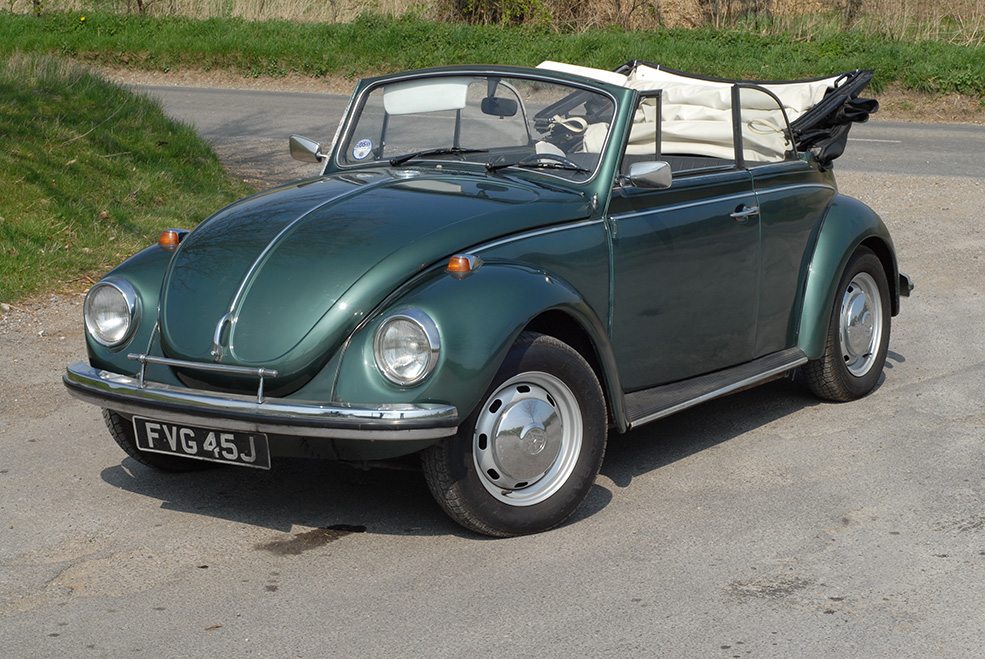 10. VW Beetle
What could be more fun than a Beetle, other than one minus its roof? The first Beetle Cabriolet was produced in 1949, but we'll fast forward a few decades because the very earliest ones fetch big money and are favoured by collectors. For practicality, then, consider models from the late '60s which still had the charismatic flat screen and painted metal dashboard but more useful bigger engines, 12v electrics and other refinements such as dual circuit brakes with discs at the front on the 1500.
Alternatively, for a more modern drive but still retaining the metal dash, go for the McPherson strut equipped 1302 from 1970, or the bulbous looking 1303 with its plastic dash that succeeded it in 1972. The convertible version of these lasted until 1979 in right-hand drive guise, though lots of the later 1303s for sale are US imports with fuel injection.
Rigidity came via extra strengthening in the sills and deeper doors, the latter being a way to distinguish a true Cabrio from a chopped saloon. However, it's these sills that rot, as well as the bottom of the doors, rear quarters and bumper hangers – so beware. Mechanicals are a doddle, as are parts. Incidentally, the folding hood on these cars is a real work of art, multi-layered and well fitted with a glass rear window.
The best candidate for regular use are those more refined late 1303 models, with US imports selling for between £7,000-£8,000.