An early Rolls-Royce Corniche will take classic motoring to a new level and we show what to look for when viewing one of these upmarket coupes.
In March 1971 the coachbuilt two-door cabriolet and coupe variants of the Rolls-Royce Silver Shadow, which carried dauntingly long names such as Rolls-Royce Silver Shadow Mulliner Park Ward Drop Head Coupe, were replaced by a new model with the much more evocative Corniche moniker. The word is an anglicised French term for a road cut into the side of a cliff or mountain, referring especially to the coastal roads of the French Riviera – a perfect haunt for a two-door Rolls-Royce is ever there was one. The cars became the Corniche Saloon and the Corniche Convertible. With the Corniche name came a few cosmetic changes – the radiator shell was deepened and very slightly raked forward to subtly add a more imposing air to the car's frontal appearance while the fascia was redesigned with a unique array of ancillary dials and a tachometer which together with a new wood-rimmed steering wheel and standard-fit driving lamps on the front gave the renamed cars a suitably sporting air. Cruise control was also now an option for the well-heeled buyer: A Corniche Saloon cost £12,829 and the Convertible was another £600 on top of that, which was enough for two suburban semis or a Lamborghini Miura with change left over to buy a Mini Cooper for running into town.
In 1972 the suspension was upgraded to 'compliant' specification with more effective bushings (improving the ride and further reducing road noise) and concurrent with this was a switch to standard-fit radial tyres and ventilated front brake discs.
From 1974 the wheelbase was extended by a quarter of an inch (to 120 inches) and the track was increased courtesy of wider-section wheels and tyres which brought with them more noticeably flared wheel arches. The next year saw all cars gain electronic ignition, bringing useful improvements in reliability and reduced servicing.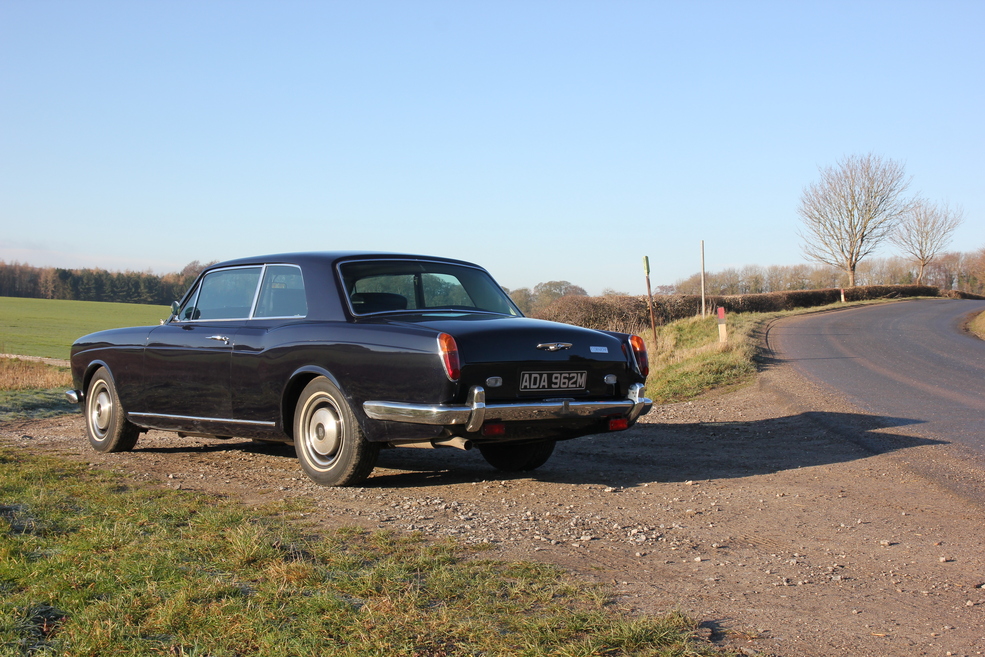 In 1977 the Series II Shadow models were introduced and the Corniche gained the same improvements but not the new designation. Cosmetically this saw the introduction of thicker, deeper polished alloy bumpers with impact-resistant rubber cladding and a front air dam. Inside was the Carmargue's hugely effective twin-zone climate control system and a new asymmetric fascia design while under the skin came a belated switch to rack and pinion steering and revised suspension geometry which led to big improvements in handling at the loss of a fraction of some of the older version's all-conquering ride quality.
Somewhat more significant changes came in 1979 when the Corniche received unique changes to its rear suspension. This was actually a trial of the changes intended for the upcoming Silver Spirit – it had already been decided to continue Corniche production when the Silver Shadow was replaced and so the lower-volume two-door models were both an ideal proving ground and worth upgrading. New gas struts, revised trailing arm geometry and slight changes to the track and wheelbase (now officially 120.5 inches) and changes to both the spring length and rate led to noticeable improvements in both ride and handling without any loss of refinement or stability. By now inflation and a realisation of what the Corniche name and image was worth had led to some stupendous price tags – over £63,000 in 1980, or three times the average UK house price. With the demise of the Silver Shadow in 1980 time was also called on the Corniche Saloon after 1108 had been made – from now on the Corniche would be a convertible only.
The belated Corniche II model was introduced in 1988 (although the model had been offered in America since 1986). The changes were mostly cosmetic – resdesigned seats, new styles of wheel trim and colour-coded bumpers and mirrors. Mechanically  the big change was electronic fuel injection and the fitting of an  anti-lock braking system.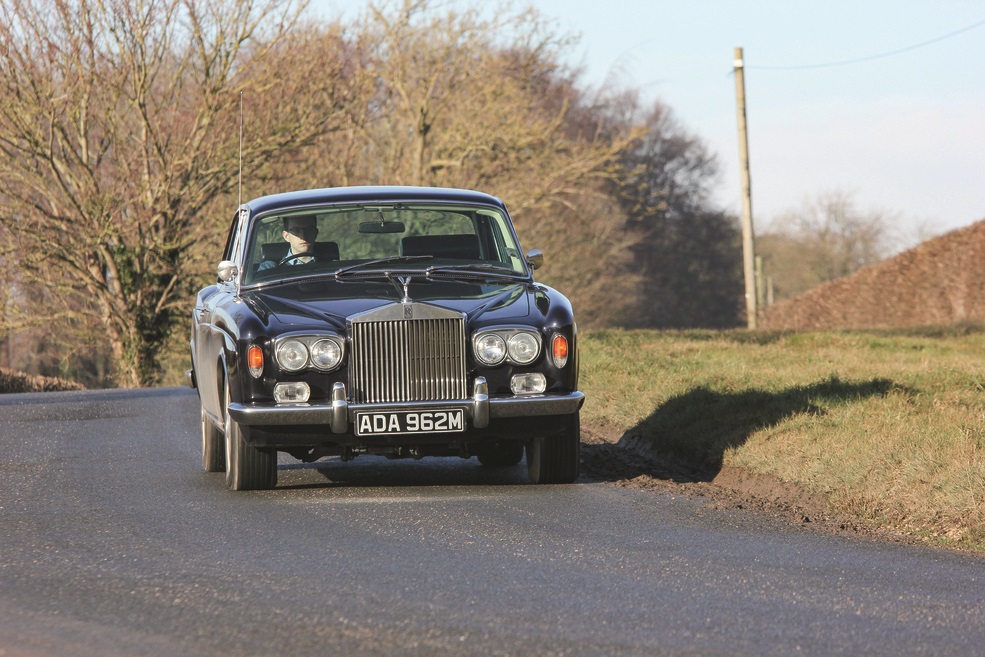 Because the new Silver Spirit was fundamentally an updated form of the Shadow design, the Corniche generally incorporated the technical advances made to the newer saloon model. In 1990 the Corniche III introduced the Silver Spirit II's Automatic Ride Control system which adjusted the springing and damping depending on road conditions and how the car was being driven to produce either the best ride or the best handling. There was also updated Motronic fuel injection and a catalyctic converter, while the interior now had inlaid woodwork rather than veneer, updated instruments including an electronic trip computer and seat position memory, air bags and a ten-speaker radio/cassette/CD system.
For 1992 came the Corniche IV. The decision had been made to close MPW's Willesden works and so these models were bult entirely at Crewe. They had yet another design of seat, an updated version of the Ride Control system which solved some of the issues with the earlier design (which defaulted to its 'hard' setting while the new variant favoured 'soft') and a modern four-speed gearbox, while the hood's rear window was upgraded to glass with a heater element. Alongside the standard model were 25 25th Anniversary models, all in Ming Blue with a cream hood, numbered silver plaques on the dash and unique wheel trims – these were priced at a whopping £165,270.
Corniche production finally came to an end in the summer of 1995, with the final 25 examples being built to a unique Corniche S specification with the turbocharged version of the familiar 6.75-litre V8 from the Bentley Turbo R with 300 horsepower and suitable suspension and steering upgrades. In total 3239 Corniche convertibles had been made in 24 years.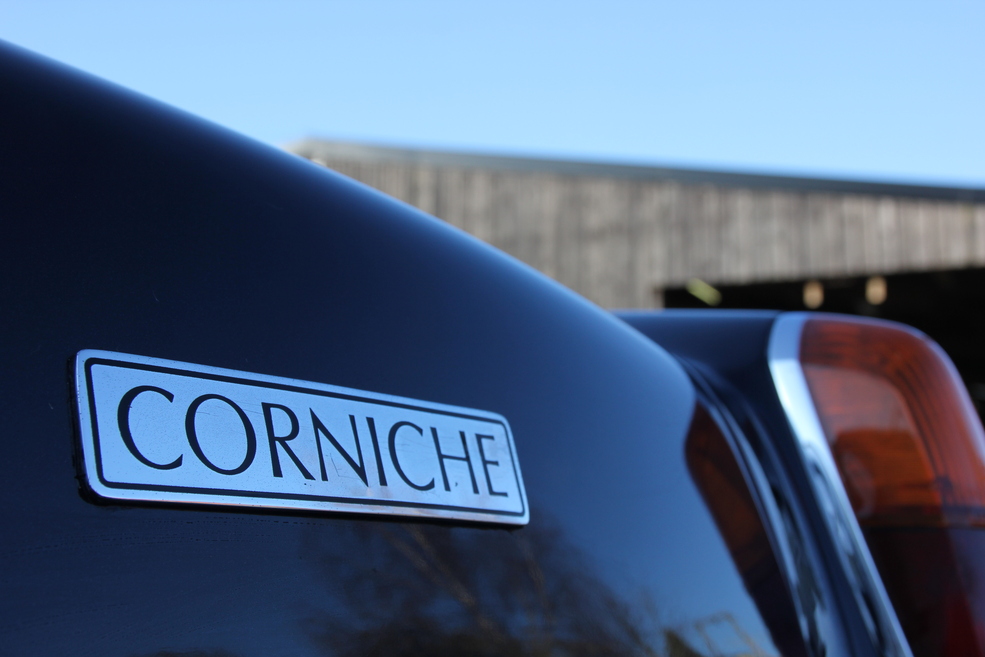 WHAT TO LOOK FOR
BODY
Corrosion in the body is the real danger when it comes to buying a Corniche, even when looking at cars in the upper half of the price range. Check the entire lower part of the car carefully from front to rear – front valence (especially if hidden by a later chin spoiler), front arches, rear part of the front wings, the sills along their entire length, the rear wheel arches and the rear valence. With the exception of the  sills (especially crucial on convertibles) and the front wings where they join the bulkhead, any rust here can be seen as cosmetic so long as you're sure it hasn't progressed further and the structure of the car is solid. While repair panels are relatively inexpensive (sills are about £160 per side and arches are £110-180 each), getting these put in and painted to the correct standard will be costly. However if the only problems are in these areas it could well be worth doing so long as the car is suitably priced and the condition of the rest of it makes it worth it.
Rust in the rear of the front wing, the front floors, the base of the windscreen pillars or the boot floor speak of more serious corrosion which needs much more thorough work to put right and essentially puts the car into project status – and price.
Going further, be sure of the condition of the rear spring seats, which at the age of many Corniches are prone to rusting out leading to sudden and disconcerting rear-end collapse! Many will have been patched, which is good to see so long as the work has been done to a good standard. On convertibles look at the state of the hood well from both sides as best you can, as this is an awkward and expensive area to repair if it has rotted due to blocked drains.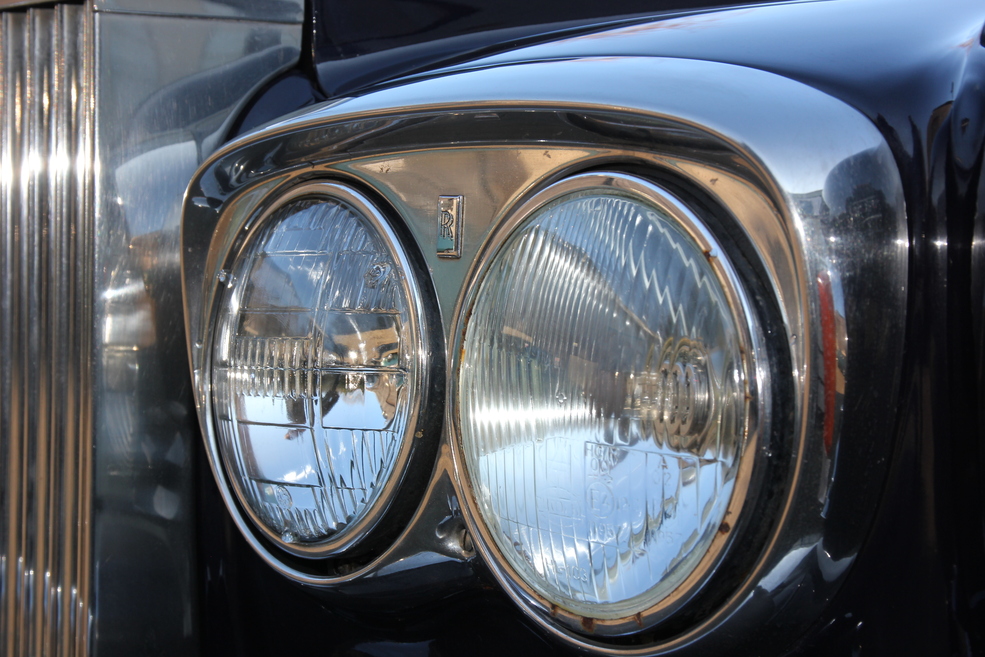 Check the entire body for signs of repairs done with more of an eye on budget than quality – many a superficially pretty Corniche is riddled with filler. Look for misaligned panels from repaired dents or scrapes or areas given a sub-par respray.  Wing panels for Corniches (especially the rears) are hugely expensive (over £2400 for a single rear wing) and they then have to be skillfully massaged into place with the rest of the hand-built bodywork and then loaded, primed and painted to the correct standard – a job that can quickly total as much as the panel itself.
Many cars will have been given a complete respray at some point to rejuvenate them, but this is all-too-rarely done to Rolls-Royce standards. A proper Crewe-applied paintjob should be noticeably 'deep', even and lustrous, and it's not worth paying over the odds for an inferior job. But equally, good (but not Rolls-Royce-standard) paintwork may be acceptable to you if the rest of the car is up to scratch and the cosmetics are reflected in the price.
Chromework and other bright fittings are expensive to both refurbish or replace, so you want all of this to be as good as possible. The doors, bonnet and boot lid are aluminium which means that electrolytic corrosion is a concern. This is mostly a cosmetic problem but lets the look of the car down, even if it is expensive to eradicate. New door skins are currently unavailable other than as (very expensive) new-old stock.
Original hoods on convertibles were made from Everflex, which does degrade with time. Check for splits, cracks or tears or (in the early stages) that the multiple layers of the hood are coming apart. Most convertibles have plastic rear windows which shouldn't be opaque or split. Many cars have had replacement hoods of mohair fitted, which is a desirable upgrade. A new hood costs around £500 for an Everflex one and £800 for mohair, plus fitting. Check that the hood mechanism itself (including the cover) works properly and smoothly as repairs here are costly.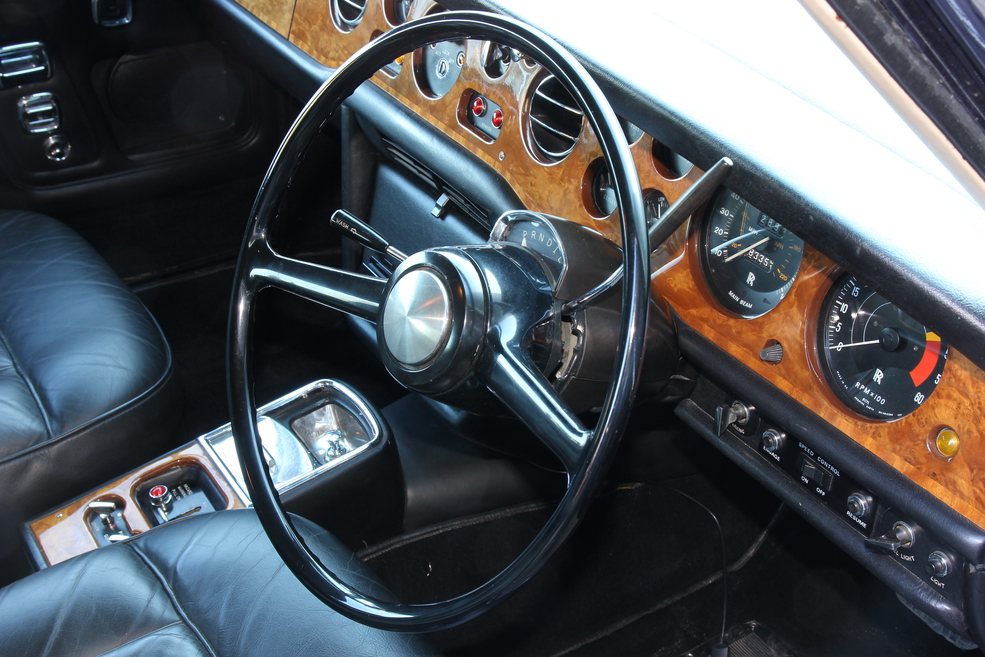 INTERIOR
As far as the would-be owner is concerned, a lot of the appeal of the Corniche (like any Rolls-Royce) is in the interior. It's all hand crafted and while it's not laden with gadgets and gizmos it is all of a very high quality in terms of both materials and fit, which is what Rolls-Royce's definition of luxury has been for many, many decades. Because it is all made in traditional ways from traditional materials, there is little in the cabin of a Corniche that can't be replaced, refurbished or repaired but those craftsman skills and good-quality materials don't come cheap. As with the exterior, don't think you can viably buy a tatty Corniche and make it good while saving money. For most of the Corniche's production run the interior differed from the standard Silver Shadow in terms of design and materials as well as equipment so many of the fascia and trim parts are unique to the model, meaning that they are both hard to source and very expensive to buy.
Watch out for cracked, peeling or delaminated wood veneer panels and scuffed, torn or generally threadbare leather. Be sure that the seat adjustments work as they should, both in terms of the position and angle of the seat and the folding mechanism to allow access to the rear seat. If the seats don't tip or latch properly then new internals are needed, which is an expensive job. Later cars with seat memory rely on electronic control units for the seats which are very expensive to replace if they don't work.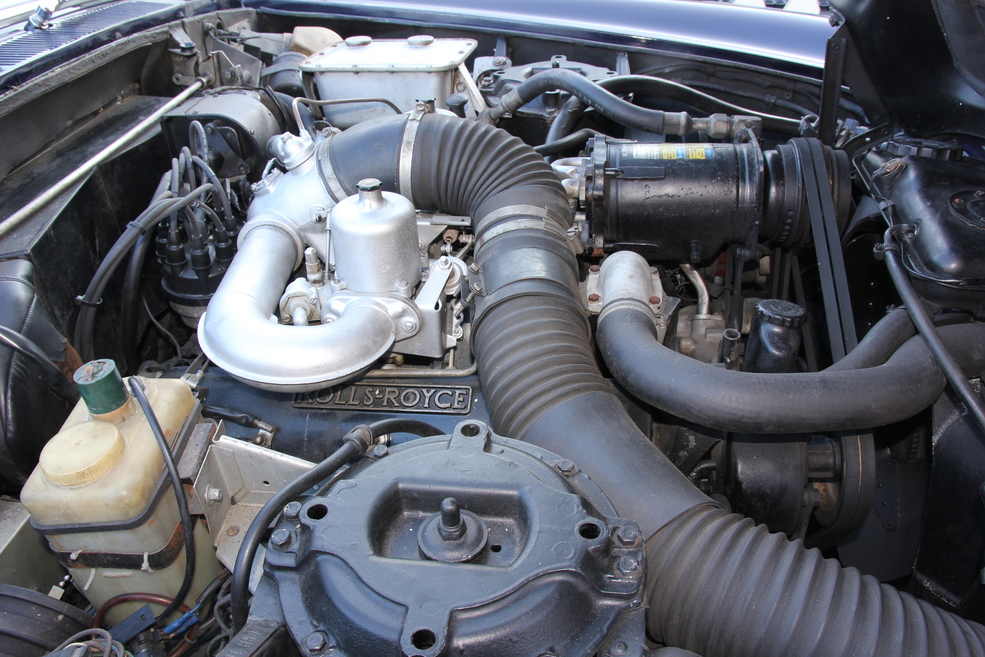 ENGINE & GEARBOX
Given that it shares all its mechanical parts with the Silver Shadow, it's not surprising that the approach to assessing a Corniche is the same. These cars were designed to cover a lot of miles on a regular basis with surprisingly minimal maintenance – a philosophy allowed for by the high quality of their design, materials and construction. But this only applies if that maintenance has been done properly, thoroughly and regular and that a service really means a service, not a quick 'oil and filter' every now and then. If treated with the proper degree of care Corniches are mechanically very robust, but if neglected they can start losing their composure quickly. Outright failures are rare – neglected cars will soldier on for a long time but the driving experience won't be a patch on a well-maintained example. And proper upkeep pays huge dividends in keeping annoying glitches, snags and upsets to a minimum.
A proper service history is a must with a Corniche, be it invoices from a reputable and experienced Rolls-Royce specialist or receipts for parts from a capable DIYer. Cars with little to no evidence of regular servicing should be treated with extreme caution and really aren't worth bothering with when better examples are out there.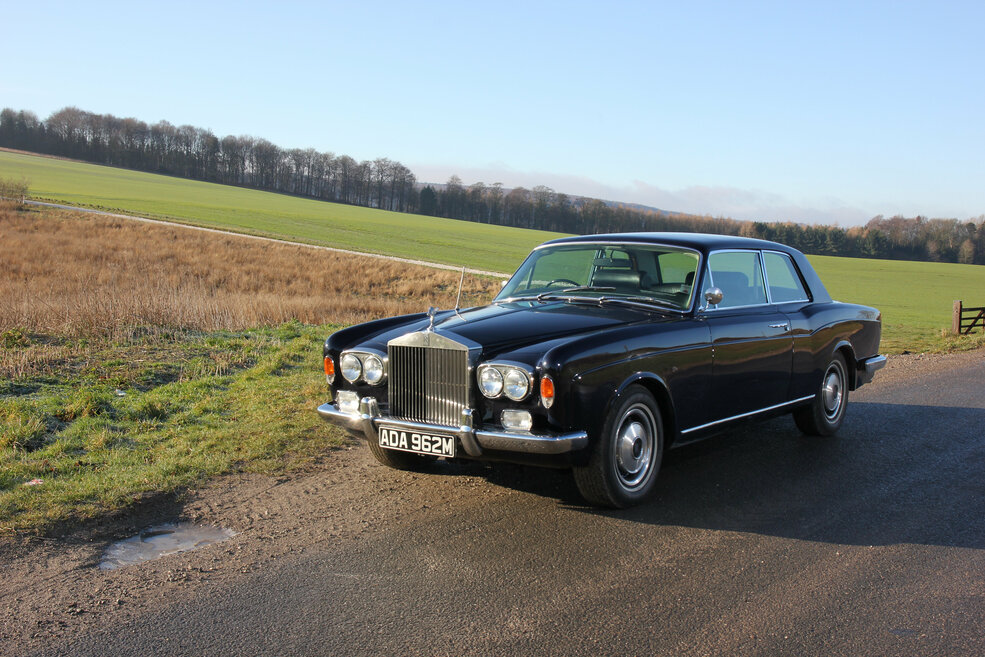 Check the cleanliness of the engine oil and coolant before starting, and look for signs of head gasket failure. Good engines will run smoothly and near-silently. If the valvetrain doesn't quieten down within 30 seconds of start up consider the hydraulic tappets in need of replacement at around £1500 for a set. Knocks, rattles, heavy crankcase pressure or blue exhaust smoke indicate a full rebuild is required, which is possible but extremely pricey. Uneven running or misfiring can usually be laid at the door of life-expired ignition components or faults in the carburettors/fuel injection system, which is easier to repair but points to neglect.
The GM automatics are both extremely reliable, quite simple to rebuild and parts are easy to come by. So long as the 'box basically works without any untoward noises then a rebuild is not too scary a proposition in an otherwise good car. Check the condition of the fluid – it must be clean and clear. Ideally the gearchanges should be almost imperceptible but gearboxes with high mileage or in need of fluid change will be more grabby. A lot of issues actually stem from the electrical selector, as lack of use causes dodgy connections in the switches – try all the gear positions to check they work properly.
The rest of the drivetrain is not prone to typical faults. Any intrusive noise or vibration is, it almost goes without saying, a sign of something not right. Juddering when under way is usually caused by seized (or non-balanced) driveshaft joints.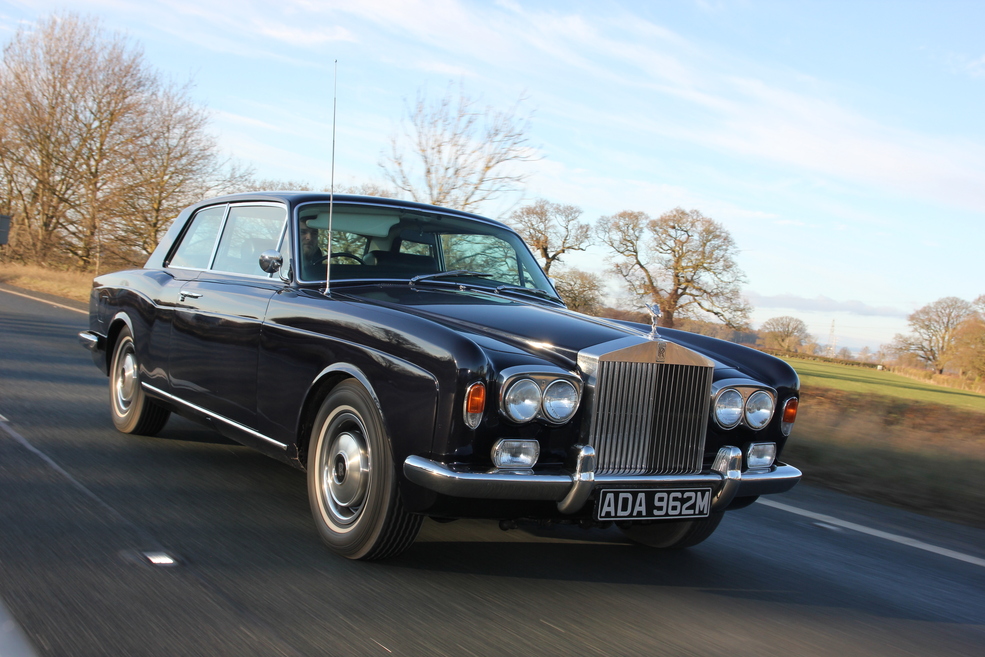 SUSPENSION, STEERING & BRAKES
While it uses a Citroen-style hydronpnuematic sytem, the Corniche uses this only for self-levelling (and ride control on the later examples), with conventional steel springs doing the actual work. A Corniche therefore won't 'sink' when standing. A jiggly ride when on the move is another symptom of the same problem. Spheres cost around £40 and replacement is a job that any Rolls-Royce or Citroen specialist can do – you'll usually find the latter is the cheaper option.  Later cars with Automatic Ride Control can also become stiff-legged if the system is faulty, and it can be hard to tell if the culprit is this system (very expensive and sometimes impossible to put right) or the much cheaper spheres. Some Corniche IIIs and IVs will have had the ARC system stripped out and replaced with the earlier system which offers peace of mind at the loss of pure originality. If the rear end is sitting low and refuses to rise with the engine running then the self-levelling system itself is at fault, which opens the door to thousands of pounds in fault-finding and rectification work so it's best to pass over such a car.
Steering ball joints wear out fairly quickly on these heavy cars so watch for signs of weaving or wobbling in the wheels and listen for knocking sounds from the front end going over bumps. The same goes for the bushes in the rear suspension. Listen for rumbles or whines from the wheel bearings, especially when cornering.
The centralised hydraulics powers the suspension, steering and brake systems, so cleanliness of the fluid (LHS – similar to brake fluid – on early cars, LHM mineral oil on later ones) is vital. The brakes should be very powerful and sharp in response. Scored or warped discs and worn pads are straightforward to replace but any issues with the hydraulics themselves, such as leaks, groans, knocking sensations through the brake pedal or warning lights on the dashboard are matters for a specialist and it an overhaul of the system will cost several thousand pounds.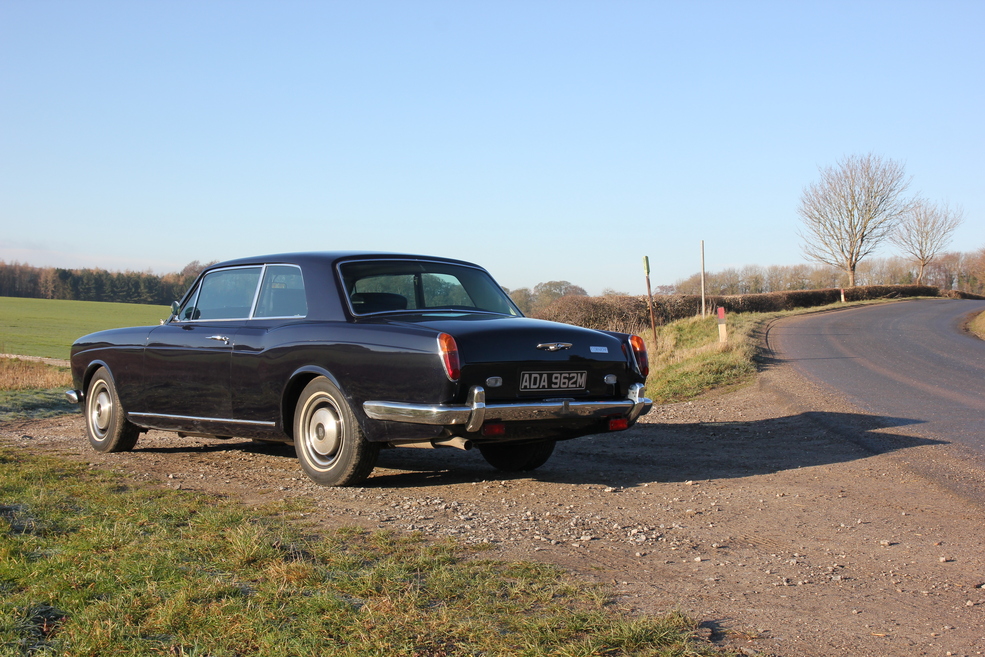 WHAT TO PAY
Coupe
Project: £5000-8000
Average: £15,000-25,000
Excellent: £30,000-50,000
Convertibles
Project: £10,000-20,000
Average: £30,000-60,000
Excellent: £75,000-125,000