Welcome to Old School vs New School where we visit the controversial subject of traditional classics compared to their more youthful equivalents. This time, the Range Rover Classic vs Land Rover Discovery 1…
Just as today's paper is tomorrow's chip wrappers, so each modern classic will eventually take its accepted place in the line-up of cherished classics at a car show of the future and we've picked another selection we reckon offer a good illustration of the changing tastes.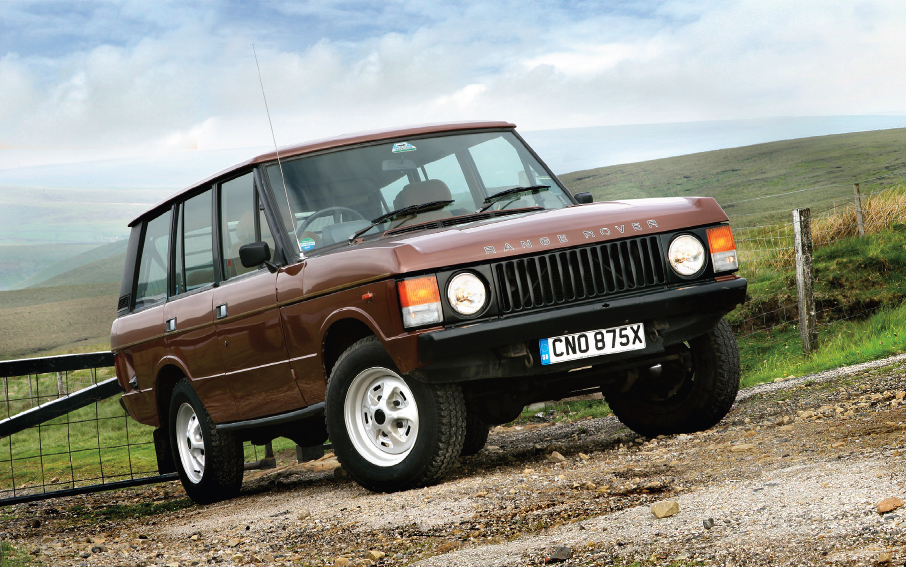 OLD SCHOOL: RANGE ROVER CLASSIC 
TECH SPEC
Engine: 3528cc
Power: 125bhp
Top speed: 96mph
Fuel consumption: 15mpg
Gearbox: three-speed auto
It wasn't so long ago that the original Range Rover would have been on the 'new school' side of this equation but in recent years it has become firmly accepted as a classic, further bolstered by its maker's own 'Reborn' programme offering – at a hefty price – effectively remanufactured cars.
If any car had a claim to the classic title though, the Range Rover justifies it better than most, since its very existence kick-started an entire genre of cars which has swept through the industry like a whirlwind to the point where no manufacturer can be considered a serious player if it doesn't have an SUV in its range: Lotus, Ferrari, even Rolls-Royce are at it now, chasing the market niche known as the Qashqai segment.
Yes, the high-riding front-wheel drive faux off-roader staple of today's suburban driveways is a long way from the original Range Rover but the multi-purpose part of the concept is what inspired the industry.
The genesis of the Range Rover was indeed more of a car-based design, the original Road Rover concept being based largely on Rover car componentry and produced as a more civilised version of the original Land Rover.
The project was sidelined in the face of buoyant Land Rover sales until the idea of attacking the US market came up, at which point fact-finding missions threw up the success of vehicles like the Jeep Grand Wagoneer and Ford Bronco – seriously capable off-road but civilised on it and marketed as 'lifestyle' purchases for the active family.
The solution was easily arrived at, using a development of the Land Rover chassis, the recently acquired ex-Buick V8 motor and permanent four-wheel drive – this last feature designed to split the power equally between the axles and remove the need to source heavy-duty truck axles.
With coil springs underneath it, the Range Rover offered more axle articulation than its older brother and was even more capable off road. By modern Range Rover standards the interior was spartan but compared to the Land Rover it was pure luxury.
With David Bache called in to tidy up the utilitarian style of the prototypes, the Range Rover developed a distinctive style which would endure for decades.
The car was also very usable, offering a genuine dual-purpose capability which allowed it to traverse the Darien Gap, carry straw bales across farmland and also look smart at board meetings.
Later cars would major more and more on the on-road luxury end of the deal, helped by the introduction of the Discovery… but it's amazing how neglected this cash cow was by its makers: the four-door didn't arrive until 1981, fuel injection in 1986 and the automatic in 1982.
WHAT'S THE APPEAL?
This is best illustrated by one of my first assignments after being appointed editor of our sister title Classic Car Mart. Doing a photo shoot with an early four-door on the Yorkshire moors, the photographer wanted panning shots and I found myself struggling to find a suitable gateway to turn round on each pass. Until that is, the light bulb moment when I remembered that a bit of mossy moorland verge is nothing to the Range Rover and duly swung round through the ditches without even breaking a sweat. The Range Rover genuinely is that capable and can also tow a massive trailer full of other classics, a fully loaded horse box or anything else you might throw at it. Oh and in most cases it will come with the added bonus of a V8 soundtrack.
There's another more subtle bonus too: drive around in a brand new Rangey and there's little chance anyone will let you out into traffic, the envy-driven hatred obvious in their eyes. In the classic, whether it's an early two-door or a late-model LSE, you'll get a cheery smile and wave.
OWNING THEM
Despite rising values, these are easy vehicles to work on at home and parts support is excellent. It's the sort of vehicle the whole family can enjoy – two and four-legged – to an extent you won't get with a two-seat sports car, which means you'll get that much more use and enjoyment out of it.
No, the carb-fed engines aren't so great on fuel and the early two-door can be rather more agricultural to drive than you might have expected but the mid-'80s models really are very usable. The injected V8 is tolerably fuel-efficient while the four doors do make it more useful and in many eyes result in better balanced styling. The later cars also came with slightly more plush trim than the rubber mats in the early cars, making it as comfortable as a Jaguar of a similar era.
The use of the mechanical parts and chassis in the later Discovery also worked in the Range Rover's favour, since they were in production for that much longer, meaning there's little you can't source, certainly for the later cars.
Perhaps the last word comes from the editor of our own Jaguar World magazine, who recently completed a twin photo shoot between a mid '80s Range Rover and our own Series 3 XJ6 Sovereign. The internal struggle was great to watch before he finally came out with it: yes, he had preferred the Range Rover.
BUYING THEM
• Aluminium outer panels can hide a rusty structure so pristine looking cars can be very rusty.
• Classic Range Rovers can rot in the central structure, sills, inner arches and floors.
• Late-model 'soft dash' cars also rot in the bulkhead and scuttle corner area.
• The LSE air suspension is more reliable than the later P38a model.
• Many enthusiasts rate the late 1989 cars as the best choice which immediately preceded the soft-dash models.
• The V8 is pretty simple to maintain and problems should be obvious.
• Replacing a gearbox is an involved business. It's possible without a lift but hard work, so bargain hard if the transmission is making odd noises.
VALUES
To some extent prices of classic Range Rovers are all over the place: you'll pay £30,000 for a nicely restored example, up to £100,000 for one of Kingsley Cars' updated two-doors or even more for one of the Land Rover Reborn cars. On the other hand, you'll still see mid-'80s four-doors advertised for £5000-£7000 as 'easy' recommissioning projects. Tread carefully though: you could well get yourself a bargain which can be brought up to scratch by a keen DIYer but you could also be buying a car which may look good but is horribly rusty behind the scenes.
Insuring them
To cover a 1989 Range Rover worth £10,000 you're looking at £100 with £100 accidental damage, fire and theft excess through Adrian Flux.
Quotes are based on a 45-year-old male, second vehicle. The car is garaged, covers 3000 miles a year and lives in an SP2 postcode. He has no claims or convictions, is a club member, and is employed as a marketing manager. Comprehensive cover quotes were supplied by Adrian Flux and include free legal cover and optional agreed value. You can get your own quote at Adrian Flux or on 0800 369 8590.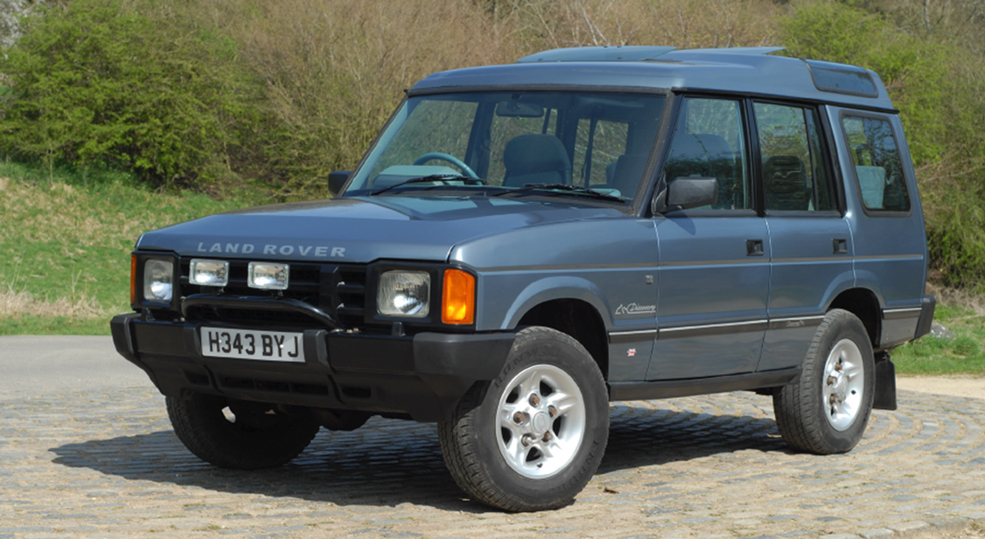 NEW SCHOOL: LAND ROVER DISCOVERY 1
TECH SPEC
"Engine: 3532cc
"Power: 154bhp
Top speed: 100mph
Fuel consumption: 20mpg
Gearbox: five-speed manual"
We've justified the appeal of the classic Range Rover opposite but sometimes the reality doesn't quite match the dream. A chance conversation with Kingsley Cars recently illustrated the point neatly: having parted with a hefty sum for one of Land Rover's own painstakingly restored as-new Reborn Range Rovers, at least one owner had soon discovered that the reality of the early two-door car wasn't quite what he was expecting. The carburetted V8s can feel sluggish, while the four-speed manual with its baulky change and long throw can be hard work and the cars are pretty noisy.
Said customer was happy to exchange the exacting originality for one of Kingsley's uprated cars, which are similarly costly but which come with the 4.6-litre injected V8, upgraded suspension and the more luxurious trim from the later classic models and are just so much more driveable.
The superb quality of workmanship and attention to detail involved means that Kingsley's cars don't come cheap, but there is a clever way into owning an uprated classic Range Rover in the shape of the Discovery.
Created originally as an entry-level model, the Discovery was born when Land Rover realised that the ever more plush Range Rover had been taken so upmarket that it was in danger of being priced out of reach of its core customer base, while the wave of leisure-orientated 4x4s coming from Japan was offering something Land Rover couldn't match. After all, its only other model was the agricultural Land Rover.
With cash tight as ever, the solution was an elegant one: taking the Range Rover's chassis and running gear, a new bodyshell was devised which offered more interior space, a fresh modern style and the bonus of seven seats – a crucial feature to compete with the likes of the Shogun.
The rearmost passengers were positioned right above the rear axle, which necessitated the raised rear roofline to accommodate them, something which was forced upon the designers but turned into a trademark feature with the addition of the 'Alpine windows' in the roof.
Launched in 1989, the Discovery was priced well below the Range Rover and in its launch spec was similarly basic, to the extent that it was also offered initially only as a two-door model.
It proved to be a winner though and demand immediately outstripped supply. In short order the Discovery received a four-door bodyshell and four doors, as well as a proper diesel option which gave it another advantage over the Range Rover which had struggled with the unrefined VM oil-burner as the sole option in the Turbo D model.
In March 1994 a more comprehensive revision was undertaken, aimed at preparing the Discovery for the US market. This added twin front airbags which involved a more conventional dashboard shared with the late model Range Rover. A redesigned diesel engine badged as 300Tdi was also introduced, the name taken from the fact that it had some 300 new components.
By the mid '90s, Discovery sales accounted for more than half of total Land Rover output and thoughts turned to its replacement. An all-new replacement was on the cards but until it arrived the Discovery needed an update, which duly came with the Discovery 2 in 1998.
By then the Discovery had most definitely proved its worth, something which has been reinforced by the fact that modern-day JLR has spun it off as a sub brand in its own right. And that alone makes the Discovery almost as significant as the original Range Rover: without it, Land Rover probably wouldn't have survived.
WHAT'S THE APPEAL?
Compared to the early Range Rover, one of the chief elements of the Disco's appeal is its price. You'll still pick up a presentable early model for as little as £2000, with tatty timeworn 200TDI's going for just a few hundred.
Although the earlier diesels are pretty slow and noisy, the V8 Discovery is surprisingly modern to drive and can hold its own on the motorway, with an easy 70mph cruise and 80mph if required.
As you'd expect with a Range Rover chassis under you, the driving position is pretty much identical to the Range Rover, meaning good visibility and the over-the-hedges view which made the Range Rover so popular.
They're easy to drive too, with light pedals and power steering making them no more effort than, for example a Morris Minor – and certainly far more refined than an early four-speed Range Rover.
Oh and as a bonus you've got an extra pair of seats in the boot for extended family outings or when the kids need separating…
OWNING THEM
Like the Range Rover, a pristine-looking Discovery can be hiding serious rot but take your time to buy a solid example and you've got something which is as easy to look after as a Defender.
Yes, everything needs a bigger spanner/ socket/hammer than the one you instinctively pluck from the toolbox but given enough space to work on it, a Discovery is straightforward with no complex engineering to surprise you.
As for parts, the oily bits are well served and there's nothing you can't buy for these cars, although trim for the pre-facelift models can be hard to come by. As ever, the answer is to buy a complete example and stockpile any used bits which might appear for sale – especially for the cars with the original Conran-styled interior.
BUYING THEM
• Body rot will be your biggest worry. Check the inner arches and boot floor carefully and remember it's unusual to find a Discovery which hasn't had localised repairs somewhere.
• The chassis can also rot just about anywhere, especially on cars which have taken a beating off road. The rear seems more vulnerable.
• The plastic cladding on roof lining and pillars tends to warp and distort and isn't available new.
• Individual interior parts like switchgear is shared with other Austin Rover cars of the era.
• Cars with the LT77 box can suffer with the clutch operating arm weakening.
• Noisy gearboxes are straightforward but hard work to swap.
• R380 boxes can suffer a complete loss of drive when the mainshaft splines strip.
• The V8 is essentially robust and problems with the Lucas injection are generally easy to diagnose.
VALUES
This is one of those vehicles where values vary massively. There are plenty of tatty examples out there which have been modified in the quest for improved off-road capability but they'll generally be dented and scratched on every panel from green laning. Expect to pay from £500 for this kind of thing or for a standard example, around £2500. Between £2500 and £4000 there's a big choice of surprisingly well presented examples on offer, the pick of the bunch being the 300Tdi for its added practicality.
Insuring them
To cover a 1991 Discovery worth £5000 you're looking at £175 with £150 accidental damage, fire and theft excess through Adrian Flux.
Quotes are based on a 45-year-old male, second vehicle. The car is garaged, covers 3000 miles a year and lives in an SP2 postcode. He has no claims or convictions, is a club member, and is employed as a marketing manager. Comprehensive cover quotes were supplied by Adrian Flux and include free legal cover and optional agreed value. You can get your own quote at Adrian Flux or on 0800 369 8590.
OLD SCHOOL VS NEW SCHOOL SERIES
Thinking of getting your hands on a modern classic car? Well keep an eye on Classics World for the next of our old school vs new school classics feature, where we will visit the controversial subject of traditional classics compared to their more youthful equivalents.