Poached egg perfection! Although North America eluded it, the Morris Minor proved a fertile base for an otherwise global range of small cars – to the benefit of Austin, Riley and Wolseley
MORRIS MINOR (1948-1970)
The Minor needs no introduction as one of Britain's best-loved classics. A best seller in period, it represented the production car apex of conventional engineering, complete with Issigonis flourishes like rack-and-pinion steering, carried over to its upscale offspring (the Riley One Point Five, Wolseley 1500, Morris Major and Austin Lancer). Its 70th birthday was celebrated the length and breadth of the country, and rightly so.
Sidevalve 'Lowlight' models (especially the Tourer) are the most prized in terms of value – but the later you go, the more usable Minors become.
From market data compiled at auction, from private sales and on dealer forecourts, value aggregator The Market noticed that Minors –one of the most accessible starter classics along with the Standard 8/10, Ford Anglia and Triumph Herald – were steadily rising in value, with the biggest gains to be made at the top of the market. Sensible modifications do not impinge on residuals either; if your Traveller has a 1275cc A Series engine, uprated brakes and can run unleaded; its mechanical modifications will earn it an MoT exemption and an eager queue of buyers when you come to sell.
The Market logged has logged the sales of 6223 Minors sold since September 2014; depending on mechanical specification and age, good saloons start at £4450, with the best Tourers and Travellers fetching as much as £11,000 if sound enough.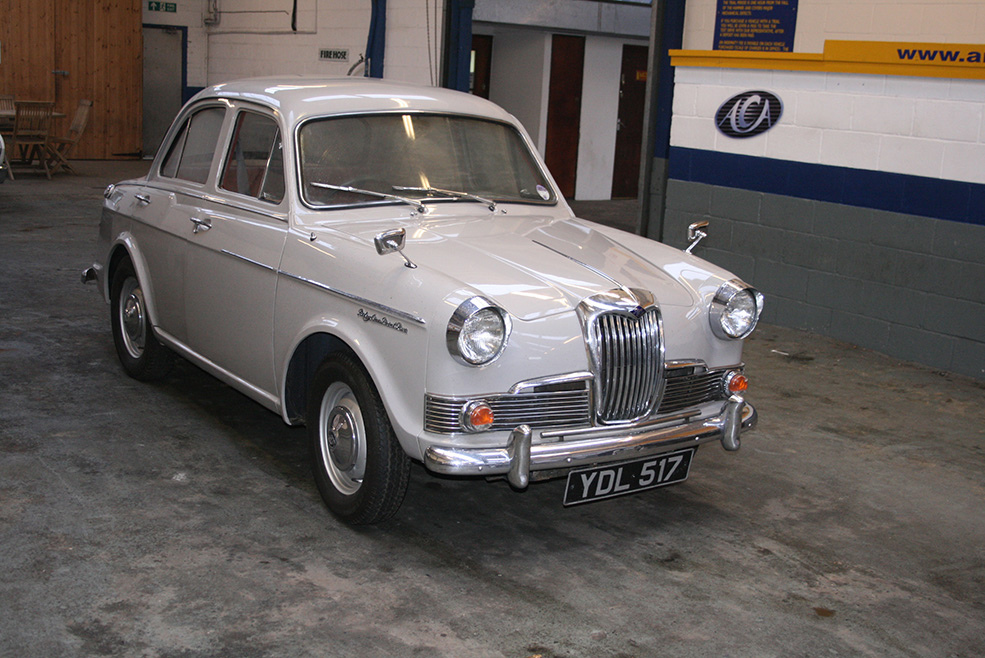 RILEY ONE POINT FIVE AND WOLSELEY 1500 (1957-1965)
Once mooted as an outright replacement for the Minor in the late Fifties, BMC decided to push the Riley One Point Five and Wolseley 1500 up market to maximise its returns.
With a welcome dose of extra horsepower and creature comforts that the Minor lacked, sales were steady; both cars were competitive in the showroom and in track bracket racing.
Reckon on around £5000 to put a tidy example of either in your garage; values, for the time being, are fairly static.
MORRIS MAJOR AND AUSTIN LANCER (1958-1964)
Using its Australian factories as a base, BMC was able to build a small car to local tastes – where cars needed to go and stop harder than a contemporary Minor.
With far more unique sheet metal than either the One Point Five or 1500 (the latter of which was also built in Australia as luxury variant), the Morris Major and Austin Lancer passed through three iterations of manufacture, the last of which, the 1622cc Morris Major Elite, collapsed the Major and Lancer nameplates into one more powerful model.
The Series II Majors and Lancers (1959-1962) were the flashiest and most Australian in outward appearance; nine inches longer and more mechanically rugged than earlier Series I cars, they were the best handling, and best-selling of the entire range.
Your best bet for finding a surviving Series I, II or Elite would be to buy the best you can in Australia or New Zealand and then personally import the vehicle into the UK; after shipping fees, you'll be paying around what you would for a good restored Minor.
Via Gumtree and Bestcars.au, we found the majority of Majors and Lancers for sale to be Series IIs, with a pair of Major Elites fetching similar prices of between AU$4000 to AU$5300 (£2230 to £2924). Reckon on paying more for a Series I: AU$6500 (£3623) seemed to be the going rate.