Rarely associated with innovation, GM achieved more American world firsts than you might think. What's more, despite rising values, its flagship cars remain affordable – for now.
As the most substantial of America's 'Big Three' car makers, General Motors – followed by Ford and Chrysler – never lost its power to surprise critics. Massive research and development budgets allowed its engineers to try solutions otherwise ignored domestically.
In the case of the Chevrolet Corvair, GM wanted to bring a touch of exotic European flair to the otherwise humdrum compact family car market, dominated by domestic minnows like the American Motors Rambler and Studebaker Lark.
As Ford and Chrysler presented simplified, scaled down full-size car designs for budget conscious customers, Chevrolet's Ed Cole decided to buck the trend. The Corvair family – comprising a four door saloon, van, convertible and coupe variants – went radical. To that end, it was America's first mass produced, rear engined, air cooled car, as well as one of its earliest monocoques; later Monza sports editions could lay claim to being the world's second-ever turbocharged passenger car after the Oldsmobile F-85 Jetfire.
Unfortunately, the Corvair was a victim of circumstance, timing and the emergence of consumer compensation culture. So unfamiliar was the Corvair to drive that spins and roll-over accidents became common; thanks to a lawyer named Ralph Nader, the first generation Corvair became the unwilling poster child for a scathing attack on the American car industry in a book called 'Unsafe At Any Speed'. Second generation Corvairs, introduced in 1965, were thoroughly debugged machines, alas, the damage had been done.
Nowadays, a Corvair makes for a thoroughly different family car – and with so few in the country, prices are nonetheless rising. Patina looked at 235 Corvairs of both generations and types sold since September 2014; boasting a 17.8 per cent year on year increase since then, the average price for a Corvair in October 2017 is now £12,400.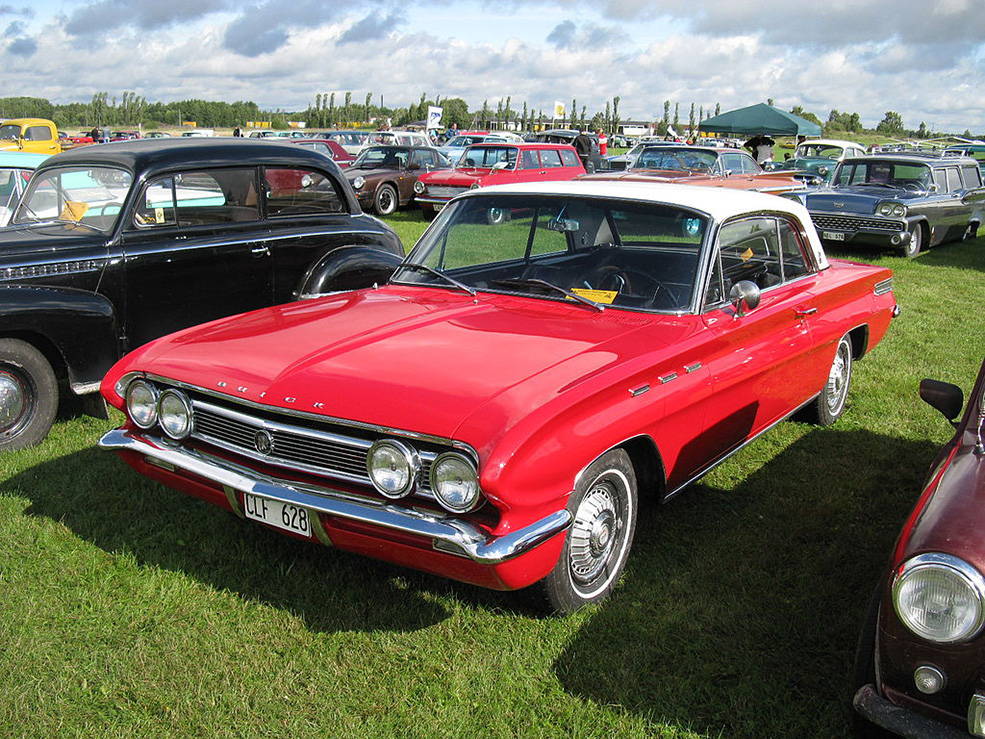 Buick's Special Skylark (a model in its own right from 1962 with hard top and convertible body styles) was initially a two door saloon variant of Buick's compact family car line. Unremarkable in appearance, it was its small-displacement, all aluminium 215 cubic inch (3.5-litre) V8 engine which made it special; conceived during a partnership with aluminium specialists Alcoa, the Buick 215 could have lead American performance engines off in a very different direction had the domestic iron foundries not baulked at the prospect. The Skylark's high compression 215 V8 was rated at 185hp, up from the 155hp available in the Special. Its two year career was soon cut short – but not before the rights to the design were bought by Rover, which extensively altered the engine for use in its cars.
Quietly significant, values of Specials and Skylarks have been tailing off of late; the only car in our American group to post a year on year loss (of 3 per cent). £7175 is the average Patina researched asking price for a Buick Skylark; as its other stablemates rise in price, you could do worse than to put one on your drive.
Oldsmobile's Toronado was another hit for GM, bringing front-wheel drive to the personal luxury car market for the first time; based on its entrails, the Cadillac Eldorado pulled rather than pushed two years after the Toronado's debut. Not since the demise of Cord in the Thirties had any American car adopted front-wheel drive: to that end, a special transaxle 'clip' subframe, the Unified Powerplant Package (UPP) was created, mating a 7.0-litre Olds Rocket V8 to a three speed automatic gearbox. It later went on to power GMC's massive six-wheel Motorhome range, and provided Toronado and Eldorado alike with a flat floored cabin.
Such was its engineering significance that prices are rising quickly in Europe and overseas. Patina, having sifted through data for 72 Toronados offered for sale since September 2014, notes that asking prices have risen year on year by 66.5 per cent. £18,900 is now the mean asking price for a first generation Toronado; we would suggest changing the standard brake drums for discs if any spirited drives are planned.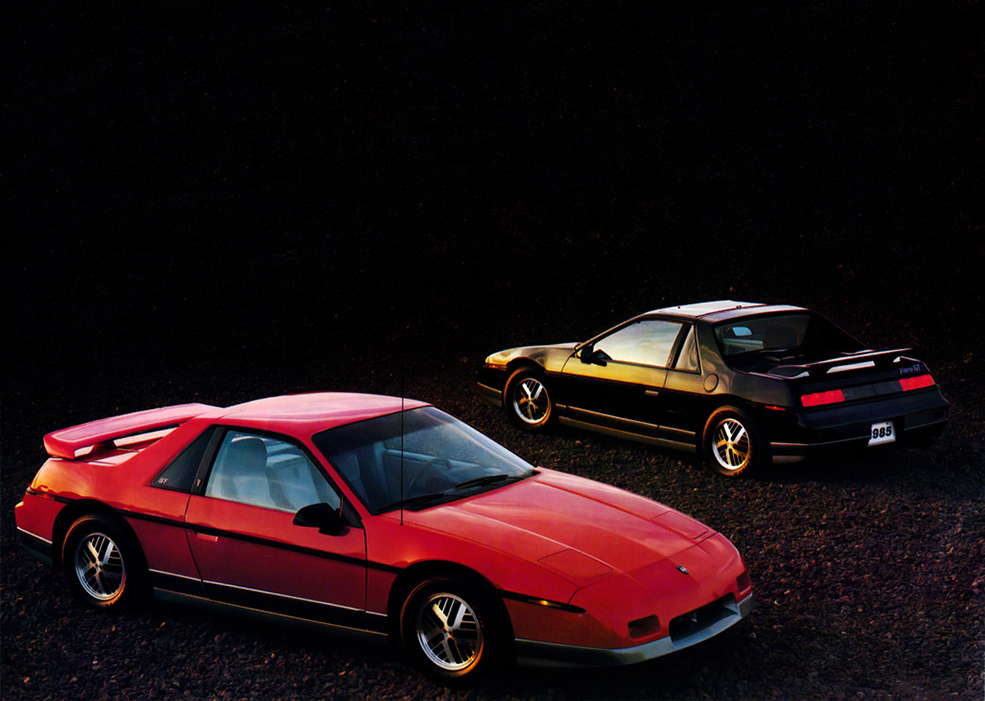 Fans of statistics should look no further if they want to find the highest selling mid-engined car of all time. The Pontiac Fiero was another ambitious leap for GM, and the only mass market midship car ever sold by an American manufacturer. Pitched initially as a sporty commuter car, then later as a domestic alternative to the Toyota MR2, the Fiero always lived in the shadow of the Corvette, which GM worried would be undermined by Fiero sales. Not that America's first sports car had anything to be concerned about in performance terms; with 2.5-litre four pot power, early Fieros were definitely all mouth and no trousers, but perfect two seaters for the remnants of the oil crisis.
1985 brought a V6 upgrade in the form of the GT, allowing the Fiero to capitalise on the potential promised by its layout. Interchangeable plastic body panels meant that Fieros later became unlikely donors for Ferrari replicas; inspired by the Pontiac Mera produced by enterprising dealerships, Britain's Fiero Factory began knocking out 308 and 328 copies before litigation ensued.
Rather greater than the sum of its parts, Fieros are once again in demand. 93 cars were tracked by Patina over a three year period – and it found asking prices for both four and six cylinder Fieros were rising 62.2 per cent year on year. £8500 is bang on the money for a proud looking Fiero – but please keep it as Pontiac intended!