A style icon when launched, the TT makes for an interesting modern classic coupe today. Here's what you need to know when buying the best.
On paper the Audi TT was a brilliant idea. Launch a sporting coupe based on the VW Golf, with echoes of Beetle and Porsche 550. Badge it as an Audi – an up and coming premium brand. Sell to anyone who could afford it for as much as they were willing to pay. And the concept worked. Styled by Peter Schreyer, it evoked the 550 Spider and the 356 as much as Hebmuller Beetles and historic racing Auto Unions – an undeniably German shape that managed to be retro and contemporary at the same time.
Launched initially as a coupe, a cabriolet model followed for 1999 utilising the same choice of two 1.8-litre turbocharged four cylinder engines, developing 180bhp and 225bhp respectively. The range would expand again in 2003, with the addition of a 3.2-litre V6 and an entry level, front wheel drive 150bhp 1.8T.
When production ended in 2006, some 275,000 TTs had been built. And this popularity has endured, with MK1 TTs making very desirable modern classic choices today.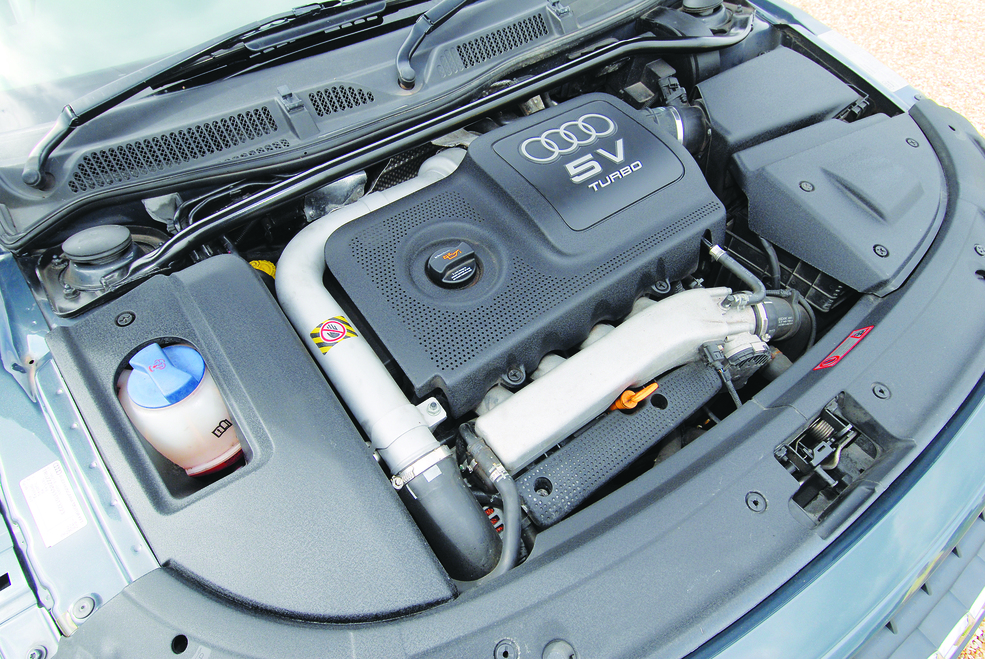 ENGINES
Primarily the Audi TT used engines from two engine families. The majority of TTs used a derivative of the VAG 1.8-litre turbocharged four cylinder, while the most upmarket models used a 3.2-litre V6 shared with the VW Golf R32.
The 1.8-litre turbocharged unit was available in three basic states of tune – a 150bhp variant with front wheel drive, a 180bhp Quattro and a 225bhp Quattro. It was also available as a 237bhp Sport model – while the 150 and 180 models were upgraded later in production to 163bhp and 190bhp respectively.
Check all turbocharged models for white smoke and power loss under acceleration, which could indicate a blown turbo. This won't be a quick or cheap fix. Oil leaks are relatively common – as is coil failure, which will manifest itself as a misfire and hesitant acceleration. We'd always replace the MAF sensor after coil issues, as a failing MAF sensor can cause the issues to persist after replacement of a faulty coil.
Audi recommended a timing belt replacement at 80000 miles, but they've been known to fail early. We'd want to see a receipt for a recent change, and we'd certainly be looking to change at around the 55,000-mile mark to be safe. It's worth doing the water pump and tensioner while the belt's off, too. Failure could result in the need for a £2500 engine rebuild. Beware performance mods on the lower powered turbos; these can decrease the lifespan of the turbocharger among other issues. A standard car will last longer, as well as being a better classic investment.
The V6 uses timing chains rather than a belt, so listen carefully for any issues caused by stretching. Rattles are bad news, and can begin from just 40,000 miles. Chain replacement isn't a cheap undertaking – bank on £1000 for a specialist to do the job. Ask about the oil used – it should be Castrol 5W30, and changes must occur every ten thousand miles or sooner.
TRANSMISSIONS
First and foremost, Quattro models require a transfer box service every 20,000 miles. Many owners will have neglected this so check the service history thoroughly for evidence it's been done.
Typically the manual boxes in 1.8T models are reliable, though the selector fork rivets can break and this could mean a new gearbox is needed. Clutches can last for 100,000 miles, though 60,000 is more common in a car that's well used. Most were six speed, though pre-2000 180bhp models came with an equally reliable five-speed gearbox. The six speed from the 225 was standardised that year.
V6 models used a six speed DSG system which used twin clutches to predict and speed up gearchanges. This gearbox requires new fluid and a filter every three years or 40,000 miles, and many have been neglected. The Mechatronic unit that drives the dual-shift system can fail, and make it reluctant to engage gears. Budget £1500 for replacement at a specialist with a reconditioned unit.
Heat exchangers on the DSG gearbox can fail, which can cause coolant to leak into the gearbox or vice versa. This will mean an expensive rebuild!
SUSPENSION, STEERING AND BRAKES
Make sure that any early examples are fitted with the spoiler, ESP system and revised
suspension as per the recall. Original cars were prone to issues whereby they could snap at high speed, and following a class action lawsuit the TT was recalled. The mechanical changed were fitted to all recall cars, the spoiler was optional but standardised on cars sold following the recall. We'd be wary of a car without the spoiler, as it risks not having been recalled.
Anti roll bar collars are made of plastic and can fracture, letting in water. Metal replacements are available – many have been upgraded, and it's worth checking that any car you view has been. While checking, check for clonks and bangs – a TT isn't a light car, and suspension can suffer wear when (as is likely) cars have been driven hard.
Standard brakes wear quickly; they're sourced from contemporary Volkswagens and have single-pot calipers. Upgrades are both available and common – and will increase the value of any car you view. The standard brakes aren't also too brilliant – serious drivers would upgrade them anyway.
There's little to go wrong with the steering barring the usual play in the joints, so don't spend too long checking the system over for faults which may not exist.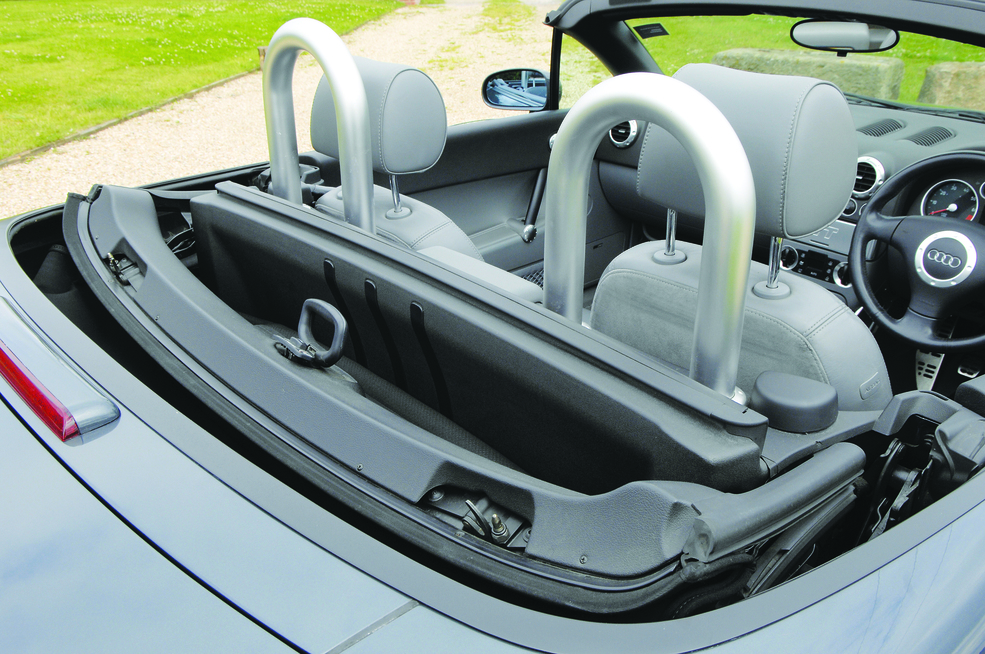 BODY AND TRIM
Panel gaps on TTs are usually good, but a lot of these cars will have been involved in accidents caused by over-exuberant driving. Make sure they're still as uniform as they should be. Also check for wear in the door shuts, it may indicate the doors have needed realignment after a prang.
Coupe roof rails can corrode – this was due to a manufacturing issue, and shouldn't be expensive to sort. More concerning would be rust to the sills or the lower bodywork, indicating that perhaps the car's not as solid as you might have hoped. Alloy wheel and rear bumper damage can be caused by poor visibility for parking – make sure you check thoroughly and negotiate accordingly.
As with many modern classics, the TT has plastic headlamp lenses. These can cloud over and fade, but as we describe in our new Guide to Restoration it's possible to restore these to an as-new finish with a few hours and the appropriate compound. Cabriolet hoods can wear across the folds – so check thoroughly for any signs of damage of wear. Likewise check for wear on the bolsters of the seats – usually a relatively hardwearing leather, but he earliest cars are now approaching 20 years old and it's inevitable that there will be some minor issues to rectify. Some cars had baseball style seat stitching, it's rare and so don't expect to find spares down the scrapyard if this is damaged. Inspect thoroughly for wear to the leather or stitching.
ELECTRICS
Check that the hood operates correctly on Cabriolet models. There are several motors and several yards of wiring here, so issues would be hard to trace. While you do so, check the interior for damp – it could be blocked drainage channels within the roof mechanism and shouldn't be left. If the car smells damp, walk away.
Other toys should also work, from electric windows to the optional heated seats. In the latter case, the elements can break inside the seat. People can and do rewire them, but this can be a fire hazard if not done properly so make sure you're happy with the work that's been done. Gauges and dial packs can fail – the subject of another class action lawsuit in litigation-heaven America – so check that everything works properly when you view the car.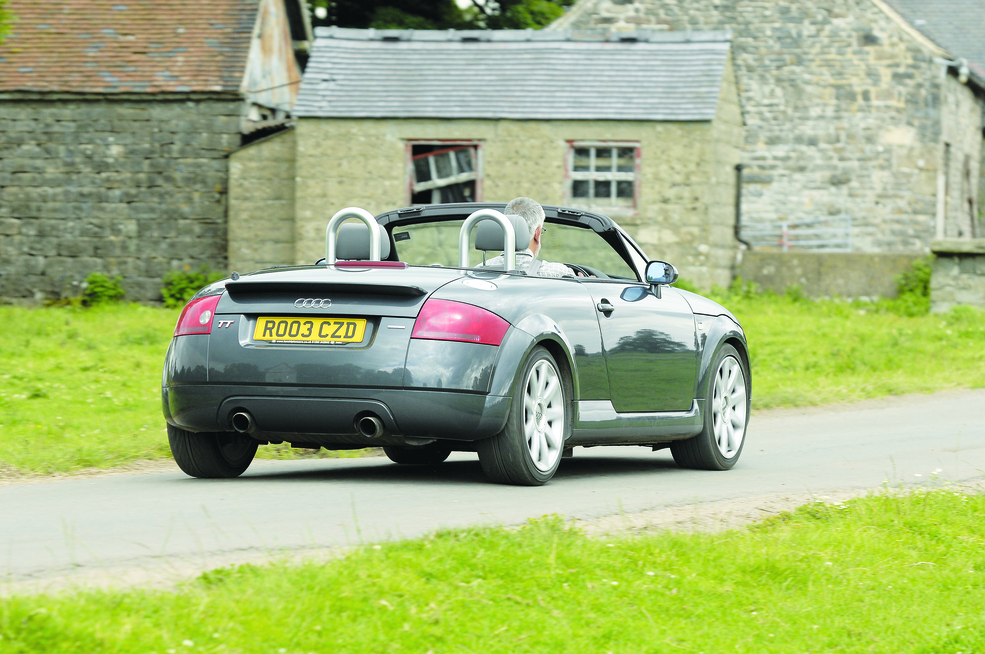 CONCLUSION
The TT did retro design almost before we knew it was cool, and has prompted a new and successful line for Audi. The TT is arguably the brand's most iconic model since the Quattro, and there's never been a better time to buy one. With scores still being broken and secondhand spares readily available, it needn't even cost the earth to keep a TT in fine fettle. There's a TT for everyone – from penny pinching 150bhp to bahnstorming 3.2 V6.
What would we buy? That depends on what we wanted to use it for. The best bargains for posing on Sloane Street are the 150bhp and 180bhp cars – and let's be honest, a lot of potential TT owners would rather use them to pose than to drive hard. But driving enthusiasts will be drawn to the power of the V6.
Our money would go on the one in the middle, the 225 – better economy than the V6 with more power than the lower specced 1.8Ts. Servicing costs will be reasonable too – and as the engine is by and large shared with most medium sized VAG models, parts will be easy to source for several years to come. Manuals will always be worth more than automatics, though the DSG in the V6 is seen by some as desirable. Leather trim and air con are essential too, though the majority of cars came with both. Cabriolets are more valuable, but the stiffer Coupe is more fun to drive. As ever, it's imperative to put condition first – better to buy a good 180 than a rough V6.
HOW MUCH?
An early 180bhp Coupe could be yours for as little as £2000 if you look hard enough. Cabriolets typically command a £500 price premium, including the rare 150bhp front wheel drive. 225s are worth 15-20% more, while V6s can be had from around £3500. Limited editions such as the Sport sit around the same point as an equivalent V6. We wouldn't advise spending more than £8500 on a nice V6 cabriolet, as there's plenty of choice for less money.