We get behind the wheel of the Volvo 340 – the unconventional Volvo that would have been the Daf 77
Four decades ago, the Volvo 340 won the European Rallycross Championship. Sporting a bored-out Gordini 1770cc engine, the little Volvo was piloted by Per-Inge Walfridsson to overall victory in the 1980 season. A quick YouTube search finds footage of the family runaround dominating the pack in what can only be described as unlikely brilliance. That perfectly sums up the 340 story on the whole, actually.
DAF was looking to replace its worthy but ageing 66 with what would be the 77, but lacked necessary funds to complete the project. The Dutch maker sought another company to partner up with, approaching Audi, BMW and Volvo. The latter, after initially turning them down, reconsidered when they saw the 1.4 and 1.7-litre Renault engines DAF had access to.
Enticed by these smaller, more efficient units than its own engines, Volvo agreed the partnership with DAF and purchased a 25 per cent stake in the company in 1973. The two parties worked well enough together for Gothenburg to expand the stake to a majority share of 75 per cent in 1975, just in time for the release of what was by then the Volvo 340. DAF Cars was renamed to Volvo Cars BV and the rest, as they say, is history.
Visually, the 340 definitely has the Volvo family DNA, looking like a smaller relative of the 240, released the year prior. Chunky bumpers, 'egg crate' grille and the minimum amount of curves necessary mark the 300 Series out as a Volvo, despite the initial design being the work of DAF. Google for long enough and the odd picture of a DAF 77 concept pops up – somehow it looks like a Volvo even when it isn't one. Inside too is typical Volvo fare, with extremely soft seats, chunky plastics and a simple, rugged feel.
Mechanically, however, the 340 couldn't be more of a family outcast – the rear end incorporates a transaxle gearbox, providing improved weight distribution and better handling. This was a boast the Porsche 944 would later make, but we're talking about a Volvo hatchback!
This particular car is a base spec, offering the 71bhp 1.4-litre engine (the smaller of the two initial engines) and four gears. Having just jumped out of a Triumph Acclaim, itself fairly brisk for what it is, the base 340 immediately felt sluggish.
As is often the way, however, once you're up and moving it keeps pace well enough. The little lump is torquey enough down low to make good use of every gear and having only researched the performance stats as I write this, it certainly doesn't feel as slow as the figures would have you believe.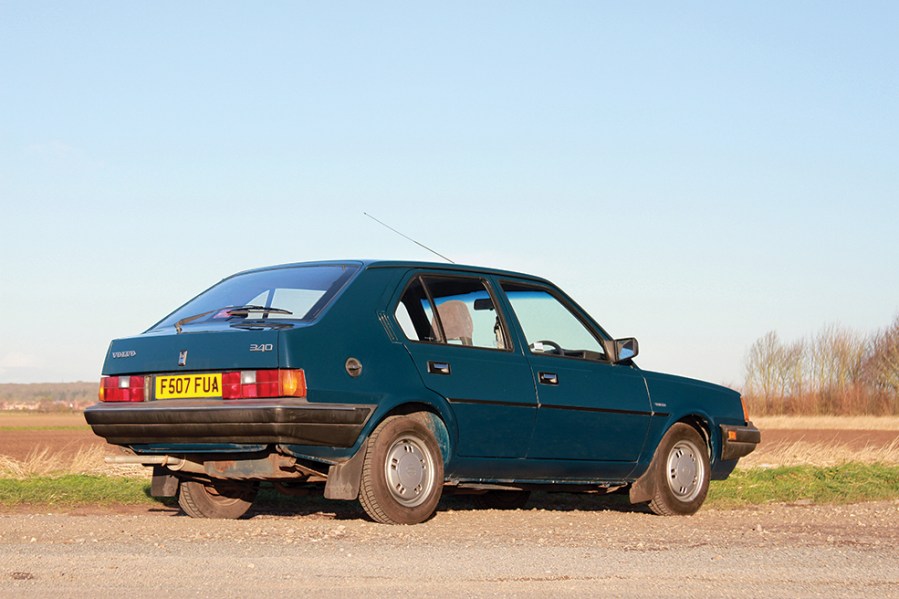 Whether I'd be saying this with the car fully laden with people and cargo, I'm not so sure. The willing little engine is paired with a gearchange that's well-suited to the car – it's a chunky shift that requires you to be sure you want the next gear, but feels solid and doesn't leave you fishing for second, unlike a transaxle Alfa Romeo…
That transaxle – coupled with a fuel tank atop the whole setup that maintains the balance regardless of how much fuel you have – makes the 340's handling surprisingly planted, sharp even. It's no sports car, but it's sure-footed. Put the effort in and it's an enjoyable thing to chuck around. The steering might be rack-and-pinion, but the 25 degrees of movement before anything happens and the slightly numb feeling puts me in mind of the steering box-equipped Mercedes W123.
In fact, I'd describe the 340 as driving like a ¾-sized Mercedes, with the same casual performance, the same plush, cushioned ride and a similar feeling of simple solidity. I adore the W123 and while good Mercs can make £10,000 upwards these days, a solid 340 goes for £2000, so the fact they feel so similar is only a good thing.
Despite owing so much to DAF and Renault, Volvo was keen that the 340 retain the family values of solidity and safety. You only have to clock the official Volvo fire extinguisher mounted by the driver's shin to confirm that safety remains top priority. A 985kg kerb weight isn't much, but it's getting on for 200kg more than a Ford Orion – the weight of the extra steel that went into the 340 to make it as safe in a crash as possible. You might remember the TV advert from the mid-'80s where a crash test dummy drives one out of a second-storey window and it lands nose first on the ground. Volvo actually did this, so keen was it to push the 340's safety.
It may have had the family value of crash protection, but the quality was initially absent. Early cars had various fragile trim pieces and the Renault engines Volvo was so keen on weren't as reliable as its own units.
Sales were poor at first after word spread; a reputation for quality like Volvo's is one that takes years to gain and can be lost almost instantly, so Gothenburg had all the initial 1975-1976 cars recalled and destroyed, giving customers higher-quality new cars. That determination to destroy the evidence and a quick turnaround proved decisive for the 300 Series and its fortunes were reversed.
The model's simple engineering, practicality, comfort, safety and eventually, quality won plenty of hearts. The range expanded to include the 360 saloon and as Volvo's own B21 2.0-litre and Renault's economical 1.6-litre diesel (in some markets) were added in later life, the 300 Series was popular enough to sell 1.14 million cars over 15 years.
The 340 will be 45 years old in 2021, but it's easy to forget it's a similar age to the Mk2 Escort, a car barely evolved from its 1960s predecessor. By contrast, the 340 looks, feels and drives far more like a modern car, with decent refinement, ample equipment in higher-spec cars, performance that keeps up with modern traffic and safety that shames its contemporaries.
It comfortably seats five, sports a huge boot in hatchback guise and I'd have no qualms driving Simon's car to the top of Scotland. That makes it a genuinely daily useable classic, with no excuses necessary for untoward rattles, lumpy running or quirks to the drive. I enjoyed driving the 340 so much, I dragged out the process of filming the review for our Classics World YouTube channel, just to get to drive it a bit longer.
Volvo 340: our verdict
It's a running joke in our office that I seem to find something to love about every car and, like most of us, find any way to justify it in my garage. But the little Volvo was special enough that upon returning the key, I immediately made Simon an offer for it.
He declined, and I don't blame him – it took the world a while to get its head around a small Volvo, and it took Volvo time to get used to making one, but eventually everyone was on board. Some Volvo purists look down on the 340 as 'impure' for its DAF origins and Renault engines. Let them – because it's undervalued, they're far cheaper to get into than a 240 and arguably more useable. It's a charming old thing that you can quite easily imagine owning for life. Sometimes, it pays to think outside the box.