We sample the delights of the hugely popular Volkswagen T2 Camper – the ultimate 'vanlife' companion
Words and images: Jack Grover  With thanks to: Peterborough Classic Cars
Classic Volkswagen nomenclature can be confusing – think T2 stands for Type 2? Guess again! The first Type 2 – the second Volkswagen product after 'the Volkswagen' (the Beetle) was called the T1, standing for 'Transporter'. This is the 'Splitty' that is so collectable now and while it is indelibly associated with campervans they were actually only a small part of the model's global success which came as a result of teaming the Beetle's dependable mechanical parts with a voluminous and adaptable forward-control body.
The T2 from 1967 had new bodywork featuring a big one piece 'Bay Window' windscreen and much-improved rear suspension to tame the tottery road manners of the original. Like many classics, the T2 is held to lack the visual charm of the original but boasts relatively more powerful engines, improved running gear, front disc brakes and other desirable features.
Campervans have probably never been so popular or as fashionable as they are now. Numerous factors now mean more people are taking breaks in the UK rather than abroad, and campervans provide a flexible, fun and affordable way to do so. This scarcely affects the archetypal camper – the Volkswagen Type 2 – because demand and values for the definitive home on four wheels has grown inexorably over the past decade and was never exactly slack.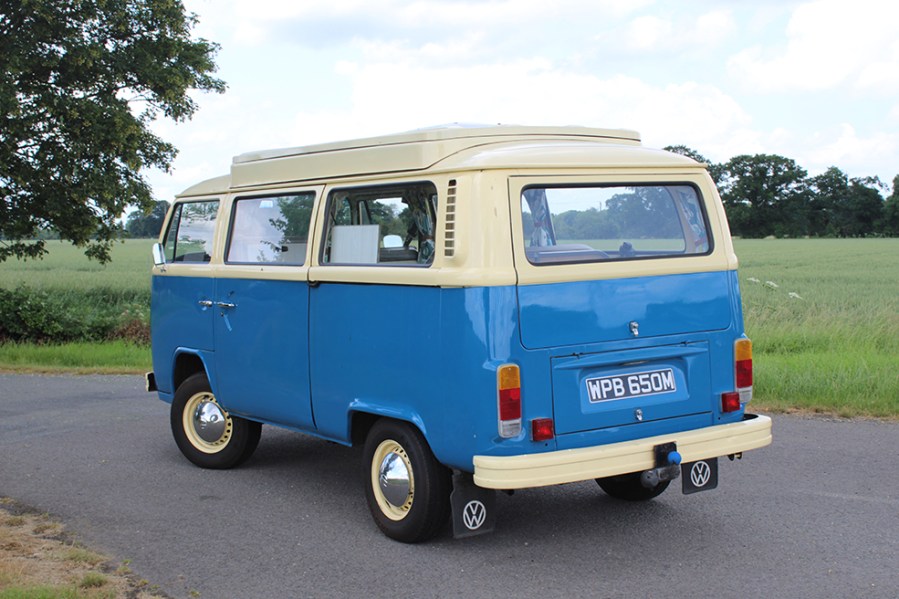 That feverish growth in values and the huge and hugely vibrant scene around VW camper ownership does mean that it's quite nice to see a 'normal' one out in the wild. Of course there really no such thing as a 'normal' VW camper. They weren't factory-built – even the official ones supplied through VW dealers were the work of the Westfalia-Werk company. Each one was fitted out to the owner's requirements, and then they get modified, adapted, improved, customised and altered over the years.
None the less, this 1974 T2b – for sale at time of writing at Peterborough Classic Cars – is as close to a normal camper as can be. It has nearly all the features you'd want of a classic VW campervan – jaunty two-tone paintjob, pop-up roof with stripey fabric, steel wheels with the chrome 'soup plate' hubcaps. All it really needs to complete 'the look' is the spare wheel on the front, but instead it's under cover in the rear of the cabin.
This example comes from what is probably the other great name in VW camper conversions apart from Westfalia (in the UK at least): Devon Conversions of Sidmouth, which has been building VW-based motorhomes since 1956. It was restored just over a decade ago, which as well as the blue/cream paint included the interior being retrimmed in grey/white vinyl, and the floor resurfaced in an attractive white/grey lino tile material. It is fitted with a sink with pressure water supply, a fridge, a gas cooker and a digital radio audio system, all built into new units. There is a 12-volt leisure battery, a 12/240-volt inverter and hook-up points for mains electricity and fresh water.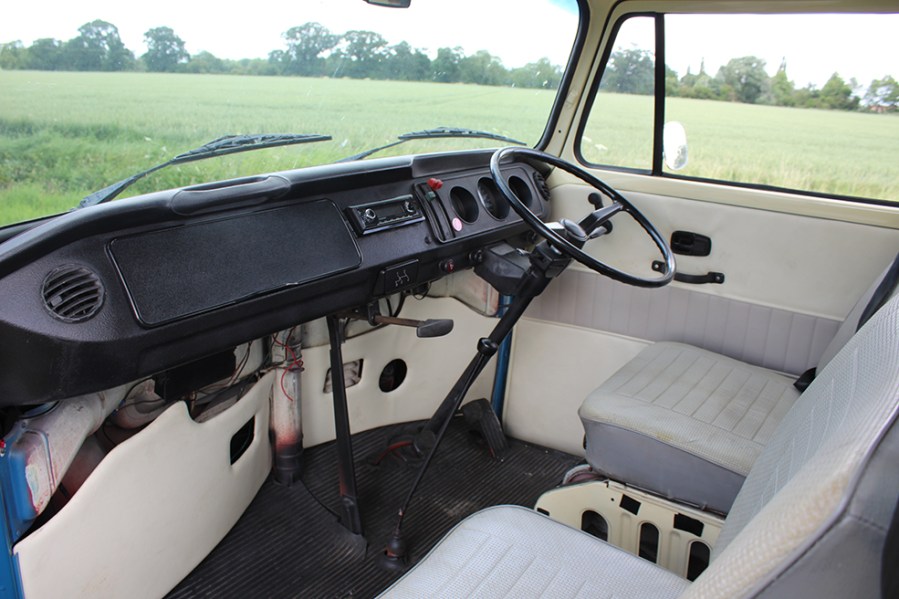 In addition, a reconditioned Vege engine was fitted, while two years ago the van received a brake overhaul, new driveshafts and a reconditioned front axle. The engine compartment is pleasingly original, with no chrome-plated fan housings or valve covers, no sports air filters and all the 'tins' that make up the air cooling system present and correct.
Having been sat for a few weeks, the Devon nonetheless sprang into life easily. No stock VW T2 is going to be fast, and with 50bhp it needs to be worked hard just to make progress. But it has the sense of tortoise-like relentless progress that inspires confidence and a desire to keep driving towards the horizon. T2s are not known for their dynamic prowess, but this one bobbed and bounced its way through the Cambridgeshire countryside in an unruffled fashion, without any signs or sounds of distress or wear from the undercarriage. The gears shifted in the usual rubbery but positive way, the steering was numb and low-geared but free of slop, the brakes (discs on the front here) performed as they should and, all in all, it made for an appealing package.
Volkswagen T2 Camper: our verdict
A shade under £25k for the 'wrong' Type 2 – a late 'Bay Window' T2 would have been extremely steep not so long ago. But the demand is there because the charm of the VW Camper is seemingly immortal. There is something very compelling about their simplicity, self-sufficiency and the way they slog on. This one has had a lot of effort and money put into it, is in lovely condition inside and out, and with only 46,000 miles on the clock is ready for more travels.