Of all the first-generation Shadow-based Bentley T1 models, the 1968–1969 spec is the one to have. We explore why that is the case
Words: Ian Seabrook
The Silver Shadow of 1965 was a huge leap forward for Rolls-Royce. Historically, this was a company that didn't innovate with brand new ideas, but which took existing ideas and improved them. That spirit was very much alive with the Silver Shadow. Monocoque structure was new to Rolls-Royce, but had been commonplace even on basic family cars since the early 1950s. Similarly, powered disc brakes were not exactly revolutionary either, and nor was having a hydraulic system that powered said brakes and also provided self-levelling suspension. That technology was licensed from Citroën.
Here's the thing though. The new monocoque was apparently the stiffest, and largest of its kind. It was an established idea, treated to the usual Rolls-Royce thoroughness. Similarly, while a licence was indeed acquired from Citroën, Rolls-Royce went its own way and reworked the system to suit its own requirements. Yes, it was outwardly similar to the Citroën system, but with a lot of minor design tweaks along the way. For a start, there was a conventional braking system built in, just in case both hydraulic circuits somehow failed!
The Silver Shadow was an enormous success. Of the first generation, 19,493 were sold in 12 years (not including two-door versions), compared to just 7372 Silver Clouds in 10 years. But, Bentley was very much the poor relation at the time. Fewer than 2000 Bentley T1s, Silver Shadows in all but name, grille and bonnet, were sold. It was a striking difference, especially as Bentley S-Type production had been very much on a par with the Rolls-Royce equivalent.
It was a rapid fall from favour for the Bentley name, which had thus far enjoyed considerable success under Rolls-Royce's ownership. The MkVI had sold in huge numbers, for a Bentley, with over 5200 built between 1946 and 1952. This was the first car to carry in-house bodywork, with 80% having Standard Steel bodywork. It reflected the trend towards buyers who just wanted a complete car, rather than the tedious business of instructing a coachbuilder to create something to their requirements. The MkVI evolved into the R-Type, which gave rise to the insanely beautiful Continental R. Bodied by HJ Mulliner, these sleek beauties could cruise at over 100mph. This was Bentley exploring its niche. Rolls-Royce built the sensible saloons, while Bentley provided the glamour. There were S-Type Continentals too, but that all came to an end with the Silver Shadow era.
The monocoque bodywork was the problem here. James Young boldly tried to build a two-door version of the Silver Shadow, but it was not popular and certainly wasn't as glamorous as the Continentals of old.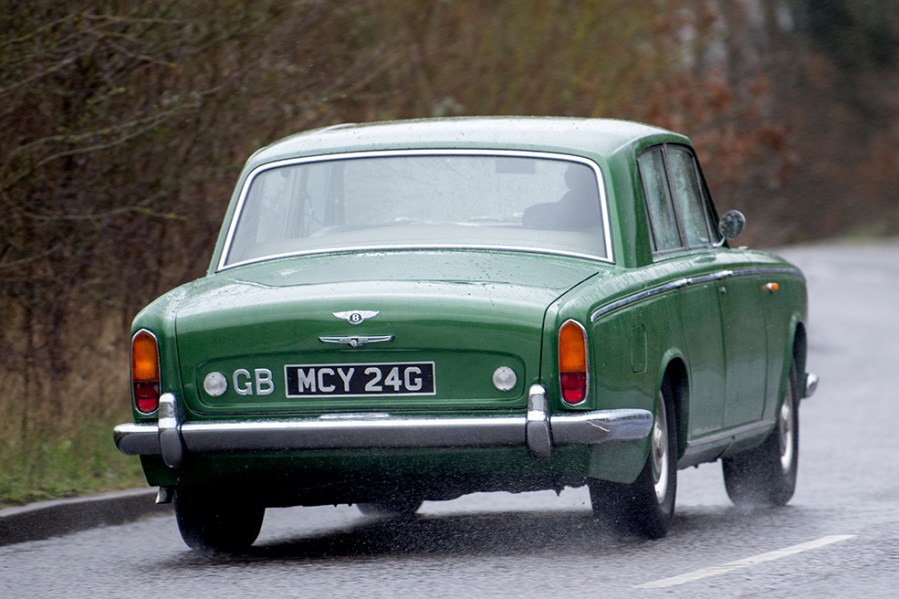 By this time, Mulliner Park Ward had been formed by the merger of HJ Mulliner and Park Ward, and the new company did manage to create a stylish two-door. Rolls-Royce actually took this as an in-house design, which became the Corniche. Even so, it did not possess the flowing beauty of a Continental, and perhaps this is why the Bentley name began to wane.
Whatever the reason, it makes our test car all the more rare. Despite that, this is a particularly desirable era of Bentley T1, thanks to the fact that the Silver Shadow/T1 were constantly developed throught their long lives. Making the most advanced car in its history wasn't enough for Rolls-Royce and considerable improvements were made over the years.
A key change was when the old General Motors-derived Hydramatic four-speed auto was dropped, replaced by the far smoother GM400 in the summer of 1968. At first, the loss of a ratio may seem a retrograde step, but with abundant torque on offer, it wasn't much missed. The driver instead noticed the much smoother transition from one ratio to another, making the car feel more effortless.
A desirable gearbox choice then, especially when allied to the earlier dashboard style, shown by this car. By May 1969, the dashboard had become covered in leather padding, to improve safety. This, it most certainly did, but at some aesthetic cost. That's why cars built in 1968 through to the middle of 1969 are seen as desirable, since they had the best of both worlds, for a very short overlap.
Of course, the interior is generally fitted to a very high standard, so perhaps it's wrong to dwell on a change of dashboard. Nonetheless, the earlier style does look particularly good – all wood and leather in a very traditional style. This T1's interior is still in first-rate order, and it really is a very pleasant place to spend time – even if you're not actually going anywhere.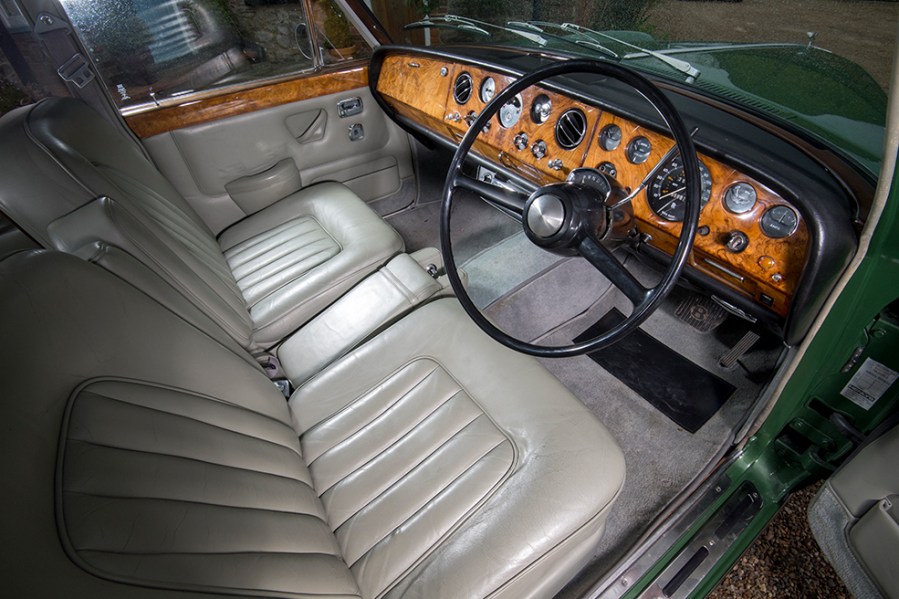 Under the bonnet is the L-Series V8 engine, new in 1959. Here, it is in 6230cc form, with an enlarged 6750cc version becoming available in July 1970. It is hardly stressed here, producing what is thought to be 180–200bhp, but merely described as 'adequate' by Rolls-Royce itself. There were carburettor changes for the Silver Shadow, so it has a little more grunt than the same engine in a Silver Cloud.
Rare they may be, but Ghost Motors actually had a pair of Bentley T1s in its storage unit when we arrived. The light blue one was appealing, but this example, finished in Larch Green, really caught our eye. It's a colour that seems to vary from a proper, deep green to an almost turquoise shade depending on how the light hits it.
It's a fine match for the chrome bumpers of the T1 – lost in the T2 facelift in 1977. It has been owned by the same, elderly couple for the past 18 years, and feels like a car used sparingly, but kept well. With 65,881 miles on the clock, it has certainly never been troubled with too many miles, having covered only 46,933 by August 1996, according to the comprehensive history.
Despite that, inevitably, some bodywork has been required, with the wings and wheelarches needing repair in 2005 and 2009, along with the sills. The substantial carpet was replaced in 2011, and the brakes overhauled more recently – it seems the wrong brake fluid was used, which is disastrous for these cars. RB363 is the only fluid that is safe to use. Mineral oil or DOT fluid will wreak havoc with the seals.
Twist the key, and it really does have more 'grunt.' You can actually hear the engine rather more than in a Silver Cloud, though it remains well muted. The gear lever is easy to move, so you can slip into Drive with barely any effort, barely needing to relinquish your grip on the steering wheel. Press the throttle pedal and a well-subdued and very pleasant wuffle eminates from up front, as momentum builds.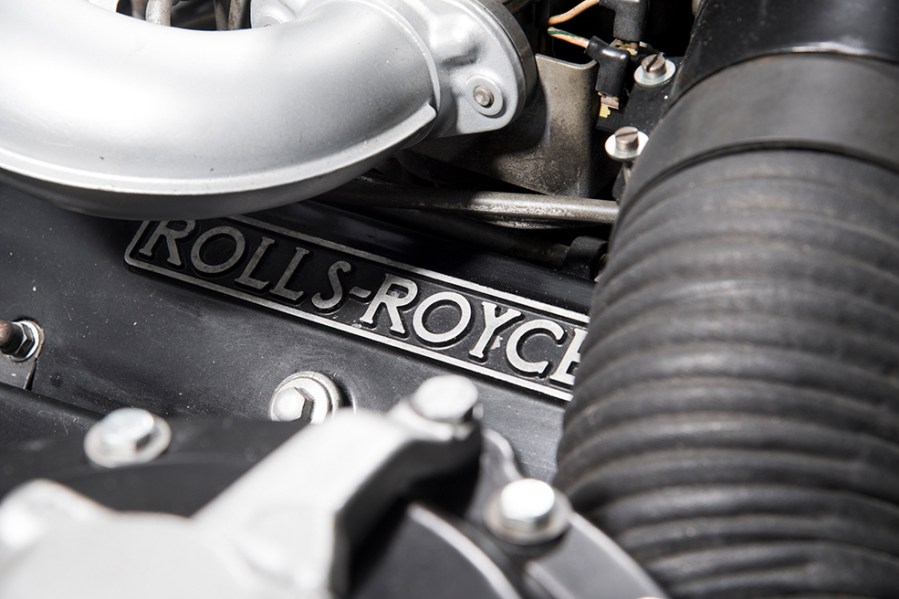 This is a large car, but visibility is excellent, and the proud wing tops make positioning it remarkably easy. You don't doubt where the corners are. As speed builds, there's a hint of wind and engine noise, but it is mostly drowned out by the creak of the leather. It's a constant reminder that this is the world of luxury.
The steering isn't the most direct – the T2 of 1977 would finally receive a much better rack-and-pinion set-up, but directional stability is good enough. You don't have to constantly fight the wheel, but minor corrections may be necessary to maintain a course. It's also rather loose in the cornering, with plenty of body roll. That means you rein in those cornering speeds, adding to the refinement. After all, go too quickly and your passengers will slide around on the vast, leather-covered seats. Then they will complain.
Power levels are sufficient. You can encourage the car to gather pace quite quickly – the official 0-60 mph time is 11 seconds – but it would never dare to feel hooliganish. There's enough power for a swift overtake, but not so much you'll be planning a track session.
It is all marvellously relaxing though. You simply don't feel the need to hustle this car and it isn't rewarding if you do. Instead, it insulates you from the modern world. It does more than cosset your buttocks, but somehow manages to soothe your very soul at the same time.