With MINI's approval, the MINI Recharged project to convert Minis from A-series to battery power project evolved into Recharged Heritage Ltd, with input from Mini Sport – and now we've been behind the wheel of this top-tier Mini EV
Words: Jim Jupp
The classic Mini is a popular choice for conversion to battery power, perhaps down to its size and past popularity as a city car. Going electric may well be the only way to use a classic car in built-up areas in a few years. What is different about this particular conversion, though, is the collaboration between MINI, Mini Sport and ZERO EV and the development of bespoke technology.
The Classics World team has tested several Mini EV conversions to date so we've been keen to get our hands on the RHL offering, especially because Mini Sport knows Minis so well. Thus far most conversions have either used existing technology or changed the structure of the converted car. We've also tested a few other brand-new EVs. This conversion started from scratch with new batteries and a power unit built specifically for this project. From the start, MINI and RHL were adamant that they would make no changes to any Minis converted, not even by drilling a single hole, so that they could be returned to A-series if required in the future. MINI was keen to show sustainability at the heart of the project to ensure that existing vehicles do not become redundant.
The Rover Mini Tartan Japanese limited edition we tested may be a development car but it already looks and feels like an impressive, well-rounded package. An initial scan of the interior begged the question, where are the batteries? Having seen every possible inch of space taken up with batteries on other builds (including in the floor pan and under the rear seats) we were amazed that, at a glance, the interior looked just like that of a normal Mini. Under the bonnet, a large, sturdy steel box carries five batteries. A further three are in the boot's spare wheel well. Both boxes are fire-tested and can withstand fire for 30 minutes. High safety standards are required for such a build and were paramount to all involved during development.
Importantly, the structure of the Mini has not been modified and the boot remains very usable for luggage, although there was no spare wheel present. Being a development car, the electrical control units and battery box are visible but this won't be the case on customers' cars. Peeking underneath the car you can see a guard under the front subframe, which also helps with aerodynamics.
The start-up sequence is simple. Just a twist of the key in the ignition switch initiated a succession of beeps signalling 'Mini' in Morse code. Central to the dash is a bespoke CAI/Smiths speedo in an oval binnacle, with the fuel gauge now informing you of the driving mode.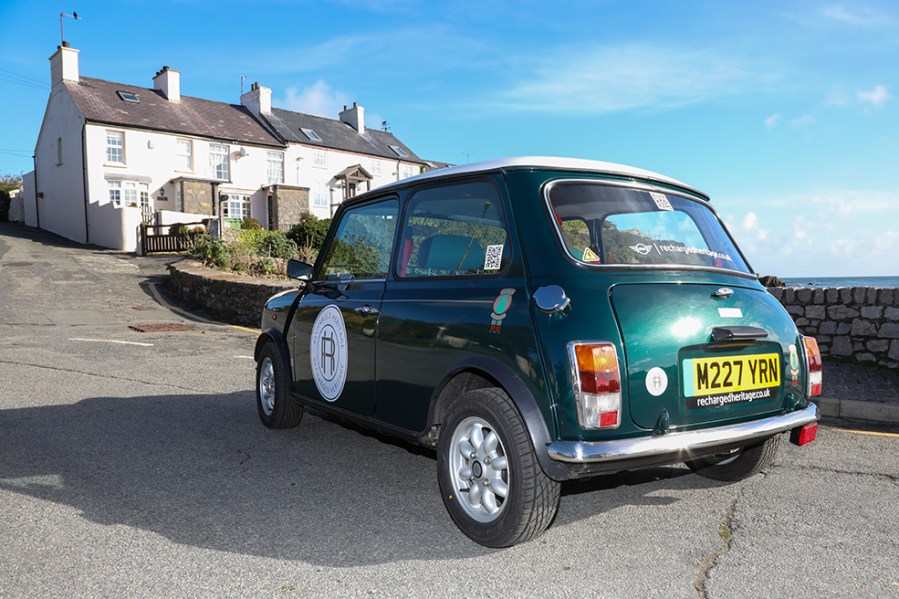 With your foot on the brake pedal, pressing the gear selector towards you sees the needle move from N to D (neutral to drive). Then press gently on the throttle to get rolling. Not having a rev counter may seem strange but there really is no need for one. The only thing you are truly interested in is the battery range. This test Mini has been configured to 'Pure' city mode; the RHL website claims a maximum power of 75bhp and maximum torque of 125Nm. If that's not enough for you, there is a Sport version coming.
Even in its more basic form this EV conversion really does shift; think of a supercharged Mini conversion but smoother and without the time-wasting gear changes. 'Pure' mode feels very fast but very safe and there are all sorts of variations on performance that can be dialled in to suit customers' requirements.
Concerned about torque steer while enjoying Anglesey's twisty roads, I took the first few miles cautiously whilst my brain re-configured to EV mode. Torque is instant so hunting the corner apex becomes the focus. There will probably be some revisions to the driveshafts and differential but, in this configuration, the Mini felt very driveable. The dry roads didn't provoke wheel spin whilst on the move. Getting to 30mph is effortless. Nailing the throttle from there, the Mini accelerated to 40 in the blink of an eye (RHL claims 0-60mph in 9.5 seconds). Then 50, 60… it just pulls and pulls. In Pure specification, our test car was limited to 78mph, which is more than enough on these twisty roads.
As the power delivery is so linear, you have to be progressive with the steering wheel but it doesn't take long to get accustomed to it. Anglesey's stunning coastal roads just kept coming and I was grinning from ear to ear.
With any journey you have to consider range capacity, whether petrol or battery power. With this battery set-up, RHL reports that the Mini can cover 100 miles with its 19KWh battery capacity before a recharge, depending on the abuse of the throttle pedal, but RHL is working on even greater range. The charging plug on this Mini is Type-2, with a 6.6kW maximum, so it will charge from nothing to full in three hours (nine hours with a domestic plug), not that EV owners do that in reality. 'Grazing' is more the done thing: topping up when you can. Faster charging options are in development.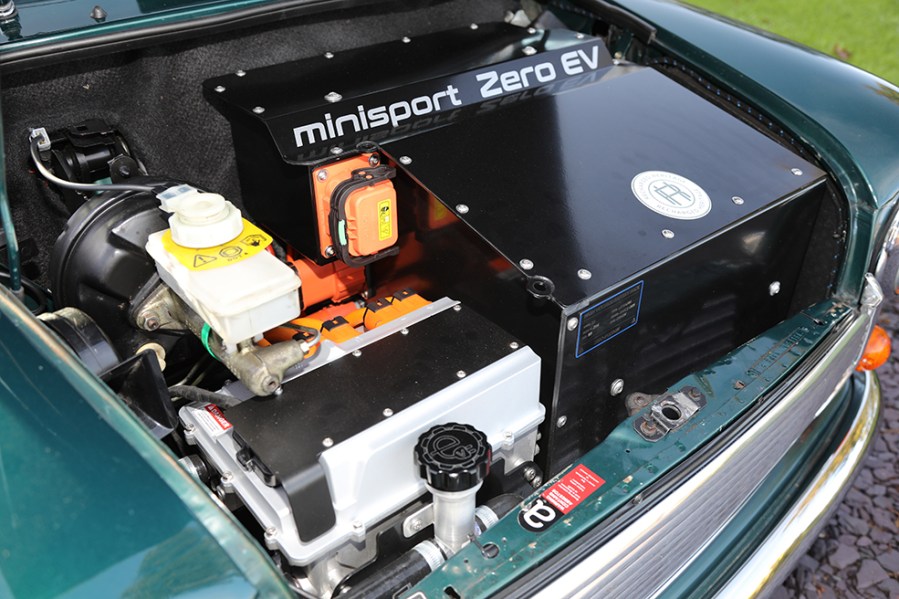 A first for us was the variable re-gen. Other EVs we have tested have a selector where you select the rate at which the motor recharges the battery, with the higher level effectively braking for you when you take your foot off the pedal to generate charge. The RHL Mini goes one step further by making the re-gen speed sensitive.
S0o, at town speeds up to 30mph, re-gen is minimal, and engine braking is more akin to a standard SPi or MPi Mini but, out on faster roads, regen is changed to high, requiring a certain amount of finesse on the throttle. You can effectively drive on just the throttle pedal, which is great fun. A re-gen configurable mode would be a nice enhancement, should you need to aim for a higher range. Interestingly, we found the need to apply throttle going down a steep hill in a national speed limit so your driving technique does have to adjust.
Weight distribution is everything, to retain that original feel, and even more so with heavy battery packs, not that an A-series could be referred to as a light unit. It's something RHL has clearly focused on as the weight has been kept centralised, front and rear. The suspension system is a conventional dry rubber-cone Mini system and it runs very smoothly with no jolts or creaks. You'd be able to hear them if they were there because the drive system is much quieter than an A-series.
The developers were keen for the driving experience to be a comfortable one. The Mini's subframes are still there and, interestingly, RHL has not made any changes to the shell's suspension mounting points. "But it isn't a Mini without an A-series!" some will cry. Personally, I didn't miss the exhaust or petrol fumes. As for the motor/transmission noise, some EVs sound like a London underground train but not so much in this case. The sound seems almost to have an element of the whine of the A-series drop gears that we all know and love. It still feels and sounds sporty. The braking system on the test Mini comprised conventional Mini front disc brakes, with 8.4in discs for this 12in-wheeled Mini; OE drums are fitted at the rear.
This conversion is not a tinkering mechanic's car. RHL says that very little servicing will be required but, for common Mini needs like changing ball-joints or a wheel bearing job, any garage working on these cars will need NVQ2- or NVQ3-qualified mechanics for insurance purposes. Quite rightly there are strict regulations for safety within the motoring industry when it comes to electric vehicles. RHL has developed a fail-safe system so, should the Mini encounter a problem, its EV technology makes itself safe, including when it's being charged, so you know that it's not live.
This Mini isn't a substitute for a mile-munching Tesla or the popular Nissan Leaf but, if you want an EV that is classic, retro or bespoke, the Recharged Heritage Ltd conversion ticks an awful lot of boxes. It is the best EV option currently available for the true Mini enthusiast, simply because all the technology is brand new, has been put together specifically for a Mini and configured within the car's bodyshell by Mini experts. At present, costs start at £42,000 for a conversion and go upwards of £60,000 if you want a bespoke Mini supplied and converted.