We take to the road in a late MG TF Sunstorm, a limited-edition sporting octagon that's ideal for the changeable British climate
Words and images: Jack Grover  With thanks to: Beech Hill Garage
The MGF had marked the octagon's return to the sports car realm, had been generally well received and had sold in good numbers. But MG Rover, with an eye to its limited funds, couldn't ignore the fact that the car was extremely expensive to build. This was due to its Hydragas suspension. Originally used as a cost-saving measure to allow the sharing of subframes and suspension units with the Rover Metro, by the 21st century the MGF was the only car left in production with Hydragas and the manufacturer, Dunlop, was not keen on renewing the tooling for such small volumes – and MG Rover was not keen on paying for it.
The solution was to re-engineer the MGF to become the MG TF, using conventional coilover steel springs and dampers. MG Rover wanted to make the most of MG's sporting credentials and with a range of hatchbacks and saloons with the MG badge now in production, decided to make the TF a rather more 'serious' product. The coil spring suspension was stiffer and shorter in travel than the Hydragas, and the TF now felt like a small, focussed sports car rather than its predecessor's party piece of a saloon-like ride with sports car-like roadholding. To this end, and with an eye to ever more demanding crash safety legislation, the MG TF also boasted a much stiffer body structure.
But beyond these significant changes the TF remained very much the same – it was treated to a facelift with a new-look grille, more modern projector-type headlamps, restyled rear lamps and reshaped side grilles. In addition, the engines had new intake tracts and uprated camshafts that added a few horsepower to the familiar K-Series line-up.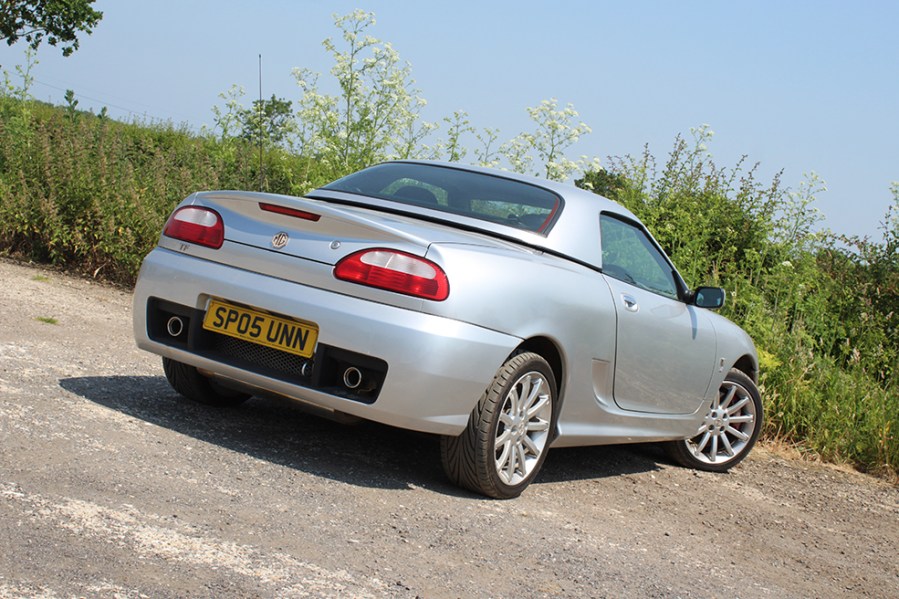 The late era of the MG TF's production run was a blizzard of press releases that mostly served as a substitute for any real development of the model – substantial updates or improvements were beyond MG Rover's scant resources, and in any case the TF was still the UK's best-selling sports car. Those punch press releases issuing from Longbridge usually announced yet another limited edition of the TF, and like most limited edition cars these were rarely more than an ordinary MG TF with some pre-selected options as standard, some specific trim and paint colours and an evocative name.
This was not an entirely cynical exercise, as they usually allowed buyers to get a slew of desirable features in one go, and at a lower price than they would pay if they optioned them on a standard model. The Sunstorm SE, announced in October 2003, was such a model. Available in all three states of tune (TF115, TF135 and TF160) the Sunstorm's main feature was that it came with the glassfibre hardtop (colour matched to the body). Hence its name – it was a car that could be used whether the weather was sunny or stormy.
Available in black, red or silver, the Sunstorm also came with a windstopper behind the seats, a 'Smokestone' grey interior and seats that were part black leather and part 'Gunsmoke' Alcantara (MG Rover was very good at giving evocative names to otherwise fairly ordinary colours and materials). A leather steering wheel, alloy gear knob, 11-spoke 16-inch alloy wheels, the upgraded AP Racing brake callipers, a single-slot CD player and body-coloured electric mirrors completed the specification. Nothing startling in itself, but it all made up for an attractive all-round package.
Nonetheless, the 500 Sunstorms built did not exactly fly out of the showrooms, as the fact that this one was registered in 2005 (18 months after the model was announced) shows. Interestingly, just over half of the Sunstorms built seem to still be on the road, making an already rare car even more so.
With any MG TF approaching 20 years old the main concern will be rust. That is not an issue here, though. With just over 52,000 verified miles on the clock, it is not exceptionally low mileage for a 2005 MG TF (a little under 3000 miles per year is fairly typical for one of these, given that few get used year-round). Even so it presents very well.
The TF is a fairly rust resistant car but can deteriorate quickly once the paint is broken by stone chips and general wear and tear, as well as inevitable problems when cars are stored outside over winter. There are no such issues hear, with immaculate wheel arches, sills and nosecone. The all-too-often scabby bits of metal around the headlamps, badges, door locks and air intakes are free of issues. And there are no sections of dull or peeling paint lacquer. It has to be said that even the panel gaps are remarkably even – not something that can be guaranteed on a late TF.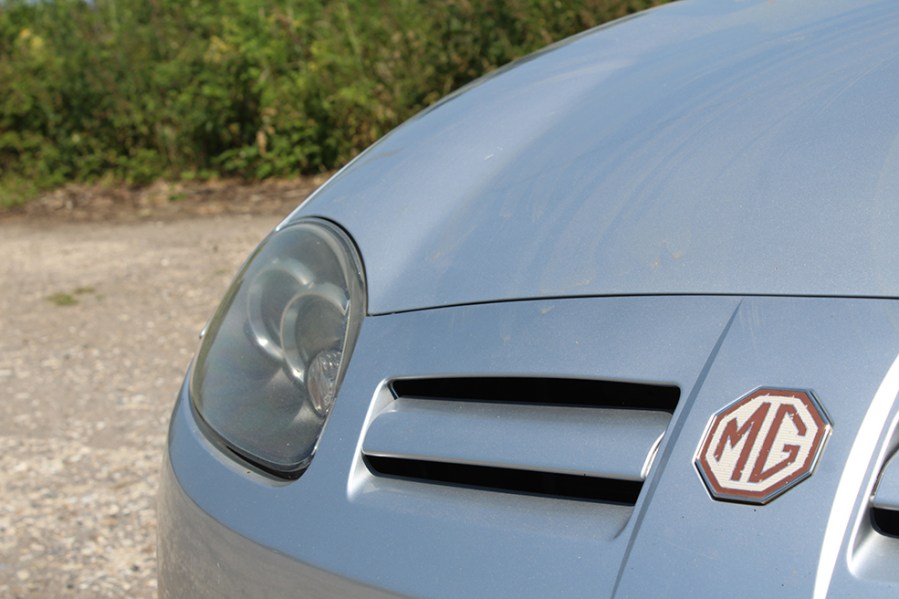 The quality of the interior is also not a usual highlight of a 21st century MG, especially after nearly two decades of use. But, again, this one is in remarkably good condition. Those Sunstorm-spec part-leather seats are, some slight creasing from 50,000 miles of being sat in aside, as good as new. There are no broken plastics, no torn door trims, no flapping door handles or wobbly panel surrounds. There is no sign or smell of water leaks or damp carpets.
There is not much to see once you peel away the various layers to get a glimpse of the engine on an MG TF. The header tank had clean coolant up to the right level and no signs of 'mayo' on the cap, and the oil filler and dipstick were similarly clean. The engine has been fitted with a stainless-steel exhaust and a re-mapped ECU. Under the front bonnet is a clean-looking spare wheel, tidy electrics and smart looking inner wings and slam panel.
MGFs and TFs can be remarkably variable in how they drive – they are heavily dependent on how well they were built in the first place – and how well they have been looked after since. This one gave an immediate impression of 'togetherness', feeling taut and with minimal creaks or rattles from the interior (some are inevitable on the stiff-shelled TF, especially with the hard top on). The K-Series engine always makes an attractive noise and the stainless-steel exhaust seems to be perfectly judged in improving the tone and aural range of the exhaust without really increasing its volume.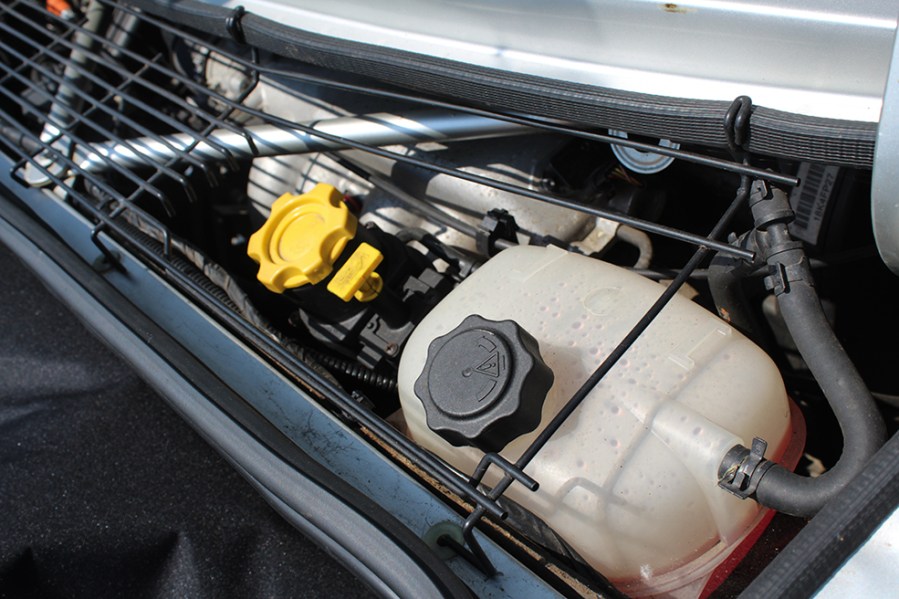 Similarly, the ECU upgrade may well prove to have added some horses if you were to push the rev counter to its limit, but it's more obvious that it has improved mid-range power delivery and eliminated the odd flat spots that are often found on TF135s with the standard tune. Response is quick without being grabby, and the engine pulls smoothly. Performance of the TF135 is at that sweet spot of having enough power and pace to be exciting while being fully accessible and safe on normal roads – something MG has long mastered over the decades. This car does not have the commonly found quick-shift gearchange upgrade but doesn't really need it. Although the gearchange will always be a bit rubbery, this one is smooth and easy to navigate.
The TF lacks the surprisingly car-like ride of the MGF with its Hydragas, but thanks to decent tyres and suspension that's clearly in good fettle this one feels firm but never skittish. The matching Toyo tyres on all four wheels also make the steering nicely sharp engaging, even if the EPAS robs it of feel like all MGFs and TFs. This car is a joy to drive briskly on curving country roads, but also feels composed and comfortable when just cruising.
MG TF Sunstorm: our verdict
The Sunstorm was named, and sold, on it being a car for all weathers and all reasons. But that really applies to the MG TF as a whole. While it would be shame to put such a nice example through the ravages of a British winter, it would certainly be a pleasure to do many sunny miles in. And there's not denying that, for all the slightly cynical marketing behind it, the specification does include some very desirable extras.