The much-criticised Volkswagen Golf GTI Mk3 has the ability to convert even the most committed of naysayers – as our experiences with our own example proved
Without naming names, a work colleague summed up how many feel about the Mk3 Volkswagen Golf GTI on one of his first days in the Kelsey office. Offered a lift home to his new digs on the outskirts of town, he keenly responded until learning the car was our 1996 Dragon Green Mk3 project. "I'd rather walk," came the reply, no doubt guided by little more than the car's unfair reputation amongst armchair experts.
Indeed, the Golf GTI Mk3 has long endured a reception that's lukewarm at best, not helped by its predecessors being fully paid-up members of the hot-hatch hall of fame. The Golf GTI Mk1 pretty much fathered the entire movement, while the Mk2 succeeded as the difficult second album and moved the game on just as the competition had started to catch up. The Golf GTI Mk3 had big shoes to fill, and in the eyes of many enthusiasts, never managed it.
There are several reasons for such antipathy. Firstly, it wasn't very fast, and at over 1000kg, the light and nimble feel of the original car had been tempered. While there was still a choice of eight or 16-valve four-pot engines and capacity had increased from 1.8 to 2-litres, the extra weight meant that both were slower than their predecessors. The eight-valve took almost 10 seconds to reach 60mph, which by then was regular rep car territory.
Secondly, the GTI wasn't the quickest Golf any more. The Mk3 now had the 2.8-litre VR6 as its halo model, marrying V6 grunt to the humble Golf shell. Even the 16-valve GTI was now some 30bhp down on the range-topper. Equipment was sparse too; although the list price compared well to rivals, you needed to tick several option boxes to have the same creature comforts.
Perhaps worst of all was build quality. The Mk3 is undoubtedly well screwed together and felt very solid, but VW changed its steel supplier. They certainly aren't the worst cars out there for corrosion, but the Mk3 nonetheless earned a reputation for rust and its very common to see cars with rusty wings at the very least, if not floorpans and sills.
Inevitably then, the Mk3 has been deemed by many as a low point for the GTI. But while the Mk2 was still a big seller come the end of its life, it was hardly cutting-edge by 1991 and was trading off its strong reputation. Objectively, the Mk3 was superior in many ways. It's all new platform was clothed in a sleeker, more elegant body, and despite being less than four inches longer, was markedly bigger inside. It also boasted more up-to-date interior trim with an airbag and soft-touch plastics.
Essentially the Golf had grown up, and that was especially true of the GTI models. The early '90s generally saw the brash styles of the previous decade toned down, partially in an effort to stop cars getting pinched and attracting crippling insurance premiums, but the Golf GTI Mk3 probably the most subtle of all. It did get black arch extensions, a small boot spoiler and alloy wheels to tell it apart from lesser models, but was still rather discreet. It was ideal for the former 20-something who perhaps had owned a Mk1 or Mk2 in the past.
Granted, it wasn't as quick as before, but the feel of Mk3's controls, its complaint ride, well-weighted steering and delightfully balanced handling helped it claw back its performance disadvantage. Motor Sport magazine tested the GTI in 1992, and concluded that its assurance and fluency in the bends made a mockery of all the naysayers who'd once asserted that a front-wheel drive performance car could never be made to corner properly. Such praise wasn't an isolated incident either – generally speaking, the Mk3 GTI was well received by the press when it was new.
Nowadays, there's still a lot in its favour. View the Mk3 on its own merits, and you've got a practical and eminently affordable modern classic with plenty of space for the family and ample performance. Throw in very good spares availability, 35mpg, reliability and decent investment potential, and you've got a strong case for its defence.
Evolution
The Mk3 Golf was publicly unveiled at the Frankfurt Motor Show in September 1991, before arriving in the UK in spring 1992. It was designed to be the safest and more environmentally-friendly car in its class, and was the first to be offered with a standard-fit catalytic converter throughout Europe.
In GTI terms, only the eight-valve was available at first, powered by a larger 2-litre version of the 1.8-litre unit used in the Mk2. This offered increased low-down torque, while the addition of 'Plus' running gear included subtly lowered suspension and the interior was given different trim and a sportier steering wheel.
The eight-valve GTI had to make do with 115bhp, but this was increased to 148bhp with the arrival of the 16-valve version in 1993, using a 2-litre version of the renowned ABF motor. This brought the GTI's 0-62mph sprint down to a sportier eight seconds, which was more like it for a GTI. Both the eight-valve and 16-valve could be had in three and five-door guises.
In 1996, VW celebrated a milestone birthday for the GTI nameplate with a 20th Anniversary model. Featuring chequered Recaro seats, 16-inch BBS split-rims and red detailing, it was a very desirable car and only 750 were made – just 150 in 16-valve form. The same year also saw the unusual Colour Concept models arrive, available in a choice of yellow, blue, red or green with matching seats and silver dials.
In all, the Mk3 GTI racked up almost 40,000 sales in the UK before its Mk4 replacement arrived in 1998. The special edition models had their fans amongst the Volkswagen faithful, but over the years the rest of the range dropped firmly into banger territory, particularly the eight-valve cars. Time and the launch of impressive rivals such as the faster Peugeot 306 GTI-6 didn't help and the Mk3's reputation gradually turned for the worse.
However, as supply drops and the earlier Mk1 and Mk2 cars continue to rise in price, it's invertible that the Mk3 will become more and more prized. In truth that's well underway already, with the best 16-valve cars fast heading towards the best part of five figures, especially rust-free Japanese imports. For now though, the Mk3 represents a useable modern classics that can still be had for under £2000.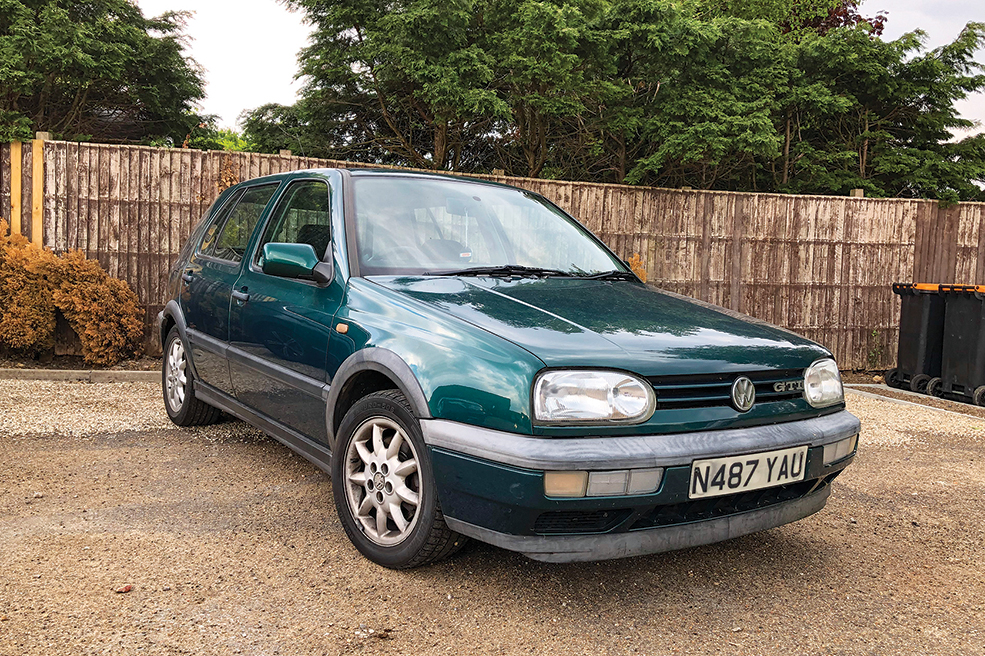 Our Volkswagen Golf GTI Mk3 project
Our own experience of living with a Mk3 GTI came about two years ago when Group Editor Paul Wager, Contributor Sam Skelton and myself were given £500 each to procure an interesting modern classic and successfully drive it to Bromley Pageant. To cut a long story short, I found myself buying a 135,000-mile 1995 Dragon Green GTI in eight-valve, five-door flavour from a colleague at a work party, while quite possibly under the influence. It was a former insurance write-off that had been partially stripped for track use, and the test drive consisted of a sober Wager reversing it up and down the car park by means of a thorough test drive. In short, it was exactly how you shouldn't buy a car.
For my £500 I got a car that did at least have an MoT and a recent cambelt, which I kept reminding myself of in an effort to soothe the heartache of the missing door speakers all round, a bodged windscreen, sagging headlining, torn trim, a rusty wing and various gaffer tape repairs in the engine bay.
In view of its difficult past, I was pleasantly surprised by how well it went. The eight-valve motor has a reputation for being hardy and reliable, and so it largely proved as it continued pull well with no signs of smoke. I'd had previous experience of the same engine in a bright yellow Mk2 Seat Ibiza GTI I owned several years ago, but even in the heavier Golf, it was still perfectly capable.
However, the car did feel rather tired in certain respects, with a sloppy gear lever caused by worn nylon bushes one of the main culprits. Fortunately, fellow staffer Iain Wakefield was also able to order a new bush kit to sort this, while a set of new tyres all round to replace the ageing and cracked existing items went a long way to restoring its lost youth.
Golfs of this age can suffer from electrical gremlins, and while it was fine in my tenure, it did manage to leave fellow staffer Iain Wakefield stranded. That turned out to be a knackered rotor arm, but the coil pack was also found to be faulty, so I'd recommend carrying a spare. I speak from experience here, having been stranded in my Ibiza overnight due to a similar failure.
Like many cars of this vintage, the Golf had an aftermarket alarm that necessitated a separate immobiliser key and caused rather a panic when I lost it. That was of my own doing, but otherwise a corroded rear light fitting caused the brake lights and indicators to go haywire and – rather unusually for this car given the excellent spares availability – couldn't be bought new. In the end a second-hand replacement was sourced. Elsewhere, new instrument cluster bulbs meant the speedo could finally be seen in the dark, and second-hand speaker grilles were also found to replace the missing originals. Behind these, new Vibe speakers were bought from Halfords to restore audio to the cabin.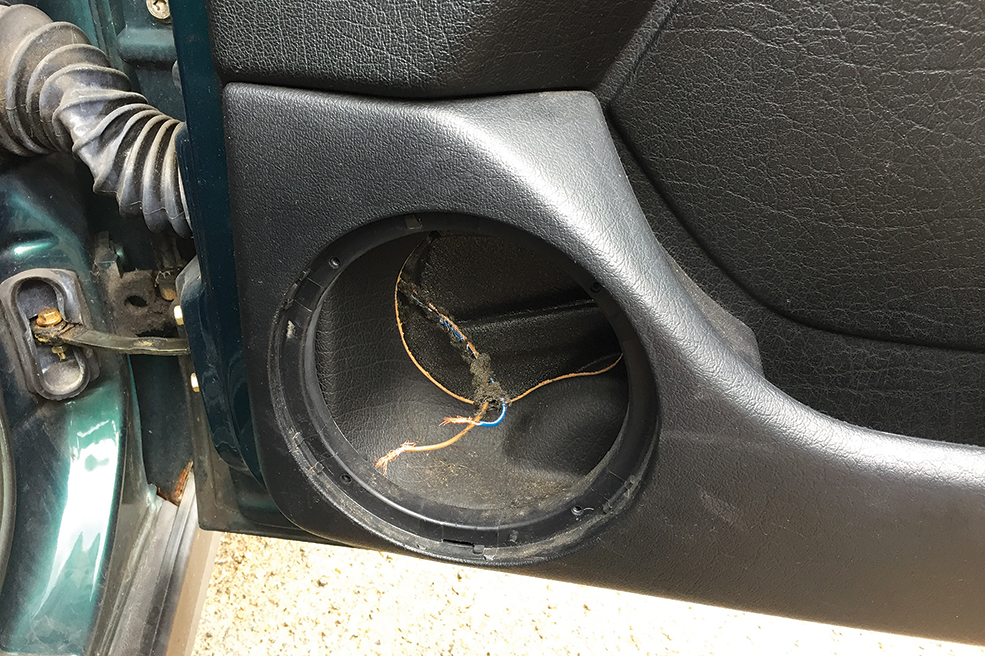 Inside, things were rather odorous until we'd given the trim a good clean, but generally it had held up well and the interior switches still operated with much the same precision as they did when new. The major problem here was the sagging headliner – a very common Mk3 fault. I'd had a go at glueing the original material back in place, but when this inevitably failed, Iain whipped the whole lot out and recovered the thick fibre glass backing board, or biscuit, with new foam-backed material from Woolies. This proved to be surprisingly straightforward, though securing all the plastic header rails and relocating the grab handles probably took a darned sight longer.
Another common Golf GTI Mk3 failure point is the glovebox catch, and ours proved to be no exception. Thankfully, a new one could be purchased from VW Heritage Parts Centre, as could replacements for the broken dipstick tube and breather pipes under the bonnet. These were quick, cheap and effective fixes that ensured the engine bay was free of unsightly gaffer tape.
Indeed, cheap and effective fixes proved to be quite a theme with our Golf. Save for the tyres, not once did it require a trip to the local garage – everything was done at home and often on the driveway. Even the one breakdown it suffered proved to be a simple fix, and on the return trip from Bromley it managed a frankly staggering 42mpg. In all we managed to put almost 3000 miles on it, which isn't bad for a car we only bought to travel from Peterborough to Kent in.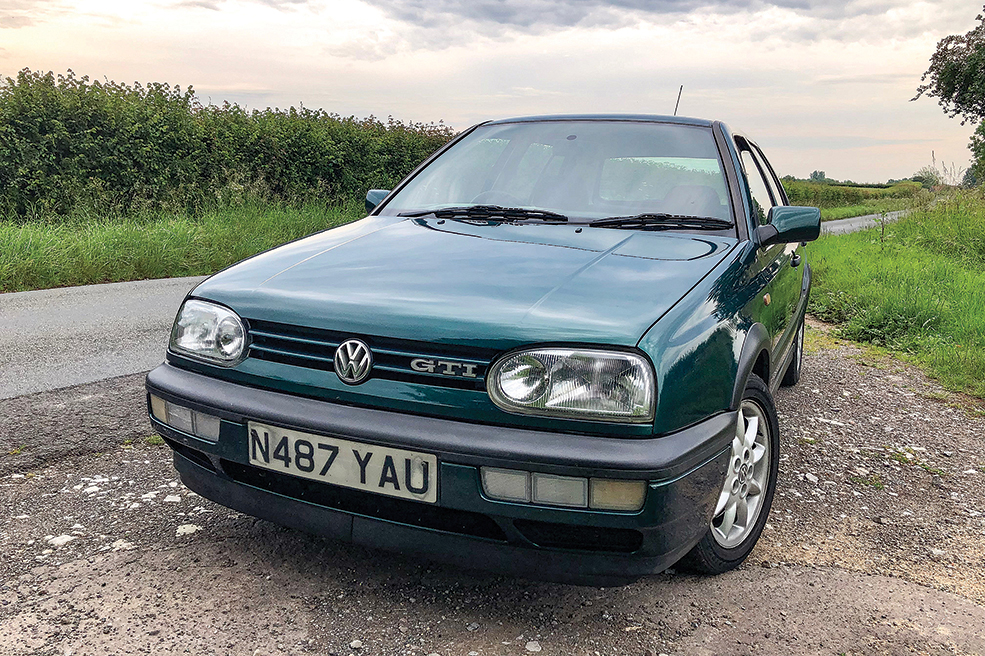 Perhaps most satisfying of all was cleaning up the exterior. Much elbow grease and a vat of bumper black transformed the Golf's faded plastics, the alloys got the toothbrush treatment and it was treated to a new pair of numberplates. The paint may have been old and neglected, but even though I only gave it a quick mist with some detailer spray, the shine was impressive and indicative of how well these cars were built when new. It came up so well that Group Editor Wager didn't realise it was the same car at first.
Since our tenure, the car has changed twice and been treated to new wings, as well as some welding to sort some crispy bits underneath that we'd been unaware of. Most importantly though, it continues to be reliable and is now being cherished – quite the turnaround for a car that could've easily been scrapped, and indicative of how the Mk3 is enjoying a reversal in fortunes.
As for my doubting colleague who'd rather have walked home, he was a convert too. In fact, it was a job to get him to relinquish the keys, which says it all really.