The Lotus Elise S1 is fast becoming recognised as a modern classic but what is it like to buy, own and live with?
Words: Nigel Fryatt
Colin Chapman was lauded for his company's engineering ingenuity: the model range was full of clever, uncomplicated designs where light weight allowed for smaller, sweeter engines to be used, resulting in awe-inspiring dynamics and engaging performance. The Lotus Elise arrived some time later, but Colin Chapman would sure have approved of its adherence to the brand's core values.
Those characteristics were not always backed up with the necessary production quality control, and so the numbers produced were often less than could have been expected, but once behind the wheel of a well sorted Lotus, that never seemed to matter. The Lotus Elise managed that, and more.
Only ten years after its debut, the 25,000th Elise rolled off the line at Hethel in Norfolk, and this year, when the final model is produced, will be its 25th, making the Elise the best-selling Lotus ever produced. It epitomises all of Chapman's principles with the added bonus of being a massive sales success; pure and simple.
It could also be argued that it saved the company's fortunes back in the early 1990s. Yet another financial crisis at Lotus received a short term boost in 1993, when Romano Artioli, of Bugatti International, took the reins. The ownership was rather short-lived, but he instigated a plan for a new range of lightweight sports cars.
To aid this, he initiated a design competition for the first new model, inviting entries from design houses in Italy as well as the UK. Interestingly, it was the in-house design team at Hethel that was chosen, with Artioli's final contribution being the naming of the new model the Elise – after his newly arrived granddaughter, neatly in-keeping with the 'E' tradition that had brought us the Elite, Elan, Europa, Eclat and Esprit.
If the overall look was neat and stylish, as ever with a Lotus, it was what was under the glassfibre body that really impressed. Gone was the company's traditional backbone chassis design that had been so successful for over three decades, replaced with what at the time appeared to be ahead of its time, innovative and rather exotic.
Lotus chassis engineer Richard Rackman had been working with Rover on aluminium structures, and so the Norfolk company went into partnership with the Norwegian company Hydro Aluminium creating 'extruded aluminium' projects for automotive use. For those unsure about such a process, it has long been used in making greenhouses, but never before in an automotive capacity.
The fact that the aluminium was extruded into moulds meant that attachment points could be included in the designs, from which could be hung the car's bodywork, suspension parts and doors. The chassis itself was made up of a number of these moulds glued, rather than welded together, making it strong, with great torsional rigidity and yet extremely light. The result was a true Lotus.
The lightness of the chassis and body together was carried through the rest of the specification. There were no creature comforts inside the cabin; no carpets, and mats were an optional extra, seating was thinly padded, with the passenger seat fixed in position, power steering and a brake servo were deemed unnecessary, you could have a radio but you paid extra.
The Norfolk company's association with Rover led to the use of the four-cylinder, aluminium block twin cam K-series engine, transversely mounted behind the driver. A modest original power output of 118bhp still delivered sharp and precise performance; 0-60mph in 5.5 seconds and a top speed of 124mph. As with all previous Lotus models, it's never about outright power, it's about the cars dynamics; if it doesn't weigh much (the original S1 tipped the scales at just over 720kg), then you don't need too much power to perform.
This spartan nature actually added to the appeal of the Elise, but was probably part of the company's original projection that they would only sell around 2700 models over the next three years from its launch in 1996. The enthusiastic motoring public, however, thought otherwise and here we are 25 years later, waving goodbye to the final model to be built.
There has only been one significant update, the S1 being in production up until 2000, when the S2 arrived. A tweaked body gave the Elise a slightly more aggressive look, the engine received variable valve timing and some additional creature comforts were added, notably improved seats, plus suspension improvements, which we will come to later. In the four years of the S1, just over 10,500 were built – which certainly helps today's classic status and the pleasing rise in second-hand values.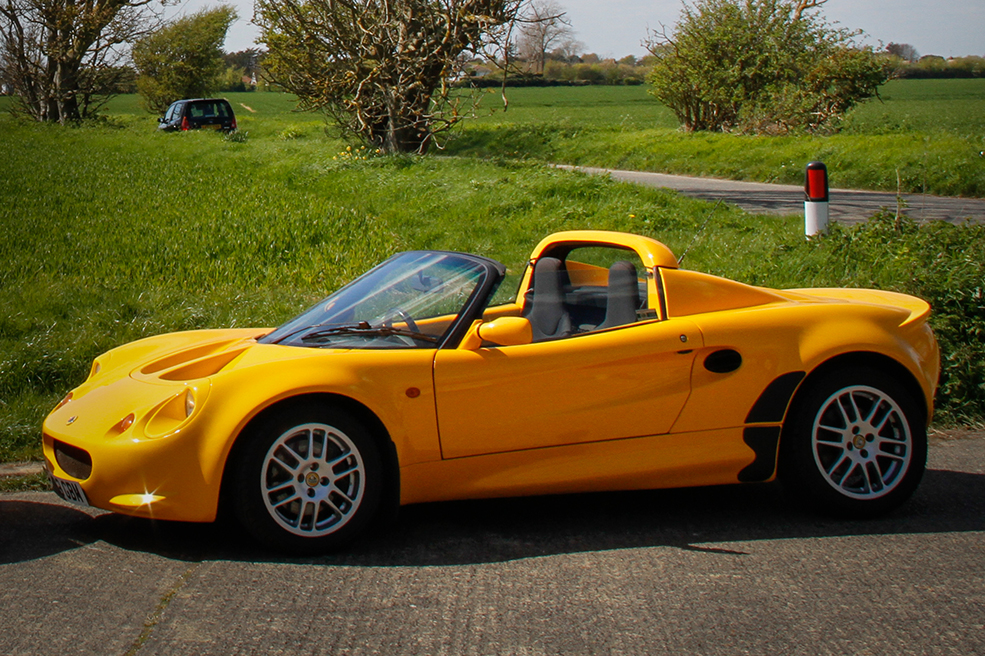 Living with the Lotus Elise S1
If it hasn't been obvious, time for a confession; I am a Lotus addict. Now very much a senior member of the motoring public, my fascination with Lotus goes back to following the likes of Jim Clark and Graham Hill in Grand Prix racing. I lusted after both Emma Peel and her Elan in those crazy Avengers TV escapades, desperately wanted to drive the Lotus Seven that Patrick McGoohan thrashed through London in the opening scenes of The Prisoner and felt absurdly jealous of Georgie Best when he posed alongside his Europa, although that might have had something to do with his driving companion.
I did manage to own, modify and compete in a Caterham Seven for many years while editing the motorsport magazine Cars and Car Conversions, although sadly 'life' took over and that was sold to become a conservatory, but the addiction never went away and 15 years ago, I bought my 1999 Lotus Elise S1.
The choice of purchase broke all the 'rules': it was the first one I went to look at, I knew I was buying it long before I took a test drive and my inspection was cursory at most. I was sold on the colour; if you are buying a Lotus Elise it has to be Norfolk Mustard Yellow, surely?
There was no haggling, I paid the full asking price of £9460, despite my other half pointing out that the tyres didn't match front and rear and that two of them had little tread and would need replacing. It had all felt good on the test drive and I had driven a friend's S1 so had something to compare it to. Most important was the extensive service history and the fact that at the time it was being regularly serviced by Lotus specialists, Lakeside Engineering, a company I knew well from working on CCC magazine. The owner said he had never taken it on to a track and there was no obvious evidence of repair from any misdemeanours, so I was inclined to believe him.
Fifteen years later, it seems my judgement was sound, as while it hasn't been faultless, there's been little to complain about when it comes to reliability. The most important point of Elise ownership, however, is the feeling you get when you slide behind the wheel (and trust me, you slide in, there's no stepping involved) and that's as good today as it's ever been. The car's superb dynamics and suspension design is credit to Lotus engineer Roger Becker, ably assisted by former Lotus F1 driver, John Miles. Top trumps!
My first expense had to be the tyres. I decided to go for the Yokohama Advan rubber that was originally produced for the Elise. These are 'handed' tyres but look superb (I know that shouldn't matter, but please, it does doesn't it?) and at the time I thought them expensive but my mileage has been relatively low so they have proved a good investment. Today, there are a range of tyre options, depending on what you want your Elise for, whether that's just fast road or occasional track days.
With the new tyres fitted, I had more confidence in the Elise and just loved the whole character of the car. The lack of power steering is a bonus giving you more feel, and the same goes for the non servo-assisted brakes; it's like driving a classic car, only a lot quicker. The handling is so sure-footed that the day I felt a slight squirming feeling from the rear while enjoying a long sweeping right hand bend on a great piece of road close to where I lived, was a touch alarming. Closer examination showed that one rear shock absorber was weeping slightly; time for a change.
As described, the original Elise specification was built both to a weight and a budget and that included the original Spax shock absorbers, which while doing a reasonable job were probably not designed for longevity. With this in mind, I decided to upgrade my S1 and go for the S2 specification which is to fit Bilstein shocks and Eibach springs.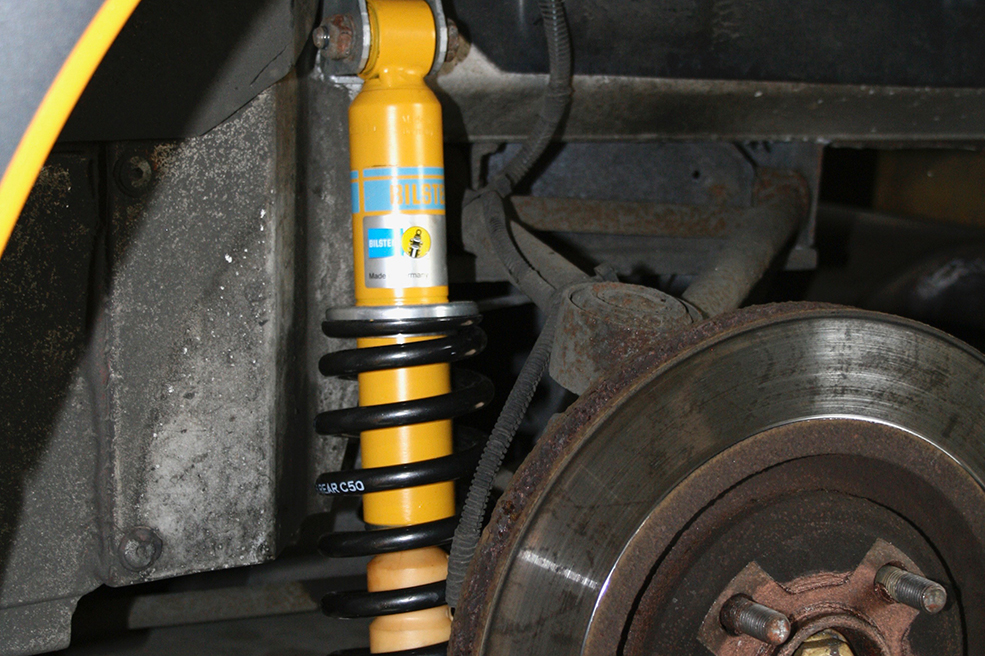 Interestingly this is what I had used on my Caterham Seven, which had made me a big fan. The swap is quite simple, although you do need additional brackets to fit the rear units. The conversion lowers the S1 some 10mm although I cannot say I noticed when looking at the car, when driving, however, the improvement was significant. Unless you buy a very low mileage example Elise S1, it's likely it has had replacement shocks. If not, then the S2 option is highly recommended. It improves the slow speed ride, useful on some of the rubbish tarmac we drive on in this country, while making the car even sharper when turning into a corner. When fitted, I also invested in having a professional suspension set-up, something I would also recommend. My car's previous owner had also fitted S2 seats, proving something of a bonus. These are more like padded racing buckets, rather than the meagre pieces of foam and leather of the original.
The other changes over 15 years of ownership include a replacement radiator, not a cheap repair and a difficult DIY one as it involved removing the front clamshell. The distributor cap disintegrated, thankfully when I wasn't far from home, but after 20+ years is probably understandable. It's also had a new battery, not expensive but very awkward to fit!
There are three different services recommended for the Elise; A, B, and C depending on mileage or time, as you would expect. The C service includes the cam belt change, so is by far the most expensive. Over my years of ownership, service, MoT and odds and sods average out to be under £500 a year. Even allowing for the fact that I do limited mileage and this is not my daily driver, that's pretty reasonable. Looking in the classifieds, decent S1s are for sale from £15k upwards, which actually makes my Elise something of a positive investment, but then it's not for sale so, who cares? Not this owner.
What this owner cares about is the driving. Some years ago the radio stopped working. I swapped it for an old unit I had, but that only worked intermittently, there's obviously a poor connection somewhere. It's never been replaced and I have not missed it.
The Elise is all about the driving. It's about taking the roof off (making it far easier to get in or out and the heating system warms the cabin so this isn't just a summer option) grabbing that tiny leather trimmed steering wheel and pressing the throttle. You feel an Elise, it doesn't just transport you, you have to be completely involved in the process. Yes you have to be alert – potholes are best avoided – but then doesn't that make you a better driver? The Elise S1 is a proper Lotus – pure and simple. Colin Chapman would certainly have approved.