Some cars just look fast from the off and if they make it to the race track, they probably prove to be fast. But not for all. Here Nigel Fryatt takes a look at some of the most unlikely competition cars ever built
If it looks fast, it probably is fast and if that's the case, it will probably look right at home on a race circuit. Not so Volvo's 850 that took part in the 1994 British Touring Car Championship, for one reason; among a field that included performance saloons from the likes of BMW, Ford, Alfa Romeo, Nissan, Toyota, Vauxhall and even Renault, it was the only estate car. Now estate cars just don't look 'right' on a race track, even when two-wheeling over the kerbs and delighting the spectators.
Myth and counter myth now dog the story of the Volvo 850 Estate car. It is certainly true that Volvo wanted to improve the company image by being involved in motorsport, but is it a myth that when Volvo specialist Steffanson Automotive went to collect the engine and bodyshell to build the race car in 1993, only estate car shells were available and so instead of waiting, they decided, 'this will have to do'? Of course, when the very persuasive Tom Walkinshaw got involved, he explained there had been no mistake at all, it was always going to be the estate version because the longer roof area gave the car more downforce (rules at the time prohibited any additional aerodynamic aids). This was all confirmed in a Goteborg wind tunnel and the first racer was launched at the Swedish Motor Show in January 1994.
While the engine was highly suitable (five cylinder, 2-litre, DOHC) this was a big race car and aerodynamically something of a brick. In the 1995 season Volvo had top racer and former F1 driver Jan Lammers behind the wheel – while to help wind up other drivers, there was even a stuffed collie dog in the rear for one race meeting. It managed a best ever finish of fifth place. When Volvo dropped the estate and campaigned a saloon body in 1996, that version took 12 pole positions, and won six races. Was the estate a sensible race car or clever publicity stunt? You decide. It means that road-going Volvo 850 T estate cars, especially the limited edition T5R versions, have an added value they probably don't deserve.
Of course, you don't have to be big to be an unlikely race car. If Issigonis had had his way the Mini would not have been taken to the race track, and certainly not to a rally stage, but he came up against the enterprising John Cooper, and the rest, as they say, is a globally successful history. Dafter small race car? How about the Iso Isetta in the 1954 Mille Miglia in Italy? It finished the 1000 mile race and won an index of performance award! Then there's the Austin A35 that a certain Graham Hill won many an event in 1958. Today there's even a classic race series for A30s.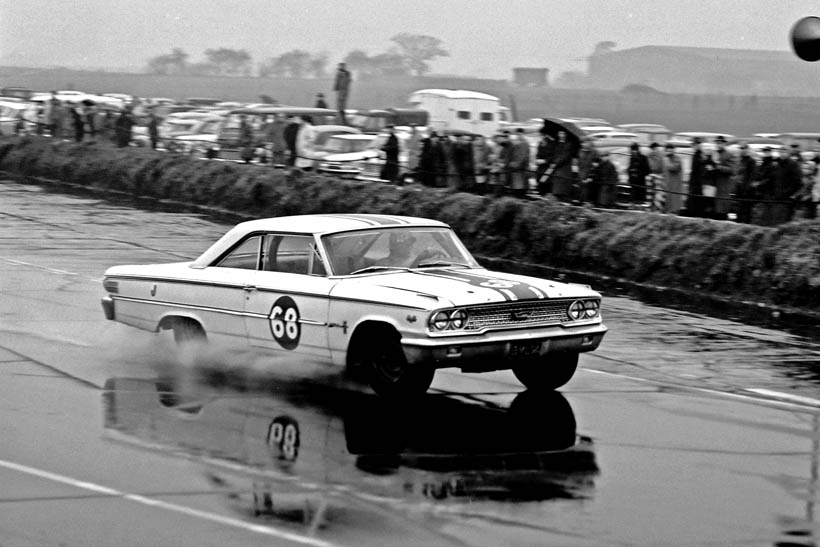 Big is more incongruous on a race track and there cannot be much bigger than the Ford Galaxie 500 that destroyed Jaguar's saloon car dominance in 1963. The size and shape of a small aircraft carrier, the Galaxie was some 30 inches longer and 13 inches wider than the Jaguar Mk2 3.8-litre that had been enjoying the spoils of British saloon car racing. The Galaxie was based on the 400+hp, 7-litre model built by NASCAR specialists in the US and in the hands of Jack Sears, Graham Hill and Roy Salvadori proved highly successful – Sears taking the over 2-litre class in the 1963 British Saloon Car Championship.
Jaguar didn't really recover until the mid-1970s when they returned to motorsport with a racer that today would never be seen at any race circuit, unless it was parked in any prestige classic car display. When the company announced it was returning to motorsport with a works team in 1976, the decision was met with resounding enthusiasm. Even now, however, the choice of using an XK12C seems unlikely. The resulting campaign in 1976/77 was a disappointment, primarily because the expectation was that this thunderous beast would sweep all before it. Ralph Broad's Broadspeed built the car and it was driven by the likes of champion saloon car driver Andy Rouse, both of whom believed the XJ12C would succeed if they had had more time. Indeed, the record books show that it only entered eight races and took pole position in six of them. Its final race was the prestigious Tourist Trophy, where two XK12Cs were entered, neither finished, beaten by a certain Tom Walkinshaw in a BMW. He had obviously seen potential as it was Walkinshaw who turned the XJ-S into a highly successful racer, much to the surprise of many at Jaguar. Success in both the British and European Touring Car Championship paved the way for Jaguar's (eventual) successful return to Le Mans.
BMW was one of Jaguar's main competitors and in South Africa, the importer even tried to turn the lumbering, but powerful, 745i saloon into a race car. They were successful, winning that country's Group One Saloon Car Championship in 1985.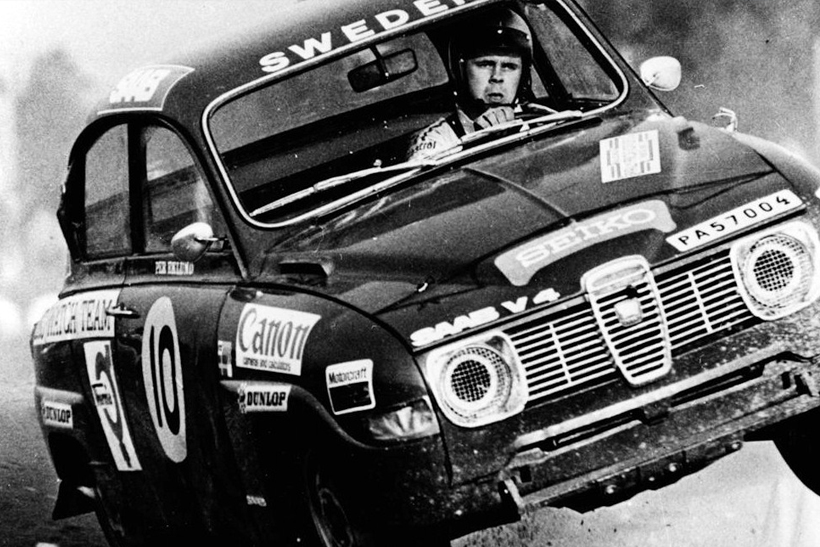 Daft race cars? There's been a few, but how about rallying? Well, you have to admit that Erik Carlsson's exploits in the oddly shaped Saab 96 take some beating, but we can offer a better one. In 1979, Hannu Mikkola took second place in the Safari Rally driving a Mercedes-Benz 450SLC automatic! This was the first eight-cylinder vehicle to win a World Rally Championship event, and the first to win with an automatic gearbox. This writer was once told they completed the event with the air conditioning on. You can never tell what will make a successful motorsport car, can you?