Exactly six decades ago, the British motor industry was about to enter one of its most important years – and not just in terms of new-model launches. Paul Guinness explains…
It may have been before my time (I didn't arrive until the mid 'Sixties), but I still consider 1959 to be one of the British motor industry's most important post-war years. Major manufacturers were getting ready to launch a plethora of new models in 1959, some of which would have a profound effect on the market for a long time to come. And that means, as 2019 dawns, we should ready ourselves for an array of 60th anniversary celebrations over the next twelve months.
The Earl's Court Motor Show of 1959 would have been a memorable event for anyone lucky enough to attend, as they'd have witnessed the unveiling of such crucial newcomers as the BMC Mini (in original Austin Seven and Morris Mini-Minor guises), the all-new Ford Anglia and the Triumph Herald. Those were arguably the biggest announcements of the year, as each car went on to be a major success. The Mini, for example, enjoyed an astonishing 41-year career; the Anglia 105E sold well over a million units during its eight years on sale; and the Herald's twelve-year success story even included six-cylinder sportiness thanks to the later arrival of the Vitesse derivative.
Not every launch of 1959 is as well remembered as those mass-market offerings, though. Unless you're an avid follower of all things Rolls-Royce, you might not realise that 1959 was the year in which the company's all-new V8 engine was announced, finding its way under the substantial bonnet of the latest Silver Cloud II and its Bentley S2 cousin. The significance of the engine was enormous, however, as a derivative of that L-series V8 remains in use in the current-model Bentley Mulsanne – and, of course, it powered just about every Rolls-Royce derivative of the late 20th century, including such best-sellers as the Silver Shadow and Bentley Turbo R.
Another V8 engine launched in 1959 came from Daimler, with the company's latest powerplant appearing in the controversial-looking SP250 sports car, pre-dating the takeover of the company by Jaguar in May of the following year. The SP250 may have enjoyed only a five-year career and sales of just 2654 cars, but it deserves recognition for being the very last Daimler launched during the pre-Jaguar era. Its engine also deserves to be remembered, thanks to its subsequent fitment in the Jaguar Mk2-derived Daimler 2½ Litre saloon.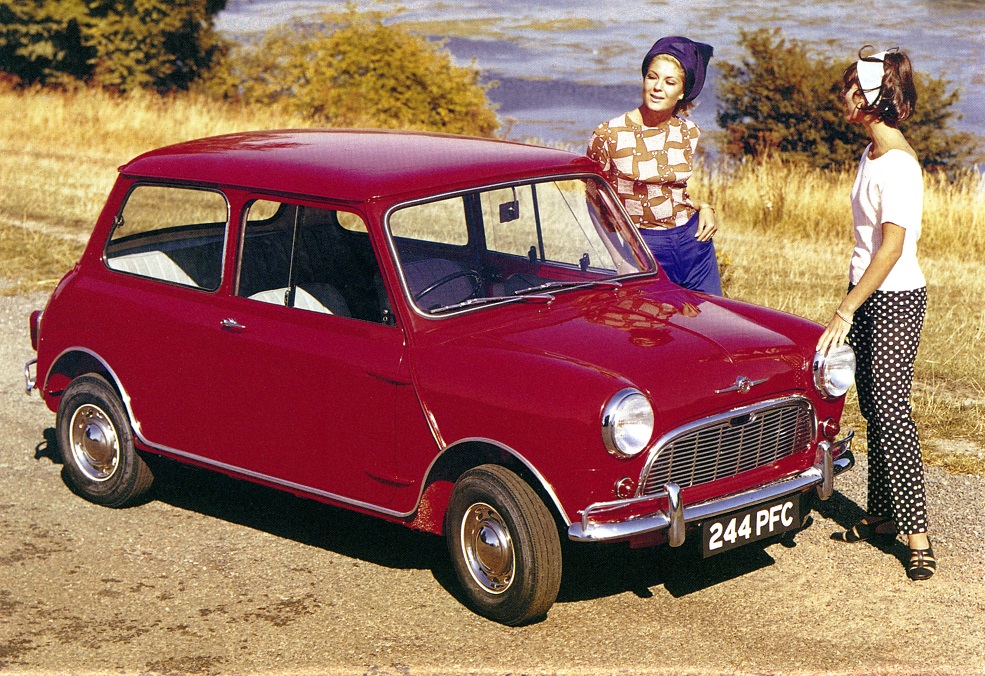 GENERAL CHANGES
It wasn't just new-car launches that made 1959 significant, however, as this was a year in which the motor industry received a boost via the Government's decision to reduce the rate of Purchase Tax on all new cars – although the figures themselves make fascinating reading six decades later. In 2019, we might complain about the 20% VAT that's added to the cost of every new car; but back in 1959, the Purchase Tax on new cars was rated at 50%, which at least marked a fall from the 60% rate that had been in place since 1955. The Purchase Tax change for 1959 meant that the price of a basic Morris Minor fell from £625 to £590 – yet all these years later, the prospect of such high taxation on any brand new vehicle seems unthinkable.
Another political decision made in 1959 was the cancellation of all remaining import restrictions on new cars, enabling foreign manufacturers to potentially grab a bigger slice of the British market. It should be remembered, however, that cars shipped in from overseas were still liable for import duty, which in 1959 stood at a whopping 30%. Add that figure on to the unit cost of an imported car, and then add on a further 50% in Purchase Tax, and it's easy to see why so many foreign models were significantly more expensive than their British-built rivals by the time they reached the showrooms in this country.
Even so, the relaxation of import restrictions led to an increase in foreign car sales throughout Britain, although their market share seems remarkably low by today's standards. Out of a total of 650,000 new cars sold in the UK in 1959, just 27,000 were produced overseas – giving importers less than 4.2% of the whole market. That, however, was something of a record, and marked the start of a trend in which foreign models would become steadily more popular throughout the decade to come.
The final year of the 'Fifties was significant in so many ways – and not just because of the various new models that will be celebrating their 60th birthdays in 2019.