On the face of it, the Mini Moke should have been an abject failure. Based on the subframes and running gear of the Mini attached to a basic box-section bodyshell, it was touted to the military but failed to break the iron grip of the Land Rover. Its USP was its light weight, which enabled BMC to market it as an air-portable vehicle but with only a standard Mini's ground clearance and of course, just front-wheel drive its off-road capability was limited and both UK and US top brass declined. The Royal Navy was more interested, seeing the potential for the little runabout on aircraft carriers.
A subsequent development saw a four-wheel drive version created by adding a second engine/transmission unit at the rear with linked clutches and throttles, but this was simply too complex and in 1963 the military angle was dropped, the decision being taken to market the car as a civilian fun car. Few would have predicted that the car would then go on to enjoy a 30-year lifespan.
Production began in 1964 at Longbridge, but the car's appeal lay not in the rainy West Midlands but far-flung markets like Australia, where local production began in 1966. The car would be produced at the Zetland plant until 1981, when production was transferred to BL's Portuguese subsidiary. An export version for the US market was also produced here which used the 1275cc engine and moved the fuel tank to the rear seat area away from of the Moke's usual location in the left-hand 'pontoon' of the bodyshell.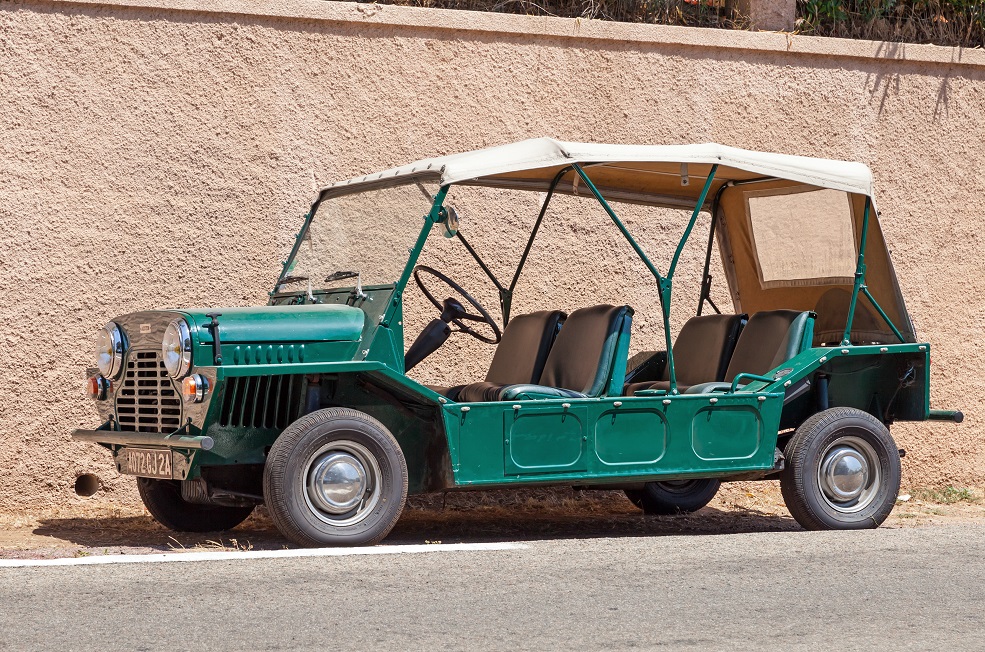 Mokes would continue rolling off the Portuguese line until 1989 when Rover Group decided to call it a day, although it would only be a brief break until production resumed in 1991 under the auspices of Italian maker Cagiva which would manufacture the vehicle until 1993.
Even then the Moke didn't disappear, with several kit car makers having copied its basic design over the years and even an electric version now being offered by a French maker under the name 'Nosmoke'.
The Moke lines up with the Méhari as one of the ultimate no-thrills beach buggies and it's no wonder they were so popular in tropical resorts.