Wheeler Dealers returns to Discovery for a brand new series – here's what's coming up in this series…
Experienced car dealer, Mike Brewer and multi-talented mechanic, Ant Anstead, are gearing up to save more motoring classics from the crusher. Wheeler Dealers sees the automotive world's finest duo as they set to work restoring classic vehicles to later sell for profit in their LA-based shop. On a tight budget and despite intense challenges, the boys never fail to deliver their creations to a lucky new owner.
This series sees a whole host of iconic cars, such as a 1972 Fiat 124 Spider "survivor" car. The Fiat is all original, but with a driving experience that leaves a lot to be desired, Mike must secure a price that leaves the boys some profit. Mike then hands it over to Ant, who tackles everything from bare metal re-sprays to gearbox swaps to bring the car back to its former glory.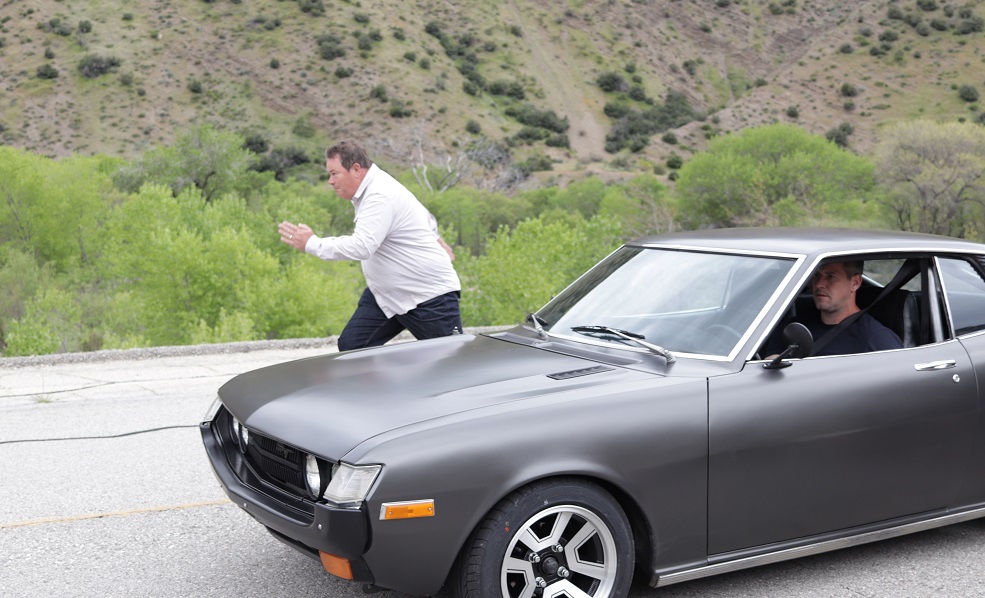 Elsewhere, the boys get their hands on a fifth generation Ford Bronco, a bonified American icon. It's a point-and-go vehicle that the market is absolutely red-hot for, but can Mike and Ant get the Bronco ready in time for the biggest car collector auction in the world?
Throughout the series, Mike and Ant will discover and restore a variety of motoring classics including:
Episode 1 – 2004 BMW M3 – TX: Monday 2nd March, 9pm
"The pinnacle of BMW is the naturally aspirated inline 6-cylinder modern classic that is the E46 M3, the "ultimate" Ultimate Driving Machine. Mike finds one with the subframe already fixed and he challenges Ant to transform the transmission with new tech."
Episode 2 – Volvo Amazon 122 – TX: Monday 9th March, 9pm
"The Volvo Amazon 122 is a classic Swedish auto with true rally heritage. Mike travels to the Pacific Northwest, where he has tracked down a true "barn find." Ant is tasked to make it road-worthy before the guys know the true scope of the work ahead."
Episode 3 – Ford Bronco – TX: Monday 16th March, 9pm
"The fifth-generation Ford Bronco is an American icon. It's go-anywhere vehicle and the market is absolutely red hot. Mike gets his hands dirty preparing the Bronco for the biggest collector car auction in the world, Barrett Jackson."
Episode 4– Fiat 124 Spider – TX: Monday 23rd March, 9pm
"Mike finds a 1972 Fiat 124 Spider "survivor" car. It's all-original, but the driving experience leaves a lot to be desired. Mike gets crafty on the interior while Ant fixes a leaky differential and replaces a carrier bearing and axle seals."
Episode 5 – Toyota Celica ST – TX: Monday 30th March, 9pm
"The 1973 Toyota Celica was the first generation of the iconic model. Mike finds a powerful solution for a rough-running engine. Meanwhile, Ant is in the workshop putting his fabrication skills to the test."
Episode 6 – Mercedes Benz E55 AMG – TX: Monday 6th April, 9pm
"The 2002 Mercedes Benz E55 AMG is the pinnacle of luxury and supercar performance. Can Mike find profit in a neglected example as Ant tackles a major service?"
Episode 7 – 1985 Merkur XR4Ti – TX: Monday 13th April, 9pm
"Mike takes a trip down memory lane in a 1985 Merkur XR4Ti, known as a Ford Sierra to the rest of the world. Mike has found a rare competition shell model and Ant applies the European touches that the U.S. market never received."
Episode 8 – Toyota Land Cruiser – TX: Monday 20th April, 9pm
"The Toyota Land Cruiser can go where very few vehicles can. Mike finds one in fairly good shape, but the original 4-speed transmission holds the car below highway speeds. Mike sources a JDM Toyota 5-speed for Ant to install."
Episode 9 – Mike's pride and joy – TX: Monday 27th April, 9pm
"The 1982 Porsche 911 SC. The SC stands for Super Carrera and is apt for this particular classic. The 911 story started way back in 1964, when the current owner was born – a local car dealer going by the name Mike Brewer."
WHEELER DEALERS returns exclusively to Discovery on the 2nd of March at 9pm.