Vehicle scammers take to Facebook Marketplace to rip off classic car fans as we continue to rely on online trade during the pandemic.
Online transactions have been vital in ensuring the classic car world can continue to trade vehicles and parts during the pandemic, demystifying the process for those previously less familiar with the internet and making purchases by proxy far more commonplace. Sadly though, cybercriminals have been quick to exploit the situation, with Facebook Marketplace now increasingly used as one of the platforms for vehicle scammers.
Online scams are far from a new problem, but with more and more people spending more time online, plus an increase in desperation to stave off the boredom of being at home, cybercrimes have risen exponentially. What's more, with the rise of legitimate and highly publicised online traders such as Cazoo and Cinch, a lack of face-to-face contact when buying a car has become increasingly normalised, making it easier for scammers to work without being identified.
Last April we reported on how fake websites and fraudulent eBay listings continue to proliferate, with both remaining big problems as 2021 begins. Now though, as Facebook Marketplace continues to rise in popularity, it too has fallen victim to scams. Motorhomes are a particular target, but in early December we noticed a Jaguar E-Type listed in multiple locations for an unfeasibly cheap price of £19,250. Those contacting the seller got a poorly punctuated response stating the car had been taken to the Orkney Islands and that the whole transaction would be managed by a transport company, linking to a fake website that appears to be cobbled together by cloning from various genuine trucking companies in the USA. In addition, other listings have been spotted that link to fake dealer websites.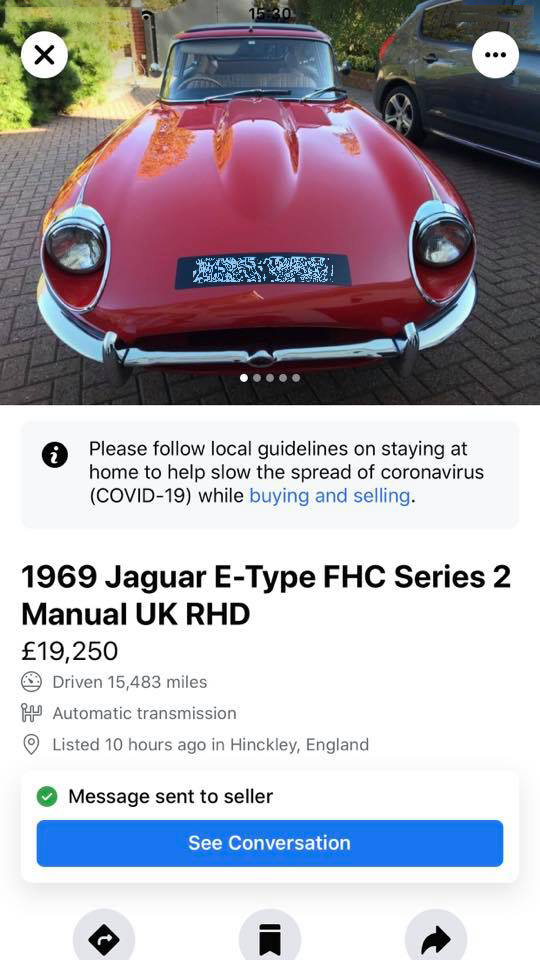 Busting vehicle scammers
Attempts to remove fraudulent listings have been going on for several years. We spoke to expert 'Jack Buster', who has spent most of his career working in financial services in the UK, Japan and Switzerland. In April 2013 he started scam busting – getting fraudulent vehicle listings removed from eBay UK and Gumtree UK – and in July 2015 he became involved shutting down the bank accounts of organised crime gangs. He has also founded ActionScam to recover money for scam victims, which has a five-year track record of success, including a 100 per cent rate last year.
ActionScam has helped raised awareness of the issue via its Facebook group 'eBay vehicle scams alerts', which was set up in January 2016 and now has 7800 members and succeeds in getting listings taken down as quickly as possible. More recently, a similar group called 'Facebook vehicle scam alerts' has been set up to do the same job for Marketplace.
Fraudulent ads on Marketplace can be reported to Facebook, but in Jack's experience, they often stay up for several weeks and very rarely are they removed quickly. He told us that within a week would be faster than usual, and that, of course, is no good at all because a lot of financial damage can be done in a week – even in a day.
The most obvious tell-tale is the price. According to Jack, it's always much lower than it should be – 50 per cent of market value is the norm, but often 30 per cent or even less. Also look for other signs, like listings in multiple areas. Jack claims the problem worsened in 2020, but that this has been offset to some degree by the Facebook groups, which have raised public awareness considerably and made more people alert to online vehicle scams.
The old adage clearly applies here; if it sounds too good to be true, then it probably is. Nevertheless, if you think you've seen a scam listing, report it – it's quick and easy, and that way you've done your bit. Together we could save fellow classic fans a lot of heartache.