Vauxhall's historic plant at Ellesmere Port in Cheshire is set to shed a further 250 jobs.
The second lay off announcement came from Groupe PSA boss Carlos Tavares, who axed 400 roles at Ellesmere Port last year.
Groupe PSA is trying to return Vauxhall and Opel to profitability; it concluded that job losses and shift reductions were the only way to achieve this. Groupe PSA has given Opel the task of reducing its costs by €1.1bn by 2020 without closing any existing plants, the Financial Times reported. Rumours persist, however, that Tavares wants to wind up Vauxhall production at Ellesmere Port for good, provoking sharp criticism from trade union Unite.
Before meeting Tavares last week to discuss the latest round of restructuring, Unite's boss Len McCluskey expressed his job loss frustrations on social media. 'I will make it crystal clear that if there is any attempt to close the plant, we will make sure [Groupe PSA's] market in the UK is finished for good,' he tweeted. Business Secretary Greg Clark was once again due to meet the Groupe PSA chief executive as Classic Car Buyer went to press.
As it stands, Vauxhall's Cheshire factory is committed to building the latest model of Astra (in Sport Tourer guise) until 2021. Groupe PSA assured Unite and Greg Clark last February, that Ellesmere Port would stay open until at least then. Those pledges were made pre-merger, and it's unclear if any cessation plans have been brought forward in the light of falling Vauxhall and Opel model sales. Ellesmere Port is currently operating on a single shift of car production.
Figures published by Automotive News Europe and the Society of Motor Manufacturers and Traders (SMMT) make for grim reading: Vauxhall's passenger car sales fell 22 percent to 195,137 last year, and Opel's output fared little better. It shifted 243,715 units over the same period.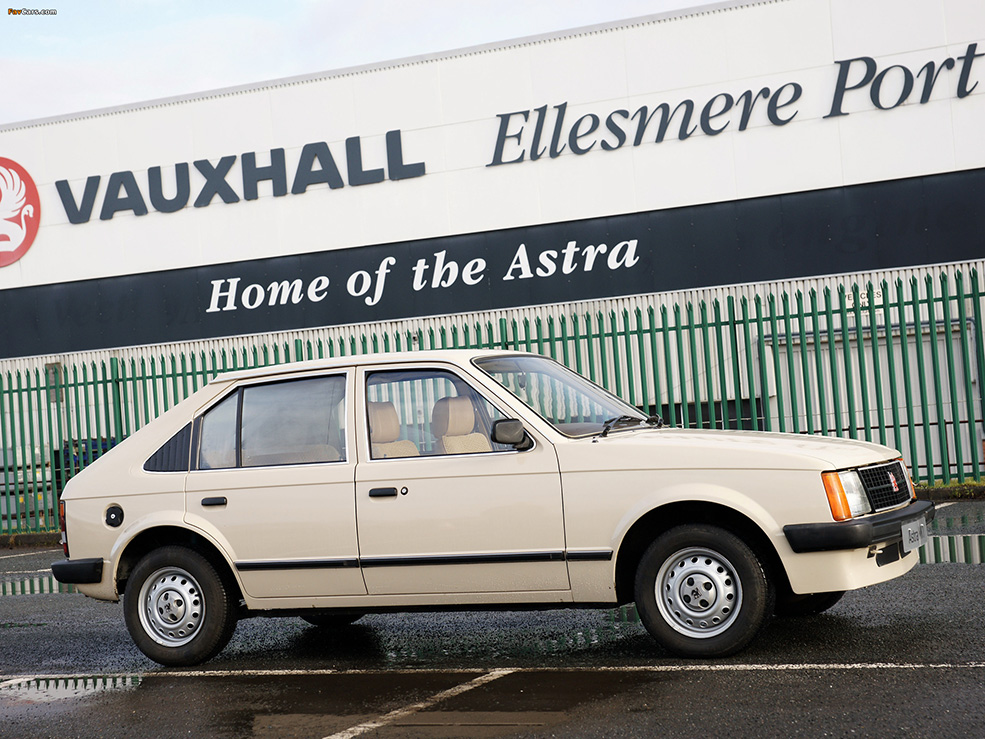 CHANGING FORTUNES
The French giant bought General Motors Europe (Vauxhall and Opel ) in August 2017, acquiring Vauxhall's Ellesmere Port and Luton factories as part of the merger. Industry experts have long speculated that Luton – thanks to specialist full-height van and emergency vehicle assembly centres on long contracts – will survive whatever Groupe PSA has planned long term. Vauxhall's heritage collection is also located at Luton; due to its historical significance and tiny budget constraints, it's assumed the current round of factory restructuring poses no threat to the historic collection of Griffins.
Ellesmere Port is known for triumphing against adversity. In the late Seventies, rumours persisted the Chevette was to be Cheshire's last Vauxhall. By late 1981, the tables had turned; instead of receiving Griffin-badged Astras from Germany, all but a few specific versions of the new car rolled out of Ellesmere Port's doors instead.
In 2012, unions feared the contract to build the (now current) Astra would go to Opel's Bochum facility in Germany. Ellesmere Port won the productivity audit – in a day, the former produced 47 cars an hour over two shifts. The latter took three shifts a day to make 17 fewer cars.
SENT TO COVENTRY ?
As the future of Ellesmere Port remains uncertain, pundits are calling for Jaguar Land Rover (JLR) to consider purchasing it. 'PSA has excess capacity and JLR the opposite,' argued Automotive News Europe's correspondent Nick Gibbs. JLR operates a large facility in nearby Halewood, Merseyside. The possibility of switching Astra production to an Opel factory in Gliwice, Poland after 2021 would be 'politically explosive,' Gibbs warned. 'Selling [Ellesmere Port] to JLR would please both the government and the unions. The Tata Motors-owned company posted record sales for 2017 and its three UK assembly plants are bursting at the seams with more new models on the way,' Gibbs concluded.