A unique classic stash of over 150 classic cars are to go under the hammer early next month with HJ Pugh and Sons.
RS Escorts, very early Ford Capris and a lowlight Morris Minor will be among the lots as a remarkable collection of rare classics is auctioned early next month. Gathered over many years, the one-off sale will see more than 150 projects, spares vehicles and running cars put under the hammer, the majority without reserve.
There are currently 218 lots in all, comprising the cars, tractors, farm vehicles, motorcycles, workshop equipment and a host of spares including A-Series and Ford engines, subframes and axles, body panels, wheels, interior trim and much more besides. It's all from the same collection, owned by enthusiast Mike Hill and his father. The pair have now reached the stage where they want to free up some space and move on to a different venture. An auction was deemed the best way to do this, with HJ Pugh and Sons set to manage the sale at the collection's location near Evesham in Worcestershire.
Some of the vehicles are without keys and/or documents, while others are probably only fit for spares or very brave restoration. Nevertheless, there are some alluring projects. BL products including a trio of Allegros, several Marinas (one a pick-up), various Mini and at least four open-top MGs, while a pair of Series 2A Land Rovers join five Range Rovers, headlined by an early Suffix A.
Rewinding further back, you'll find several Austins such as an A40, an A70, a J40 pedal car and no fewer than four A30s, while the quota of Jaguars contains a Mk2, a MK9 and Series 1 XJ6. Other Brits include a couples of Singers, a Bedford HA Camper and several '70s Vauxhalls, but there are plenty of cars from overseas too. A couple of Peugeot 504s join a 104, while Citroën is represented by an early CX, a Mk1 GS and a Visa. As if that wasn't enough, a sporty Italian in the shape of a Fiat 124 coupe is joined by a 132 and a rare Autobianchi. You'll even find a pair of Daf 66s.
It's Fords that really major though, with Escorts, Capris and Cortinas aplenty. Two of the Capris are 1969 cars, with an imported 1300 V4 model joining a February-registered 1600. Meanwhile, an engine-less Escort RS 1800 project is joined by genuine Mk1 RS1600 in excellent shape, while other MoT'd cars include a split-screen Minor, a Rover P6 V9 and a Triumph GT6. It's an astonishingly varied collection.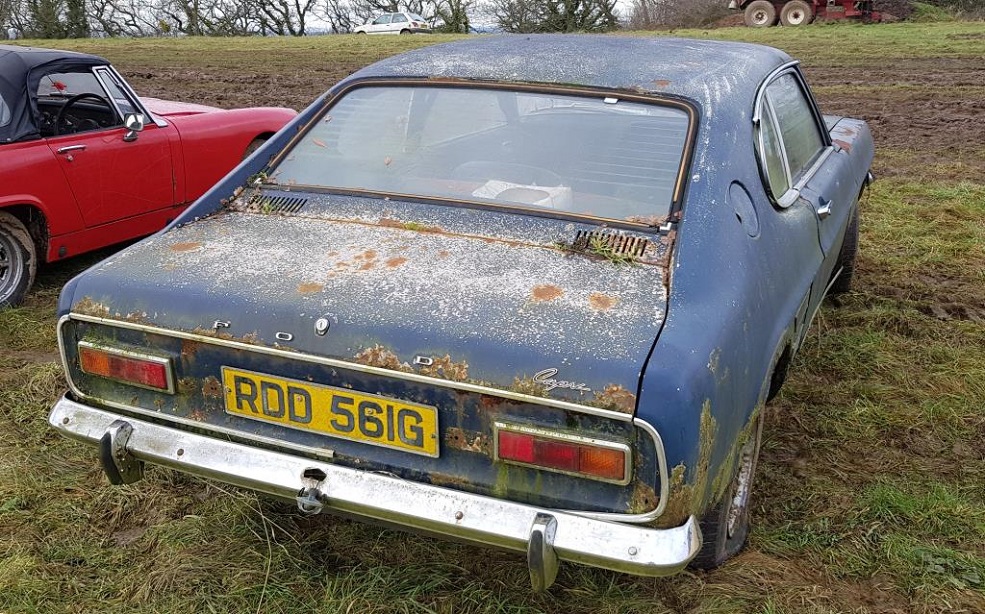 HJ Pugh's Henry Biss said: "As a firm we are very excited to be conducting the sale – it's not every day you get the opportunity to auction off over 150 different makes and models. We have already had great interest from all over the country and Europe, the Fords particularly.  There are some very tidy fully-restored examples, which should fetch some exciting prices."
The sale takes places on March 7 at 10am, with viewing beforehand from 8am and on Friday 6 between 11am-4pm. Live and online bidding will take place. For further details, see www.hjpugh.com or call 01531 621122.