Want to see and be seen with brighter, safer modern lighting on your classic? Then 4Sight can sort you out. CW's Paul Wager discovers more…
One of the first questions I tend to ask people when interviewing them about their business was how they got into the classic car world in the first place and in the case of Gil Keane, the man behind the 4Sight Lighting Co, the innocuous question set both of us reminiscing about the '80s and the boom in tuning, styling, audio and car security.
The short answer to the question is that having always had an interest in cars and electronics, Gil moved sideways from a job in telecoms installations into the then-new world of telephone answering machines and subsequently realised that the Ford and Vauxhall company car-driving reps were getting such poor service from the main dealers that it wouldn't be hard to better it. Together with a friend he set up
 a part-time fleet management business which turned out to be such a success that he ended up quitting the day job to take it full time.
The business prospered and in due course Gil found the demand for sunroofs and then early car phones, audio and car security growing. At one time in the '80s the UK was the car crime hot spot of Europe and car alarms were big business.
Gil's company – by then trading as Quicksilver after their modified Metro of the same name which was featured in Cars and Car Conversions – was kept busy with an army of fitters installing alarms but that early '80s kit was less than reliable.
With false alarms being the bane of the installer's life, Gil put considerable effort into researching the drawbacks of existing alarms, which eventually resulted in him developing and marketing his own range of products which went by the name of Venom – a brand familiar to any '80s and '90s hot hatch owner.
Meanwhile, as the '90s rolled over to the new century, Quicksilver found itself performing more and more high-end audio installations, many of which included ambient lighting which Gil soon found he had a knack for designing these, with early LEDs requiring much electronics knowledge in order to construct the drivers.
Seeing a gap in the market, Gil established the 4Sight Lighting Co a few years ago and has since transformed lighting for older cars.
The problem is very simple: 1950s and 1960s cars generally offer feeble lighting pretty much form stem to stern and fitting uprated bulbs is constrained by old wiring, dynamo generators and heat issues. The solution is equally simple: modern LEDs are now made
in kinds of colours, are usefully brighter than incandescent bulbs and consume a fraction of the power, producing very little heat.
It's not as simple as just wedging LEDs into your bulb holder though: Gil's researched the subject thoroughly and although 4Sight can provide pretty much any bulb you need in LED form, many of the firm's projects involve complex research and development. For example, Gil showed us a neat solution for the rear end of the Jaguar XK120, which flashes orange as an indicator and glows red for the tail light, then brighter red for a brake light. It all fits inside the standard housing, can be removed if required and takes a fraction of the current of the rather dim original bulbs.
A similar approach is adopted for an elegant solution allowing classic Mustangs to meet European approval, with three LED strips mounted on a matching backplate complete with waterproof seal which mates perfectly to the original lens. The units glow red, bright red and flashing orange with an option to have a neat directional strobing effect for the turn signals.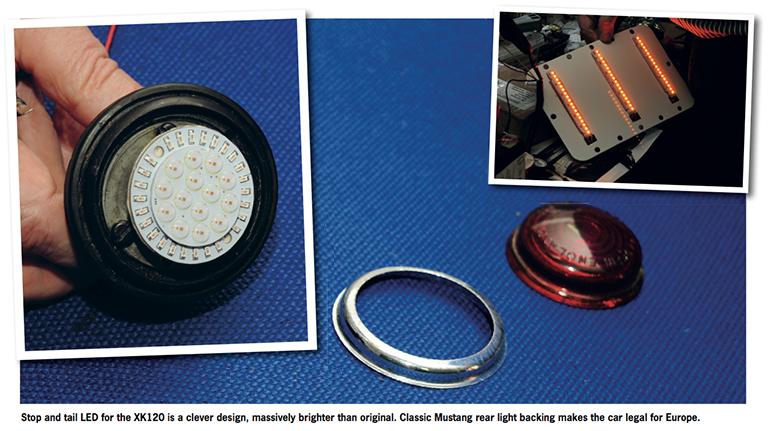 That's just the tip of the iceberg: 4Sight's HQ
is crammed with projects of all kinds currently in development. Those already on the market include elegant daytime running lights for older cars, plus the discreet LED Mini Lights which can be mounted almost anywhere unobtrusive interior lighting is needed, to tiny rocker switches specially made for 4Sight to control LED glovebox lights and similar, plus a neat pull switch with matching crackle-finish bracket and the firm's specially-made flasher cans for LED lights. Your regular flasher can won't be triggered by the tiny current from LED lights, but modern electronic units look out of place in an old car. Gil's solution is to have appropriate-looking cases manufactured with modern internals.
With the science of LEDs constantly evolving, 4Sight works with large suppliers to develop its products and it's amazing to see the solutions which Gil has created which wouldn't have been possible just a year ago.
Gil's enthusiasm for the subject is infectious and I couldn't resist leaving with a pocket full of dash bulbs for my own Alfa Spider, plus our 1988 VW Caravelle company project.
Needless to say, the results were incredible and on both vehicles I can now see how fast I'm travelling at night for the first time in literally years.
That's just the tip of the iceberg though and if your classic needs better lighting – whether it's headlights, instruments or just the interior lights – then Gil's bound to have something up his sleeve to transform it.
For more info see 4Sight