The Rootes Archive Centre at Wroxton, near Banbury, was officially opened on April 22 in a ceremony attended by Rootes family members and former Rootes works driver Rosemary Smith.
A speech was given by Lord Nicholas Rootes, the grandson of joint- founder William Rootes, and the opening ceremony was conducted by the Lord Rootes cousin, the Revd William Rootes.
The ceremony was also attended by more than 100 Rootes car owners and their vehicles, including a Sunbeam Tiger-owning couple who'd flown over from America. Cars on display covered the whole range of Rootes marques, and there was also a good turnout of Commer commercial vehicles.
The Archive Centre is the culmination of 14 years hard work by a small band of enthusiasts, backed by the Association of Rootes Car Clubs and individual Rootes car clubs. It all started in 2004 when the ARCC was alerted to the imminent disposal of more than 150,000 engineering drawings stored at the former Engineering Department in Humber Road, Coventry, which was then being cleared. This covered everything from the early sixties to the end of the Chrysler era – including earlier parts which were modified post-1960 – therefore a precious archive in its own right, and vital to future preservation of Rootes vehicles.
The collection had a somewhat nomadic existence following acquisition, but eventually it was decided that the best way of assuring the collection's long-term survival while also allowing access was to buy a freehold building. An appeal was launched – with a donation from Peter James Insurance – in 2015, to raise £185,000 to buy and equip the building, with suitable premises being found on a new office park development at a former ironstone quarry near Banbury.
The purchase price was raised within two years, with the bulk coming as gifts from clubs and interested individuals and the remainder being loaned by supportive parties. The Trust took possession in October 2017 and began the internal fit-out.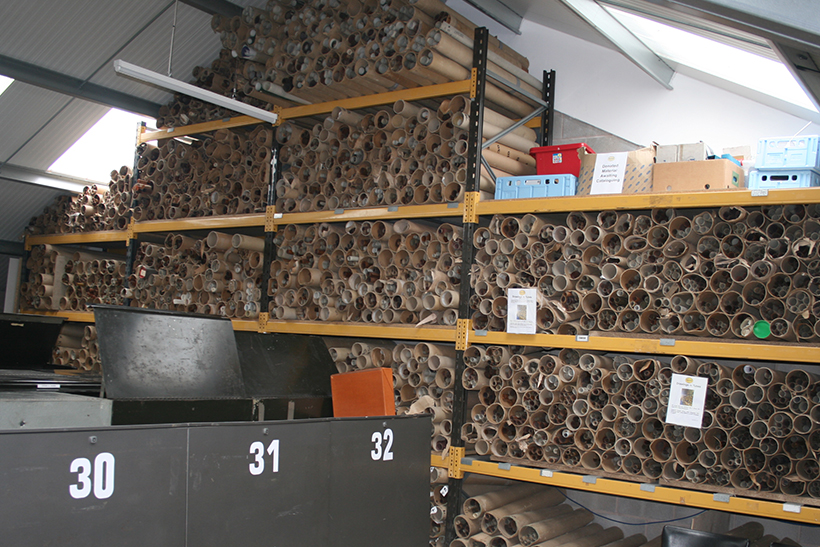 Owning its own Archive Centre really is an amazing achievement for clubs representing a long-defunct manufacturer with a relatively small enthusiast base, and the Heritage Trust Trustees deserve massive credit for what they have put together here for future generations.
The centre will now be available to enthusiasts and researchers as well as those engaged in parts remanufacture – something that's likely to become ever-more important in the future. It will also provide a 'registered office' for clubs as well as a venue for club committee meetings. We understand the facilities will also be made available to motoring journalists.
To find out more about the Archive Centre, log on to Rootes Archive Centre. Though they now own the building, around £60,000 worth of loans is still outstanding, and the trust's fund-raising activities are continuing.