Rolls-Royce has entered the electric age with the Spectre, supposedly fulfilling the wishes of  original co-founder Charles Rolls
This is the new Rolls-Royce Spectre, an all-electric two-door luxury coupe built on all-aluminium architecture and powered by a 430kW (577bhp) powertrain. It's available to order (or rather 'commission') now, priced somewhere between the Cullinan SUV and range-topping Phantom saloon. Deliveries are set to start in late 2023.
Rolls-Royce claims that the new car represents 'a prophecy fulfilled', citing the musings of co-founder Charles Rolls in 1900. At the time, early electric cars were already in use.
Charles Rolls owned such a car in period and had already begun envisioning a future where electric cars would be properly useful, as evidenced by a quote from 1900 referenced by modern-day Rolls-Royce in support of its new EV: "The electric car is perfectly noiseless and clean. There is no smell or vibration. They should become very useful when fixed charging stations can be arranged."
Development of the new Spectre was confirmed over 120 years later in September 2021 – and Charles Rolls would probably have a hard time getting his head around it now it has arrived. With 900Nm of torque on tap, the Sceptre is set to manage 0-60mph in 4.4 seconds and up to 323 miles from a single charge – a far cry from the electric cars of the early 20th century.
Rolls-Royce refers to the Spectre as an 'Ultra-Luxury Electric Super Coupe' with 'indulgent proportions' – 5453mm long, 2080mm wide and 1559mm tall, to be precise. The car's design is something of a distillation of modern Rolls-Royce styling cues, with a focus on aerodynamic efficiency. The brand claims its lowest-ever drag co-efficient of 0.25cd, while even the iconic Spirit of Ecstasy has been 'aero-tuned' in an 830-hour process of modelling and wind-tunnel testing.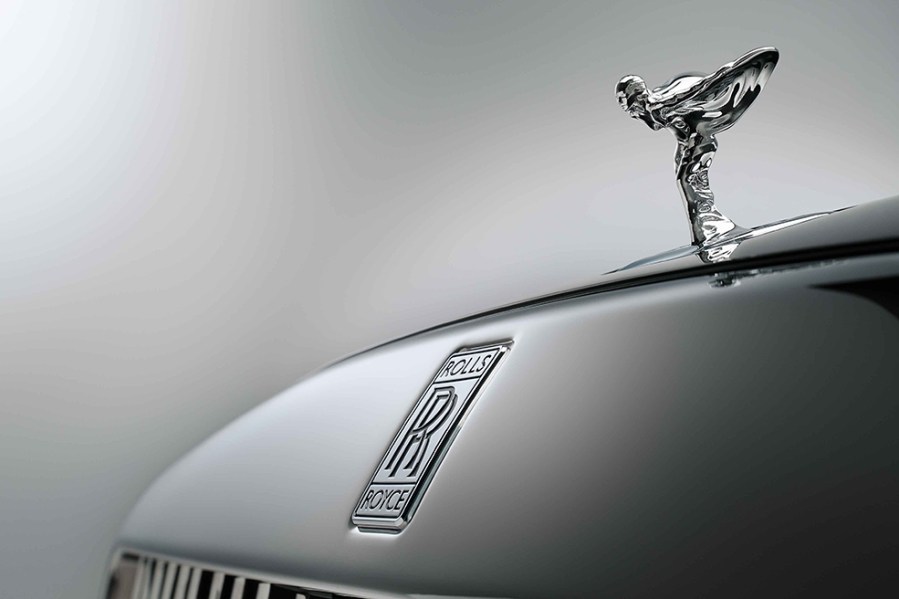 There's more style evolution inside, where the cabin doesn't stray too far from the rest of the current Rolls-Royce range. Key features include new 'Starlight Doors' incorporating 4796 illuminated elements alongside similar arrangements on the facia and headlining.
Rolls-Royce claims that the Spectre is its stiffest car yet thanks to a revised version of its aluminium spaceframe architecture. Despite that material's weight-saving properties, however, the Spectre tips the scales at just under three tonnes, with a large proportion of that accounted for by its battery. Rolls-Royce playfully suggests that the battery 'realises a secondary function' as 'almost 700kg of sound deadening'.
Despite its considerable weight, the Spectre aims to live up to Rolls-Royce's 'magic carpet ride' reputation with an evolution of Rolls-Royce's sophisticated Planar suspension system, incorporating anti-roll bars that can be decoupled to further isolate occupants from road undulations. The system is also active and can stiffen the suspension in corners to minimise roll. 'The result is effortless control', Rolls-Royce claims.
"This is the start of a bold new chapter for our marque, our extraordinary clients and the luxury industry," stated Torsten Müller-Ötvös, Rolls-Royce Motor Cars CEO. "For this reason, I believe Spectre is the most perfect product that Rolls-Royce has ever produced."