Classics World's Paul Bussey test drives and reviews the MINI 1275 GT Clubman
The term iconic is used nowadays to describe a whole plethora of cars, some of which arguably haven't quite earned that status. But the Mini, without question, thoroughly deserves the accolade.
A small team led by Sir Alec Issigonis designed and built the first prototype in 1957. This very small, economical car, powered by a transverse engine with front wheel drive and utilising rubber cone suspension that all helped to maximised space in order to accommodate four people, was introduced in 1959.
Time was of the essence, as the 1956 Suez crisis and associated fuel rationing had done no favours at all for large gas-guzzlers. A small car, thrifty on fuel, was urgently needed.
Indeed, it was the introduction of the Mini that effectively ended the era of the so-called 'bubblecars'. It was inexpensive to purchase, much more refined and with additional seating.
The design and production of the Mini resulted in Sir Alec Issigonis and BMC being awarded the prestigious Dewar Trophy in 1959.
The 1275 GT Clubman model was easily recognisable by its squarer frontal facelift, courtesy of stylist Roy Haynes. The Clubman was produced from 1969-1980 and over the years was powered by 998cc, 1098cc and 1275cc engines.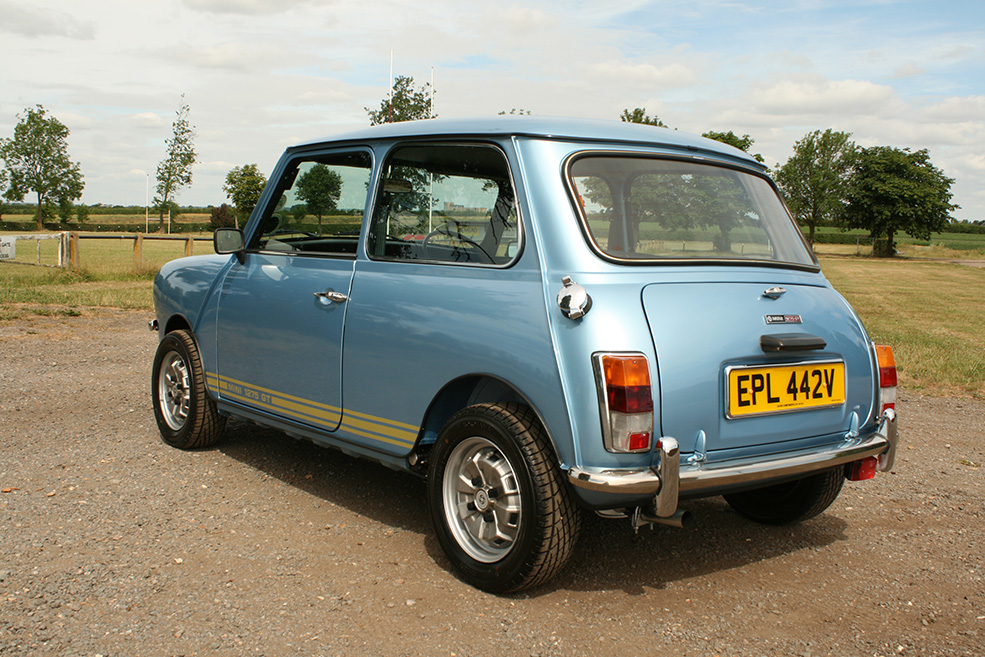 EXTERIOR AND INTERIOR
Our Mini 1275 GT was the subject of a major restoration with the intention of exhibiting at Show 'n' Shine events. It received a second in class award at the 2017 London to Brighton Mini Run.
The rebuild included new front and rear sub-frames that were powder coated. The body was stripped back to its bare shell then repainted inside and out, so the underside is finished in body colour and is ultra clean.
The body and high gloss paintwork are in superb condition, with just one or two tiny imperfections.
Interestingly, the rear bumper is NOS stainless steel while the front is chrome, with both in mint condition. The Monza style flip-up fuel filler cap is a nice finishing touch.
Originally the interior of the 1275 GT would have been trimmed with cloth seats, but this car features the later Black Pebble vinyl covers, which were new at the time of restoration and remain undamaged. The dashboard crashpad and facia has also been retrimmed, incorporating red stitching, with a non-standard black vinyl trim and a red stitched square pattern at the rear of the dashboard. There are new carpets, headlining and doorcards.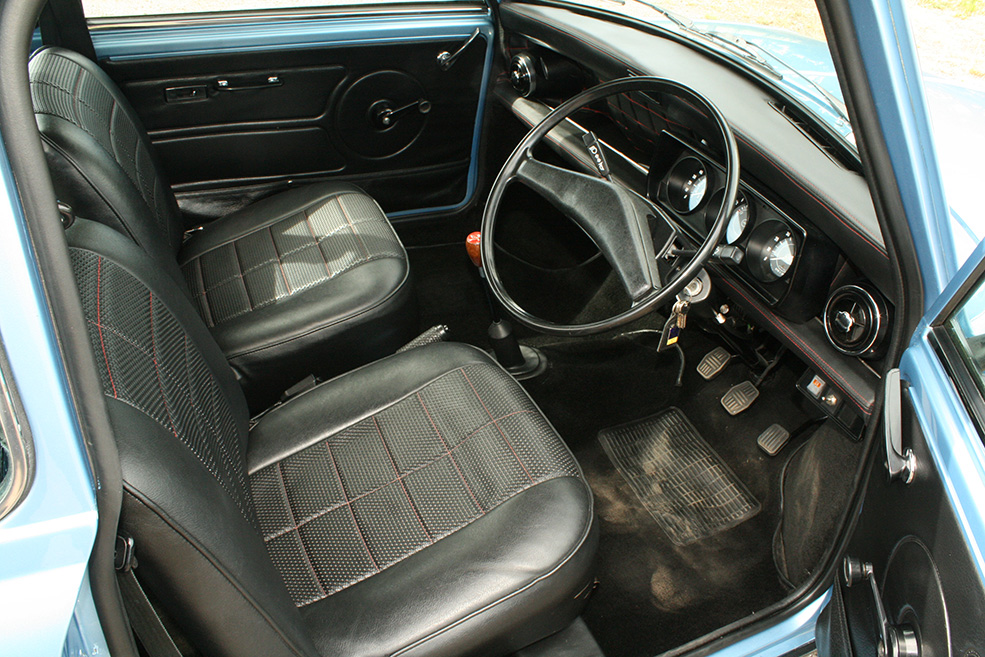 ON THE ROAD
With a wheel placed at each corner and go kart-like handling, Minis are huge fun to drive and the sensation can easily become addictive. There's a sense of urgency as you floor the accelerator pedal.
This Mini definitely offers a brisk performance. Gear selection is super light and swift, though the bush at the base of the shifter could probably do with replacing, just to tighten the action up a smidge.
The 1275 GT was the first Mini to be fitted with a rev counter. It's easy to see the appeal of this car, as superb roadholding coupled with delightful responsive steering and a lively little motor all add to the feelgood factor.
The only negative aspect is that the ride does get a tad harsh and bumpy over poorly surfaced roads – speed reduction humps are to be negotiated with great care.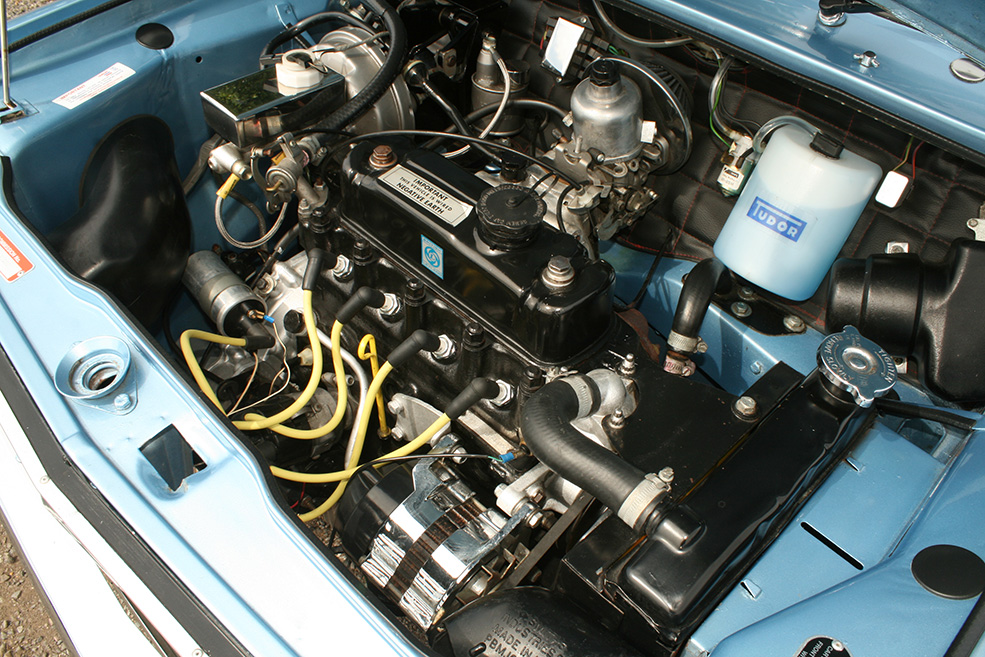 VERDICT
There's no doubt this Mini is stunningly presented and seriously clean and tidy throughout, with an impressively detailed engine and bay and a re-trimmed interior.
The original engine has received a top end rebuild, which includes the cylinder head being converted to run on unleaded fuel. Other upgrades include servo-assisted brakes, an RC40 exhaust system and a set of new 165-60/R12 Yokohama tyres.
This 1275 GT was built as a show car and, paradoxically, it could be deemed sacrilege to drive it in the rain, as it is currently spotless.
It's an extremely attractive example and eye-catching in pale blue metallic paintwork.
If you have a penchant for Minis, are into the Show 'n' Shine scene and hope to win awards, this could be the car for you.
TECH SPEC
ENGINE: 1275cc
POWER: 54bhp
TOP SPEED: 91mph
0-60mph: 13.8 secs
ECONOMY: 37.3mpg
GEARBOX: 4-spd man