Classics World's Paul Bussey test drives and reviews the MGB GT…
The humble and ubiquitous MGB GT needs almost no introduction, as most enthusiasts will be only too aware of its tremendous success, in bringing sports car motoring to the masses at an affordable cost, both to purchase and run. Altogether 512,112 GTs and Roadsters were built spanning a production of 18 years, with a huge number being sold in America. The MGB was the first MG to utilise monocoque construction and Sydney Enver started designing a replacement for the MGA as far back as 1959.
Another of the MGBs creator's John Thornley, favoured styling that was inspired by the Aston Martin DB2/4. It was officially introduced on September 20th 1962 and was available solely as a Roadster, with the GT coupe arriving in September 1965. The MGB underwent a number of facelifts during its production, eventually being powered by a V8 engine, but never lost sight of its original concept and nowadays remains one of the best supported classic cars of them all for spares backup, specialists and clubs.
Our tried and tested MGB GT represents an older restoration that incorporates fitment of a replacement Heritage bodyshell in 2004. This was painted in Trophy Blue metallic, not an original period MGB colour, but still a genuine MG colour, as used on the later TF, ZR models and in bright sunlight , it's very striking. The doors could perhaps benefit from some further fine fettling for that perfect fit. On close scrutiny, there's evidence of some paintwork imperfections, mainly a little sinkage here and there, but nothing too detrimental. The metal side window trim mouldings are lightly patinated, as is the front bumper, but the rear one remains shiny and virtually unmarked. This GT sits on chrome Rostyle wheels, which makes a change from wires and they are in reasonably good condition. It also features a stainless steel fuel tank
The interior features seats trimmed in black vinyl, with black cloth centre sections, which aren't original, but they do blend in reasonably well, with the navy blue doorcards and carpet, that remain in good condition. However, the foam in the seat squabs is rather tired and really needs renewing. The rest of the interior is pretty well preserved, with hardly a mark on the black crinkle finish dashboard.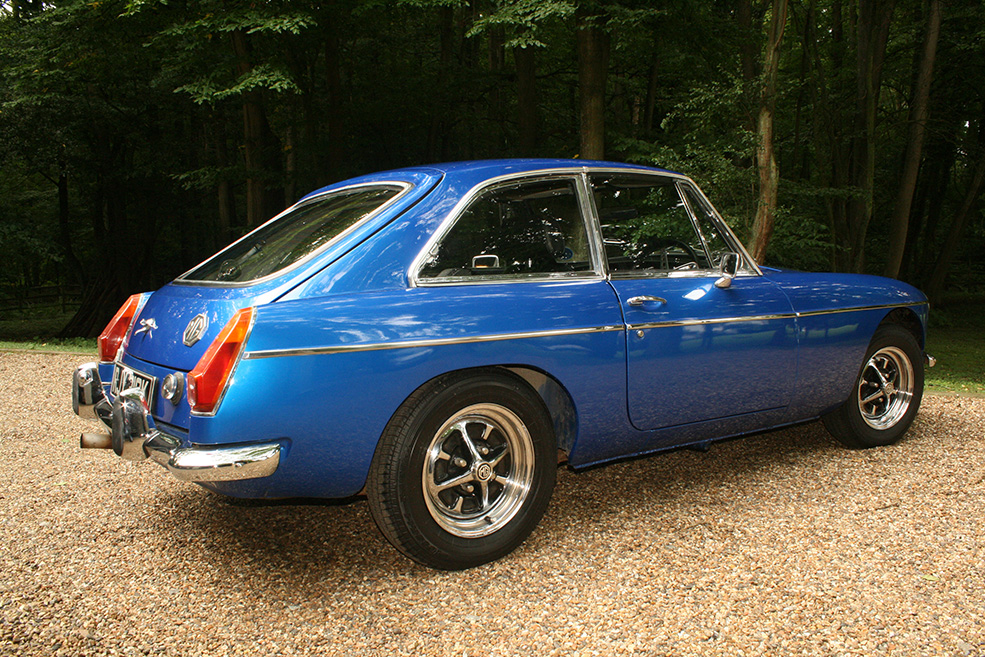 ON THE ROAD
This GT's engine was rebuilt sometime ago, with the cylinder head converted to run on unleaded fuel. It pulled well and showed a healthy oil pressure of 60psi. Having an overdrive fitted is always a welcome option, to enhance longer legged cruising and this worked perfectly, engaging nice and smoothly. The car felt taut, there were no undue rattles or squeaks cruising steadily at 60mph and while the steering is a tad heavy at slow speeds, the large original steering wheel has been retained, which aids deft positive road positioning. With the gearshift having a shortish throw, you can snick though the gears with ease.
The combination of discs at the front and drums to the rear, offered quite adequate retardation qualities. Our test drive took in some delightful rural country roads, with plenty of twists, turns and gradients, where the GT felt wonderfully at home. Floor the accelerator and that distinctive exhaust note, that could only ever be MGB is ever present. This car may be 45 years old, but it's still perfectly capable of keeping up to speed with modern day traffic flow. It's no wonder that MGB still remains very much sought after. Fun sports car motoring guaranteed!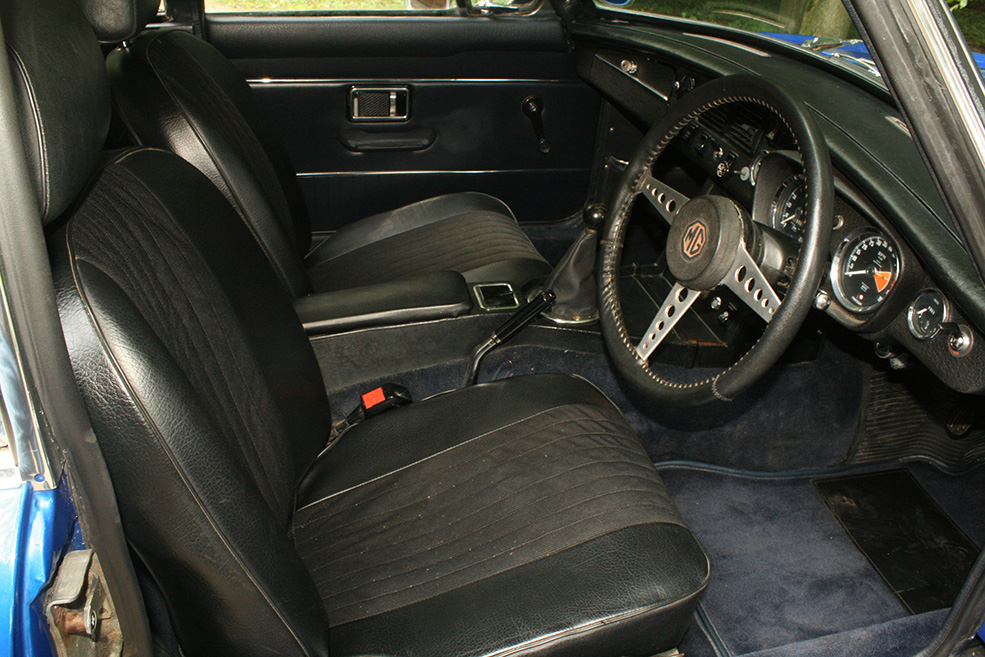 VERDICT
On paper, this MGB GT looks to be a good bet, especially with its replacement Heritage bodyshell, which nowadays would set you back around £11,250. Documentation includes details of maintenance work completed and replacement parts fitted over the years. There are photographs showing the shell returning from the paint shop and others with the front and rear suspension assemblies, all stripped down and repainted, ready for fitting.
This is a car that's been driven extensively and enjoyed. It's not perfect, but one that could be driven on a regular basis with gay abandon, not being too precious about when and where, or if it's raining! Further cosmetic detailing of the engine bay, would of course enhance its overall demeanour, but it's a tidy car nevertheless and much less than half the price of a concours example. If you're on a tight budget, this is a most suitable entry level GT and if you favour striking vivid colours, Trophy Blue is a surefire winner!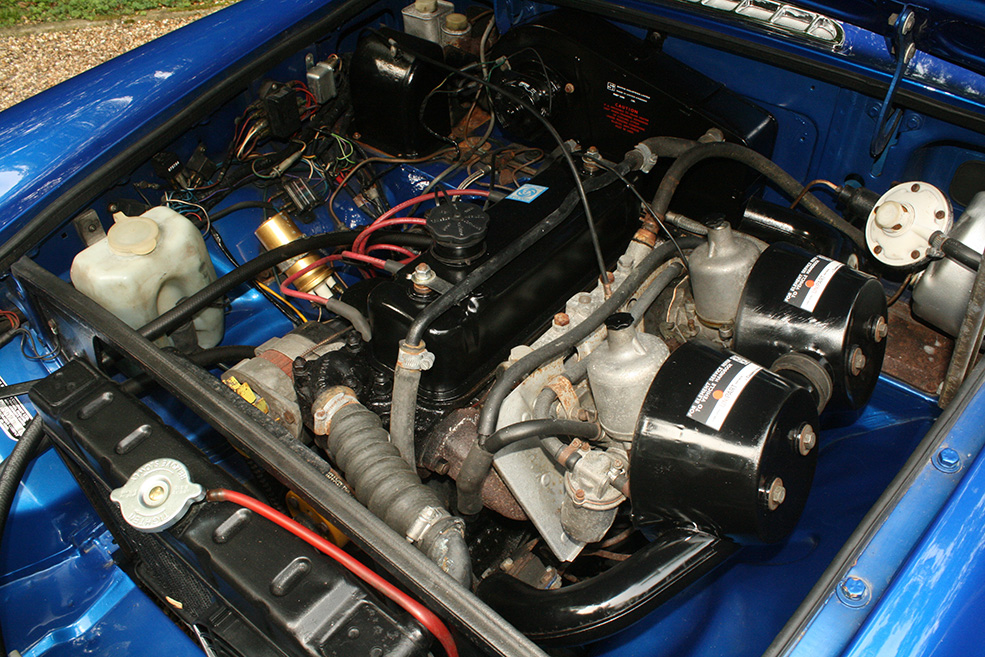 TECH SPEC
Engine: 1798cc
Power: 91bhp@5400rpm
Top Speed: 105mph
0-60mph: 10 secs
Economy: 27.1mpg
Gearbox: Four-speed manual plus overdrive