Classics World's Rob Hawkins test drives and reviews the Austin Healey Frogeye Sprite…
At the point of manoeuvring my left leg around the underside of the steering wheel, I sink into the driver's low-back bucket seat, then allow my right leg to follow. My feet are lost inside the long footwell, and the offset steering wheel is close to my chest. Surprisingly, what appears to be a small sports car from the outside, offers just as much room as a Mazda MX-5 on the inside. The main differences being a lack of modern equipment. The windows for the doors are made of perspex for example and they don't wind down, only slide. There are no door locks and there's no opening boot (access is from inside). Remember that when the Frogeye was launched in 1958, it was designed as a no-frills sports car with a price tag that matched a Morris Minor!
Such a basic level of equipment doesn't really matter, especially when I turn on the ignition and pull out the starter knob. The 1275cc A-series engine up front takes a few turns to fire into life and is kept going with a single snarling and snorting side-draught Weber carburetor. The throttle pedal seemingly needs a little feathering at first to keep the engine running, so I try to keep the revs high, then select first gear and get moving. This is when the fun really begins. This Frogeye would have originally been powered by a less lively 43bhp 948cc A-series, so the extra 327ccs and the Weber carburettor are producing an estimated 65-70bhp at the flywheel, which is beneficial in a car that weighs around the same as a classic Mini (approximately 650kg). The engine feels lively and the acceleration it offers is exhilarating thanks to the lack of refinement the Frogeye has to offer. I'm quickly grabbing for second gear and the fun begins all over again, before repeating the process in third and fourth gear to comfortably reach 50-60mph with ease.
This Frogeye would have had drum brakes all round, but this particular car has been upgraded at the front with disc brakes from the later Sprite or MG Midget. The brakes are sharp and responsive, despite having no servo assistance. This was particularly reassuring when I approached a tight corner and realised I was unfamiliar with the car's handling. I needn't have worried. Frogeyes were known for their impeccable handling and were consequently used in motorsport. Despite the car was a parts-bin design, sharing components from the Austin A35 and Morris Minor, its coil-sprung front suspension and quarter-elliptic leaf-sprung rear proved to be a success and was continued throughout the life of the Sprite and Midget.
So I manage to negotiate the corner at a much slower speed than necessary, realising this rear-wheel drive sports car is not only more capable than I think it is, but also very easy to get to grips with. The feedback from the suspension and steering keeps you constantly in contact with the road conditions. It's nothing short of an exhilarating workout without having to move any muscles.
As I approach the point on my test drive when it's time to turn around and head back to the workshops and showroom at the Classic and Sports Car Centre, I sense there's a problem with the engine. It starts to splutter and hesitate. With the Weber carburettor fitted directly over the exhaust manifold, fuel evaporation springs to mind, but it could be the points gap in the distributor closing up. Or maybe this engine is more tuned than I realise and it needs to be driven flat out? Then the engine dies, but I manage to restart it, yet I can't get moving beyond walking pace. I pull over and call for help. The fuel gauge is reading full, but I notice the needle flicks quickly to beyond maximum when the ignition is switched on. Maybe it is earthing out, so the rescue team bring a jerry can of fuel, pour it into the Frogeye's tank and guess what? The fuel gauge now reads just past empty. It's a clever warning that if the needle shoots past full, the tank is empty.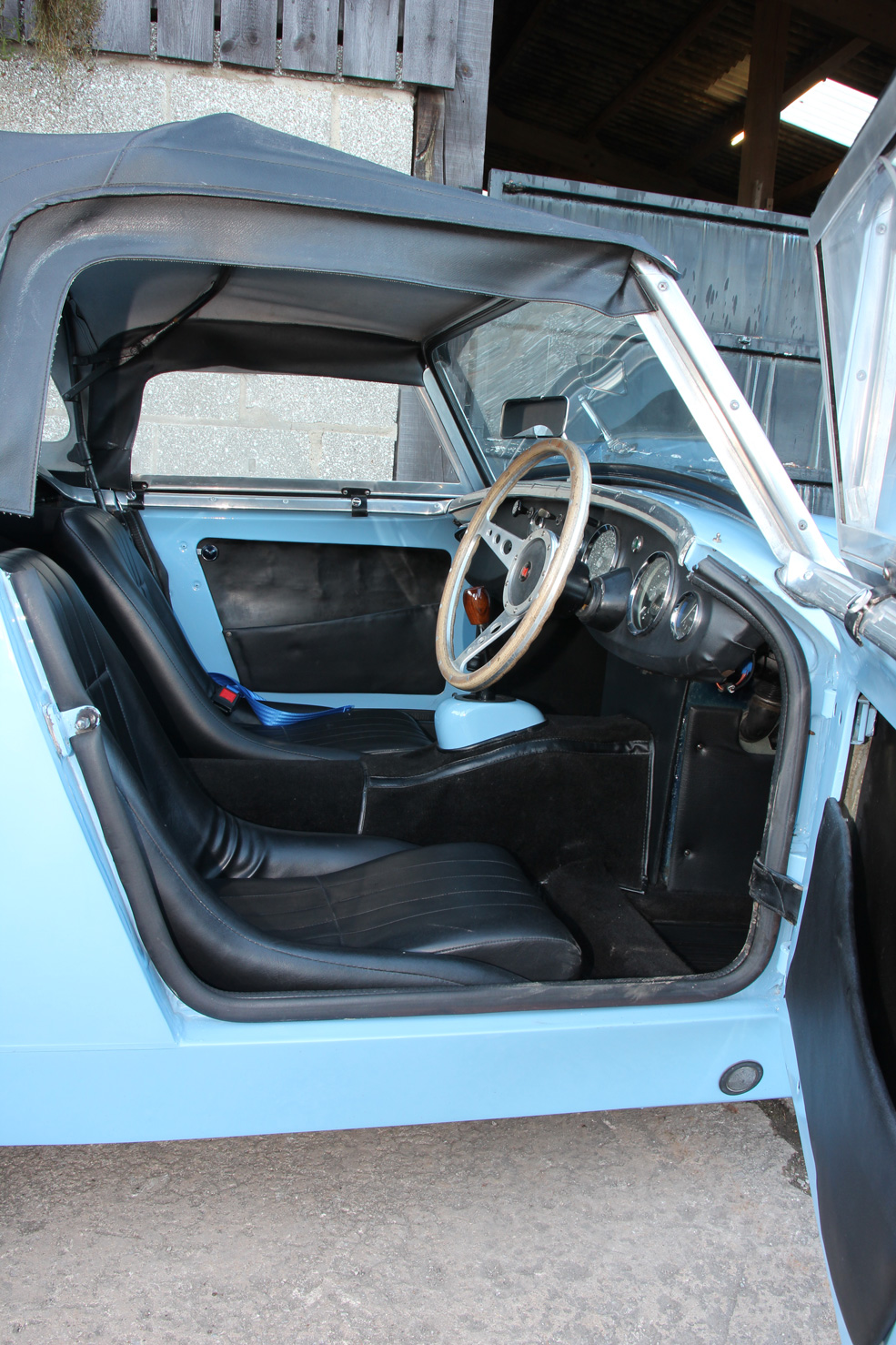 VERDICT
Returning to base, I have a little more time to reflect on this Frogeye. At £18,995, later Midgets and Sprites are cheaper, but they lack the desirability and looks of the Mk1 Sprite. This car isn't an original specification with its larger engine, disc brakes and Minilight-style alloy wheels, so it's cheaper than a more original- looking example (C&SCC have a restored, standard specification 1959 Frogeye for sale at £28,995). You could always of course hit up a Austin Healey and Sprite parts specialists for parts and return some parts to the original spec.
Fortunately, it has plenty of history, having been owned in the south of England between 1960 and 1976, then spending the rest of the time up north. There are plenty of receipts for overhauled or new parts, and C&SCC first sold the car in May 2015 when they took it in part-exchange for a Triumph TR6. Typical of many of their customers, the car was recently returned to be part-exchanged for another classic.
If you want an original Frogeye, then this car isn't for you, but if you want one with period modifications that doesn't spoil the fun, then this one is worth considering.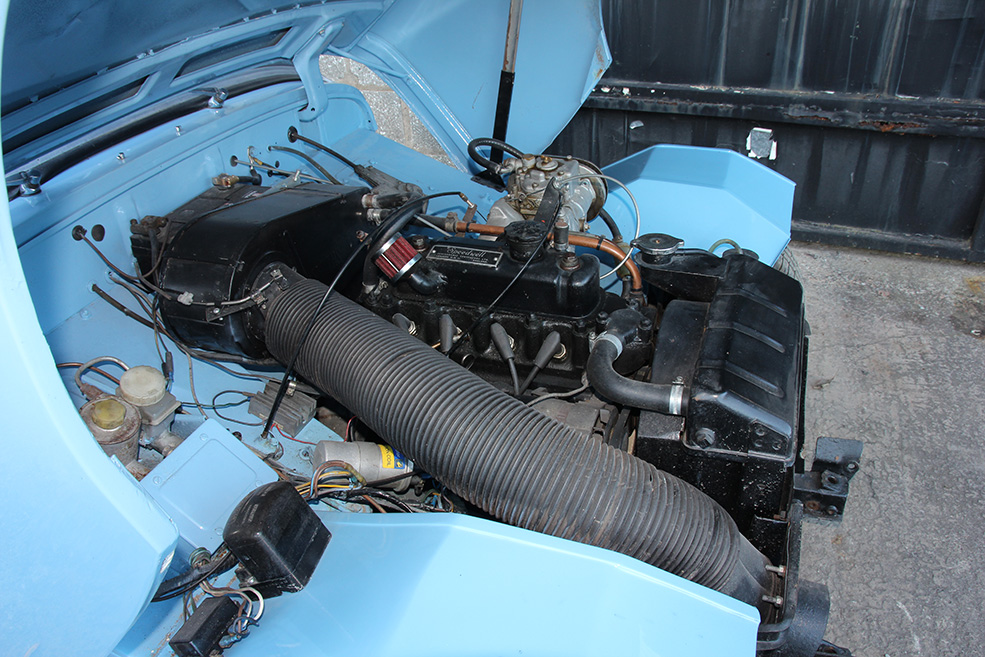 Tech Spec
ENGINE: 1275cc
POWER: 65-70bhp (estimated)
GEARBOX: 4-sp manual
BRAKES: Disc/Drum