Classics World's Paul Bussey test drives and reviews the 2003 Morgan 4/4 Runabout…
Morgan's venerable 4/4 two-seater model was originally introduced back in 1936, it debuted at the London Motor Show held at Olympia. First designated the 4-4 and later the 4/4, which of course refers to the fact that the model has four-wheels and a four-cylinder engine, production was halted during WW2 and between 1951-1955. Since then, the model has been in continuous demand, resulting in the 4/4 being the longest running production vehicle in the world!
Power plants have come and gone over the years, commencing with a Coventry Climax, followed by Standard and then the Blue oval stable Ford engine dominating for many years, though a Fiat Twin-cam was used between 1981-1983. Current production cars use the Ford Sigma 1595cc engine. The 'Runabout' model goes back as far as 1912 and, more recently, in 2003 a 4/4 'Runabout' was offered for one year only. It was a bargain basement model with absolutely no frills, not that you got a tremendous amount of 'bells and whistles' on Morgan anyway and the term 'fully optioned' is reasonably limited!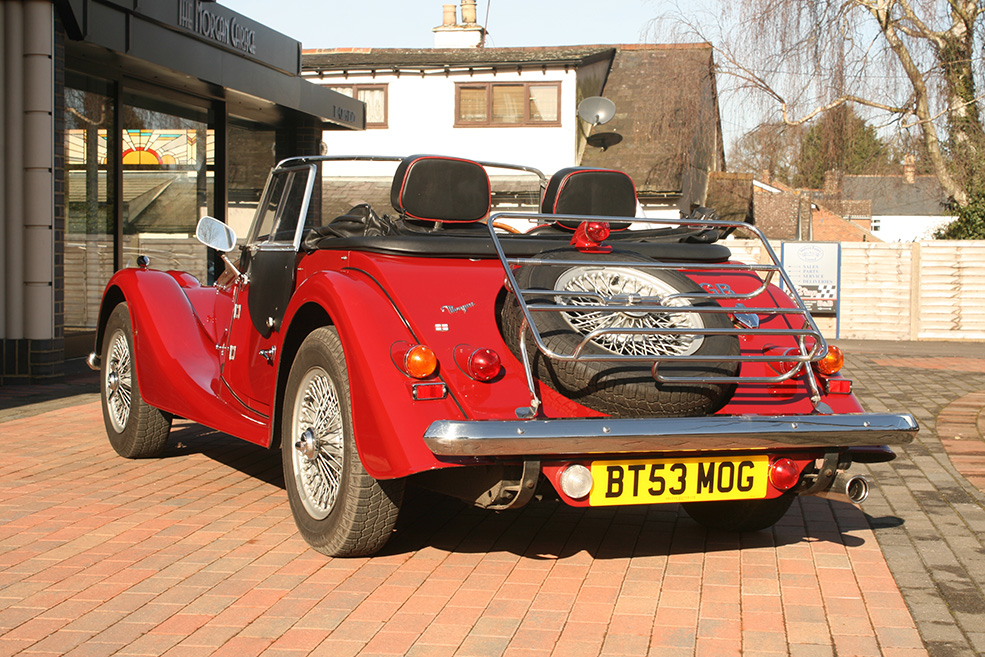 CONDITION
Our tried and tested Morgan 4/4 Runabout (originally supplied by Berrybrook in Devon) may be 15 years old, but the condition that it's in would suggest it was only a few years old. The 2003 Runabout was only ever offered in three colours and this example is finished in Regal Red, a dark rich colour that's very easy on the eye. Very close scrutiny of the bodywork reveals only the odd minor miniscule imperfection and we are being extremely picky just to find them. The stainless steel bumpers are in an excellent state of preservation, with just a few small marks. The underside of the car is also very clean and tidy.
Originally, the interior would have featured vinyl, cloth faced seats (being a budget model) but a later owner has spent a considerable amount of time and money in upgrading the car to a much higher specification. The seats now boast full black leather covers which have been piped in red. Wear and tear is again absolutely miniscule. There's a walnut veneer dashboard and the instruments are the rather attractive black needles on cream faced dials. There's also a modern radio and CD player. Creature comforts go as far as a heater! Protection from the elements is courtesy of a vinyl soft top, which is very quickly put up or down, that looks almost as good as new, plus a tonneau cover and the side screens have their own protective bag. Accessories include a useful stainless steel luggage rack.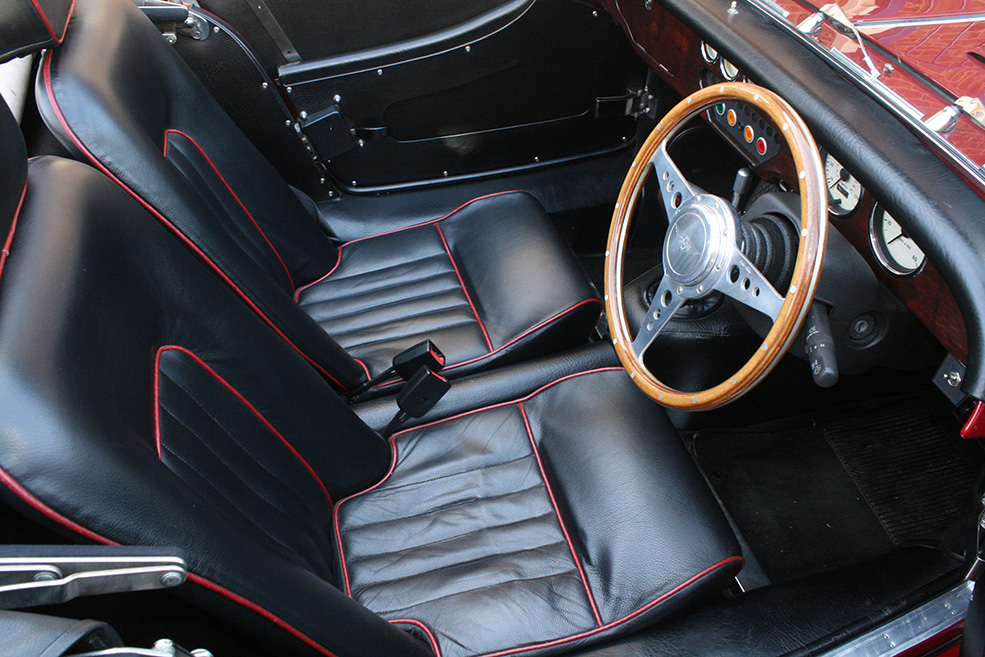 TEST DRIVE
The cockpit of the 4/4 is cosy and inviting; it's a freezing cold February day, but there are gin clear blue skies and the sun is shining brightly so we brave the elements and test drive with the soft top stowed away. The woodrim Moto-Lita steering wheel helps break-up an otherwise all black interior, wooden dashboard excepting. This 4/4 Runabout is powered by a 1.8-litre Zetec engine, coupled to a five-speed manual transmission. As soon as we pull away, that bouncy ride from the sliding pillar front suspension set-up becomes noticeable, being an inherent feature; one you soon become accustomed to.
The 1.8-litre Zetec engine is a wonderful powerplant that offers a really smooth delivery of power. The gear shift is extremely light and effortless and as user friendly as any box you will ever come across. This, coupled with superbly good brakes and delightfully precise steering, all add up to a really enjoyable driving experience. Here we have a Morgan with all the inherent traits of the 4/4 model, but with that little bit of extra refinement. If you're not keen on sports cars that emit a raspy or raucous exhaust note, or can quickly tire of it, this Morgan will suit you perfectly; it's really quiet. While it may not have the masculine aggression of a Plus 8, there's no denying the huge fun factor and light agile handling qualities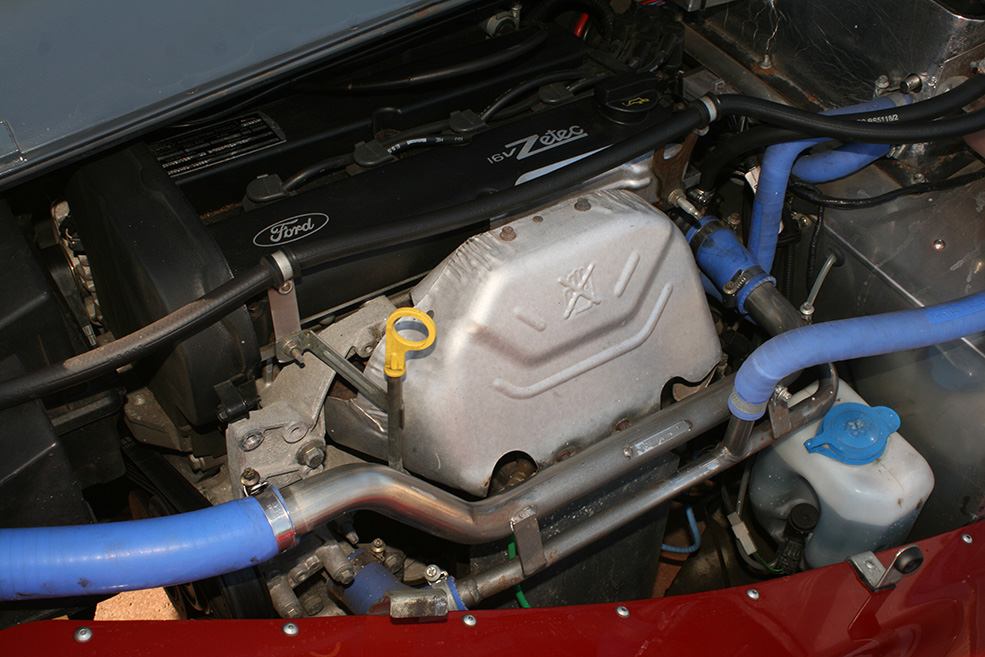 VERDICT
This 4/4 Runabout would be absolutely perfect entry level into Morgan ownership. Its overall condition is outstanding and it boasts a whole host of owner upgrades, such as Spax dampers to the front and rear, a walnut dashboard, Moto-Lita woodrim steering wheel, a stainless luggage rack, spot lights, a S/S interior mirror, foot locker, stainless door check straps, two ear wheel spinners, etc. It has obviously been very much cherished and also comes with a FSH, mostly at Morgan specialists. An incredibly clean and tidy example and reasonably economical too, with wonderfully reliable Ford running gear. No disappointments – highly recommended! Be quick, though, this car is unlikely to be available for very long!
Tech Spec: Morgan 4/4 Runabout
Engine: 1796cc
Power: 119bhp@6000rpm
Top Speed: 112 mph
0-60mph: 8 secs
Economy: 35 mpg
Gearbox: Five-speed manual