Beloved rally ace and master Mini driver Paddy Hopkirk has died aged 89
Words: Paul Guinness
One of Britain's best-loved and most famous rally drivers of all time, Paddy Hopkirk, has died aged 89. Hopkirk was the man who won the 1964 Monte Carlo Rally outright at the wheel of the iconic Mini Cooper – and even now,  the story of Hopkirk and his Mini antics is the stuff of legend, guaranteeing him a podium place in the history of rallying.
There's more to Hopkirk's success and his career than Issigonis' miniature marvel alone, however. Belfast-born Paddy began in competition taking part in various car trials, initially at the wheel of a Volkswagen Beetle before upgrading to a Triumph TR2 and hitting both Ireland's and the UK's racetracks. His first official Works competition car was a Standard Ten, in which he competed in the 1956 RAC Rally, though by 1959 he'd moved to Rootes where he spent four seasons competing in Sunbeam Rapiers, Alpines and even the odd Hillman Husky.
If the rest of the 1960s are remembered for Hopkirk's Mini Cooper action, we shouldn't forget his other exploits within the BMC Competitions Department – a list that included competing at Le Mans in an MGB, taking an Austin-Healey 3000 rallying and even coming second in the 1968 London to Sydney Marathon at the wheel of an Austin 1800.
It was in his own Triumph TR2 that Paddy learned so much about driving, however, competing in it from 1955 and crafting his skills to become a formidable competitor throughout Northern Ireland and beyond. The car itself had been acquired via Matt McQuaid, a friend of Paddy's who also happened to run Standard-Triumph's assembly plant in Dublin. And despite it being essentially standard-spec, the Triumph was a race winner with Hopkirk at the wheel:
"The TR2 was outstanding in its day," Paddy explained in The Paddy Hopkirk Story, published by Haynes in 2005. "It was strong and simple, and it was quick and lovely to drive. I surprised myself at how well I did in it at Phoenix Park, and it was also a good car for driving tests. It was less good though, on rallies that had very rough roads – the solid rear axle didn't do it any favours."
This was in the days when up-and-coming race and rally drivers could enter the sport without the need to invest huge sums in vehicle modifications. As long as you could afford a car you could afford to go racing, as Paddy explained about his TR2: "I don't think I did a thing to the engine – I just got in and drove it. That's what has changed these days – competition cars are so different from those you can buy. In our day it was just a question of blowing the tyres up a bit and going and racing it."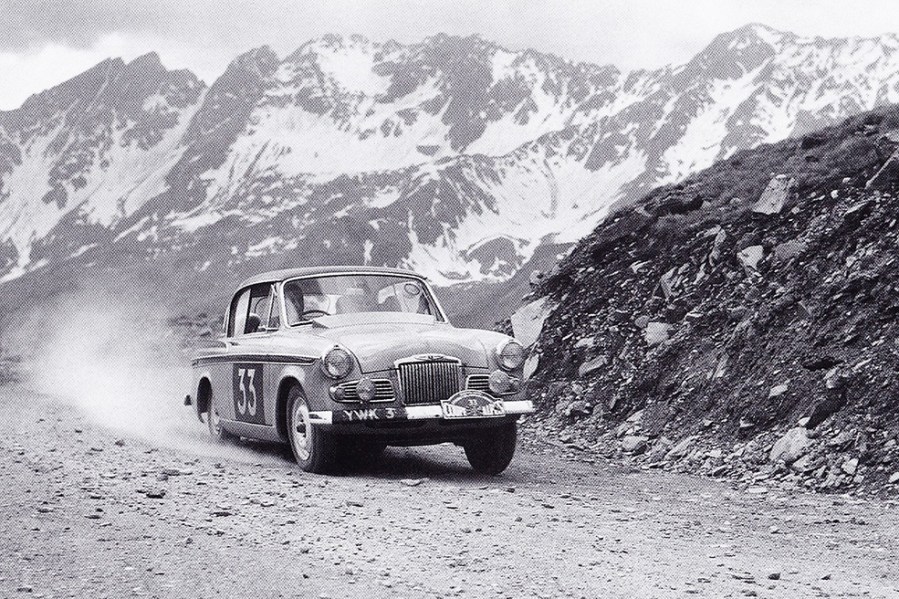 It was his successes in events like the 900-mile Irish Rally (which he won outright in 1955) and the Circuit of Clare that brought Hopkirk to the attention of the big boys in rallying, with Standard-Triumph giving him his Works debut (at the wheel of a Standard Ten) in the RAC Rally of 1956. Much to the shock of Ken Richardson, Standard-Triumph's competitions manager of the time, Paddy led for much of the way: "So Ken Richardson was in a bar somewhere in Blackpool when he heard on the radio that an unknown young Irish driver was leading the rally. He nearly fell off his bar stool – and I never looked back."
Paddy finished the RAC Rally but wasn't placed, due to a holed sump causing him to lose valuable time. But he needn't have worried, because his skills as a driver were suddenly in the limelight, and his future as a Works driver seemed assured. He became a firm fixture at Standard-Triumph and by 1958 was competing in his first Monte Carlo Rally, this time piloting one of several TR3As entered by the team. The following year saw him changing his allegiance though, taking up an offer from Rootes Group team manager Norman Garrad; and it didn't take long for Paddy to start generating headlines via his antics and successes with Works-prepared Sunbeam Rapiers and (later on) with Alpines.
Hopkirk and Rootes worked well together, with many successes along the way, even if they weren't all outright wins. In the 1961 Alpine Rally, for example, Paddy achieved a credible third place in his Rapier – one of just 25 finishers in that particularly gruelling event. But it wouldn't be long before Paddy was being made another offer – one that was to make household names of both him and the car he'd be driving.
Paddy's move from Rootes to BMC was the start of a golden era, during which he found himself under the management of Marcus Chambers, Stuart Turner and Peter Browning – each of whom took their turn as manager of the BMC/British Leyland Competition Department during the 1960s. Interestingly though, it was Hopkirk's frustration with Rootes towards the end of his involvement with the Coventry firm that prompted the switch.
Stuart Turner recalled receiving a letter from Paddy, dated June 1962, in which the frustrated Irishman bemoaned the fact that Rootes wouldn't be providing him with a Sunbeam Alpine for that year's Alpine Rally. Hopkirk wrote: "I am extremely disappointed to miss the event, and as my contract comes up for renewal with Rootes in August this year, I would be very pleased to hear from you before I make any arrangements for 1962/63".
Needless to say, BMC jumped at the opportunity and Paddy's subsequent involvement with its Competition Department was great news for all concerned. And, of course, it was with the corporation's smallest model – the Mini – that Hopkirk would enjoy his biggest slice of fame to date. Prior to his arrival, Minis had already competed (with reasonable success) on the world's rally circuits, with no less than six Works cars competing in the Monte Carlo Rally as early as 1960.
The launch of the Cooper in 1961 (the result of the now legendary collaboration between BMC and the Cooper Car Company) gave the Mini a greater chance than ever. Sadly though, when Rauno Aaltonen – otherwise known as The Flying Finn – entered the Monte Carlo for the first time, his Mini Cooper rolled, caught fire and ended up destroyed.
Happily, things improved considerably the following year when Stuart Turner brought Paddy Hopkirk on board, competing for the first time at the wheel of a Works Cooper alongside teammate Aaltonen. Hopkirk achieved the first Monte Carlo class win for the Mini, as well as finishing an impressive third overall. Suddenly, anybody who had doubted the international rallying capability of a machine as small as the Mini were forced to change their minds.
The original Coopers had seen 56bhp from their 997cc powerplants, with top speeds of around 87 mph. But 1964 brought the debut of the Cooper S, its larger-displacement (1071cc) engine seeing power boosted to 70bhp, almost 100mph flat out and – crucially – a 0-60mph time slashed from 19 to just 13 seconds. The Mini was now a serious contender.
Even so, few pundits seriously expected a car as diminutive as the Cooper S to be capable of an outright win. But, of course, 1964 was the year when Paddy Hopkirk proved them all wrong, taking the most famous Mini of all – 33 EJB – to ultimate victory in arguably the most famous rally win ever. Almost as rewarding was the fact that Timo Makinen managed an impressive fourth place, while fellow teammate Rauno Aaltonen came in sixth.
Intriguingly though, in The Paddy Hopkirk Story, Paddy himself admits he wasn't sure his Cooper S could win when asked the question afterwards: "No. No way. Maybe Stuart [Turner, BMC Competitions Manager] did, I don't know. The Ford Falcons had the performance, but the thing is that that year there was a lot of snow, and the roads were very narrow as a result of how they'd snowploughed them clear. So the Mini was particularly good. But we'd practised well and we had our notes. It was a combination of things – like everything."
Paddy admitted too, that the most historic Monte Carlo win of all time was a surprise to just about everyone at BMC: "I don't think the BMC boys back home hardly even knew the rally was on. Suddenly they got a phone call from BMC PR man Tony Dawson saying 'Do you realise that you've won the most famous rally in the world, and the world's entire press is here?'.  I had Life magazine from the States interviewing me, and you know it really was a shock – I was suddenly in the public eye. This was when people went to Skegness or Clacton for their holidays, and Monte Carlo was a very glamorous place. I had a telegram from the Prime Minister, Sir Alec Douglas-Home, and I was later given the keys to the City of Belfast…"
Hopkirk wasn't just a brilliant driver; he also had an ability to spot a business opportunity. As early as 1956 he was being featured in an advertisement for a Dublin-based car components manufacturer, endorsing one of its best-selling products. And by the following year Paddy had founded a company under his own name (Paddy Hopkirk Ltd), initially selling a tyre repair system before moving on to a whole range of motoring accessories, gadgets and gizmos.
Over the years, Paddy offered a huge array of products, selling them both via mail order and through his own retail outlets. He also founded the Belfast-based Paddy Hopkirk School of Motoring, with around a dozen cars and instructors providing driving lessons for any learners keen to be associated with a rising rally star; a course of ten lessons cost less than £10, and came with the reassuring slogan 'Do your test with the best'. More recently, he worked with Padiham specialist Mini Sport to produce a unique range of parts and accessories, as well as making show appearances to raise money for charity.
Despite his commercial success, however, it was his rallying achievements for which Paddy was most revered. That his competition highlights occurred during one of the most exciting eras in rallying makes him a true icon; but the fact that he was largely responsible for putting the Mini Cooper on the 'rally legend' map, changing the image of the Mini forever, is equally important.
All of the Classics World team offer their condolences to Paddy's friends, family and many fans. Great rally drivers have come and gone, but there'll never be another Paddy Hopkirk.
Top 5 Paddy Hopkirk golden moments
1
Paddy Hopkirk's works rally career began with Standard Triumph and Rootes before the prospect of driving the Austin Healey 3000 tempted him over to BMC. However, he soon switched from the big Healey to race and rally Minis, with his 1964 Monte win behind the wheel of 33 EJB, a Mini Cooper 1071 S, one of the most publicised of all time (pictured below). It put the Mini on the map and saw Paddy, his navigator Henry Liddon and their Mini appear on Sunday Night at the London Palladium in front of a 27-million-strong audience.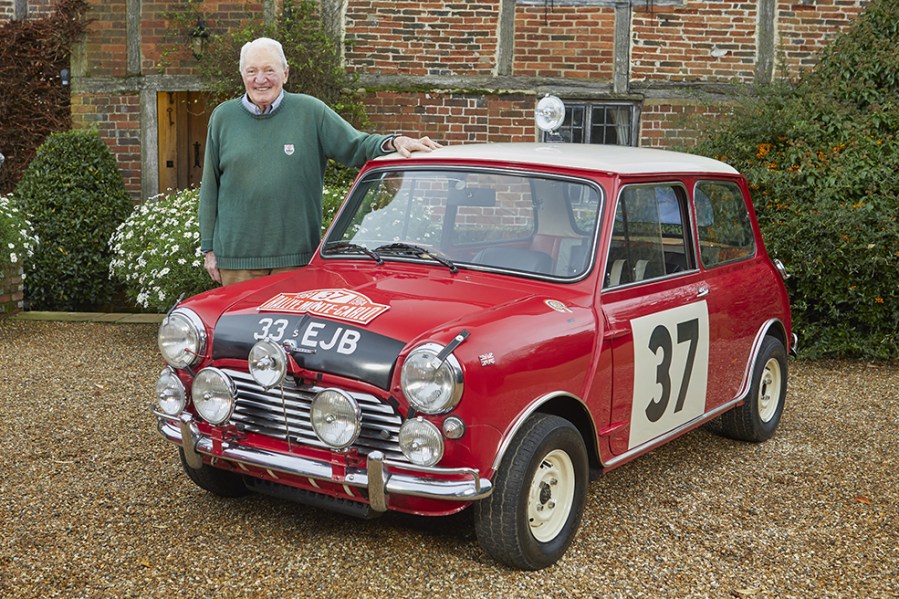 2
Hopkirk won six more international rallies before ending his works career with a second place on the 1970 Scottish Rally – but it's another second-placed finish that stands out. In 1968's epic 10,000-mile London-to-Sydney Marathon, via Kabul and Mumbai, he and Tony Nash finished as runners-up in their Austin 1800 after they stopped on the final day to pull an injured rivals Lucien Bianchi and co-driver Jean-Claude Ogier out of a blazing Citroën DS.
3
Even in 'retirement', the lure of competition never really went away for Paddy Hopkirk. After making the podium on the London-Sydney again in 1977 and winning the star-studded RAC Golden 50 anniversary event in 1982, he was back in a Mini Cooper S for the 1990 Pirelli Classic Marathon. He teamed up with Alec Poole to win the challenging Alpine event in a car registered 6 EMO – a replica of 8 EMO, the Works car he drove to fourth place in the 1963 RAC Rally.
4
Hopkirk marked the 30th anniversary of his famous Monte Carlo Rally victory by entering the rally again in 1994, driving a Group A Rover Mini Cooper wearing a registration number almost identical to that of his 1964 car, L33 EJB. Alongside veteran co-driver Ron Crellin, Paddy was placed as high as third in class and in the top 50 overall at times during the event, but a broken fan belt saw them end up 60th against much more modern and powerful machines.
5
In 2010, Paddy Hopkirk was among the first four inductees into the Rally Hall of Fame, along with Timo Mäkinen, Rauno Aaltonen and Erik Carlsson, and in 2016 he was given an MBE for his motorsport achievements and charitable activities in the New Year's Honours list. These included support for Wheelpower, the national charity for wheelchair sport, and Skidz, which provided experience of working with cars for young people. He also gave his time to the Integrated Education Fund and IAM RoadSmart (below), as well as becoming president of the BRDC.