A controversial new £150m classic car museum is set to be built in the UK after local councillors finally gave the project the green light. The proposed development, which would be based at Enstone Airfield near Chipping Norton in the Cotswolds, received outline planning permission from West Oxfordshire District Council's Development Control Committee.
Members of the committee were split between the tourism boost the museum would bring and concerns about traffic and noise, but after three-and-a-half hours of debate, they voted in favour of the project by 12 votes to seven. It's certainly divided the Cotswolds set, with local resident Jeremy Clarkson in favour of the project, but Oxfordshire-based actor Sir Patrick Stewart reportedly against it.
Many also argue that excessive traffic caused by visitors to the museum will increase congestion and pollution in the picturesque surrounding villages, which are already struggling from the rapid rate of recent development in the area.
The spearhead behind the proposals is US businessman Peter W Mullin, who is said to be a big fan of Oxfordshire having visited the area for several years with his family. The 78-year-old is the chairman of Los Angeles-based Mullin Barens Sanford Financial, and owns a property portfolio that even includes an Italian castle. But more importantly, he also owns a 250-strong collection of vintage and classic cars, establishing the Mullin Automotive Museum in Oxnard, California, back in 2010.
Mr Mullin is working on the plans for his UK venture with Nicholas Johnston, whose family owns the Great Tew Estate in west Oxfordshire. About 30 cars from Mullin's collection would be displayed at any one time, plus the same number from other collectors. The museum would also include a demonstration track circling the main building and a pavilion to be used by Bentley. An estimated 200,000 people per year would visit the facility, which aims to create 338 jobs and be open six days a week.
The project has also proposed 28 holiday lodges on the site, used by people contributing their vehicles to the attraction. Much of the development will reportedly be bankrolled by proceeds from the sale of the lodges, which would feature a 24-hour concierge.
Mr Mullin has previously said the project would transform "a scarred brownfield site," and told the meeting that it had a huge opportunity to create positives in both in education and visitor appreciation.
"Our goal is to create jobs, generate significant business rates and taxes and most of all, to leave a legacy for the generations of the future," he added.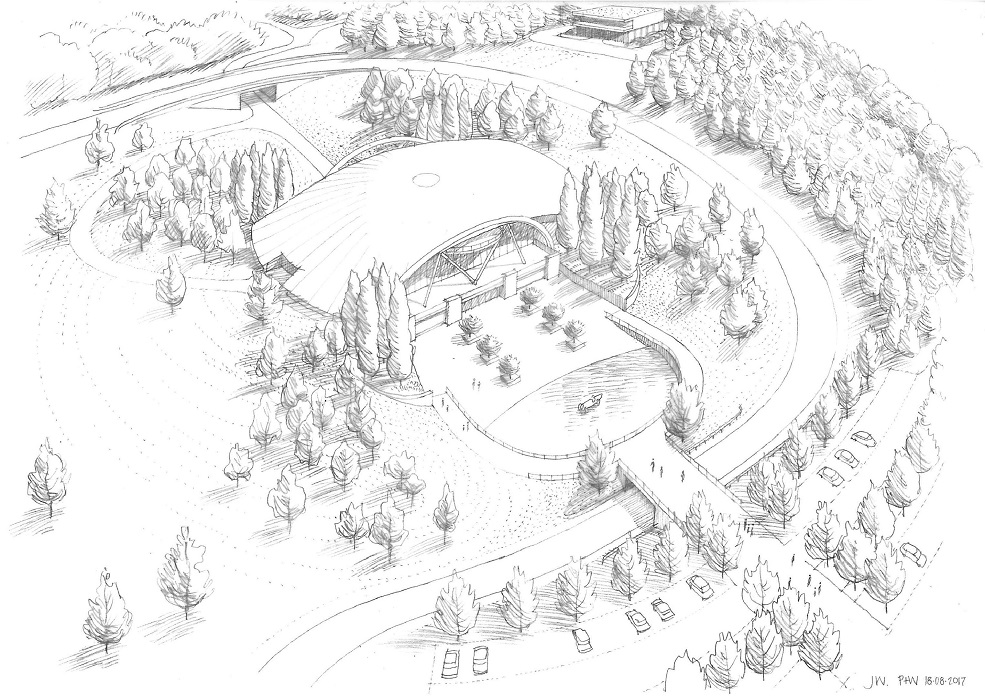 Revised Application
The application had been recommended for refusal at a meeting in March but was deferred, with a request for more information. Since then, the plans have been altered in 10 areas, with the number of events set as five per year, plus a new travel plan and community travel forum. The latter would encourage visitors to reach the site by foot, bike and by shuttle bus, while some councillors suggested a park and ride near Chipping Norton.
The development, next to Soho Farmhouse, would reportedly contribute £1.74m to community projects, including £1.25m towards affordable housing. Great Tew School would also get £200,000 for a car park, with the same amount going to traffic calming measures in nearby villages and £50,000 to the Middle Barton Community Bus service. Five per cent of profits from the museum would go towards community initiatives.
Though 220 letters were received supporting the plans, more than 180 came from parish councils and residents in objection, with several people sharing their concerns at the packed meeting. West Oxfordshire councillor Dave Jackson drew applause when he criticised the application's "ridiculous" traffic projections and said they would need to be monitored carefully.
Concern was also expressed by Nigel Colston, district councillor for Kingham, Rollright and Enstone, who said that he believed that the correlation between the building of 28 luxury cottages and the museum was a dangerous one.
However, despite traffic fears, highways authority Oxfordshire County Council did not object to the plans, while county councillor for Chipping Norton, Hillary Hibbert Biles, was one of several to speak in favour of the museum: "This development will be a feather in the cap of this area. It is a wonderful opportunity and something we could be proud of," she said.
Mr Mullin was rumoured to be considering a switch of the project to Germany should his plans be rejected, but it now looks a lot more likely that they will go ahead in the UK as planned.