A classic vehicle insurer met with a mixed response at the Classic Motor Show when its display stand depicted a 1998 MGF apparently crushed by a WW2 Hellcat tank. But was this a sacrilegious act against a classic car, or an inspired promotional display?
For the full story we spoke to the man behind the stand, Cherished Vehicle Insurance manager Peter Barrett. As well as running a Triumph 2.5PI as a daily and his family owning an MGTF 160, Peter completes agreed value assessments on an everyday basis and as such was well qualified to decide the MGF's fate.
He explained how he'd bought the 130k-mile example for staff to work on after it had been for sale on Facebook for six months at £200, but that it had already gone beyond economic repair. "I wouldn't kill a car unless I thought it was beyond redemption, but It was destined for the scrapyard whatever happened," he told Classic Car Buyer. "The sills were thick with filler, it had been rear-ended at one point and the crash box on one side was completely rusted through, the clutch was stuck, the roof had been leaking so the interior was full of water, the electrics had been played with and the two teenagers that owned it had rattle-canned the side of it.
Prior to the show, Peter had stripped the car and retained some of the parts. "I saved the engine and the entire rear subframe, though that's not in a very good state either, the exhaust and cat, and the hood," he added. "I did try and take the seats out to give to an MGF owner at the show, but the nuts rounded off. I also went down to the MG club stands and said people were welcome to any parts they wanted from it, so hopefully it's helped a few owners out."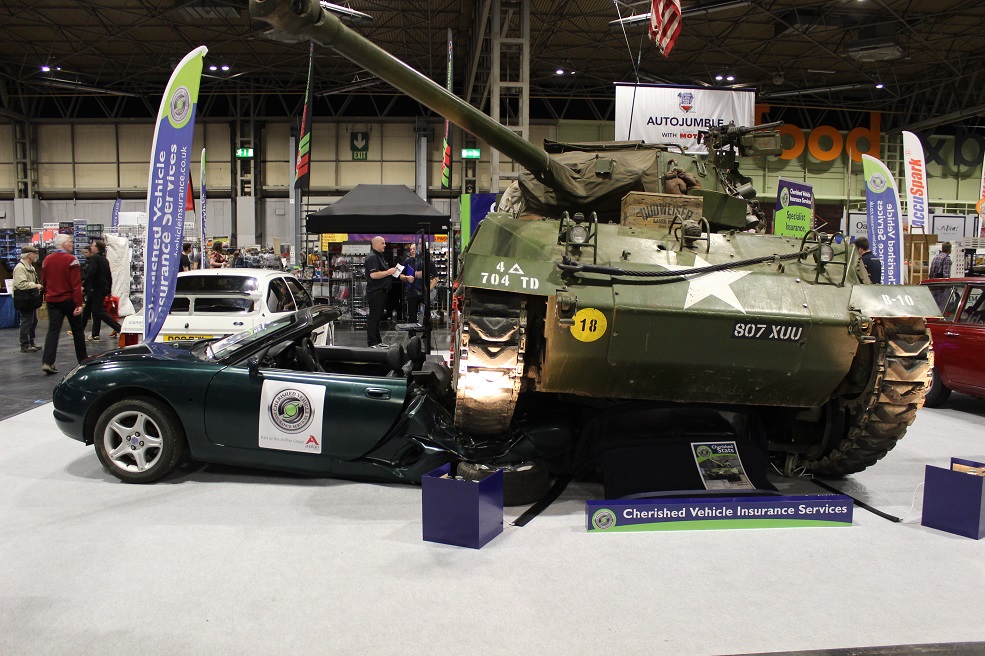 But why include a tank in the first place? As it turns out, CVI can insure tanks too and the Hellcat belongs to a client that they have built a really close relationship with. The NEC provided an opportunity to showcase the firm's capabilities and make an impact at the same time. That included making everything for the display in-house.
"I wanted to do something a little more fun as Insurance isn't the most interesting subject and this provided a good talking point," added Peter. It was never going to make everybody happy, but we sent the car off in style, and that's got to be better than going straight to the crusher.
"The intention wasn't to go around and upset people or be negative. Of the people that we did speak to who were upset, 99 per cent ended up entering our competition to win a year's free insurance. To the other one per cent, we send our apologies."