The MG Car Club was bestowed with a fantastic honour at this year's Formula One British Grand Prix, supplying members' cars for the Sunday's pre-race drivers' parade in front of 140,000 fans.
Such parades have become a theme of this year's championship; at the Australian Grand Prix earlier this year, the drivers were driven round in MGAs, with a variety of classics also used at the recent French GP. Triumphs supplied by the TR Register were used at Silverstone a couple of years ago, but traditionally the drivers have been paraded in front of fans on a large flatbed truck. That meant that the MGCC's assistant general manager Lauran Gallacher was surprised to get a call three weeks before the event inviting the club to organise a display of cars, the majority of which would be used to transport the drivers. The cars had to be MGAs, Bs, Cs or Midgets, all with chrome bumpers.
Such an amazing opportunity saw Lauran contact the club's MGLive! volunteers, together with other long-standing members and volunteers, to see if they and their cars would be available for this prestigious event. In all 28 cars were gathered, displayed in the National Paddock next to the Pit Stop café. The 20 selected for the parade comprised of five MGAs including a Twin-Cam, six MGBs, four MGCs and five Midgets. Lewis Hamilton's father Anthony is also a club member, and brought along his MGC to drive his famous son around the track.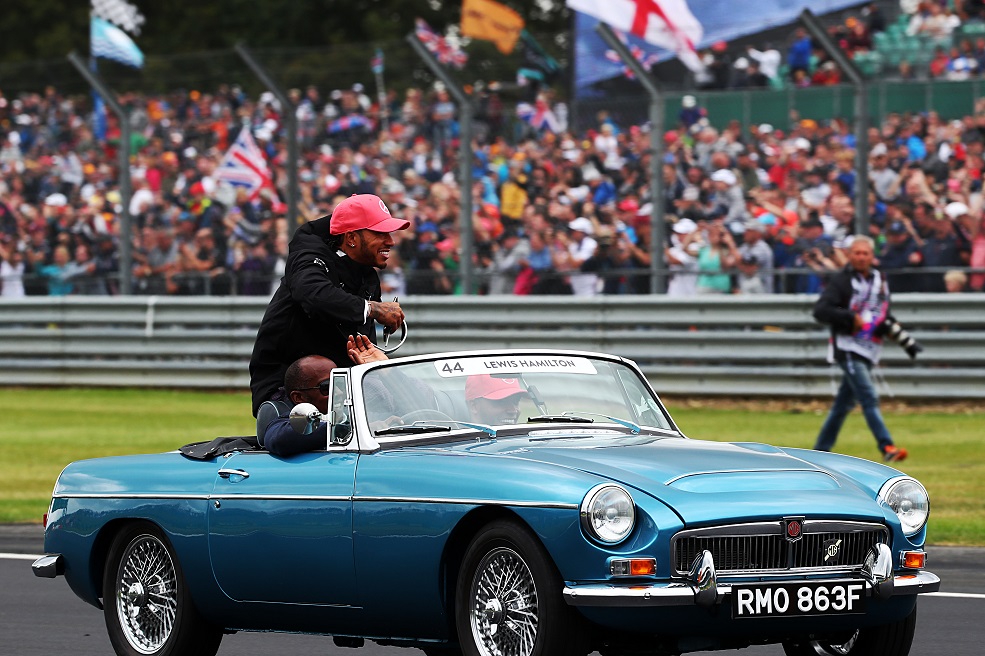 Earlier on the Saturday, Anthony and Lewis's brother Nic had visited the club stand and spent over an hour chatting to members about their cars in a relaxed atmosphere. On race day all three of them took part in the parade, with world champion Lewis perched on the back. The MGs left the national pits to line-up alongside a red carpet on the starting grid, before the lap commenced in front of the huge crowds. All the drivers were said to be really nice and chatted to the members as they were driving round, with some even signing members' cars.
The hectic four-day schedule also included six of the cars on circuit for the live Sky Sports F1 presenters' parade on the Thursday evening, but all the effort proved to be more than worthwhile. "It was a great honour for the club," said Lauran. "Despite some nerves it all came off absolutely perfectly, and the smiles on the members' faces were unreal.