Ford's personally augured vehicle offered glamorous fun for a low cost. Not that dealers, tuners and coachbuilders didn't seize upon its latent performance potential; built in tiny numbers, these Capris are among the most sought after models of their kind.
FORD CAPRI PERANA V8 (1970-1973)
A Mustang scaled down for British tastes: that was how Ford's coupe was understood. Emulating the former pony car's style wasn't enough for South African dealer Basil Green, however; denied access to the sportier RS range of Capris available in Europe, and needing a touring car for homologation, Green began converting Capris built in domestic Port Elizbeth to V8 power. Transplanting the Mustang's 5.0-litre (302 cubic inch) 'Windsor' into the far lighter Capri shell did wonders for performance, making the Perana V8 far quicker than the fastest contemporary European Capri RSs, all of which used V6 engines.
Around 500 Capri Perana V8s were built over a three year period; sought after by historic touring car racers and Capri enthusiasts worldwide, Basil Green's cars have the added bonus of right-hand-drive as standard for anyone wishing to import one to the UK.
We found three Capri Perana V8s for sale online, ranging from a £23,500 1970 example on Car-from-UK.com, via a £29,539 1972 car listed on South African site Anzani.co.za, topping out at £30,398 found for a 1970 minter at Silverstone Auctions' 2014 Lancaster Insurance Classic Motor Show sale.
FORD CAPRI RS3100 (1973-1974)
With the Capri II waiting in the wings, the RS3100 was the Capri MkI's swansong. As well as providing Ford with a homologation entry into the European Touring Car Championship, the first right-hand-drive RS badged Capri replaced the German designed RS2600 as the top model in Capri performance terms. With the 2.6-litre Cologne ousted in favour of a 3.1-litre Essex V6, road going RS3100s were expensive and exclusive; just 248 were built between 1973 and 1974.
Asking prices for genuine RS3100s reflect their rarity: values fetched at Silverstone Auctions' Lancaster Insurance Classic Motor Show sales in 2015 and 2016 rose from £48,375 to £51,750 – making the example previously for sale at specialists Duncan Hamilton comparatively cheap at £45,500.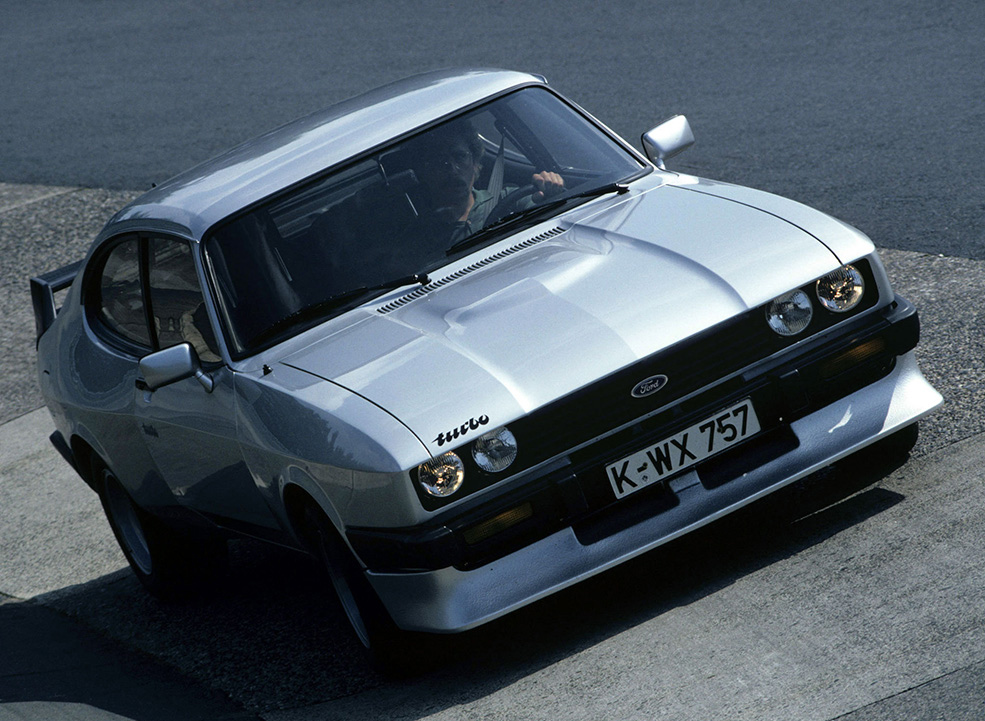 FORD CAPRI 2.8 TURBO (ZAKSPEED), (1981-1982)
Forced induction spooled rapidly to prominence in 'Eighties Capri circles, with two conversions – by German RS dealers, and later Aston Martin Tickford – gaining official Blue Oval approval.
Inspired by the wild Zakspeed racers of the time, Rallye Sport Deutschland added a Garrett T4 turbo to a Capri 3.0S, garnishing the package with Series X bodywork, deep dished RS alloys and special Ford Motorsport spoilers front and rear. Bilstein dampers all around, an anti dive kit, uprated RS anti roll bars and single rear leaf springs completed the package; with 188bhp on tap, the end result was a laggy, unsubtle GT of considerable ability.
Around 155 cars were converted, all in left-hand drive.
Classic car specialists Duncan Hamilton currently list a 1981 2.8 Turbo at £48,995.
TICKFORD FORD CAPRI (1983-1987)
Honed and fettled by Aston Martin Tickford, the Tickford Capri took Ford's GT and performance credentials to their logical conclusion.
Rebuilt in house by the coachbuilder, a Capri Injection went in one end; 200 hours later, a hand built, leather trimmed, 205bhp Simon Saunders body-kitted wonder emerged. The end result divided opinion like no other: between 80 and 93 cars, excluding prototypes and cars bought to convert, were built, with the very last Tickford Capri being registered in 1991.
With a fully blueprinted and extensively developed turbo installation, Tickford Capris were expensive in period, especially when compared to the Capri Injections in which they shared official Ford price lists with. Inflation and labour pushed costs up from a steep £16,000 in July 1984 to a eye-watering £17,220 (the 2018 equivalent of £48,500) two years later.
Prices nowadays are hard to reconcile; reckon on around £40,000 to put a concours Tickford Capri in your garage, with restoration projects clocking in at significantly less.