After five years at ExCel the London Classic Car Show 2020 moved across the Capital for its sixth outing on February 20-23. More than 500 stunning classic vehicles could be viewed in the splendour of London Olympia, a stunning Victorian venue in West Kensington with a history of hosting motoring events.
With the total value of the exhibits topping £70 million, it's clear that this event is positioned at the top end of the classic car spectrum. High-end dealer displays catering for well-heeled clients and investors dominated, while a packed classic auction featured over 60 cars including a 1970 Ferrari Dino. Meanwhile, posh watches, artwork retailers and even a male groomer made up most of the trade stands.
That said, there were still plenty of highlights for all classic car fans to enjoy, particularly amongst the car clubs. The TR Register celebrated its 50th anniversary with a fantastic display that included a 1959 Triumph 2000 Italia, while the AVO Club managed to reunite the trio of Mk1 Escorts that finished first, third and fifth in the 1970 London to Mexico World Cup Rally for the first time in decades. We also enjoyed the Rover SD1 Club's display, a host of E30s on the BMW Car Club stand and a great line of up tiny Fiats exhibited by Fiat 500 Club UK.
Elsewhere, several themed displays caught the eye. The London Vintage Taxi Association showcased a brilliant line-up of old cabs, a brilliant five-car display celebrated 40 years of the Audi Quattro and a collection of eight Range Rovers from across the decades marked the model's golden anniversary. The latter was also complemented by two classic Range Rovers from the Dunsfold Collection, while there was also a tribute marking the life of Bruce McLaren, who passed away 50 years ago.
The event was also notable for the sheer number of electric-converted classics present. These included a Nissan Leaf-powered Mini from London Electric Cars and two rather controversial vehicles, one an electric Ferrari 308 from Electric Classic Cars and, perhaps even more so, a battery-powered Triumph Stag from Electrogenic.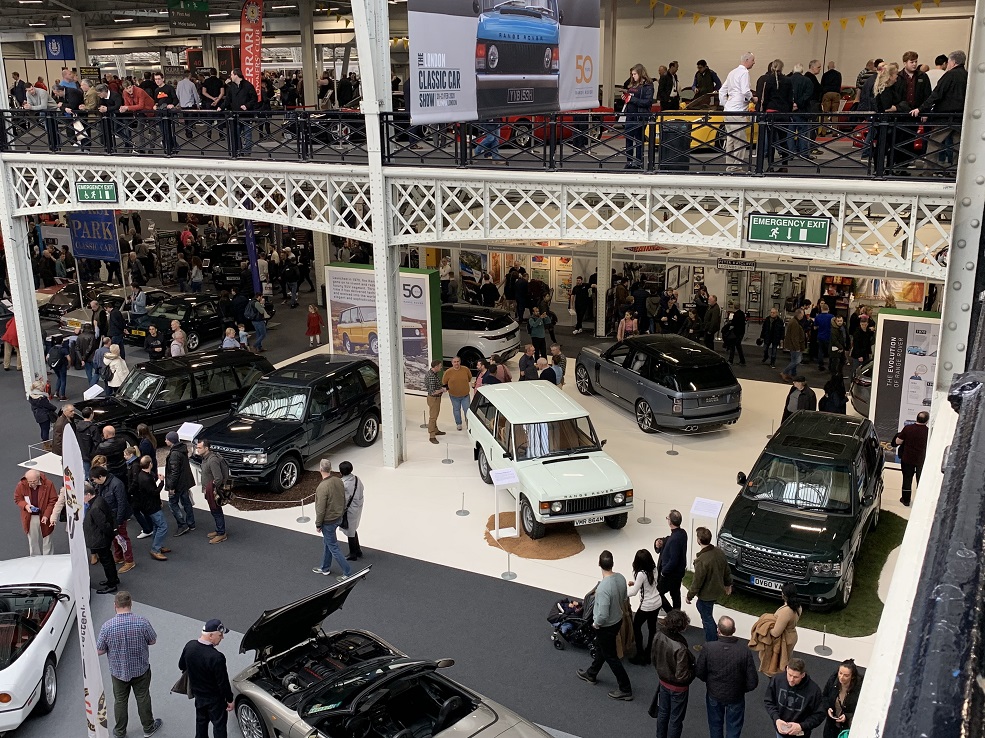 The one notable miss was the popular Grand Avenue feature, but the organisers filled the void with 'Car Stories' instead, which saw big-name personalities talk through some very significant vehicles. Examples included the Aston Martin Vanquish 25 with designer Ian Callum, F1 engineer Andrew Newey with the 1969 Lotus 49B and the 1987 Porsche 962C with Tiff Needell. The Aston Martin DB4 Zagato and Goldfinger DB5 Continuation models also wowed the crowds, the latter complete with James Bond gadgets.
Though not as big as other flagship shows, we enjoyed the new venue. It's attractive, well-lit, relatively easy to access and steeped in the kind of history that gave it a special feel. Whether it will be a success long term remains to be seen, but there's already a date in the calendar for next year – February 18-21.