Heritage Skills Academy apprentices have been given a boost in their bid to become the next generation of historic vehicle engineers, with Cambridge & Counties Bank joining forces with the Bicester Heritage-based facility to support the restoration of a highly significant Triumph TR2.
Remarkably, the very same car was used by Standard Triumph to train and educate its apprentices in 1955. Not only will the students project manage the restoration and carry out all the work to finish it, they will also consult with its owner on sourcing suitable period upgrades to prepare the car for historic rallying, with a view to competing in the Rallye Monte-Carlo Historique in two years' time.
The TR2 was delivered to the Heritage Skills Academy at Bicester Heritage in October for an initial assessment by the tutors and students, who will now formulate a schedule and parts budget for the build. Registered RHP 552, it's an early long-door model with a massive history file, which reveals that it was used as an experimental car for the chassis modifications made as part of the model's development.
Cambridge & Counties Bank support the FBHVC-backed Heritage Skills Academy through the provision of business finance education modules and apprentice bursaries. The apprentices on the scheme, who are currently learning the skills they will need to safeguard the future of historic vehicles, will learn their craft just as the original students did in 1955.
Back then, David O'Clarey, then development engineer for Triumph, was the tutor. He later purchased the car from the factory and successfully campaigned it in rallies around Europe, applying many of the modifications to the car that had been so successful on the factory Works cars. A period photograph from 1955 shows David and his apprentices working on the car, so the naturally the opportunity was taken to recreate it some 64 years on, complete with white workshop coats!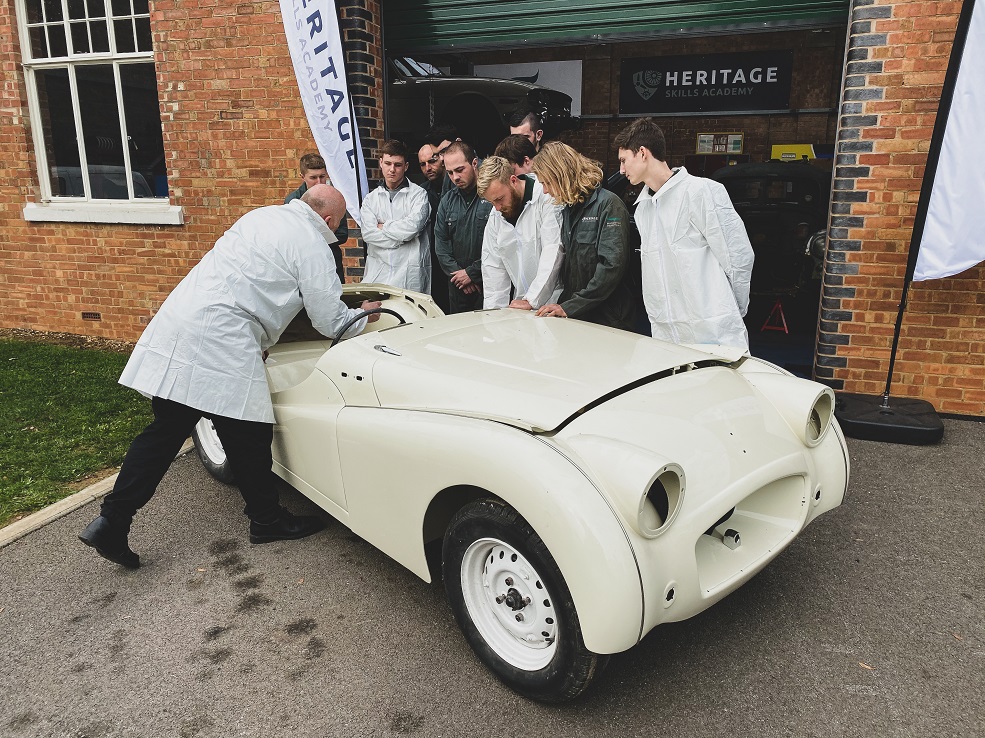 Neil Fender, Head of Classic Car Finance at Cambridge & Counties Bank, described the moment the car was handed over: "The enthusiasm that all the apprentices showed when we delivered the TR2 to the Heritage Skills Academy was heart-warming. They are all genuinely excited to get started and it's going to be fantastic now to watch the project unfold and to see those apprentices progress as they grow and develop with the car."