As redevelopment of Longbridge continues, another historic car and van production site in the north east of Birmingham – the Drews Lane complex – has been consigned to the history books
Nine years after LDV van manufacture ended at Washwood Heath in Birmingham, a new use has been found for the Drews Lane complex housing the Ward End works – former home to Wolseley and LDV. Sold to the government, the site is to become a major maintenance and servicing facility for the new HS2 rail link.
Owners St Modwen – which also holds the lease to the historic Austin/MG Rover/MG Motor UK Longbridge site – struggled to find a use for the old factory, despite optimistic reports in the local press in 2013.
While the land around Longbridge has been redeveloped into a shopping centre and sixth form college, Ward End, despite a new Tarmac depot arriving in 2016, has been not seen any further activity since the ex-factory buildings were flattened for remodelling three years prior. When the site was cleared, signs advertising 'design and build' and 'short term open storage land, 1-22 acres available' on Wolseley Drive were in situ for several years without attracting any real interest.
Despite this, the significance of the Drews Lane complex was underlined during a 2013 interview with the Birmingham Mail when Stephen Morgan, project manager for Savills, the firm which demolished the old factory buildings, said: "This is a well-known site; Longbridge is probably the only one that could eclipse it in Birmingham and Washwood Heath would run it a close second."
Ward End has a motor manufacturing history dating back to 1913, and was used by Wolseley from 1919, alongside its other plant at Adderley Park, when Washford Heath was released from war work.
Then, when William Morris bought Wolseley in 1926, all Wolseley production, including the Six Eighty (6/80) and Four Fifty (4/50) was concentrated there between October 1948 and March 1949, when it moved to Cowley, and the plant went over to commercial vehicle and car component manufacture, and made parts for, among others, Morris Minors, Wolseley 1500s and Spridgets.
British Leyland transferred production of vans to Ward End in 1972; to keep its light commercial line afloat while a rival to the all-conquering Ford Transit was on the drawing board, the factory churned out Morris J4 and Jus. Two years later, it had a new design: the stalwart Sherpa.
Torn apart by Jaws in the Spy Who Loved Me, the narrow tracked Sherpa was designed to be built on car production lines; it found a patron in the Royal Mail which prized its manoeuvrability.
The Sherpa's basic design, in Freight Rover, Freight Rover 200, Leyland DAF 200 and LDV Pilot form, endured until 2006.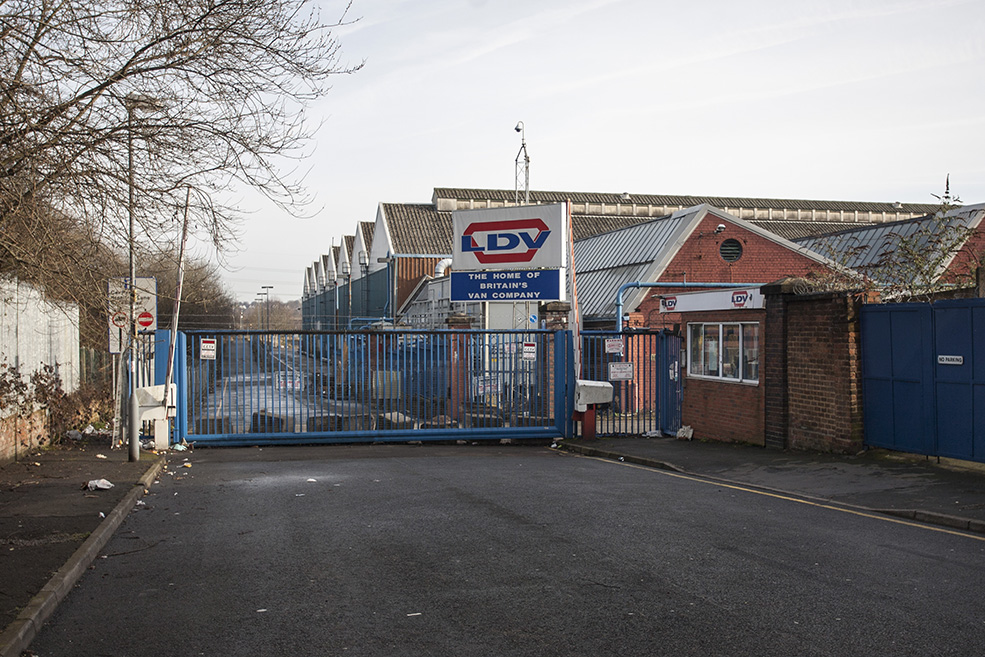 LDV – as it was known from 1993, when it split off from Land Rover Group following a management buyout of Leyland DAF – staggered on until 2009, when it collapsed owing £75million in debts and 800 jobs. A uneasy period under the ownership of Russian GAZ Group three years earlier saw it take on and develop the Maxus van; during this period, a lack of long term investment saw production and exports dwindle.
By 2009, its assets had been bought up by the Chinese firm ECO Concept, after an earlier rescue package by Malaysian firm WestStar failed despite £5million of government loans.
ECO Concept also dealt with the infamous 'Phoenix Four' during the sell-off of MG Rover; like Longbridge's tooling, Ward End's presses and equipment were sent to China. By 2010, LDV had joined several other British marques – Austin and MG – inside SAIC's intellectual property portfolio.
SAIC later revived the Maxus as a brand name in its own right in 2011 (with several spin off models) and sales of LDV vans restarted a year later in Australia.
Phase one of HS2 – from London to Birmingham – is due to open in 2026, and it's intended that the Washford Heath depot will open at the same time, creating around 500 jobs. As well as the vacant site, 12 other adjacent properties are to be acquired by compulsory purchase.
Thanks to Joe Collier of Industrial Britain for the pictures