Following an article in the December 4 issue of Classic Car Buyer regarding the continued nuisance of fraudulent eBay listings, we've received an overwhelming response from readers. But while online groups have tried to frustrate scammers by reporting false listings and bidding to unfeasible levels in order to dissuade others, the problem has persisted.
Once again, hacked genuine accounts have been listing multiple fraudulent listings, many over 1000 at a time. Several hallmarks of a fake listing were present – loads of other listings, a non-specific 'UK' location, odd starting prices and contact details hidden in a photo to flout rules preventing email addresses in the item description.
One particular hacked account included over 1500 listings and took over 20 hours to be removed despite multiple reports. One of the listings for a Land Rover had presumably been accessed by its genuine account owner to warn potential bidders that the account had been hacked. Other fraudulent listings, meanwhile, included a Mini 1275 GT and a Triumph Stag, which had been bid up to £65,000 and £125,000 respectively by members of online scam prevention groups to prevent genuine buyers being caught out. However, this may have had the negative of effect of making the listings harder to delete and keeping them online for longer. Indeed, the admin for Facebook group 'eBay vehicle scam alerts' recommended that people do not make such bids.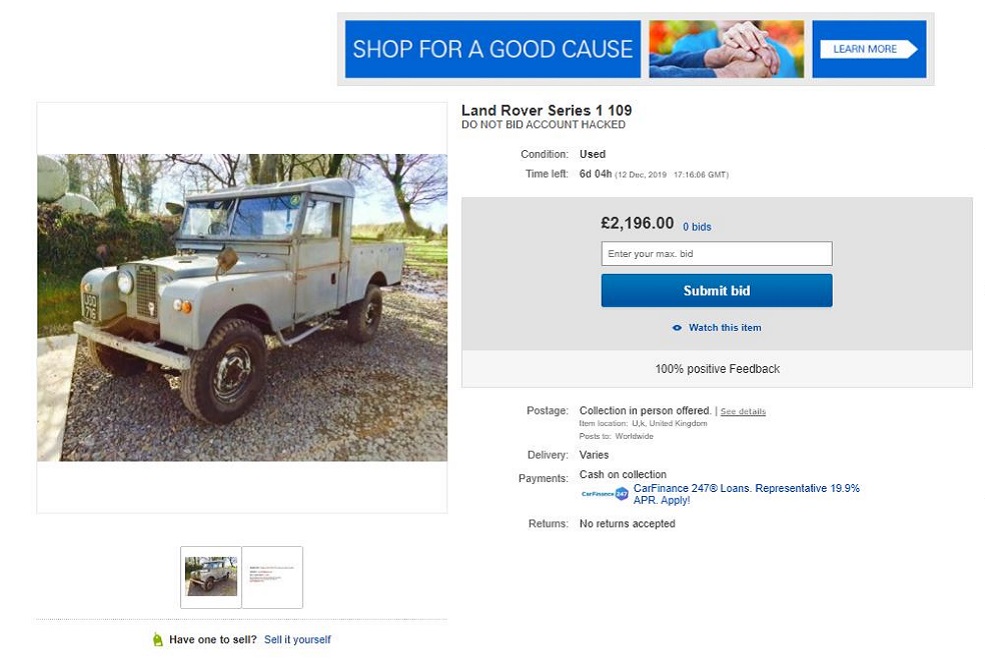 CCB reader Robin Laughlin first started reporting fraud listings in October 2018 when he discovered his own car being offered for sale. In the last 14 months, he has spent a total of almost 60 hours on the phone to eBay. He reports that on the weekend of November 16-17 there were over 10,000 live scam listings. These scam listings vanished, but on December 4, the fraudsters came back again with a vengeance. "I have reported over 200 listings using the 'report item' facility in the classic car section alone," he explained. "A friend also spent hours on the phone and reported about 100 motorcycle listings. It would appear that they are back, just in time to ruin people's Christmas."
Robin recounted the tale of a gentleman in his 80s he met on holiday, whose lifelong ambition was to own a Rolls Royce Silver Shadow: "He saw a suitable car being offered for sale on eBay at £4700. He sent a direct email to the address provided and was informed that he should make a payment to the link provided. He did this and was promised the car would be delivered in two or three days. After almost a week, he tried to contact the seller and after no car or response, he contacted eBay. He was then told it was a scam and that eBay couldn't help him as he didn't pay using one of their approved payment methods. This experience has completely destroyed his faith and trust in eBay."
It takes less than 30 seconds to report a scam to eBay. Once again, the message is to do so if you spot a suspect listing. Together we could save fellow classic fans a lot of heartache.