There was cause for a double celebration at this year's annual British Mini Fair, held at Staffordshire County Showground's Bingley Hall on January 27. Not only did this popular annual British Mini Club event reach its 20th year, it also kicked off the Mini's 60th anniversary celebrations in fine style.
This was a record year for advance ticket sales, and despite the cold weather outside, there was a relentless flow of Mini fans passing though the doors most of the day. We can't say we're surprised; Mini Fair is a great chance to renew friendships after the winter break, check out some great cars and come home with plenty of useful parts. Trade stands are this event's forte, and with over 100 specialists and autojumblers present, there was plenty of treasure to choose from. Show sponsors Mini Sport headlined a great mix of big names and smaller independents, with a constant stream of Mini goodies being carried back to the car park.
A sizeable crowd gathered around the British Mini Club stand for the reveal superb driveway-built Mini project of build YouTuber Tom Shorrock of Total Car Reviews, while a charity auction held in aid of the Motor Neurone Disease Association was also popular and raised £700. Our own Kelsey Media display proved to be a hit too, with Andy Nash's superb concours Mini Traveller joining Paul Kelly's Aussie Mini Clubman that had been driven over from Dublin for the event.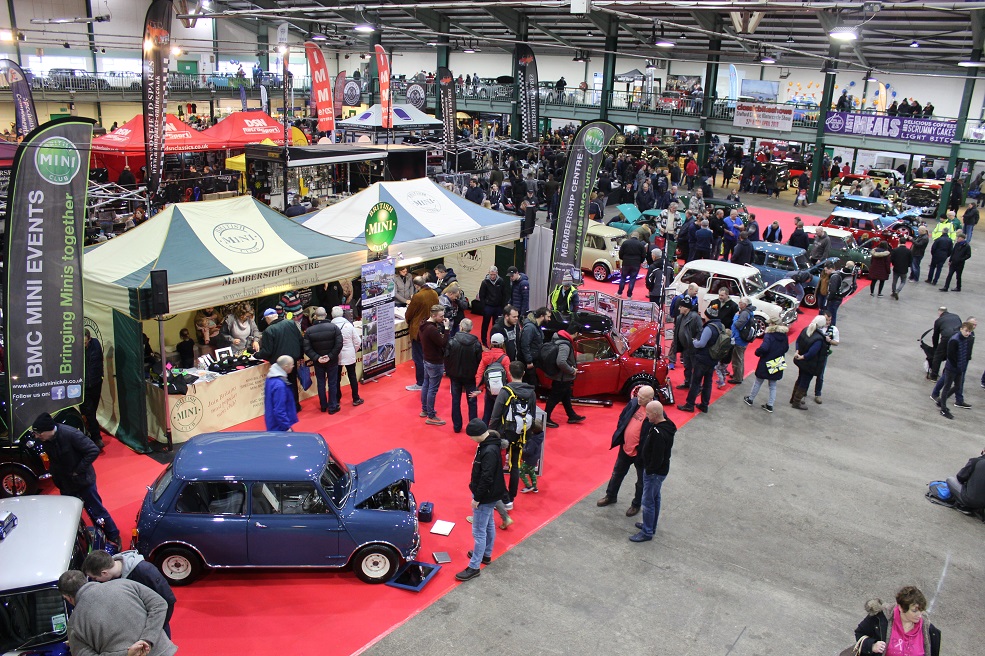 The venue's heated halls also played host to a stunning array of Minis in the Pride of Ownership competition, with some great new builds on show. Meanwhile, on the upper floor, clubs showcased their talents by celebrating in the Mini's diamond jubilee in various weird and wacky ways.
The cancellation of the BMC's Standford Hall event due to bad weather last year saw the finals of the club's Premier Concours take place at Mini Fair, with cars battling it out for honours on the prestigious red carpet. The day concluded with the trophy ceremony, and saw Jack Cookson's modified Mini HL emerge as the winner against some extremely tough competition, while the Mini Misfits walked away with the award for Best Club Stand.
"It was a traditional Mini Fair that we've had fantastic success with over the last 20 years," said BMC Club Leader David Hollis. "It was up there with one of our best; the standard of cars was absolutely fabulous, and I think the atmosphere was remarkable. We couldn't do it without the support of everybody on the Mini scene, so my thanks go to all the traders and autojumblers, all the folk who own the cars and the clubs – it's everyone that keeps this vibe going."