A trio of intrepid Zastava owners from Slovenia have successfully embarked on a road trip with a difference – to the scene of the Chernobyl nuclear disaster.
In 1986, the number four reactor at the Chernobyl nuclear power in then Soviet-controlled Ukraine exploded, sending a radioactive plume across Europe and resulting in an exclusion zone that would extend to 2600kms. This included now-abandoned Pripyat, the closest city to the reactor.
Despite the threat of radiation restricting access, the exclusion zone has now become a popular tourist destination in recent years, famously appearing on Top Gear, and now includes members of Zastava Klub Slovenije amongst its visitors. The three cars were all Zastava 101 Mediteran models, with the 101 based on the old Fiat 128 platform and sold in the UK as the Yugo 311.
"The idea was born two years ago," explained club member Damir Horvat. "I found out there are trips organised to go in the exclusion zone, and a friend of mine explained to me that it is safe, having worked in the zone as an engineer. There is lots of information available, but people are too lazy to read it. For most people, Chernobyl is still a death trap."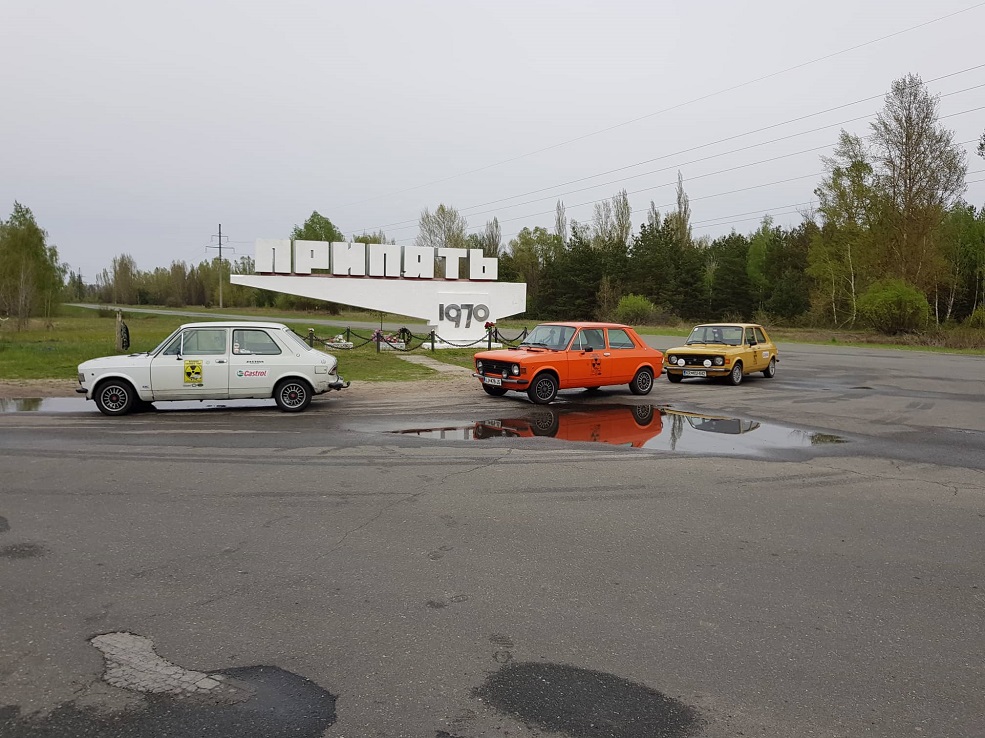 But why go in Zastavas, cars that are often the butt of cruel jokes? "People already think it's a crazy trip, so why not make it crazier?" added Damir. "Plus it is a good advertisement for our club. We know the cars are reliable, and if something happens, we can fix them."
The cars left the Slovenian capital of Ljubljana in the early hours of Sunday April 28. From here they made a 780km journey across Hungary and across the Ukrainian border to the first's night's stop in Uzhhorod. The following day saw another mammoth 790km drive, this time to Kiev, for sight-seeing and a trip to the National Museum of the History of Ukraine in the Second World War.
Next up was the big one – the exclusion zone, which you can only visit with special permission or an agency. The club chose go2chernobyl.com, which allowed participants to view the fascinating sights within, including the power station itself, the city of Chernobyl and famous landmarks like the symbolic abandoned Ferris wheel in Pripyat. A return to Kiev included trips to the Chernobyl, aviation and war museums, before the cars set off for a successful trip home.
Despite covering almost 4000kms over the course of six busy days, the cars all made it back home unscathed. One lost all its gears apart from second and fourth, which turned out to be a bent linkage and was duly repaired, while another needed some Heath Robinson repairs to an engine mount and its exhaust. However, we're sure that just added to the experience!